'Tomo-chan Is a Girl!' is a romantic comedy anime that follows childhood friends Tomo Aizawa and Junichirou "Jun" Kubota. The two do everything together, whether it be studying or just enjoying a fun day out. For everybody around them, these two are best friends for life. The only issue is that the tomboyish Tomo is in love with Jun, but he regards her like a brother and doesn't take it seriously, even when Tomo confesses her feelings for him. Realizing that he will remain indifferent to her affections unless she does something about it, Tomo must find a way to knock some sense into Jun and open his eyes to what is right in front of him.
Romantic comedy as a genre in anime has never missed its mark, exploring the complexities of every aspect of human relationships, both platonic and romantic, with a nuanced approach. 'Tomo-chan Is a Girl!' is a breath of fresh air in this genre with its unique take on the typical one-sided high school pining. If you enjoyed the anime's premise, then we have a few recommendations for you! You can watch most of these anime similar to 'Tomo-chan Is a Girl!' on Netflix, Hulu, Amazon Prime, Funimation, or Crunchyroll.
8. Uzaki-chan Wants to Hang Out! (2020)
This Studio ENGI production centers around Hana Uzaki, who does whatever she can to keep her former high school senior Shinichi Sakurai from being all by his lonesome — from convincing him to go to the movies or to go to his part-time workplace. While Sakurai finds her antics irritating and tiresome, he still goes along with Uzaki's plans.
The latter's perky personality leads the two of them into various comical situations, much to the audience's amusement. Fans of Jun's somewhat clueless character in 'Tomo-chan Is a Girl' will love Shinichi in 'Uzaki-chan Wants to Hang Out!'. The two characters even share the same English dub actor, Ricco Fajardo.
7. Blue Spring Ride (2014)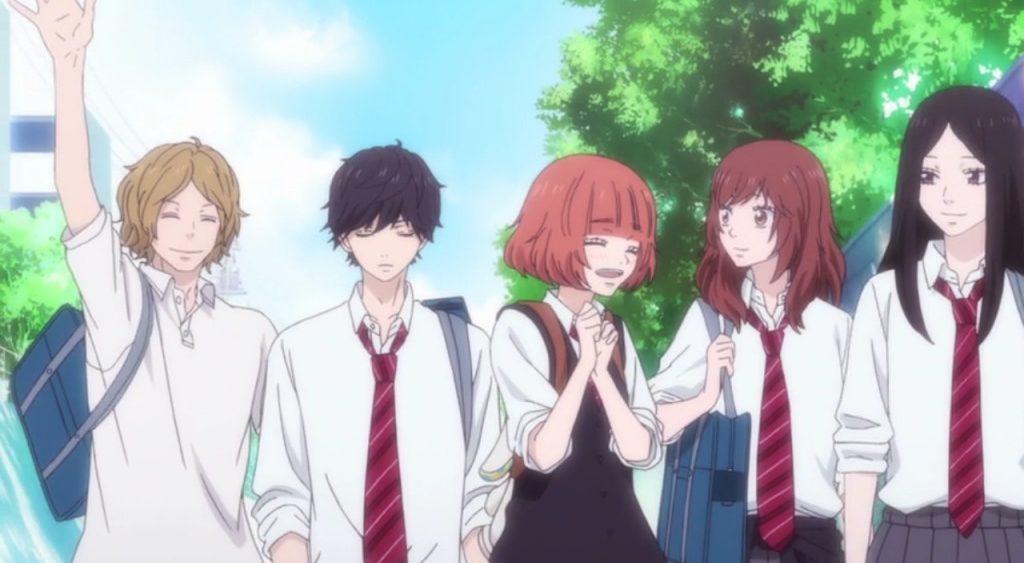 Created by Production I.G, 'Blue Spring Ride' tells the story of Futaba Yoshioka, a high school girl who deliberately behaves like she wants to repel anyone who might be attracted to her. Her unpleasant experience in middle school of being ostracized by the other girls in her class makes her act this way.
However, when Kou Mabuchi, a former middle school crush, comes back into her life, Futaba can't help but feel her feelings for him rekindling and the desire to go back to how things were for both of them. For those who enjoyed Tomo and Jun's back-and-forth romance in 'Tomo-chan Is a Girl!', 'Blue Spring Ride' offers a more serious take on trying to reconnect with old friends and flames in high school.
6. Tsurezure Children (2017)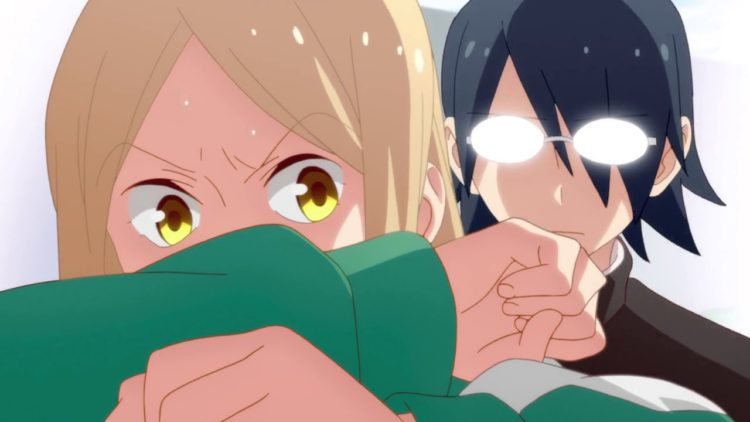 From Studio Gokumi comes 'Tsurezure Children', which follows the various forms that young love takes — from being unable to confess to not knowing what real love actually feels like, a lot can happen unexpectedly when dealing with romantic attraction for the first time. The anime does this through several couples coming into brand new experiences of their own. 'Tsurezure Children' has all the comedy and sappy moments of 'Tomo-chan Is a Girl!', but with a lot more variety to its storyline as it doesn't follow a single leading couple and their relationship.
5. Romantic Killer (2022)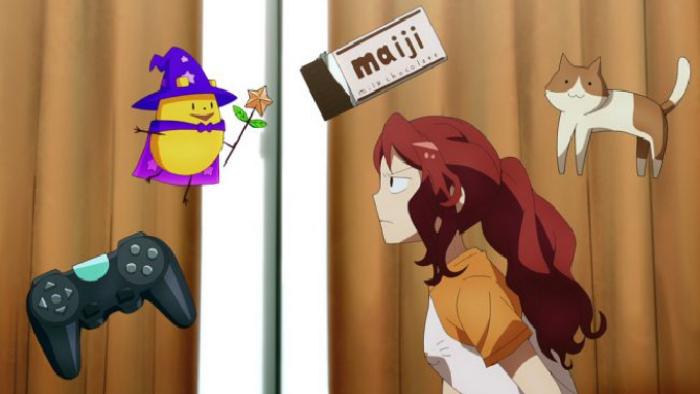 'Romantic Killer' is a more supernaturally inclined romantic comedy. Created by Studio domerica, it revolves around Anzo Hoshino, who doesn't need much in life besides video games, chocolate, and her beloved cat. But when a flying wizard named Riri emerges from the 3D Otome game she is playing, Anzo is forced to go through one stereotypical romantic scenario after another in real life.
Both Anzo and Tomo share the same feisty attitude and a clear idea of what they want. 'Romantic Killer' asks the question of what if Tomo had her personality but did not want anything to do with romance and answers it, then adds a fantasy element for good measure, making it a truly interesting watch on this list.
4. Kaguya-sama: Love is War (2019-)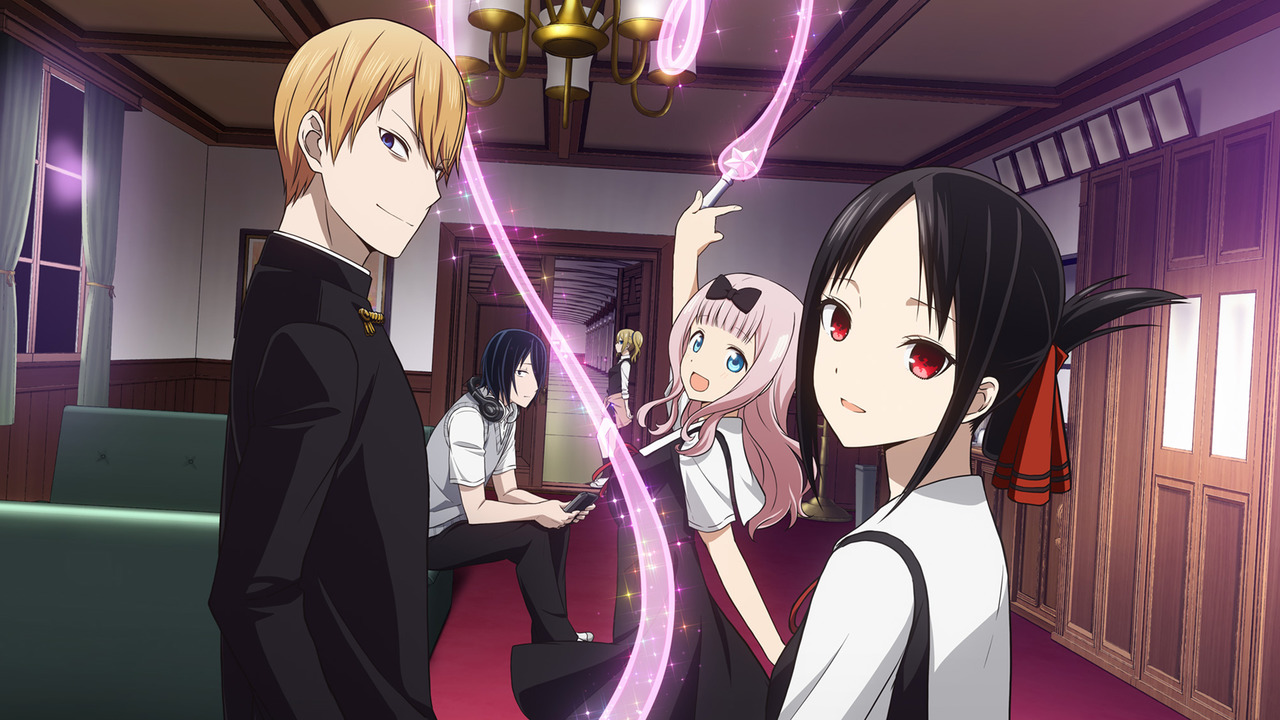 'Kaguya-sama: Love is War' revolves around Miyuki Shirogane and Kaguya Shinomiya, the student body's top representatives at the renowned Shuchiin Academy. Both are held in high regard by peers and mentors alike, and both are very much in love with each other. But their pride comes in the way of confessing and thus begins a war of attrition on the battlefield of love!
Created by A-1 Pictures, 'Kaguya-sama: Love is War' has a colorful cast of supporting characters who work together to move things along for the two main leads, which will remind fans of 'Tomo-chan Is a Girl!' of Tomo and Jun's friends.
3. My Dress-Up Darling (2022-)
Produced by CloverWorks, 'My Dress-Up Darling' follows the budding romance between high school student Wakana Gojou, an awkward and shy boy who spends his days perfecting the art of making hina dolls, and Marin Kitagawa, whose confidence and poise are in stark contrast to Gojou's meekness. The two become closer when Kitagawa discovers Gojou's skill at sewing clothes and enlists him to create cosplay outfits for her. Just like Tomo, Kitagawa also hides her true nature from her peers, that of an otaku. Both 'Tomo-chan Is a Girl!' and 'My Dress-Up Darling' put forth the message that it's best not to judge a book by its cover.
2. Shikimori's Not Just a Cutie (2022-)
'Shikimori's Not Just a Cutie' is produced by Doga Kobo and revolves around Yuu Izumi, a hilariously unfortunate high school student, and his relationship with the incredibly athletic Micchon Shikimori. When the need arises, she is there to protect him from any mishap caused by his misfortune and never ceases to make his heart skip a beat. Much like Tomo, Shikimori also faces problems with how she is perceived but still manages to breeze through everything that is thrown at her.
1. Komi Can't Communicate (2021-)
Created by OLM, 'Komi Can't Communicate' centers around Hitohito Tadano, a new high school student who does his best to help Shouko Komi communicate with others in order to make friends with them. Komi, for her part, suffers from crippling anxiety and a communication disorder that prevents her from socializing with her classmates. In the course of fulfilling her goal alongside Tadano, Komi starts to develop feelings for him.
Just like Tomo and Jun, Komi's affliction has a hard time connecting or sharing her feelings with Tadano. However, Komi's communication barrier is literal rather than just plain awkwardness, which gives 'Komi Can't Communicate' an entirely new spin from other anime in the same genre.
Read More: Best Romantic Anime of All Time