Defying cross-continental boundaries and cultural differences, '90 Days Fiancé: Before The 90 Days' chronicles the journey of numerous couples as they hope to weed out issues in their journey to forevermore. The reality television show features the highs and lows of relationship differences that make individuals question their impending marriage. While some struggle to get the K-1 visa, others fail to figure out irreconcilable differences. Since its inception in 2017, the show has continued to garner acclaim. Naturally, fans have been curious to know where the couples from season 6 are now. If you're wondering the same, then look no further because we've got all the answers right here!
Where are Amanda and Razvan Now?
Hoping to find romance once again, 31-year-old Amanda had flown down to Romania to meet Razvan, her 26-year-old beau. However, shortly after she arrived in the country, the duo quickly felt distant from each other. As issues of intimacy and personal differences piled on, Amanda and Razvan ultimately called it quits. The final episode also featured Amanda's sister, Amber, opening up about Amanda's closeness to another man.
Even though the duo decided to part ways, Amanda and Razvan are still accelerating in their personal and professional lives. Razvan has since been climbing the ladder of success as a personal trainer and coach. Not just this, he also shares plans on relocating to the United States. Likewise, Amanda also hopes to establish a new connection with someone. Having lost her husband to cancer in 2022, the television personality now devotes her time to the upbringing of her two children. In the past, Amanda had been reportedly arrested for allegedly attacking a woman named Kayla Patton with a baseball bat.
Where are Meisha and Nicola Now?
After almost eight years of online romance, 43-year-old Meisha decided to take the plunge and tie the knot with Nicola, a devout Israeli. Albeit their close relationship, the duo still shared some reservations when it came to their relationship. While Nicola's mother was reluctant to accept Meisha, a previously divorced woman, Meisha felt that Nicola's plan to heckle for an engagement ring wasn't quite romantic. Moroever, Meisha also wanted to ensure a bright future for her daughters – Morea and Svea, and wanted to make sure that Nicola fit well into her idea of a family.
In the end, the couple decided to walk away from the show hand in hand. Since the show, Meisha and Nicola have remained decidedly quiet about their impending nuptials on social media. While the couple hasn't made their plans public, some sources have reported that Nicola is now in Blaine, Minnesota, and living with Meisha in her townhome. On the other hand, Meisha, the former journalist for CBS and Fox News, continues to make memories with her daughters and grow personally and professionally. Meisha is currently working as a spiritual director and is even a PhD candidate.
Where are Violet and Riley Now?
Albeit their affection for each other, Violet and Riley shared a tumultuous relationship throughout their time on the show. After Violet shared news about her pregnancy with Riley, the latter felt that the 43-year-old Vietnamese national was entrapping him. Ultimately, the 'Tell-All' episode revealed that Violet ended up miscarrying the baby. In the end, Riley shared that despite their ups and downs, he still hoped to present a ring to Violet and see where their journey leads them.
However, it seems that the couple failed to work out their issues after the cameras stopped rolling. Since their time on the show, the duo have been making strides as individuals. While the 48-year-old Military Veteran has been enjoying his time with friends and family traveling, Violet has been spending her time catering to the care and upbringing of her children, borne from her previous marriage. Even though the mother-of-two has kept a low profile since her appearance on the show, we continue to hope that she manages to get over her divorce and find the happiness she's searching for.
Where are David and Sheila Now?
Enthralling people with their amiable demeanor and affectionate relationship, David and Sheila consistently supported each other throughout the season. However, that didn't mean that the 42-year-old Nebraska native and the 30-year-old Philippines national didn't have their share of issues. Ultimately, the duo struggled to find the right circumstances to wed. However, throughout the season, the couple ensured that they put in extra effort to understand and help each other and await visa clearance.
Since the show, the duo has been trying to work with the bureaucratic procedures in place to get a K-1 visa. While Sheila has been working to gain a financial and professional footing, David has also been working two jobs to ensure a happy future for himself and his bride. Even though the couple has yet to tie the knot, it is apparent that they are ready to wait till they are at the same location.
Where are Statler and Dempsey Now?
Hailing from Texas, 33-year-old Statler discovered an unbridled attraction towards Dempsey, a 29-year-old farmer from Darlington, England. While the duo shared deep feelings for each other, issues between them remained unresolved. Ultimately, the couple decided that their affection for each other would be able to overcome the minor issues that they had encountered.
In the final episode, Statler revealed her plans to move to Europe, where the couple would live in a camper van and travel across Europe. However, Dempsey shared that she would not be working, making Statler the sole breadwinner. Since the season came to a close, Dempsey ended up visiting Statler in Texas, and the couple shared snippets of their vacation on social media. Having crossed a few things off their bucket list, the duo now looks forward to several adventures.
Where are Gino and Jasmine Now?
Gino and Jasmine returned for yet another season and displayed that love can conquer all. However, like all couples, their relationship also had its share of ups and downs. When the 53-year-old Michigan native proposed a prenup to Jasmine, the latter felt dejected and scared that her future husband would ultimately leave her. Nevertheless, the couple didn't let these issues tear them apart.
After getting a rejuvenation surgery to facilitate better intimacy between her and Gino, the 37-year-old from Panama hoped to marry the man of her dreams within 90 days. Since the season came to a close, the couple has been busy preparing for their upcoming nuptials. Besides sharing little snippets of their romance with fans online, the couple also continues to travel to new places and make memories together. Naturally, we continue to await all the milestones that lie ahead in their future.
Where are Cleo and Christian Now?
While their whirlwind romance had led the UK national to hope for something more, things between Cleo and Christian continued to remain tense throughout the season. While the 30-year-old Minessota native openly flirted with other women and believed that he was just making friendly conversation, others felt that Christian wasn't being honest with Cleo. On the other hand, the 32-year-old model felt that she and Christian could still make things work.
Ultimately, Christian confessed his desire to propose to Cleo in the future. Shortly after the 'Tell-All' episode premiered, Christian took to his Instagram to share a picture of his lady love. While the couple has yet to share the latest details on their prospective nuptials and relocation, it is apparent that they're still going strong. As for Cleo, the first transgender woman to appear in the series, several milestones still lay ahead. Cleo is now working as an online creator and has appeared in different campaigns for brands. Not just this, she is also a skilled poet and a graphic artist. In addition to this, Cleo shares her latest creations online with fans.
Where are Tyray and Carmella Now?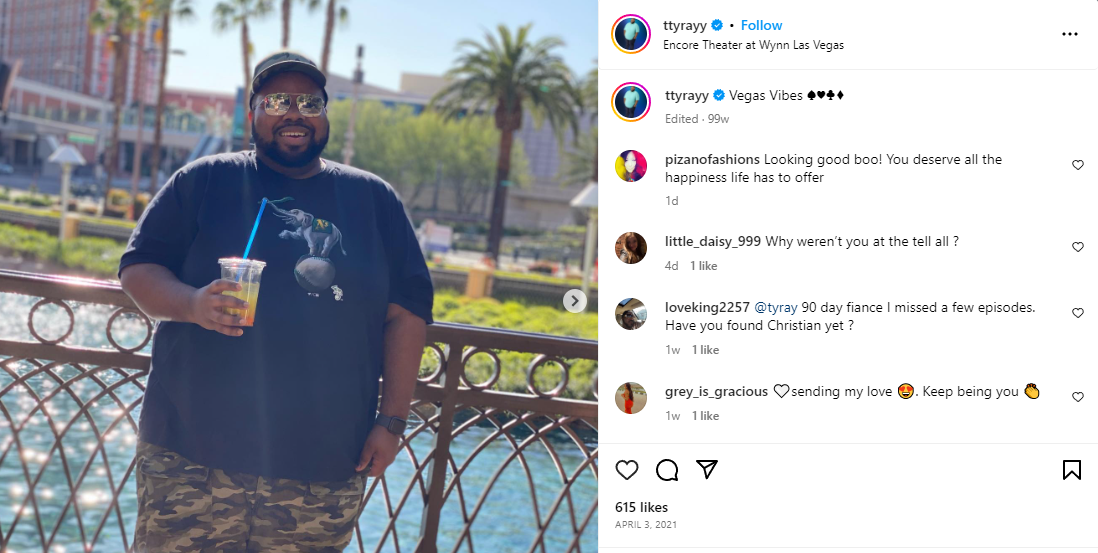 For years, Tyray felt that he and Carmella shared a deep connection. However, the truth about Carmella came to the fore when the producers of the series discovered that Tyray was getting catfished by a man named Christian, who was pretending to be Carmella. Over the years, the individual had managed to nab $3000 from Tyray and even gotten clothes and a cellular phone from him. Since his time on the show, Tyray has decided to take a step back and reevaluate his priorities. He is currently single and spending his time traveling and accruing new experiences.
Read More: Will Gino and Jasmine End Up Together in 90 Days Fiancé: Before the 90 Days?