Tyler Perry is clearly one of the most prominent and influential African-American storytellers the world has seen. He works intensively on creating content about people of colour across various forms of media. He is widely celebrated for his significant work in diverse fields, which include cinema, television and stage, along with of course, the bestselling novel he wrote. Not only is Perry the jack of all trades, he masters them all too, always finding new terrains to venture into.
Last year, Perry became the first African-American to own a major studio. This year, he made his debut on the streaming giant Netflix with a the legal/romantic thriller, 'A Fall from Grace'. It is also the first feature to be filmed completely in the Tyler Perry Studios. The film continues Perry's long-running trope of the tragic black woman and boasts of some powerful performances by a stellar cast. What's refreshing to watch in the film is the unique lens it picks for itself by having the narrative(s) run entirely by women of colour, who show their strengths, and fight against odds, for better and for worse.
'A Fall from Grace' stars Crystal Fox, Phylicia Rashād, Bresha Webb, Mehcad Brooks, and Perry himself. Perry brings his penchant for drama into the thriller, making it a compelling watch with major audacious twists that also manages to touch its audience with the tragedy it explores. Despite this, the film has several flaws, ranging from its shoddy filmmaking to the half-hearted storylines that leave room for loopholes. But keeping in mind the way the film ends, we might still be looking at a potential sequel. Here's everything we know.
Will There be 'A Fall from Grace' Sequel?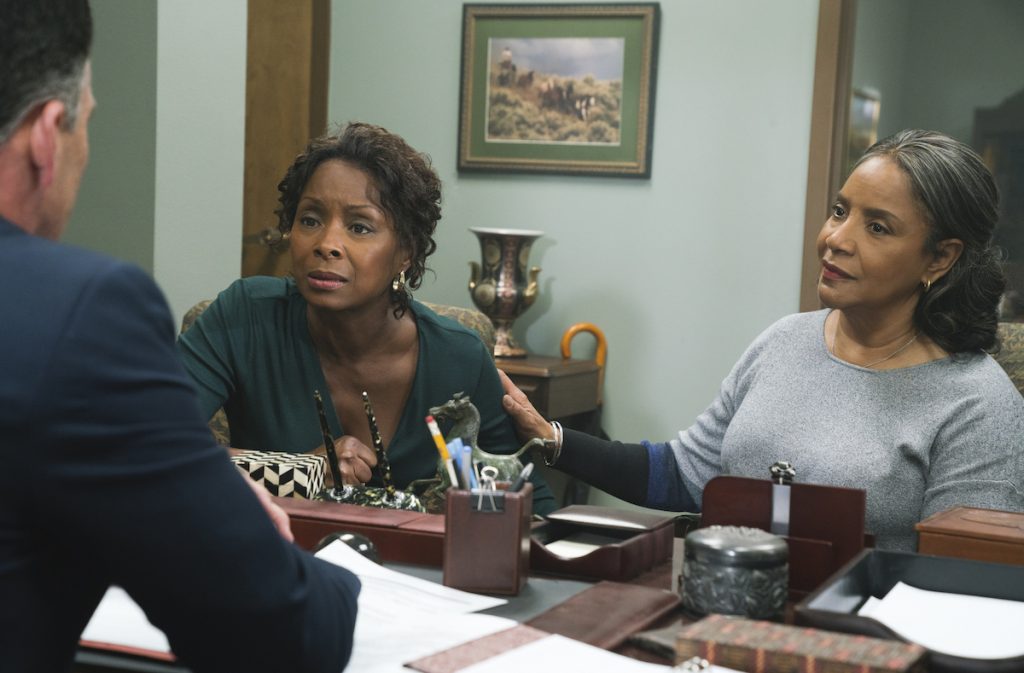 Tyler Perry's 'A Fall from Grace' follows the tragic story of Grace Waters, a kind-hearted but lonely woman. Several years after her divorce, her close friend, Sarah, finally convinces her to put herself first. She unexpectedly finds love in Shannon, a kind and gentle man she meets at a gallery. But things take a dark turn as she loses everything because of the man who completely ruins her life, defrauding her. In an impulsive moment filled with rage, she bashes his head, believing that she killed. But the body remains missing. A determined public defender, Jasmine, decides to prove Grace's innocence, despite never having tried a case before.
The film ends with a big twist that reveals that Sarah and Shannon are a mother and son duo, who have been working together for over 25 years, scamming middle-aged to elderly women and defrauding them. They hold several old women hostage as they make money from their social security. While, Shannon (who we learn is Maurice Mills) scams lonely vulnerable women and takes all their savings – as is the case with Grace. Towards the end, Shannon gets shot, while Sarah flees. We then see her luring yet another family as she pretends to be a caretaker for elderly women.
The ending of 'A Fall from Grace' suggests that the con is far from being over. Grace's story is one of the rare success stories of a victim of scam. Not everyone meets the same fate. With Sarah still continuing to prey on old women, with LuAnn being her latest target, we can certainly expect this story to continue. This also makes sense given Perry's long history with sequels – he has turned several of his films into full-fledged franchises – with Medea being his most successful till date.
However, the film is drenched from head to toe with cliches, and remains half-hearted while exploring certain narratives. While the film definitely surprises its audience with its twists, and touches them with the dynamic performances of the cast. It becomes equally difficult to ignore the film's flaws – the most apparent of them being the sloppy filmmaking. Perry revealed that 'A Fall from Grace' was filmed in just five days last December. Unfortunately for us, that shows.
Having said that though, the film does have plenty of potential as a thriller one enjoys out of guilty pleasure. Keeping in mind how Netflix manages to make tonnes of money by particularly creating content aimed at our guilty pleasure, we can say that the sequel to 'A Fall from Grace' may still have a chance. If greenlit, you can expect 'A Fall from Grace' 2 to release sometime in 2022 or later.
Read More: Is 'A Fall From Grace' a True Story?