The December 3, 1998, murder of Julie Jensen is honestly one of the most baffling cases to ever come to light considering the fact her husband of over 14 years, Mark Jensen, was behind it all. He actually poisoned the mother of his two sons with antifreeze, ensured she consumed sleeping pills, and then suffocated her to death with a pillow, as charted in ABC's '20/20: Death Foretold.' However, it was his seeming confession to inmate Aaron John Dillard that proved to be his ultimate downfall — so now, if you simply wish to learn more about the latter, we've got you covered.
Who is Aaron Dillard?
If we can only ever use one phrase to describe Aaron, it would have to be a career con man because he has been involved in offenses related to forgery, fraud, and obstruction since the 1990s. It thus comes as no surprise he has an extensive criminal history, with his first legal conviction dating back to 1995 for knowingly issuing a bad cheque to a ski company two years prior in 1993. He then bounced another cheque worth less than $500 to Walmart in 1999 before forging eight bank slips worth around $400 each in 2000, just to get a bail jumping charge for the latter as well.
As if this was not enough, Aaron forged another $800 cheque while out on bond with the self-justification that he needed the money to complete the construction job he had managed to land. His subsequent offense was actually in Lithuania, wherein he promised several people visas to the United States in exchange for $3k-$5k, yet obviously failed to produce them when the time came. The conman was then deported back, only to find himself behind bars once again within a year for repeatedly violating his probation in one way or another in connection to the forgery charges.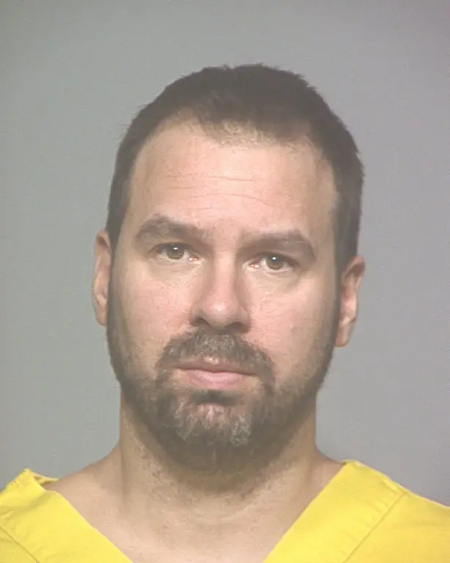 Moreover, by the time 2008 rolled around, Aaron had also been charged with a $6,200 contracting fraud in Racine, Wisconsin — this was shortly before he testified against Mark during his first trial. According to the felon's narrative, he had befriended the latter for the three days (from August 14 to August 17, 2007) he was detained in the same County Jail block as him by pure chance. That's when the suspected killer allegedly described his late wife Julie to him as "crazy," "depressed," and a self-medicator to imply she'd taken her own life, just to later change his tale.
"I had told Mark, 'we all did what we did to get here, and you know, if you want to find a way around it, you got to tell the truth,'" Aaron testified. "He said, 'Well, yeah, we all did do what we did to get here.'" It hence came out that he had poisoned Julie by giving her a glass of antifreeze-mixed juice before ensuring she consumed a bunch of sleeping pills as well since he wanted her to die quickly. Therefore, per Aaron's statements of what Mark supposedly claimed, he finally smothered his wife with a pillow to get the job done and soon contacted the authorities rather than aiding her himself.
Where is Aaron Dillard Now?
Aaron himself had purportedly offered to serve as an informant in this case so as to attain freedom from jail, which was actually granted under the stipulation of extended supervised parole. So, of course, the defense tried to paint him as a serial conman that easily lied to get his own way no matter the situation, implying he concocted his entire testimony for the personal gain of prison release. However, the jury ultimately sided with the prosecutors and found Mark Jensen guilty of first-degree intentional homicide — his 2023 trial resulted in the same verdict, with the only difference being there was no deal in exchange for Aaron's testimony this time around.
Coming to Aaron's current standing, from what we can tell through official records, he is still incarcerated in a Wisconsin facility on parole violations. That's because the conman has not been able to change his ways despite the years passing by; instead, he has now gone as far as stealing credit cards from people's homes. This, in turn, ended with the 49-year-old having the charge of unauthorized use of a person's identification on his already lengthy rap sheet.
Read More: Julie Jensen Murder: How Did She Die? Who Killed Her?