Although Aleeza Ben Shalom is a premier matchmaker, dating coach, public figure, and author, she does not believe there's only one soulmate or true love for everyone owing to her religion. She does agree that matches are made in heaven, but the changes each individual bears once they adjust to their realities upon coming down to this world could make all the cosmic difference. However, as evidenced in Netflix's 'Jewish Matchmaking,' she herself found "the one" long ago, and its sheer joy is one of the many reasons she now helps members of her community do too.
Aleeza Ben Shalom's Husband
It was back in 2002 when the University of Pittsburgh Interdisciplinary Studies graduate (1999) Aleeza first came across Gershon Ben Shalom while actually actively trying to find a life partner. After all, they were on a fun Jewish singles' retreat, which in hindsight seems fateful in more ways than once since they are both Pennsylvania natives yet had never even crossed paths before. But alas, they remained platonic til they left and also dated other people outside, that is, until the Glenside local contacted her one night after Shabbos saying, "Would you like to go for a walk?"
Aleeza and Gershon blissfully continued dating from there, just for him to propose merely weeks later — the former insists it was three, but the latter vehemently claims two, per the production. Though the couple does agree upon the fact they'd tied the knot following a whirlwind courtship of four months in a beautiful traditional ceremony surrounded by loved ones in November 2004. They both remember this clearly because they were "shomer negiah" the entire time, which means they didn't touch in any way, shape, or form until the moment they'd promised one another forever.
"When I dated my husband, the first time we touched was under the chuppah [wedding canopy]," Aleeza candidly revealed in the Netflix original series. "He breaks the glass, he reaches over, and he holds my hand. I was like, 'Ohhh!' I just melted. It was better than a first kiss, it was better than anything. It was just the first time we had ever connected, and it was incredible." The fact she and Gershon are both "baal teshuva," meaning they came back to their Judaism after some secularism as well as soul-searching is also a big part of their journey since they're now Orthodox.
Moreover, for Aleeza, the best thing about her husband is definitely his unwavering adoration, care, kindness, and support, no matter the unique circumstances they find themselves in. The prime example of this is Gershon's reaction to her aspirations — he didn't mind one bit when she admitted she wished to go from being a homemaker to launching a matchmaking business in 2012. Plus, towards the end of 2020/start of 2021, as it became evident many doors were opening for his wife in Israel, he sold off his Pennsylvania-based blinds company in exchange for being a homemaker in the Middle Eastern country.
"[Gershon] generously gave it up so we could come [to Israel] and I could grow my business," Aleeze once said. "He's… helping us adjust and taking care of the family while I'm working." Since then, the Ben Shaloms have happily settled in Pardes Hanna, where they are not only surrounded by old friends but have also found "a warm welcoming community and environment with many different educational opportunities." The fact the couple "wanted a city that felt like what Israel felt like years ago, not like a mini-America" also played a role in their decision to be here, especially as it supports their creative and artistic interest as well.
Aleeza Ben Shalom's Children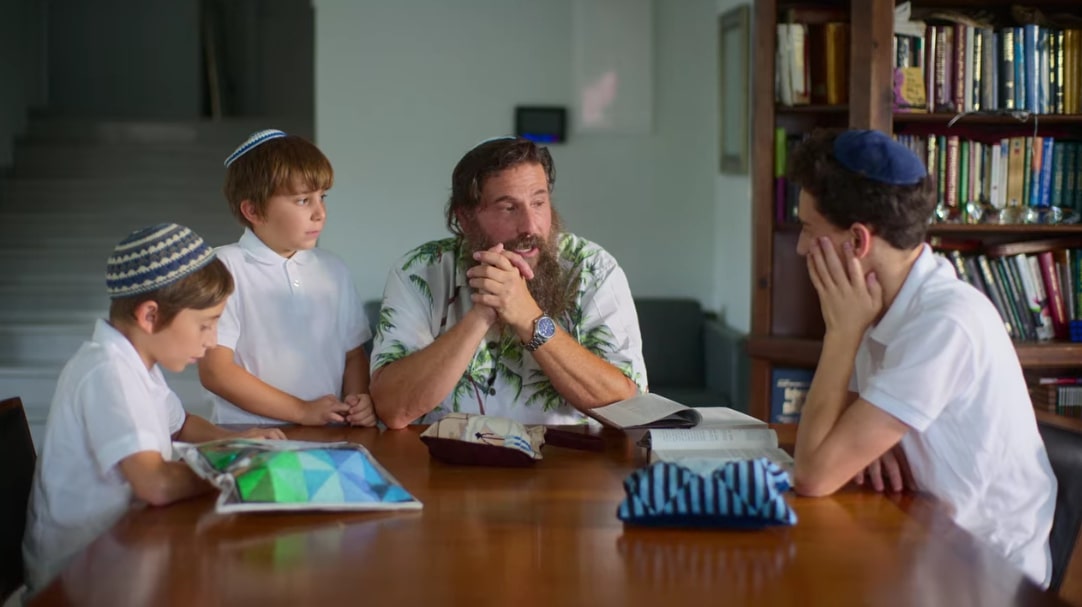 From what we can tell, after 20 years of calmness, ease, faith, love, laughter, lightheartedness, and stability in their marriage, Aleeza and Ben are proud parents of five children as well as a dog. They are; two teenagers who seemingly prefer to stay well away from the public eye these days, followed by Moshe Ben Shalom, Yehuda Ben Shalom, Avraham Ben Shalom, and Koda the kelev (Kelev is Hebrew for dog).
Read More: Are Harmonie and Ben From Jewish Matchmaking Still Together?