Model turned actress Alexandra Daddario had always dreamed of becoming an actress. She first started off her acting career with an ABC soap opera called 'All My Children' and though this role did not really give her the "big break" that she deserved, it did get her started. A few years after this, she finally earned acclaim and recognition after she played the role of Annabeth Chase in 'Percy Jackson & the Olympians: The Lightning Theif'. Soon after this, her Hollywood career was full of ups and downs; she was part of movies like 'Texas Chainsaw 3D', 'San Andreas', 'Baywatch' and 'Hall Pass'.
But somewhere amidst her mainstream popularity, she had to make some really bold choices to make a name for herself. And though her presence on screen is hard to miss because of her penetrating blue eyes, you'll be surprised to know that in the past, she has acted alongside some big names and has gone unnoticed. A lot of these roles that she played back in the day were less significant and were simply overly sexualized. So with all that said now, let's take a look at the top Alexandra Daddario steamy movie/TV show scenes:
8. The Babysitters (2007)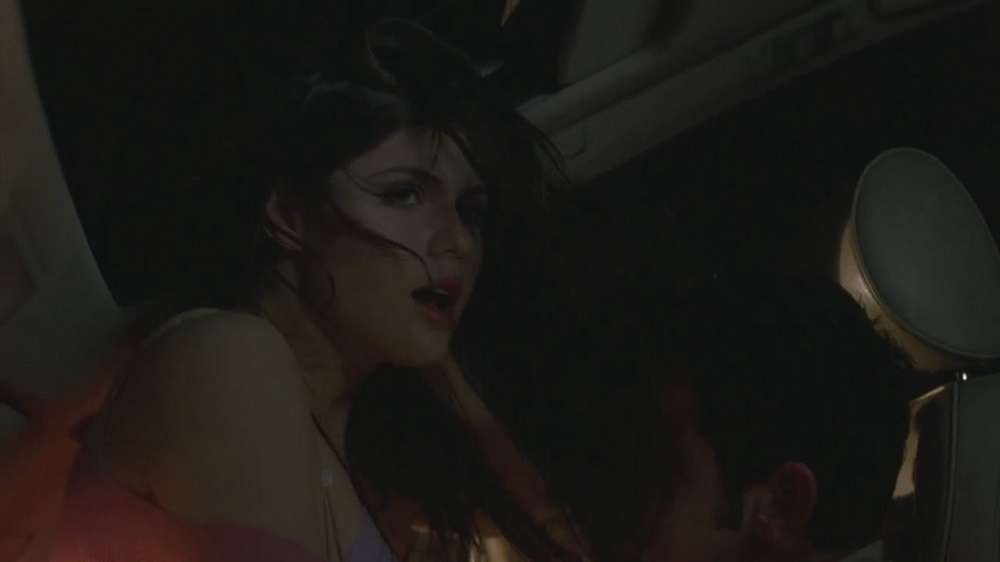 Shirley is a 17-year-old high school girl who tries to save up some money for her college by babysitting young children. One day, when the father of a child who she babysits starts to confess how much he hates his married life, she kisses him. This really makes the man happy and he gives her an extra tip. This is when, along with some of her teenage friends, she decides to start a babysitting service where young teen girls "babysit" other unhappy fathers.
Alexandra Daddario plays a very small role in the film but one of her brief sex scenes will surely get your attention. This scene is so small that even if you have seen the film before, you might have failed to notice that it actually has Alexandra Daddario in it. It depicts her having sex with a man in his car and though it does not last too long, it is probably one of the few scenes in the film that is actually worth watching.
7. Burying the Ex (2014)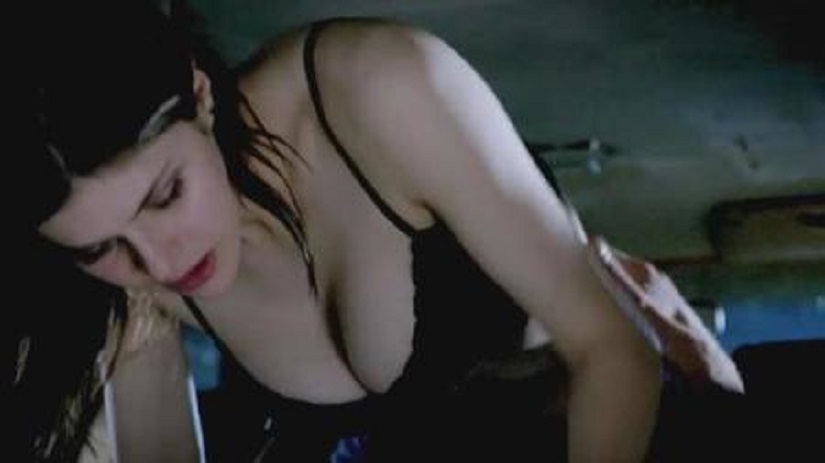 Directed by Joe Dante, 'Burying the Ex' is a zombie comedy that is very similar to 'Life After Beth'. It tells the story of a diehard horror movie fan whose girlfriend crawls out of her grave to pursue their relationship forever. It's one of those absurd films where you can have a really good time if you learn to embrace its silliness. Known as the king of satirical horror, Joe Dante has certainly directed better films like 'Gremlins' and 'Twilight Zone'. But then none of his previous films had the stunning Alexandra Daddario.
The film has quite a lot of disturbing yet hilarious graphic moments that you would expect from a zombie film. There is just this one sex scene in the entire movie where Olivia (Alexandra Daddario) has a quickie with Max in a car. This scene only lasts for a few seconds but as long we get to admire Alexandra's hotness, we're okay with pretty much anything, aren't we?
6. The Attic (2007)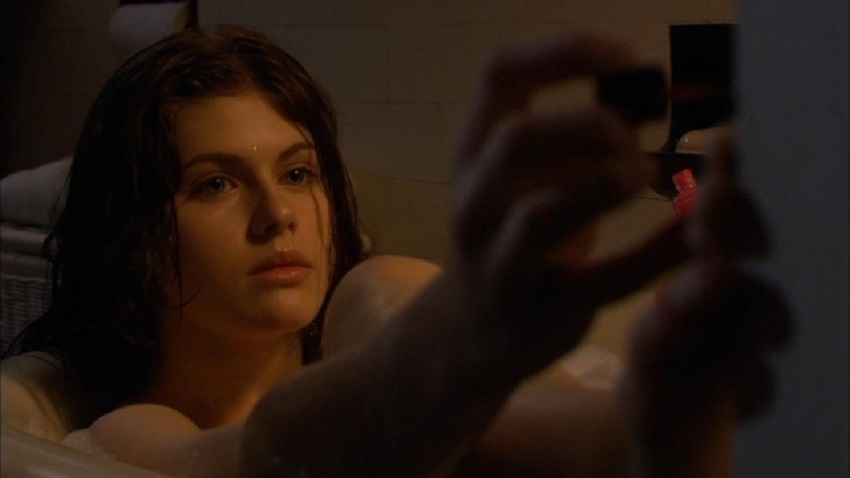 'The Attic' is probably one of the lowest-rated films Alexandra Daddario has acted in but it's her presence itself that will probably get you past the first few moments. This indie horror film is about a girl named Emma who moves to a new house with her family. But one day, she finds her identical twin in the attic of the house who then starts to haunt the whole place. The film is not at all intriguing but the opening scene, that features Alexandra Daddario, is enough to make you stay for a little longer than you would want to.
In this nude scene, the actress sits naked in a bathtub and just when you start fantasizing about her stepping out of that tub, the dark horror undertone of the film takes over. She hears some kind of noise right outside her bathroom and that's when she walks out of the bathtub and flaunts her voluptuous curves. The camera then zooms into her body and makes all of your previous fantasies come true. That's the thing about all of these sexually explicit horror films; you can't really figure if they're trying to scare you or just turn you on.
5. Why Women Kill (2019-)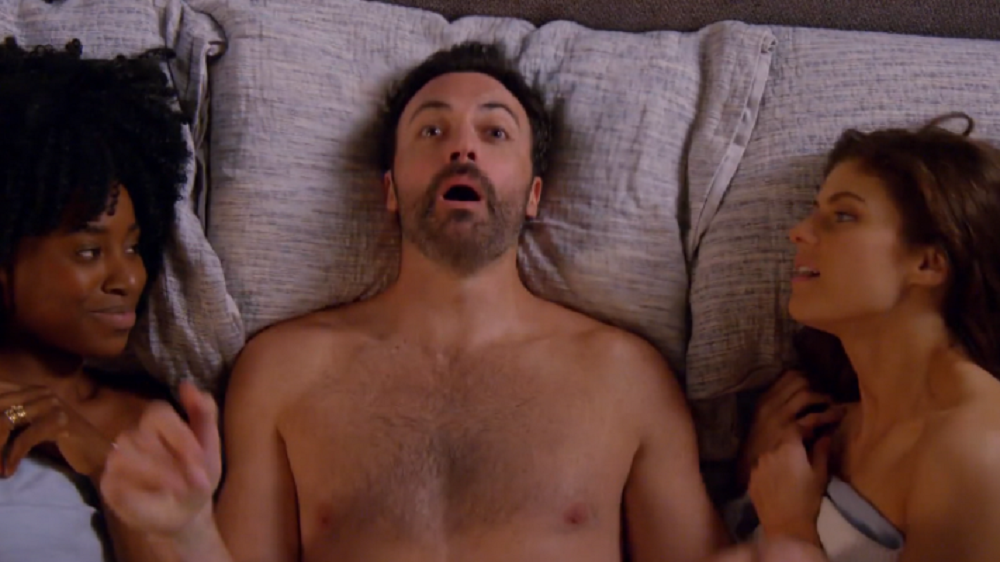 'Why Women Kill' is a dark comedy-drama that tells the story of three different women from three different decades who are all dealing with the same problem — a cheating husband. In this one scene, Alexandra Daddario gets into a threesome with two other characters and once they're done, she shares a passionate kiss with her female co-star. Though there isn't much graphic nudity in this scene, it easily qualifies as one of her steamiest moments on screen. Alexandra's character later gets so involved with her female co-star that the two literally forget that there's also a man with them. As the man tries to get their attention again, the two women ask for a moment and leave the poor guy all by himself.
4. The Layover (2017)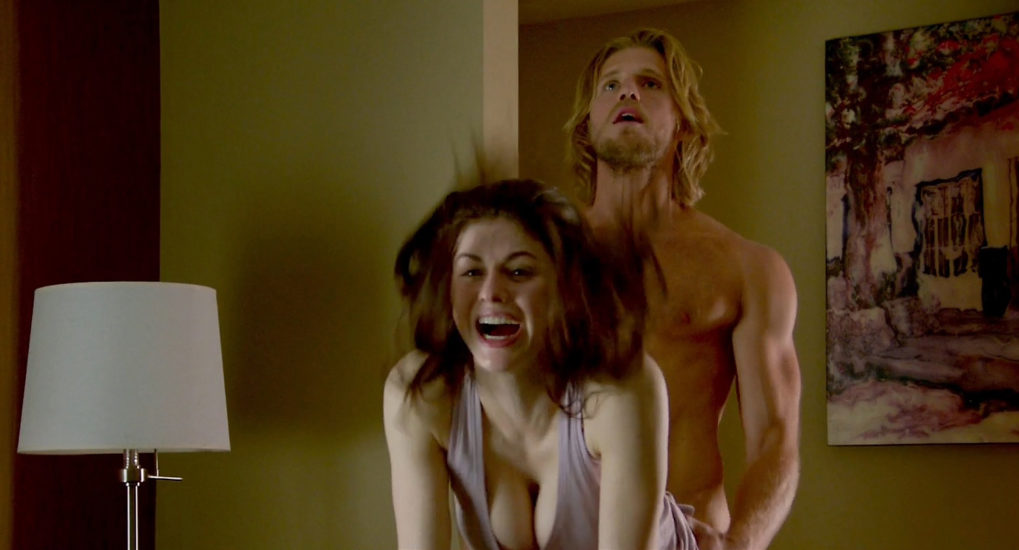 Starring Alexandra Daddario and Kate Upton, 'The Layover' is about two young women, Kate and Meg, who have been friends for a long time now. To take a break from their lives, the pair decides to go on an impromptu flight to Fort Lauderdale. After finding themselves seated next to a handsome young man on the flight, a friendly competition, that involves getting his attention, is sparked between the two. But what starts off as a game of tug of war soon sends them into a downward spiral of destruction where both of them are just willing to do anything to get the man's attention. All is fair in love and war but would it actually be worth it to lose their long-term friendship over a battle of their egos?
Alexandra's character manages to win the competition after she finally gets to sleep with the man she met on the flight. Now, this sex scene really comes off as awkward. There is absolutely no nudity and one can clearly tell that the actors are just faking everything. It looks like the scene has been made in such a way that it should suit the whole comical setup of the film but in the end, it is neither funny nor sensuous in any way. So the only reason why you would want to watch the movie is that it just has two really hot leading actresses.
Read More: Best Nymphomaniac Sex Scenes
3. Texas Chainsaw 3D (2013)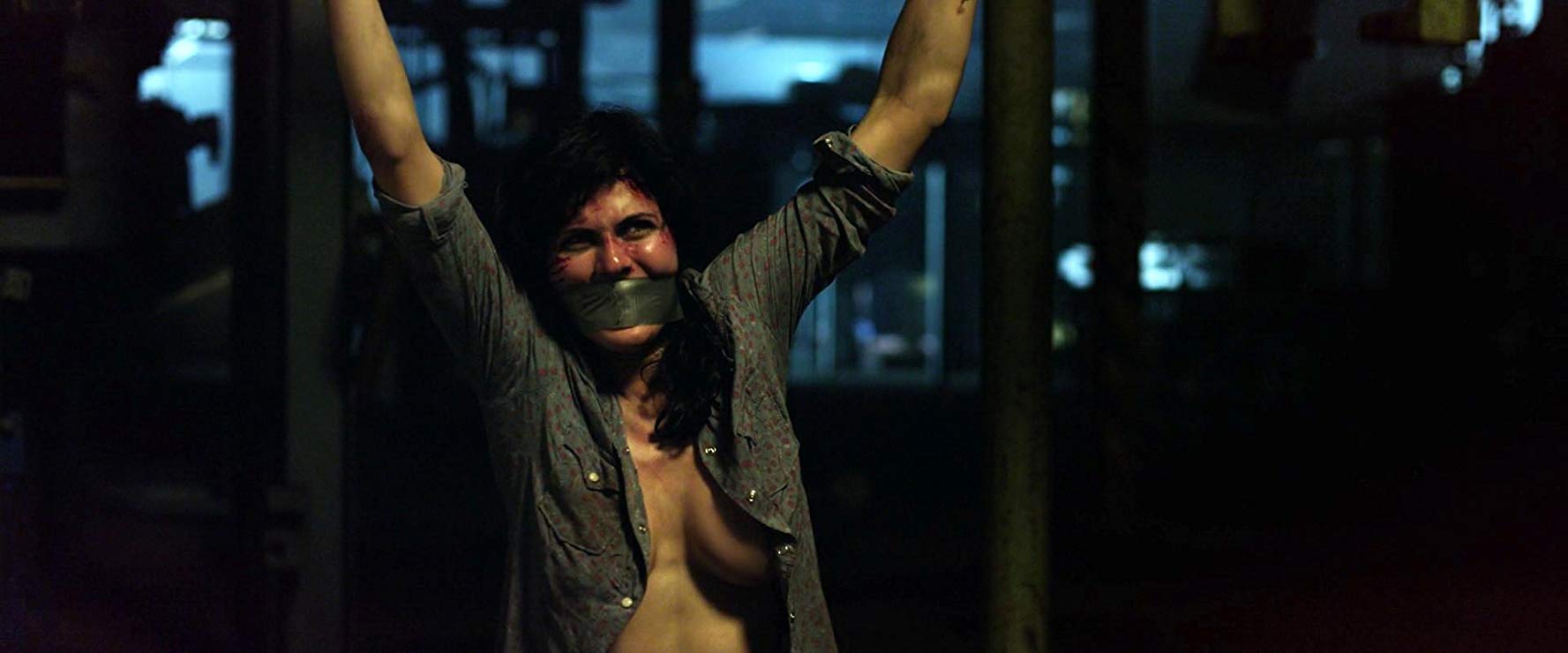 This remake does not even come close to the original slasher classic. It is full of every possible cliche that you can imagine; however, it does have some thrilling moments and some really sexy Alexandra Daddario moments as well. Playing the lead role in the film, apart from being as hot as ever, she gives a pretty promising performance with her not-so-well-written role. Overall, the only thing that makes this film even mildly bearable is the actress's sex appeal and I'm pretty sure that even the director of the film had something similar in mind. One of the most terrifying scenes in the film is when Heather, played by Alexandra, gets tied up in an old decaying dungeon-like place with duct tape over her mouth. That's when the chainsaw killer slowly paces towards her and almost slashes her into shreds with his chainsaw.
As disturbing as this scene may seem, you just cannot ignore the fact that her shirt is completely unbuttoned and you can almost see her half-naked. This is one of those disturbing sexual horror movie scenes that tries to scare you and turn you on at the same time. To add to this, the chainsaw killer notices a scar on the left side of her chest and decides to let her go. If you find yourself getting turned on by this weird scene, don't feel guilty because at some point of time, we've all been there.
Read More: All Scarlett Johansson Sex Scenes
2. American Horror Story (2011-)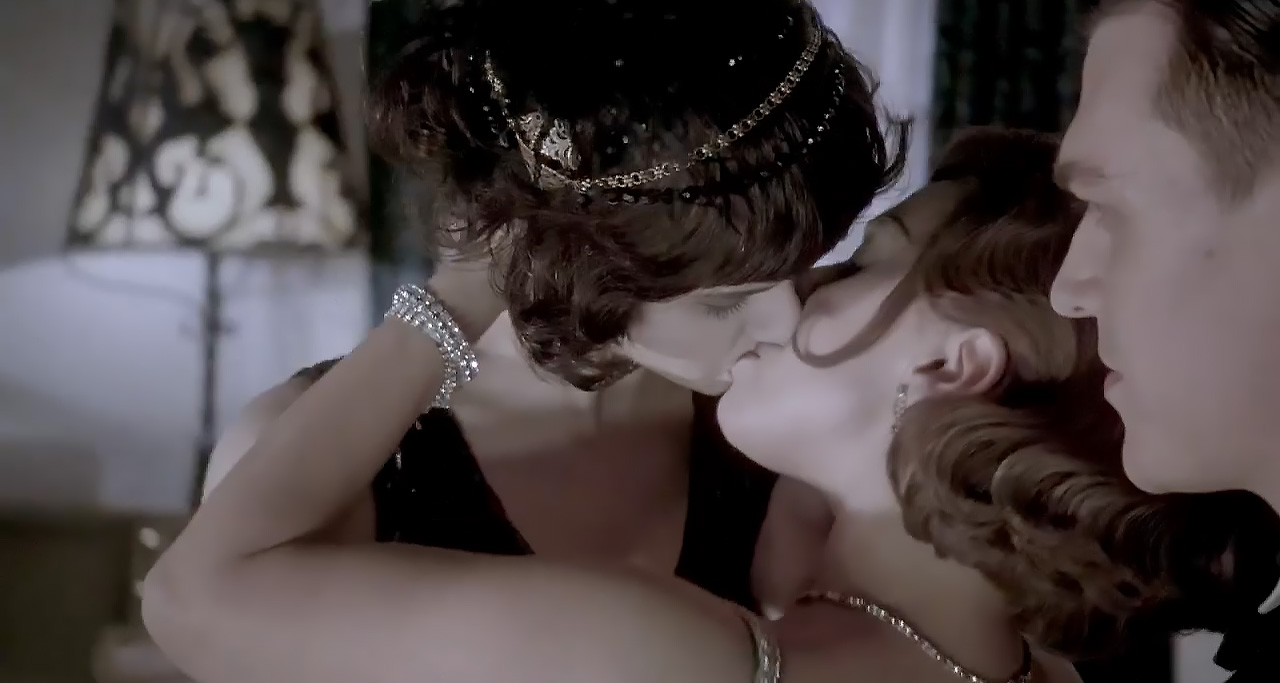 In 'American Horror Story', Alexandra Daddario plays the role of Natacha Rambova, the wife of a silent film actor named Rudolph Valentino. Pretty much like many other actors involved in the series, she appears only for 3 episodes. But despite having a brief role, she impresses you with her memorable performance and stunning looks. 'American Horror Story', as the name suggests, is known for having some of the creepiest sex scenes.
The scene that features Alexandra Daddario is not as disturbing as many other scenes of the series and despite being a threesome, it actually feels quite normal compared to the others. But since you don't always get to see big names such as Lady Gaga and Daddario in a threesome, this one deserves to be on the list. Now as much as we love Alexandra, the involvement of Lady Gaga just makes this scene even more sizzling and when the two stars start kissing each other, you can't help but swoon over the chemistry between them. Later, the actress even claimed in an interview that though she gets really uncomfortable during sex scenes, Lady Gaga's presence made her feel much better and that she had a pretty good time shooting it. This one easily qualifies as one of the best lesbian TV scenes.
Read More: Best American Horror Story Sex Scenes
1. True Detective (2014-)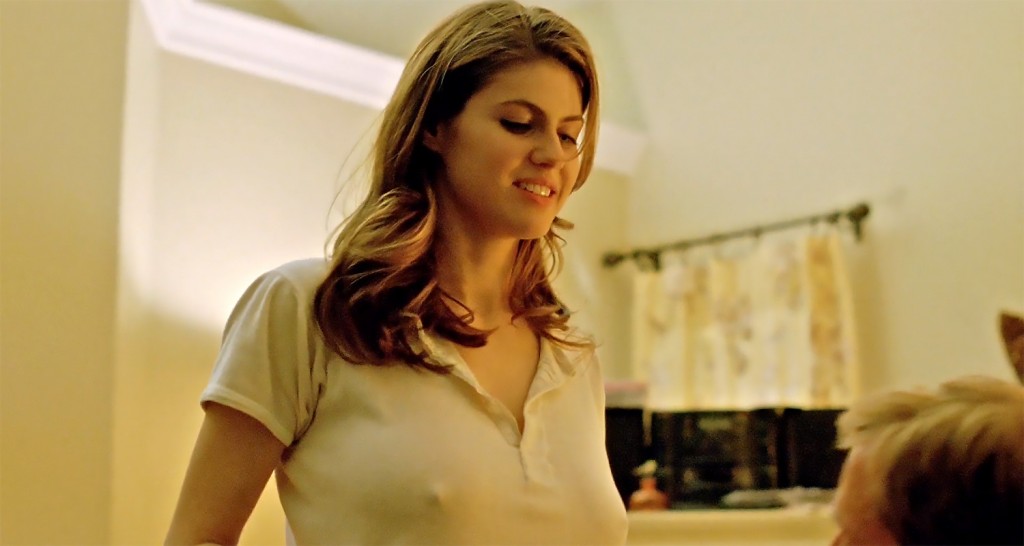 Season 1 of 'True Detective' turned out to be HBO's greatest debut since 'Broadwalk Empire'. With its second episode in the first season, the show not only brought in some of its dark murder mystery elements, but also introduces Alexandra Daddario with the most mature role that she has ever played. Despite her extremely short screentime in the series, Daddario manages to leave a significant mark with her bold scenes and it's these scenes that later paved the way for her popularity.
There are quite a few scenes in the series that could easily be regarded as among the best TV sex scenes of all time; but there is this one scene that stands out. In this scene, Alexandra's character Lisa welcomes Detective Hart (Woody Harrelson) inside her home and he then gifts her a set of handcuffs. As she tries to pour him some drinks, not being able to hold himself back, Hart tries to strip her down. That's when she turns around and sits on his lap. She then seductively handcuffs him to the kitchen counter and slowly strips down every piece of her cloth and then starts to go down on him.
Playing the role of Hart's young mistress, Alexandra claimed in an interview that she took the role as more of a challenge and instead of thinking too much about it, she "just sort of did it". This one is by far her boldest sex scene and after watching her play this role in the series, it is not hard to understand why she became so popular.
Read More: All Jennifer Lawrence Sex Scenes