About 9 years ago, Scarlett Johansson began her ever-expanding journey with the Marvel Cinematic Universe and today, she pretty much dominates the world of Hollywood. With that being said, she also has acted in several other great movies as well and has worked with auteur filmmakers like Sofia Coppola, Spike Jonze, Woody Allen, Jonathan Glazer, and Joel and Ethan Coen. She is mostly known for her action-dominated roles in movies like 'Lucy' and 'The Avengers' but over the years, she has never really shied away from bringing in some diversity to her movie choices.
Apart from kicking ass in all of these movie roles, she is also known for being quite a bombshell. The stunning yet enigmatic actress does not usually go all bold with sex scenes on screen, but when she does, it's hard to keep our eyes off her. With all that said now, here's the list of top steamy Scarlett Johansson movie scenes:
9. Ghost in the Shell (2017)
'Ghost in the Shell' is a live-action adaptation of a bestselling manga. Even before the film premiered in 2017, it faced a lot of criticism because Scarlett Johansson was cast for the role of a Japanese character named Major Mira Killian. But what later added more to these controversies was her semi-nudity in the film and her flesh-colored bodysuit that is apparently used for portraying its thermoplastic nature. So pretty much for the entire span of the film, you get to see a faux nude version of the actress. Though there isn't much in the film for anyone who is even slightly familiar with the manga or the original anime, you can still watch it for Scarlett Johansson.
8. Don Jon (2013)
'Don Jon' is about a New Jersey bartender named Jon (Joseph Gordon Levitt) who has never had a genuine relationship with a woman and though he is able to get involved in a lot of sexual relationships, nothing ever makes him feel more fulfilled than his porn. But things start to change when the "perfect 10" Barbara, played by Scarlett Johansson, comes into the picture. For the first time in his life, Jon feels the need to begin a real courtship, but again, his addiction to porn starts to get in his way.
Scarlett Johansson plays the role of a New Jersey princess who is the definition of perfection with her figure-hugging outfits and "hard to get" attitude. Jon instantly looks at her and claims that she a "10" and after discovering that he may have to try harder to take her home, he spends the rest of his time scrambling around her just to sleep with her. The main sex scene of the film, where Jon finally gets to sleep with Barbara is amazing, but an even better scene is the one where Jon dry-humps her right outside the door of her apartment. The movie is full of sex scenes and nudity but this one non-nude dry humping scene just catches you off-guard. It's one of those scenes that do turn you on, but at the same time, you're just forced to ask yourself what you're watching.
7. Lost in Translation (2003)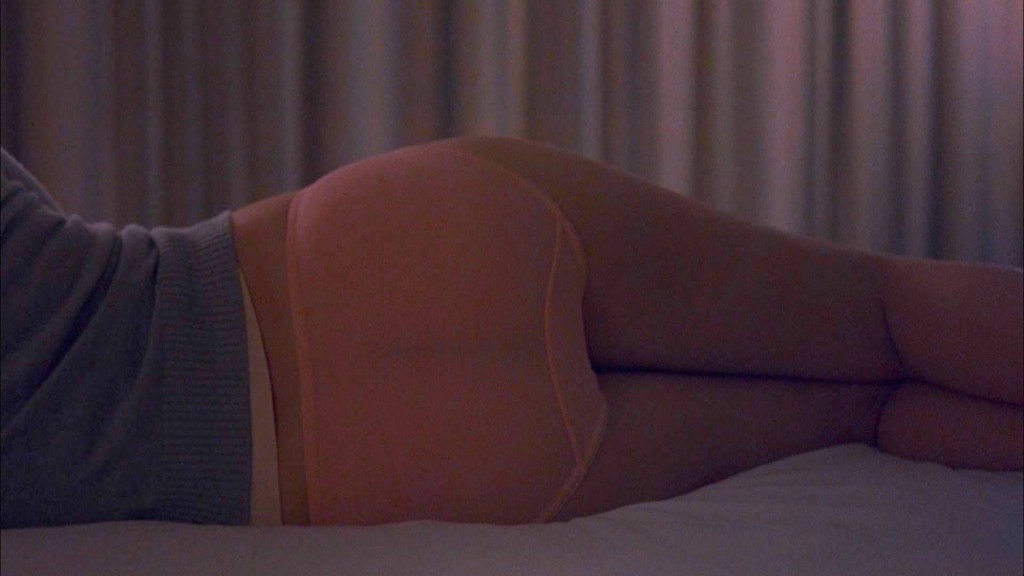 'Lost in Translation' is a simple yet deeply moving film that revolves around an American actor named Bob (Bill Murray) who arrives in Tokyo for an ad film shoot. At his hotel, he ends up meeting Charlotte (Scarlett Johansson), who has been left behind by her busy husband. The two start spending a lot of time together and end up sharing a deep bond. Overall, the film barely has any nudity or sex but its the opening scene that screams for attention.
The first opening shot of the film clearly has to be one of the steamiest Scarlett Johansson moments. The camera focuses on her back as she just lays there in seemingly see-through underwear. While the rest of the film may or may not get your attention, this scene does, and yet, you fail to understand its significance. And then the title of the film slowly starts to fade; which, if you think about it, pretty much sums up the whole movie for us. Just like the characters of the film, who desire a lot of things, we are forced to lust over the bold yet comical sensuousness of the opening scene. So no matter how you choose to interpret it, at the end of the day, it will all be based on your own pre-conceptions, conditioning and beliefs. And while you do that, you are indeed "Lost in Translation".
6. He's Just Not That Into You (2009)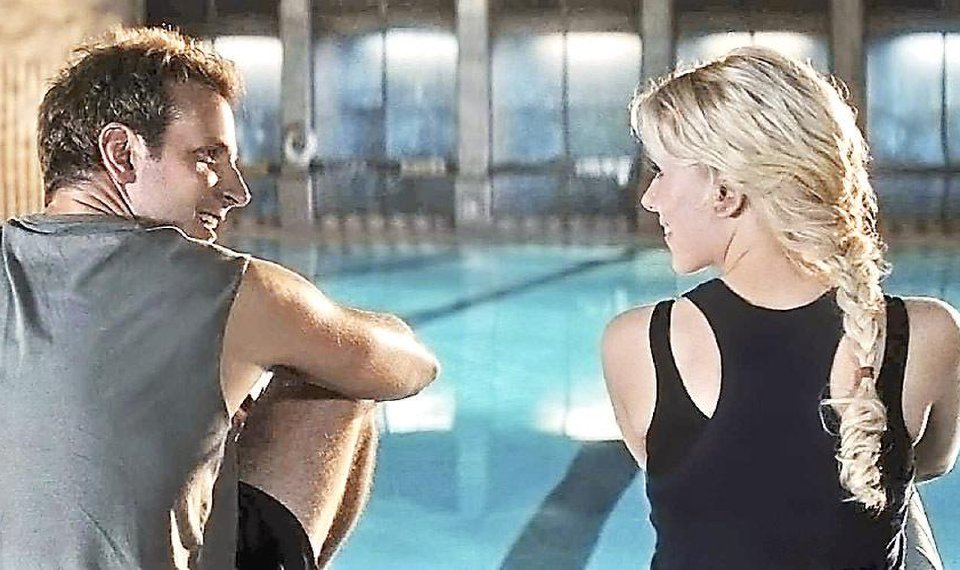 With a stellar cast that includes Jennifer Aniston, Drew Barrymore, Jennifer Connelly, Ben Affleck and Bradley Cooper, 'He's Not Just That Into You' explores a series of intertwined plots that revolve around the complexities of being in relationships and how heartbreaks can sometimes lead you to better things. Scarlette Johansson's character in the movie deeply falls for a guy (Bradley Cooper), but little does she know that he's hiding a big secret from her.
In one scene of the movie, Bradley Cooper and Scarlette Johansson get involved in a full-on make-out scene that involves intense kissing, stripping and even groping. While this scene is indeed one of the hottest movie moments ever, there is another steamy Scarlett Johansson moment that is even better than this one. To seal the deal, she strips everything and jumps into a swimming pool for a skinny dip. In this scene, she tries to tease Bradley's character after they agree to be friends. Sadly, he refuses to join her but he clearly has a good time watching her float that way.
5. Under the Skin (2014)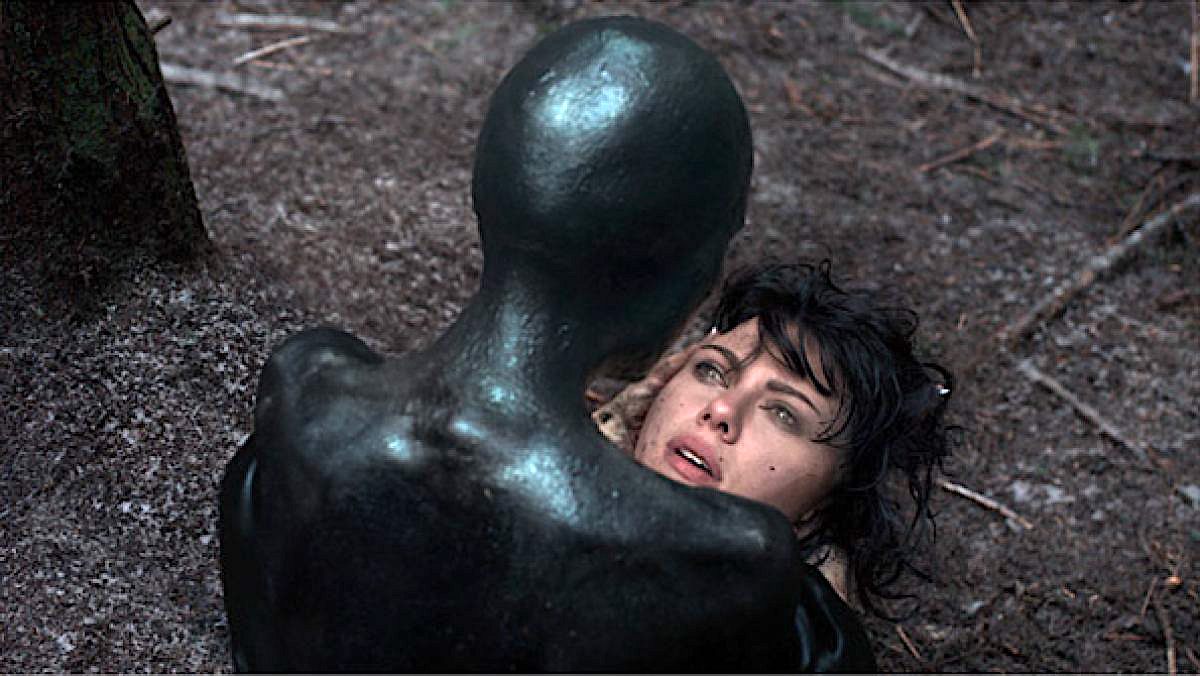 In 'Under the Skin', Scarlett Johansson plays the role of an extraterrestrial creature who disguises herself as an attractive human female. She drives a van along the lonely roads of Scotland and lures men into having sex with her. But before they know it, these men are transferred to a whole new dimension where they are nothing but alien food. But along the way, she gets a deeper sense of her existence and finds herself on a path towards self-discovery.
The film has multiple sex scenes where the actress is seemingly completely naked. There's also this one scene that shows her in full-frontal nudity and you get to see her body in all of its glory. But for the most part of it, the sex scenes of 'Under the Skin' are far from being sexy and instead, all the eroticism that has been portrayed in the film gives you an uneasy feeling. The best sex scene of the film would be the one that is featured in the early stages of the movie where she lures her targets into following her inside a dark rundown house. And she slowly starts to strip in this dark, empty, dreamlike space, without being bothered by where they are. The men just blindly follow her as preys and get deeply entranced by her little striptease, only to realize that she is nothing but a monstrous predator waiting to pounce on them.
Read More: Actors Who Went Nude For Movies
4. Match Point (2005)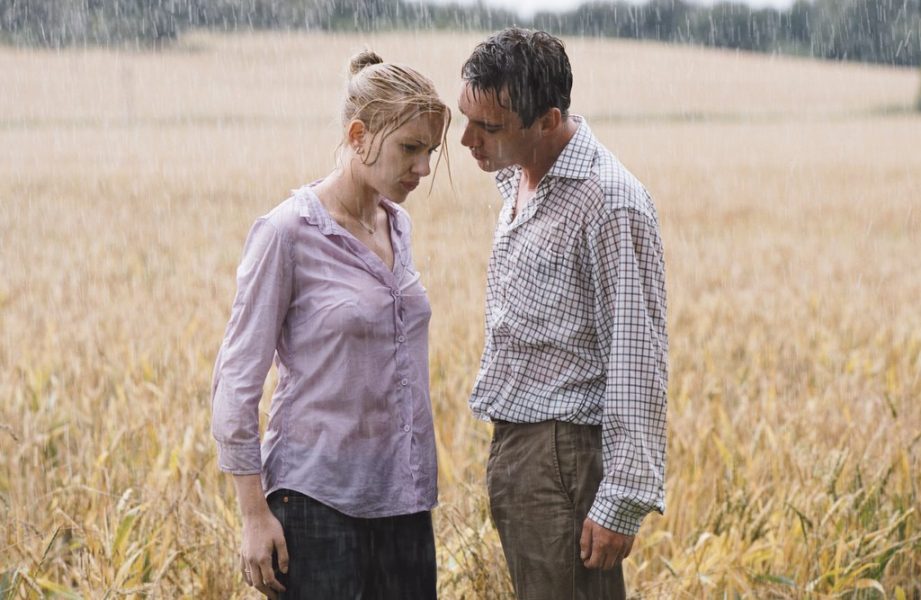 Written and directed by Woody Allen, 'Match Point' revolves around a former tennis player named Chris Wilton who tries to look for work as an instructor. Later, he ends up meeting Tom, a wealthy young man whose sister, Chloe, falls in love with him. But after taking just one look at Tom's fiance, Chris falls for the beautiful and luscious Nola. And as Chris and Nola start getting close to each other, Chris can't help but worry about losing both his wealth and position.
Pretty much any man would agree that the risk Chris (Jonathan Rhys Meyers) takes in the film is worth taking. Scarlett Johansson is just stunning as she takes on the role of femme fatale who seduces not just one man but two of them at the same time. Even if Woody Allen films are not exactly your thing, you'll still have a great time watching this one just by imagining yourself in the place of one of those two men. Out of all the great steamy scenes in the movie, the best one is where Chris and Nola embrace in the perfect romantic rainy weather and make out in the open.
Read More: Best Nude Scenes in Movies
3. A Love Song For Bobby Long (2004)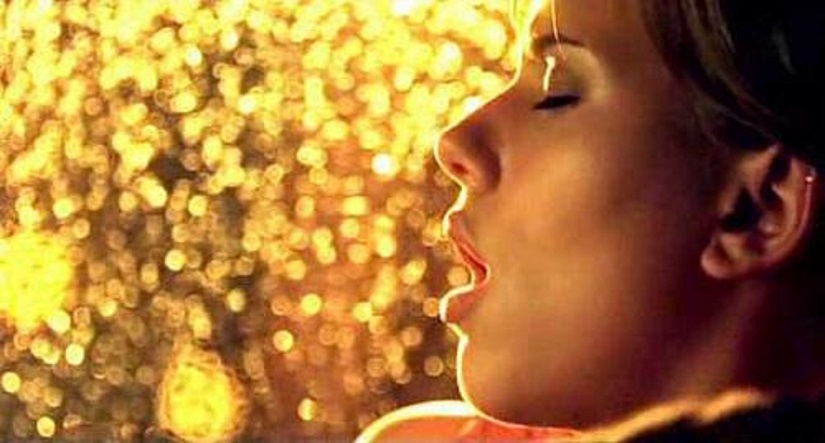 Scarlett Johansson plays the role of a Florida based teenager named Purslane Hominy Will who is informed that her mother has passed away. This is when she returns to her hometown for her mother's funeral and decides to stay at her place. But when she arrives there, she finds two drunk dwellers already leaving in the downtrodden home. One of them is a former English professor named Bobby Long (John Travolta) and the other one is his former assistant, Lawson Pines (Gabriel Macht), who has been trying to write a book about his life since the last 9 years. She decides to stay in the house with them and though it initially leads to a lot of discomfort, the two men start opening up to her and gradually start improving their lives.
The film has two major nude/sex scenes that got everyone's attention. The first scene is where Lawson walks in on Pursy as she tries to cover herself up with nothing but a bath towel. In the second scene, though there is no nudity, things get more intense. In this deleted scene of the film, Lawson and Pursy start making out passionately inside a car and as the raindrops slowly shimmer down the glass windows of the car, Pursy loses herself to the ecstasy of the moment. On-screen orgasms might be a bit of faux pas today, but here, that is definitely not the case.
Read More: Best 50 Shades of Grey Sex Scenes
2. Her (2013)
There is no doubt about the fact that Scarlett Johansson's acting skills transcend her physical attractiveness and 'Her' is the perfect example of that. In Spike Jonze's sci-fi romance film, Johansson manages to perfectly voice an operating system in such a way that you can completely understand why its owner (Joaquin Phoenix) fell in love with her. Her physical presence has had an impact on all the roles that she has played so far, but with this role, she just proves that even without her physical presence, she can be quite impactful as an actress. If you have not seen the film yet, the whole idea of a sex scene that involves a man and his OS might sound absolutely bizarre. But only when you watch the film and connect with Johansson's character you realize how tender and erotic the whole scene is.
Read More: Best Horror Movie Sex Scenes of All Time
1. Vicky Cristina Barcelona (2008)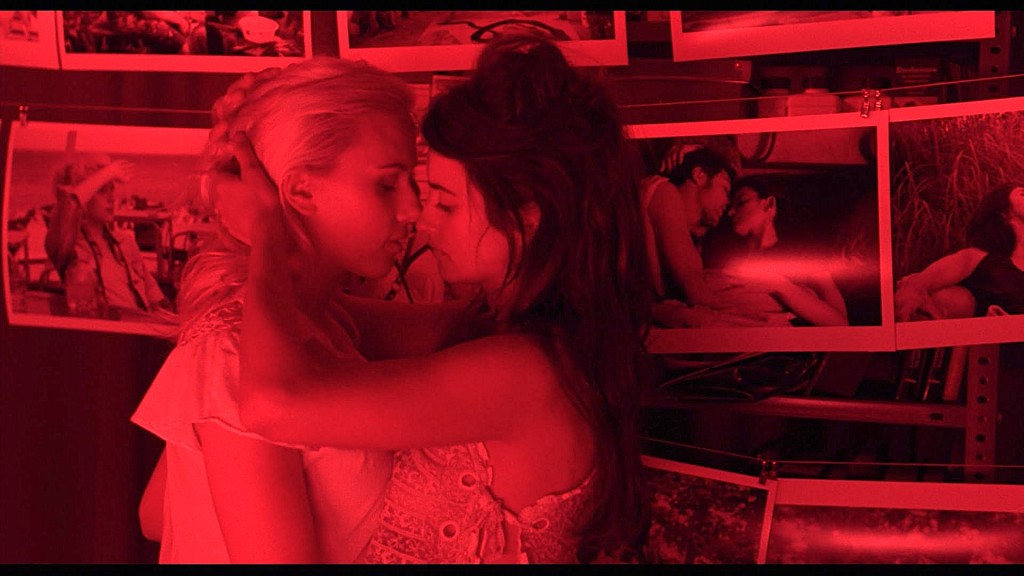 Another one of Woody Allen's creations, 'Vicky Cristina Barcelona' is arguably one of the sexiest movies ever made. There's this one scene that stays with you even after the film is over — the one where Scarlette Johansson and Penelope Cruz share a kiss. What follows is a threeway relationship that involves the two women and Javier Bardem. Any man would do anything to take the place of Javier's character in the movie and though this threeway relationship does not last too long and leads to a lot of obvious complications, it was wild, passionate and genuine while it lasted.
Read More: Best Nymphomaniac Sex Scenes