Created by Darren Star, 'And Just Like That…' is an HBO drama series that serves as a sequel to 'Sex and the City' and the two films that followed it. Set 11 years after the events of the 2010 film 'Sex and the City 2,' the series focuses on depicting the lives of Carrie (Sarah Jessica Parker), Miranda (Cynthia Nixon), Charlotte (Kristin Davis), and their friends in New York City in the 2020s. In season 2 episode 9, Carrie begins considering the prospect of getting a new apartment. Seema grows close to the European filmmaker. Nya discovers the value of Tinder and has hot, wild sex, keeping Miranda awake almost the entire night. Charlotte and Miranda discover that their children might have started a relationship. Here is everything you might want to know about the ending of 'And Just Like That…' episode 2 season 9. SPOILERS AHEAD.
And Just Like That… Season 2 Episode 9 Recap
The episode begins with Aidan getting into trouble with people in Che's building. Aidan arrives in New York for the weekend and is very friendly to the people in the building, which is want to do when you are borrowing another person's apartment for sex. Aidan tries to get one of his sons to speak to Carrie, but the boy isn't at all receptive, prompting him to apologize to her. They soon find an envelope addressed to Che that they have exceeded the 30-day guest limit on their property. Carrie suggests they meet at her apartment, but Aidan immediately shoots down the idea. Elsewhere, Seema begins a relationship with the handsome European filmmaker despite having reservations, prompting one of her colleagues to remark that one must do everything they can for a sale.
It will be interesting to see how long that relationship lasts. Seema was feeling lonely when she saw how rapidly Carrie reconnected with Aidan, and it reminded her how Carrie had two great loves in her life, and she had none. The blooming relationship with the European filmmaker seems promising, but if the last few episodes are any indication, Seema's relationships always end after she finds out something unusual about her partners. We will love to have Seema break the streak and finally find a man with certain regularity.
Meanwhile, Che meets a potential romantic interest when the person brings a litter of kittens to Che's workplace. Che also kicks Aidan and Carrie out of the apartment, though things go much more cordially than these words imply. Elsewhere, Anthony can't believe that someone as good-looking and young as Giuseppe would be interested in him and becomes increasingly suspicious. He mentions every excuse he can to avoid sex and even starts to believe that Giuseppe is with him because he wants a Green Card. When Anthony finally voices his reservations, Giuseppe reveals that one of his parents is American and that he has dual citizenship. Finally, believing this is not some elaborate prank, Anthony enters a relationship with Giuseppe.
Nya has round-the-clock sex with a man she met on one of the dating apps and initially appreciates how impersonal sex can be. Predictably, their activities bother Miranda, who is in the next room. There is also one washroom at Nya's place, and the access through it is through her room, adding to Miranda's troubles. During the breaks from sex, Nya and her partner scroll on social media, feeling liberated that they don't have to make small talk. But Nya discovers that her former husband has posted a photo with his current romantic partner, and she suddenly becomes aware of her loneliness and sends the man home.
Harry erroneously suspects Charlotte's new boss to be romantically interested in her, but it turns out that he likes Blondes, and his attempts to strike up a conversation with Carrie at a gathering at Charlotte and Harry's home turns into a disaster when he inadvertently reminds her of Big's death. At the same gathering, Lisa tells her husband that she is pregnant.
And Just Like That… Season 2 Episode 9: Does Carrie Sell Her Apartment?
That apartment is one of the most iconic things in the 'Sex and the City' franchise, a part of Carrie's quintessential identity. After Big's death, she moved back in there because that's where she felt most comfortable by herself, a perfect place for single life.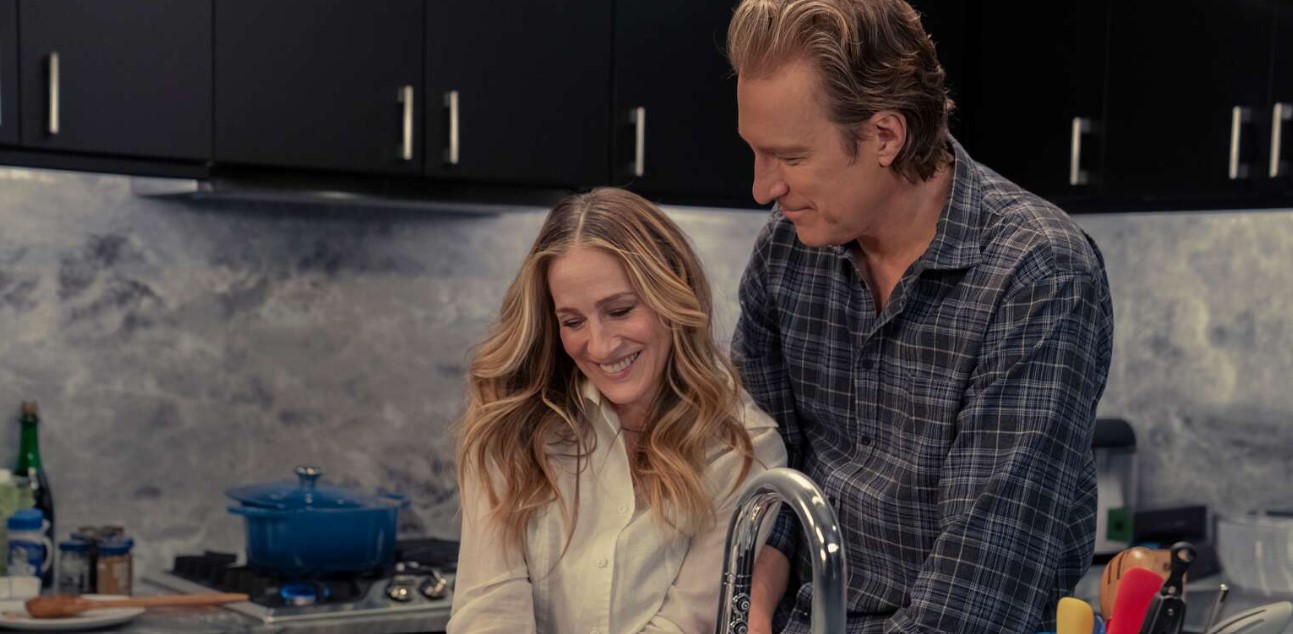 Things have changed with Aidan's return. As wonderful as he has always been, Aidan tells her he can never go into that apartment again, as he has made many painful memories there. In this episode, Carrie finally decides to sell the apartment and look for a bigger home where Aidan and his boys can come and stay. Seema seems to have the place for that.
Carrie is quite surprised when Aidan's former wife, Kathy, reaches out to her and asks for a meeting, but she acquiesces. When the two women meet, Kathy requests Carrie not to hurt Aidan again, as this time, there are children involved in the dynamic. Carrie recognizes the other woman's intention and doesn't take it as an insult. Later that day, she informs Seema that she will buy the bigger place and refers to her current home as her old apartment, indicating that she is ready to move on.
Are Brady and Lily in a Relationship?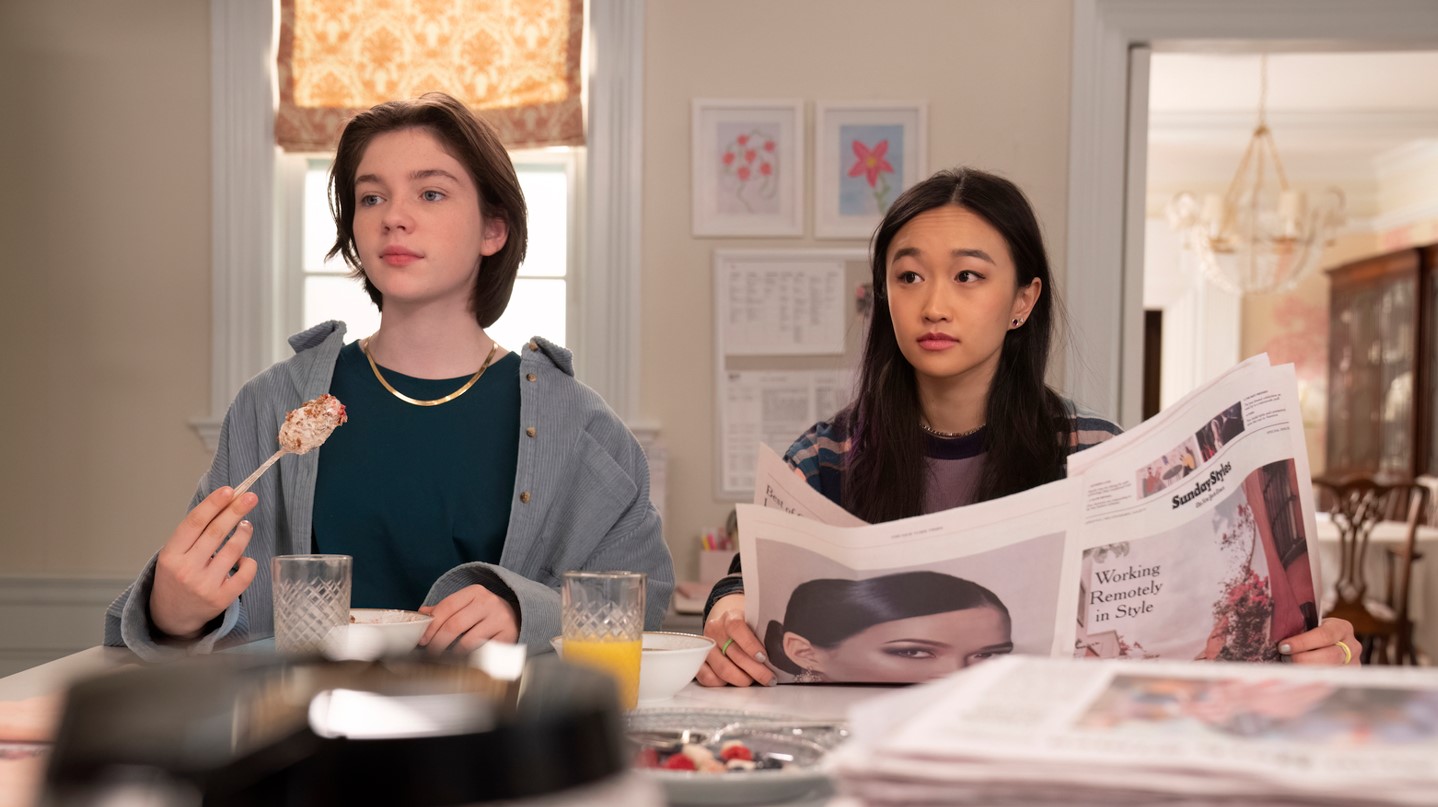 Lily is driven and goal-orientated, a total contrast to what Brady has become since his girlfriend broke up with him. Concerned, Miranda asks Charlotte whether Lily can help her son, prompting Lily's visit to the Hobbes home. When Miranda gets to her house the following morning, she finds Lily walking out of Brady's room and draws the conclusion that the two had sex. As she lets Charlotte know, the women try to figure out how to deal with it, apparently settling on letting the thing run its course.
Read More: And Just Like That… Season 2 Episode 8 Recap and Ending, Explained