Anil Kapoor is a perennial actor who has been playing his trade in the Bollywood circuit and international arena for more than three decades. With his great acting performances, he is someone who has been an icon. With over 100 movies under his belt, the versatile star has constantly strived to achieve a healthy balance of success and substance. A recipient of two National Film Awards and six Filmfare Awards, this man is a supreme talent. His movie Slumdog Millionaire shook the whole world and earned the movie Academy Award for Best Picture.
With that said, here is the list of top Anil Kapoor movies, carefully selected from her impressive filmography. You can also stream some of these Anil Kapoor films on Netflix or Amazon Prime.
12. Welcome (2007)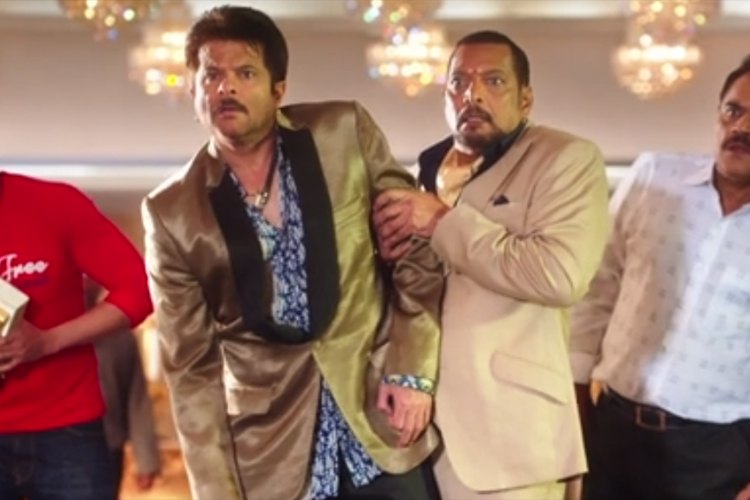 If you ever had a doubt on Anil Kapoor's comedy abilities, then you need to watch this one ASAP. Welcome is a Hindi-language comedy film directed by Anees Bazmee in which Anil Kapoor is Majnu Bhai. The way Anil Kapoor portrays the character of Majnu Bhai was such a laughter riot all throughout.
Related: Best Nana Patekar Movies
11. Ladla (1994)
A movie that's based on the storyline of a beloved son who lives with his disabled mom is such a fine movie made till date. Directed by Yash Kanwar 'Ladlaa' is the remake of Rajkumar's blockbuster Kannada movie Anuraga Aralithu (1986). It features Anil Kapoor as the beloved son along with Farida Jalaal reprising the role of themother along with Sridevi and Raveena Tandon as the other leads.
10. Slumdog Millionaire (2008)
Slumdog Millionaire was widely acclaimed, being praised for its plot, soundtrack and direction. Directed by Danny Boyle, this movie is regarded as a sleeper hit. It was nominated for ten Academy Awards in 2009 and won eight—the most for any 2008 film – including Best Picture, Best Director, and Best Adapted Screenplay. It won seven BAFTA Awards including Best Film, five Critics' Choice Awards and four Golden Globes. Anil Kapoor plays the role of game host in the movie and his portrayal was applauded throughout.
9. Woh Saat Din (1983)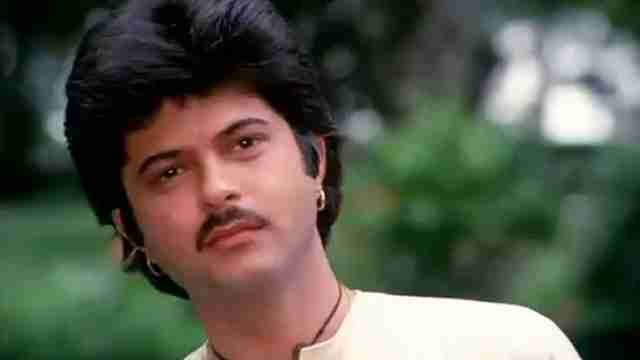 Playing naïve without a trace of pretension is no easy feat. To Kapoor's credit, his down-to-earth bearings and infectious simplicity as the struggling composer Prem Pratap Patialeywale pulls off the old-fashioned sensibilities of his character dragged into a marital snag.
8. Kishen Kanhaiya (1990)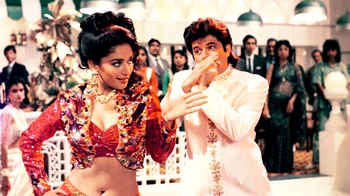 Directed by Rakesh Roshan,'Kishen Kanhaiya' is a 1990 Indian Hindi film which is based on the twin characters of Anil Kapoor.The film is a traditional Bollywood drama story and is a remake of Ram Aur Shyam starring Dilip Kumar.
This movie is worth to watch.
7. Mashaal (1984)
Directed by Yash Chopra and adapted from Vasant Shankar Kanetkar's Marathi play Ashroonchi Zhali Phule, Mashaal is Anil Kapoor's most acclaimed movie. This movie showcases Anil Kapoor as Raja whose life changes from black marketer to journalist to an underworld Don and a Racketeer in order to combat Vardhan. The film got positive reviews from critics. Anil won his first Filmfare Award in the Best Supporting Actor category.
6. Nayak: The Real Hero (2001)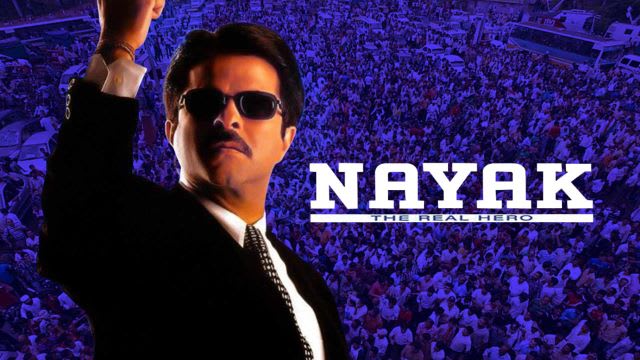 A political thriller movie, Nayak is considered as a masterpiece of Anil Kapoor. This is remake of Shankar's Tamil block-buster Mudhalvan in which Anil Kapoor shows what he can accomplish as a Chief Minister in one day but soon he is embroiled in political intrigue. The film was a box-office failure, primarily because of poor marketing but was critically acclaimed.
5. Ram Lakhan (1989)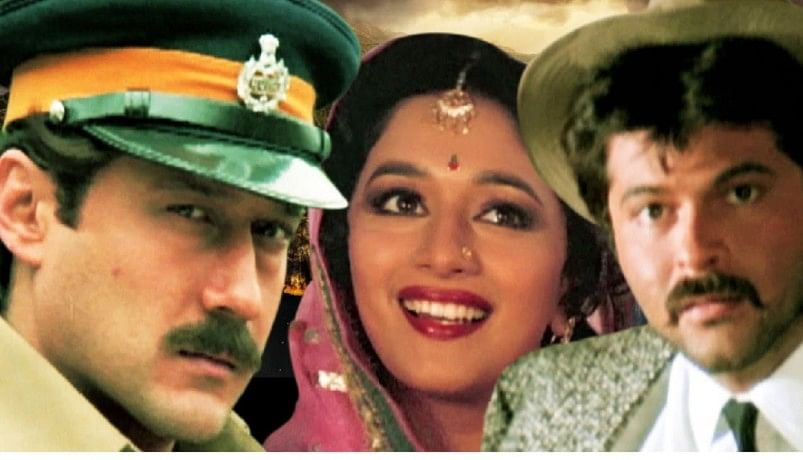 Who wouldn't remember the chartbusting number from this movie- 'Yeh Ji, Oh Ji'?. Directed by Shubash Ghai 'Ram Lakhan" is one of the most best drama films of Bollywood dill date. This movie featurs the story of two brothers played by Anil Kapoor as Lakhan who is a rascal, a scamster, a charmer, a brat, an avenger, and Jackie Shroff as Ram who is the elder brother of Lakhan. This movie received a lot of acclaim from the people.
4. Tezaab (1988)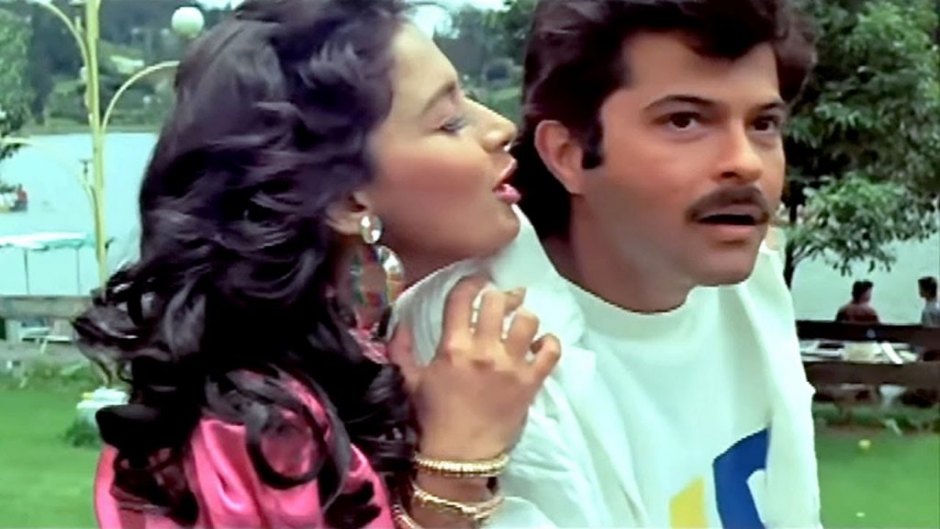 Wearing intensity as proudly as his moustache, Kapoor swallows the screen with his fury and passion in N Chandra'sTezaab.
The superhit duo of Anil Kapoor and Madhuri Dixit lead the film. The movie showcases a college student, who decides to serve for his country but turns a criminal. The acting of Anil Kapoor uplifts the movie to become one of the biggest
hits of the 80s.
Related: Best Anupam Kher Movies
3. Parinda (1989)
Another landmark in a career worthy of great envy, Vidhu Vinod Chopra's Parinda continues to hold top spot in the genre of crime dramas. This movie is about gang-war and underworld. The movie features Anil Kapoor and Jackie Shroff as the two brothers caught on the either side of gang-wars while Nana Patekar plays the role of a don. This movie is considered by many to be the turning point in the introduction of realism in Hindi cinema and won two National Film Awards and five Filmfare Awards.
2. Mr India (1987)
One of the finest movies of Anil Kapoor which is directed by Shekhar Kapoor. Sridevi is impressive in the film, but as the titular the invisible superhero Mr India, this is Anil Kapoor's show all the way. This movie is about a poor yet big-hearted person taking orphans into the home and sheltering them. This movie follows him using an invisibility device to fight the rich and powerful. This movie remains one of the most iconic movies in Indian cinema. The film was also the highest-grossing Indian film of 1987, and remains a cult classic in India.
Related: Best Sridevi Movies
1. Lamhe (1991)
Lamhe is one the most acclaimed movie of Yash Chopra and one of those rare films whose box office disappointment doesn't dampen its glory. This unconventional romance movie features Anil Kapoor in dual roles while Sridevi plays the female lead. The way Anil Kapoor plays the role of heartbroken young man along with dual role of grey haired somber man in his 50s is exquisite and irresistible. This movie consists of soul-stirring music and moments of passion, of ecstasy and of life-changing love. This movie has become a cult classic over the years.