For any romance, drama fan, 'Say I Love You' is an entertaining anime. The anime follows the life of Mei Tachibana, who tries to keep herself away from society. She believes that friends are not meant to be trusted. Her pessimistic attitude began after being wrongly blamed for the death of their class pet. Even now she remains adamant in her view of the world. So, when one of the most popular guys, Yamato Kurosawa, starts talking to her, she does not welcome this change. But later, he saves her from a stalker by kissing her. This marks the beginning of something beautiful, right? No! Complications kick in (it would not have been so popular otherwise). The series follows Mei and Yamato as they try to work out their relationship. With all that said now, here's the list of best anime similar to 'Say I Love You' that are our recommendations. You can watch several of these anime like 'Say I Love You' on Netflix, Crunchyroll or Hulu.
8. Kimi ni Todoke (2011)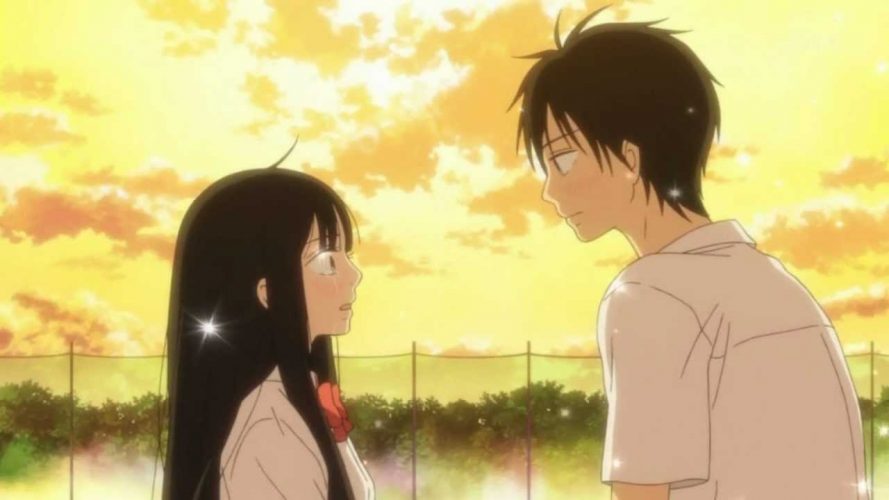 Want an anime similar to 'Say I Love You'? Let's see what 'Kimi ni Todoke' is all about. A girl having trouble in her social life. Check. The trouble is due to a misunderstanding. Check. She starts a relationship with a popular guy. Check. Complications in the said relationship. Double check (I should've gone with a check. Don't know why I did 'double check'!). So yes, it is another funny romantic comedy, which you will love. Kuronuma Sawako is misunderstood by everyone as they take her timid and sweet behavior as a forefront for some malicious intentions. Her looks don't help her since she looks like the ghost girl from 'Ring'. Sawako just wants a normal life and normal friends. But prospects seem bleak until the most popular guy in the class starts talking to her. Maybe there's some hope of friendship after all, positively something more.
7. Bokura ga Ita (2006)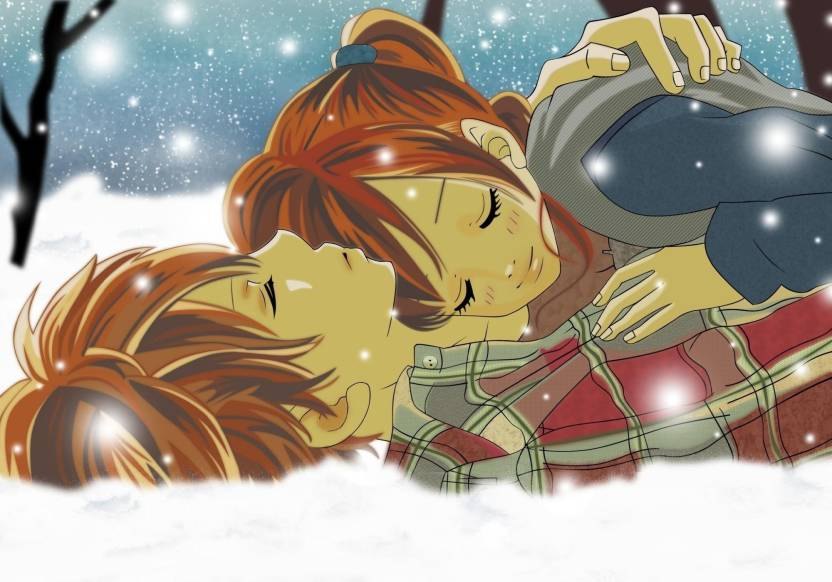 'Bokura ga Ita' has all the emotional drama that we see in 'Say I Love You'. The relationship between the main characters goes through various complications like in 'Say I Love You'. Nanami Takahashi, the female protagonist of the anime, starts her high school life with the hope of making new friends. There, she meets a boy by the name of Yano Motoharu. One of Nanami's friends is Yuri and she seems to have an indifferent attitude towards Yano because he was the boyfriend of her older sister. Though initially Nanami doesn't care about him, slowly, her attitude towards him changes. The two become close and spend lots of moments together. But their relationship has lots of complications since Yano is yet to completely move on from the feelings of his previous relationship; Yano's ex-girlfriend, Nana died in a car accident. He feels it hard to open up to Nanami. Will these obstacles deplete their hopes of having a good relationship or will they get through this together?
6. Ao Haru Ride (2014)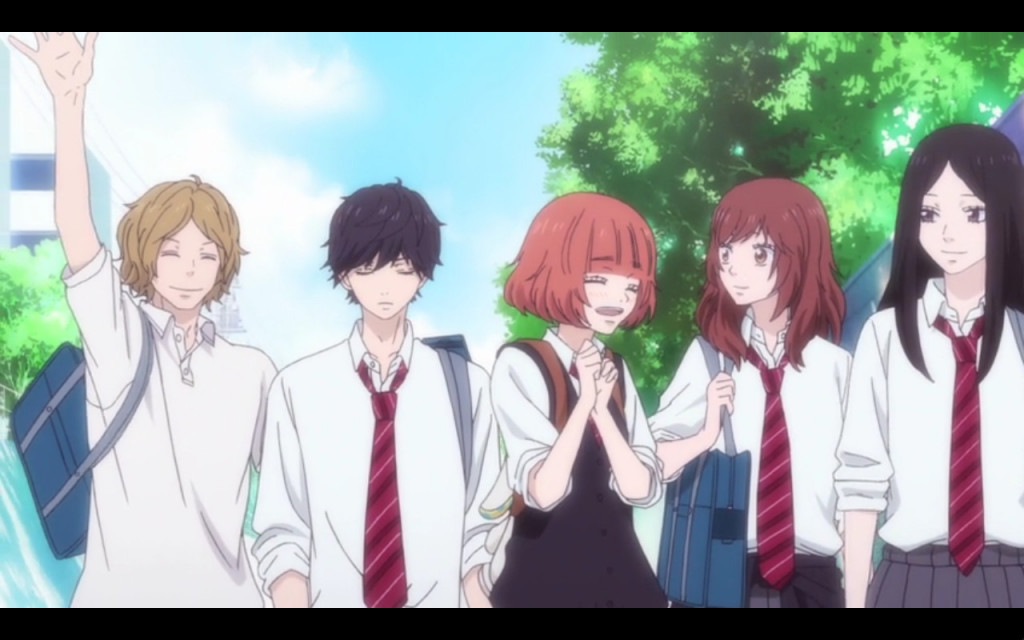 Well, without checking or 'double-checking' let me just blurt it right out. 'Ao Haru Ride' has lots of similarities with 'Say I Love You'. We have a female protagonist, Futaba Yoshioka, who loves a guy but some misunderstanding blows off her chances to pursue the said guy. She thus distances herself from society, trying not to attract too much attention. Her cute and friendly demeanor changes to a tomboyish attitude. But she is not the only one who changes. The boy she liked, Kou Tanaka, has changed a lot too. For starters, his name is now Kou Mabuchi. But everything about his personality seems to have changed, as now he is not that timid, innocent boy with whom Futaba once shared a shelter during a rain. Now, when he comes back in her life, will her feelings for him change or will she pursue the only boy she ever liked, even though he has changed so much?
5. Yahari Ore no Seishun Love Comedy wa Machigatteiru (2013)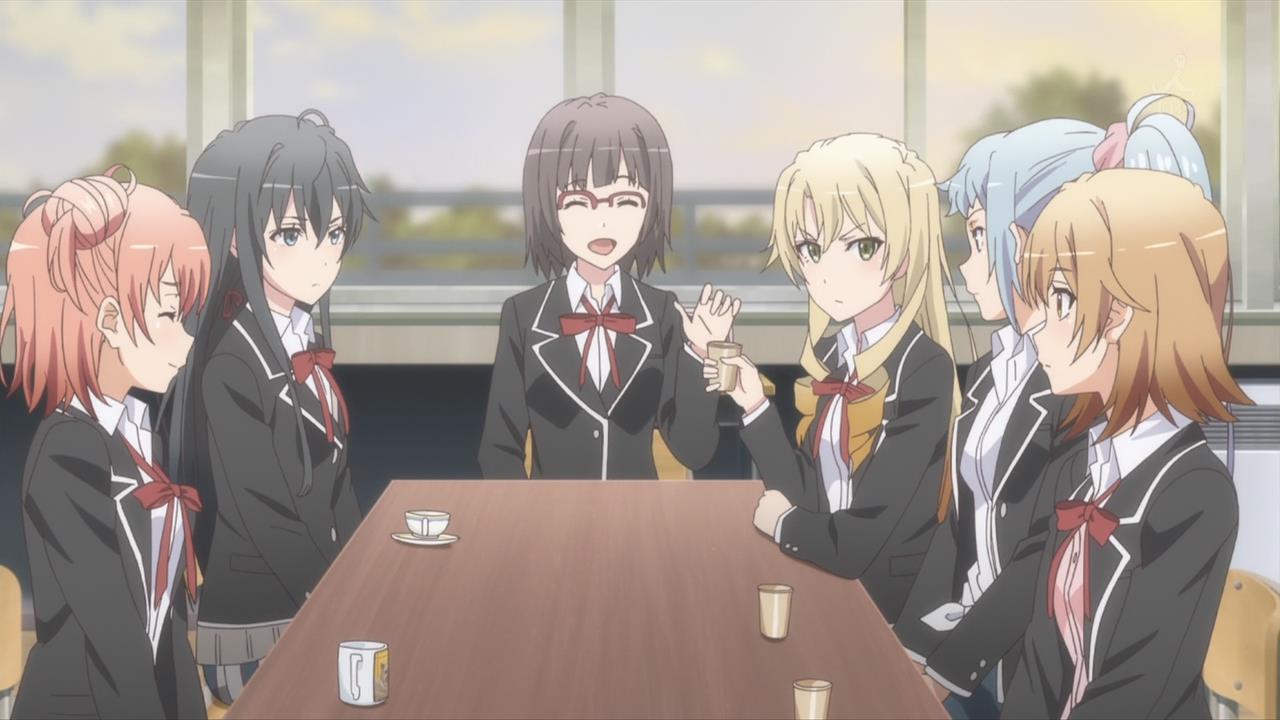 Look, romantic comedies are designed to give you a break. A romcom is an interval from your other serious media. 'Yahari Ore no Seishun Love Comedy wa Machigatteiru.' delivers on that criteria. It is fun, entertaining and will give you some nice relaxation. It has drama, themes of self-discovery in it, which give it a spot on this list. The protagonist of the anime is a narcissistic boy, Hachiman, who has a very pessimistic view of the world in general. He mocks modern social relationships in an essay. This makes his teacher punish him by putting him in a social club, which helps other students in need. Joining him is the cold-hearted Yukino and a few other students. Is Hachiman's negative view of everything going to help his cause or will it backfire? One thing is for sure though, it is going to be a lot of fun.
4. Itazura na Kiss (2008)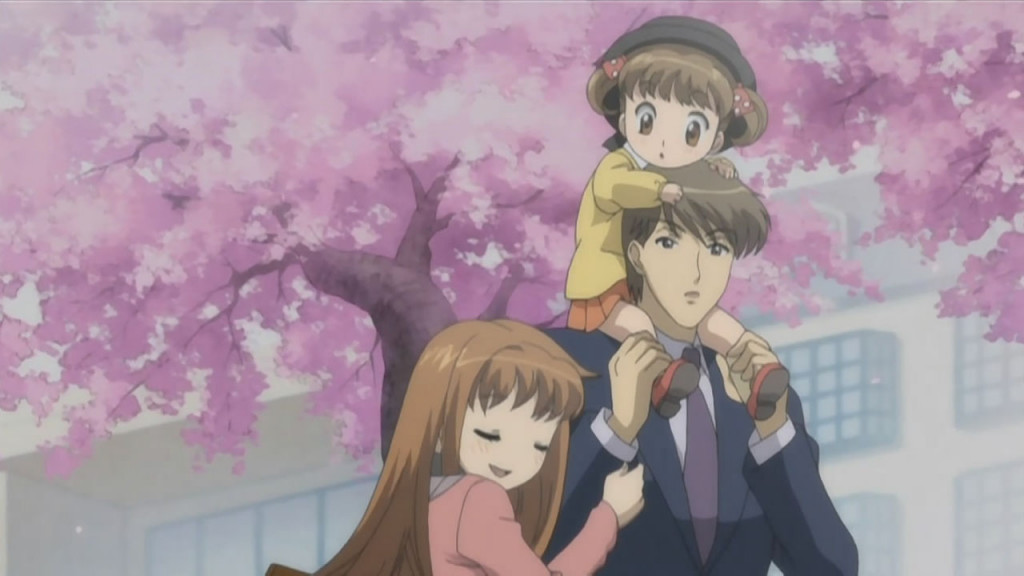 Well, the protagonist of 'Itazura na Kiss' is also a girl as in 'Say I Love You'. This girl also is sort of aloof as far as society is concerned and has a crush on a guy whom every other girl likes. Her name is Kotoko Aihara. She is a low-achieving and not so smart high schooler, which does not help the fact that she wants to pursue her crush, Naoki Irie, who might be the most genius boy in Japan. Things change after her home gets destroyed in an earthquake and due to certain circumstances, she ends up in Naoki's house. How convenient, right? But wait, if there's no complication, where's the fun? We have a mother who is always interfering in anything that has to do with her kid, which does not help Kotoko's cause. Then there are some silly friends. But nothing is going to shake Kotoko from her pursuit as she believes she still has a chance as she has never been so close to him before (physically, of course).
3. Kokoro Connect (2012)
Though the drama and romance in 'Say I Love You' are intense, it packs a punch of realism. 'Kokoro Connect' has all the emotions and drama you need for a slice of life, romantic comedy but it adds a supernatural element to it. Look, before you judge it to be some kind of monsters and demons garbage, let me clarify that it's not. Have you seen 'Kimi no Na wa'? (I assume you have since you are on this list)? It had supernatural stuff, right? Now, you got my point. The story revolves around a group of five misfits who band together to form a club. They get really close as they do not have any other friends. But then the supernatural stuff kicks in. The five start switching bodies among themselves randomly. Though at first it might seem like fun and games, soon, they start to realize the pain and emotional scars each of them have, which make things complicated. Will they be able to sustain their bonds amongst all this?
Read More: Anime Like DanMachi
2. Peach Girl (2005)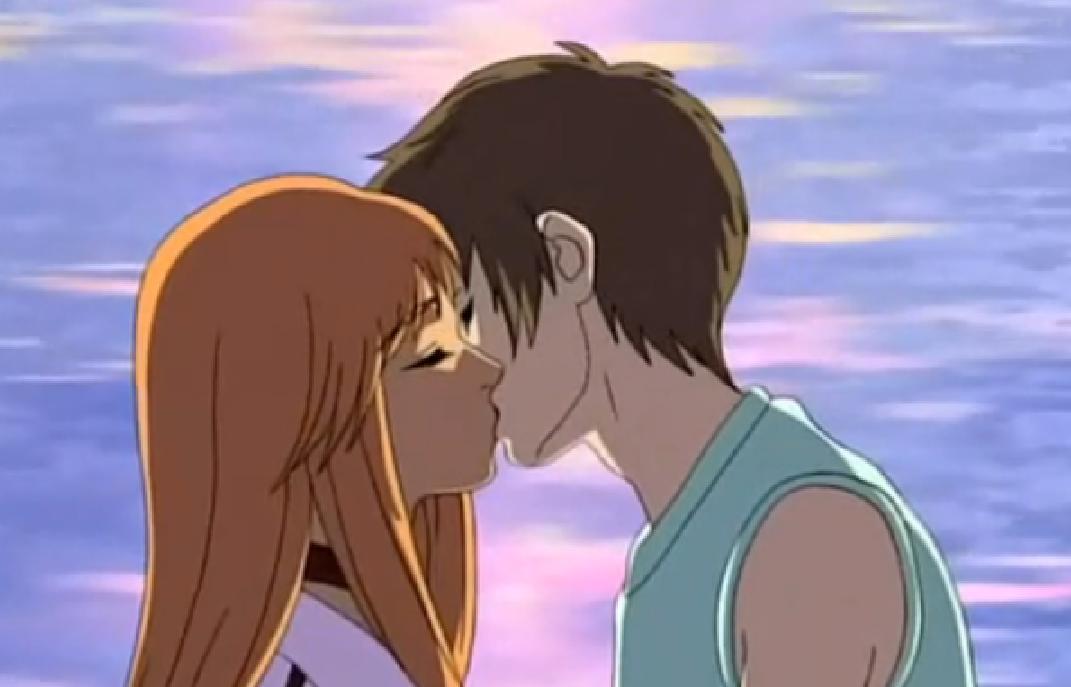 'Peach Girl' is about a girl who does not have a healthy relationship with society. She is misunderstood and it causes a lot of trouble for her. The protagonist of the anime is Momo Adachi. She is a pretty girl with tanned skin. This is the source of misconception among people who think that she is a beach bunny. Obviously, this is highly inconvenient for her since the real reason she is tanned is because she is on a swimming team and her skin tans easily. But unfortunately, this tan complicates her life even more as the guy she likes only prefers non-tan girls (seriously!!). Of course, she has friends who help her get through her troubled life, doesn't she? No. Her friend adds to the trouble by trying to get Momo's crush to herself. Then again, there's this another guy who likes Momo, and so on and so forth. So yes, this is pretty much your everyday rom-com!
Read More: Anime Like Baki
1. Ballroom e Youkoso (2017)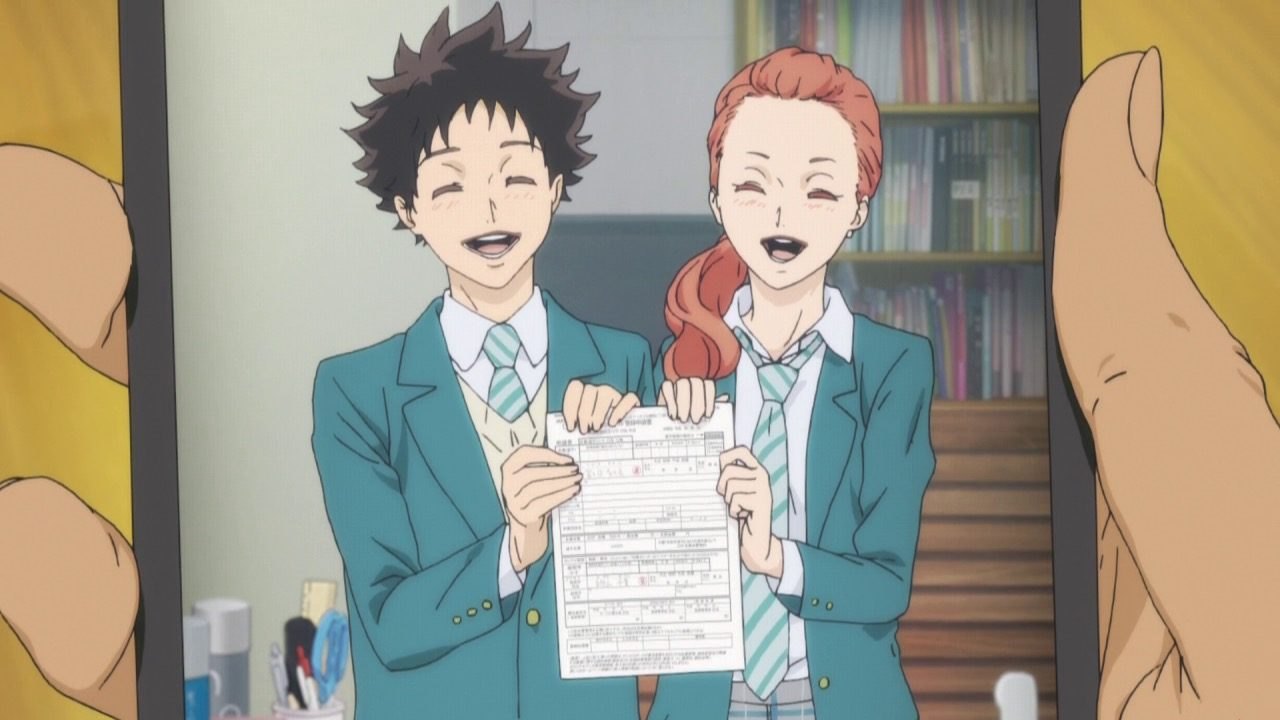 The main reason why I picked 'Ballroom e Youkoso' for this list is that it is a romantic comedy and a very entertaining one at that. However, if you want the main character of the show to be a female, then look elsewhere, since this anime is about a boy. Tatara Fujita, the protagonist of the anime, has been wanting to blend in all his life. He tries to stay out of trouble or challenges. But sometimes, you just can't 'blend in'. This anime takes us through the journey of self-discovery that Tatara goes through. After being saved by a man named Kaname Sengoku from a bunch of bullies, Tatara is invited to his dance studio. He feels something he has never felt before. The thought of being in the limelight as he is dancing while others watch makes him come back and well, there he meets a girl!
Read More: Anime Like Ouran High School Host Club