TLC's '1000-lb Sisters' follows the lives of sisters Amy Slaton-Halterman and Tammy Slaton as they embark on their weight loss journey. The reality show also features Amy's husband, Michael Halterman. The two served as inspiration for most people because Michael always stood by Amy's side patiently and assisted her in leading a better and healthy life. However, season 4 showcased a small rift between the two, followed by their split rumors. So, what could be the possible reason behind the same, and is there any truth to the buzz about their divorce? Let's find out!
Amy and Michael's 1000-lb Sisters Journey
Amy is a 35-year-old who rose to fame after her videos and vlogs on YouTube. In contrast, Michael is a 40-year-old mill operator at Shamrock Technologies. The two were reportedly high school sweethearts who met in the 2000s but only took the big step of marrying each other in March 2019. Since the show's premiere, Amy has been vocal about her husband's support and unconditional love.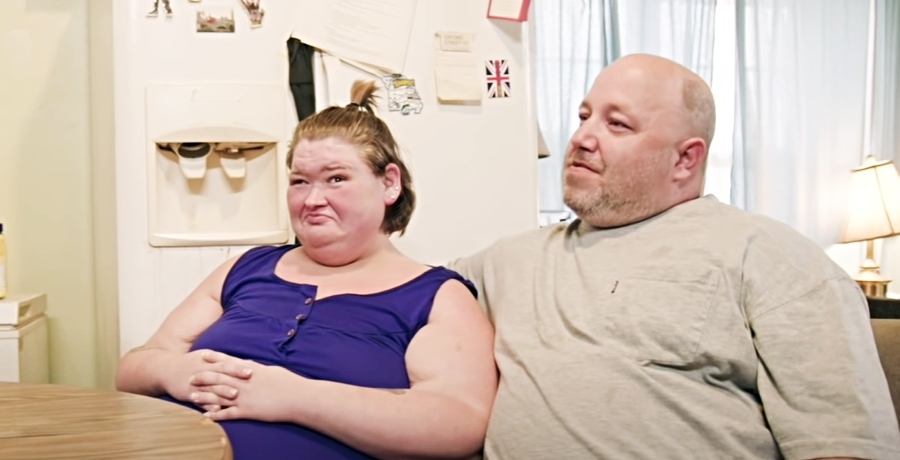 On several occasions, Amy praised her husband and his efforts. She commented, "My husband, Michael, means the world to me. Michael and I are newlywed, but we've been together for years now. I can tell him anything and everything. Michael's really supportive of me helping Tammy." The duo's goal was to make Amy eligible for a gastric bypass surgery through proper diet and exercise.
In 2020, she finally underwent the procedure after losing sufficient weight, which improved her chances of pregnancy. In season 2, the couple revealed they were expecting to become parents. During episode 9, Amy gave birth after a high-risk and complicated pregnancy. However, the couple welcomed their first child, son Gage. In season 3, the duo moved out of their duplex along with their child. Amy recovered after birthing their second son, Glenn, while her husband battled COVID-19 during season 4.
After testing negative, Michael did not show up for Amy after her C-section. So, she had to do prohibited heavy lifting while her scars were still healing. Another instance showcased how Amy broke down in tears after receiving no assistance from her husband while caring for the babies. So, after such a long and beautiful journey with occasional troubles, has the couple parted ways, or are they still holding on to each other?
Are Amy and Michael Still Together?
No, Michael and Amy are no longer together. As per reports, Amy and her two kids have been living with her sister, Tammy. The mother of two seemingly revealed how her husband was lazy and jealous of the attention her toddlers were receiving. Sources suggest that Amy's income from the show is the highest because she also has the contracts of her son Gage and Glenn. Even though there are talks of renewing the show on another platform, she in no way is seemingly dependent monetarily on Michael.
The reason behind their split could be the one stated by Amy, and the viewers have observed multiple examples of the same on the show itself. The couple's struggle is evident, especially after the birth of their second child, but reportedly, none of them has filed for divorce.
The two are not separated per legal standards, but they seem to be moving in that direction. A subtle instance that sent the fans into a frenzy occurred when Amy posted a picture of her son's photo and penned a sweet caption on Instagram, "Happy eight months baby, mama, and Gage, and everyone loves you." Fans were quick to point out that she named herself and Gage but not his father, and it might be a hint about their split.
The duo still follows each other on Instagram, and their photos together have not been deleted. So, there might be a chance of reconciliation in the future if both parties are ready to work through their problems. But no matter what their decision is, we hope the best for Amy, Michael, and their children.
Read More: Do 1000-lb Sisters Get Paid? How Much Do They Make Per Episode?