Season 19 of 'The Bachelorette' put a twist to the basic format and introduced not one but two co-leads, Gabby Windey and Rachel Recchia. The two gorgeous women embarked on a quest to meet a few interested men, date them for weeks, and decide whether one of them is their one true love. During her time on the dating reality show, Rachel's brewing romance with Aven Jones convinced the viewers that the two were made for each other. However, things took an unpredictable turn in the end. So, did the two keep up after the show, or was it the end of an almost-perfect duo?
Rachel and Aven's Bachelorette Journey
Rachel was eliminated after reaching the top three of 'The Bachelor' season 26. However, the flight instructor and pilot made a comeback on 'The Bachelorette' season 19, hoping to find the love of her life. Aven is a Sales Executive who appeared on the show to find a meaningful relationship that would last forever. The two shared a few Fantasy Suite Dates, but some were the highlights of their journey. Like the one on a Yacht, where Aven talked about his feelings and said, "The more and more I've gotten to spend time with Rachel, I continue to see her as somebody I can spend the rest of my life with."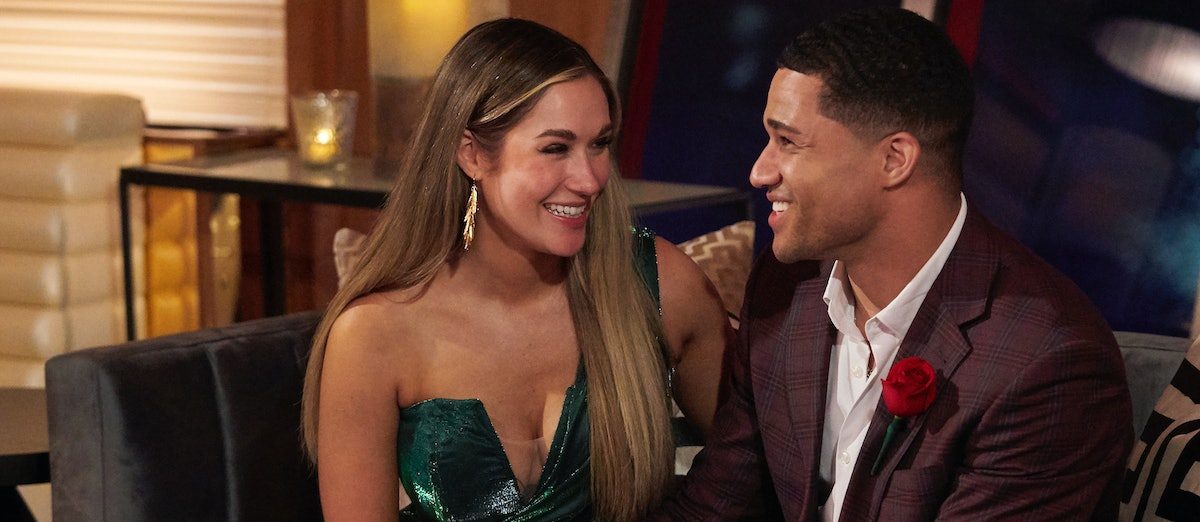 Aven confessed his love to her when they visited his hometown. On another date, Rachel echoed his feelings and admitted that she had been hesitant earlier because, as per her previous experiences, the word "love" was being thrown around "carelessly." Aven was overjoyed to hear this, and he expressed, "I'm on cloud nine, it meant the absolute world to me that she was able to say that she was falling in love with me as well."
Their ship was sailing smoothly, and the two seemed sure about their intentions, but one particular meeting changed everything. Rachel was excited to introduce Aven to her family and best friends. However, according to Rachel and her pals, Aven's response seemed slightly unsure. The duo had an emotional conversation about this which ended in tears and heartbreak, where she clearly stated that things had ended.
Rachel chose Tino, who proposed to her with a ring and then later kissed someone else, which ended their relationship. On 'After the Final Rose' special, when she confronted Tino, the host brought out Aven on stage because he wanted to "catch up outside." The bachelorette was surprised to see him and said, "I would love nothing more." They walked off the stage. The audience erupted in cheers while all of this unfolded like a movie. Since then, fans have been waiting for an update from their beloved couple. Were Rachel and Aven able to sort out their differences, or did they meet a dead end after the show?
Are Rachel and Aven Still Together?
No, unfortunately, Rachel and Aven are not together. After what happened on the show, the fans commented that Aven was ready to offer her a lifetime of support and a healthy relationship, but she was hellbent on wanting to be engaged on the show. As per the viewers, his need to take some time was completely justified, and Rachel got too caught into the words rather than their meaning. In an interview with 'Live Kelly and Ryan,' she was asked about the future of her relationship with Aven. The response wasn't clear cut, but she said, "I think right now we are seeing where things go."
Rachel also revealed how shocked she was to see Aven on the season finale for a second time. She acknowledged his effort for wanting to support her through difficult times. In another interview with ExtraTV, she stated, "We'll have to wait and see. I think we're just taking things one step at a time." When Aven was interviewed by Bachelor Nation in September 2022, he discussed his choice of words and how they could have been better. According to him, things were progressing at the right pace. However, he shared that he was ready to go forward with the engagement because he was "caught up" in everything.
Aven said he only needed some clarity and time and believed that things might have been different if she had heard the same from him before her family. After the show, he shared a heartfelt post for Rachel on Instagram and expressed his gratitude. He wished her "eternal happiness and love" by the end of the post, and fans couldn't stop praising his class act. Unfortunately, the two aren't following each other on Instagram, which is odd considering how much adoration and respect they had for one another, even when it all ended.
In a podcast, Rachel also spoke highly of Aven and wished him happiness. She expressed she wanted to see him thrive and seemed open to the possibility of seeing him again to know what happens. However, she also mentioned how they've already been through so much. In November 2022, she spilled the beans on another podcast and spoke about going on a date with a mystery man, who was a "random person" that texted her on Instagram. From all that has unraveled on and after the show, it seems the duo has no bitter feelings for each other.
As both living in the same state, fans can hope for the two to rekindle the spark if the flame doesn't die out. Having said that, only time can tell what their future beholds. So from what we can tell, Rachel and Aven have hinted at several occasions how they are open to the idea of getting back together, but as of now, they are not in a relationship. She has moved to Los Angeles, California, and is starting anew with her dating life. In the Golden State, Rachel is likely the "roomie" of Genevieve Parisi, whom we saw on 'The Bachelor' and 'Bachelor in Paradise.'
On the other hand, Aven is reportedly working as an Accountant Executive in San Diego, California. He hasn't made any public statements about his love life, so it seems like he's either enjoying the single life or waiting for the right moment to publicize it. We are happy to see them do so well in their individual lives and address each other with grace and love in every conversation.
Read More: Are Rachel Recchia and Gabby Windey Still Friends?