Ben Flajnik held the reigns of season 16 of the entertaining dating reality show 'The Bachelor.' After courting over a dozen women in pursuit of the woman of his dreams for weeks, Ben finally proposed to Courtney Robertson. The two had an impressive run on the show, even when the odds were stacked against them. The group targeted Courtney to eliminate her, but Ben saw through the facade and did not let superficial things blind his love. However, that was back in 2012, and a lot can change in due time. So, let's look at how their relationship has transformed and if they've eventually tied the knot.
Courtney and Ben's The Bachelor Journey
Ben was a runner-up in season 7 of 'The Bachelorette,' and he was a businessman who owned a winery. In contrast, Courtney was a 28-year-old model from Scottsdale, Arizona. Their first date was a walk in the woods, while his dog Scotch tailed along with the duo. She made the best first impression on the date, so Ben gave her the rose. On the group date, where they did horseback riding and fishing, Courtney again received the rose from Ben.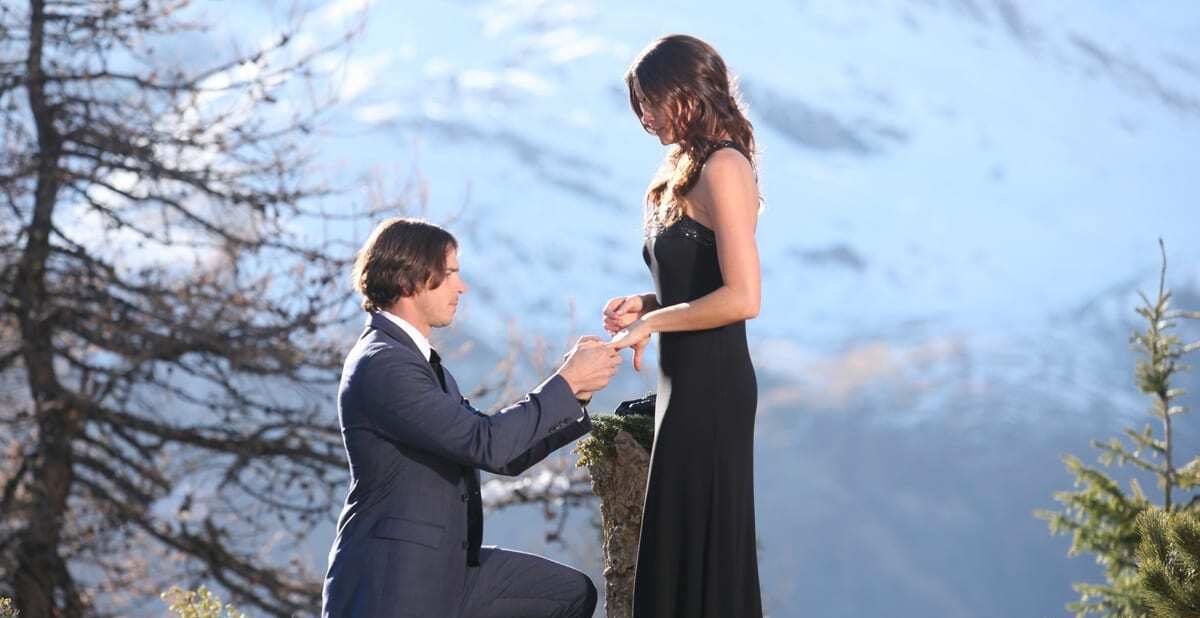 Despite Emily's best efforts to eliminate Courtney, Ben does not give in and believes in her words. In one instance, Courtney also took the lead and surprised Ben with a bottle of wine and invited him to go skinny dipping with her (he obviously accepted her offer). On their second date, the couple traveled to the Mayan ruins of Lamanai. Courtney expresses that she feels the two have "lost the spark," and she is not yet ready for him to meet her family. But Ben was worried about Courtney's unfriendliness towards most women in the competition, and he was scared that he'll marry someone his friends despised.
Courtney made it clear in the rose ceremony that she was only there for him and did not intend to make any friends. Even though the group strongly wanted Courtney to go home, she received the last rose and was now lined up to meet Ben's parents. Their hometown date in Scottsdale, Arizona, was wholesome and a treat for most fans. Ben took Courtney to his family house, where she met his parents and sister. Later, the two went to a park and imitated their wedding ceremony as a joke.
The next date in Wengten started with them boarding a train and shopping for a picnic. The duo spoke about their emotions and past problems and connected on a deeper level. They also went to a wine cellar where Courtney revealed how she felt about the other contestants. Courtney made it to the final two, and he introduced her to his mother and sister as his potential life partner. The two were initially opposed to the idea of marrying her because she was a model, but Courtney won them over with her kindness, and Ben's family was ready to welcome her.
On their final date, they took a helicopter ride around Matterhorn and sledded down the mountains. She confessed her love for him and opened up about her trust issues with men. In the final rose ceremony, Ben proposed to Courtney, and she accepted. However, in the 'After The Final Rose' special, the duo gave a shocking update about their relationship. The couple had broken up around Valentine's Day, and the fiasco involved cheating allegations (denied by Ben), melodrama, and whatnot. But they were ready to fix the problems and stated how the two were doing their best to give it another try and mend their relationship. In the end, Ben returned the engagement ring to Courtney, and it was clear that the couple was starting anew.
Are Courtney and Ben Still Together?
No, Ben and Courtney are not together. The couple released a joint statement in a magazine where they spoke about the turbulent nature of their relationship, which weighed heavy on both, so they grew apart and focused on their careers. However, Courtney's father has claimed that the breakup was a result of Ben's controlling temperament. The family planned the wedding, and she chose her wedding dress. However, they mutually broke up after nine months in the relationship.
In a blog, Ben talked about the relationship's negativity that worried him, so he called off the engagement. Even after the split, the two admitted to having no regrets about their romance on the show, and they still respect each other. In an interview with E News, Ben addressed the situation after a decade and said, "It's totally fine. We made amends a number of years ago. We didn't speak for a while, but my sister still chats with her. I understand she just had another kiddo, and my sister just had another baby, so they still chat about mom things. And that's great. I'm glad they have a relationship."
He had a walk down memory lane and discussed pivotal moments of the show in this interview.
By the end, he stated, "I'm happy. I'm at peace. We've got a growing family. My sister just had her second kid, and we're all in very close proximity. We're focused on family and work, and community. That's really all I'm after at this point."
After the show, Ben became a published author of two children's books and started his winery business while continuing to enjoy his single life. He was also in a long-term relationship with Stephanie Winn, a woman he met on Tinder. On the contrary, Courtney is married to Humberto Preciado, a real estate agent, and attorney. They have birthed two beautiful babies, Paloma Ruby and Joaquin Ramon, and the couple is also planning a third one.
In an interview, she also spoke about her current lifestyle and future plans: "I'm just doing real estate full-time in Arizona. That's been nice. I'm starting a podcast I'm really excited about, a limited series. And I think we were deciding if we're going to have another baby." The two still follow each other on Instagram, so there seems to be no bad blood between the ex-couple. Both are leading almost opposite yet fulfilling lifestyles, and we wish them the best in their future endeavors.
Read More: Shows Like The Bachelor