'Love is Blind' is a Netflix original dating reality series that looks to answer the intriguing question of whether emotional connections can really surpass physical attractions or not. It revolves around a group of singles as they try to find a match, fall in love, and get engaged — all without ever setting eyes on one another, only to see if they can walk down the aisle a month later. One such pairing testing out this theory in season 2 was that of Deepti and Abhishek. So now, let's delve into their association as well as their current status to unveil the truth, shall we?
Deepti and Shake's Love is Blind Journey
When Abhishek "Shake" Chatterjee first stepped into the pods, he didn't seem committed to the process since he still placed quite a lot of importance on appearances. After all, he not only brought up dress sizes and workout routines while talking to potential suitors, but he also asked things like whether he could carry them on his shoulders at music festivals. It did come across as incredibly shallow, yet Deepti Vempati handled the situation and stuck through it because she connected with him over their Indian heritage, along with their values, on a much deeper level.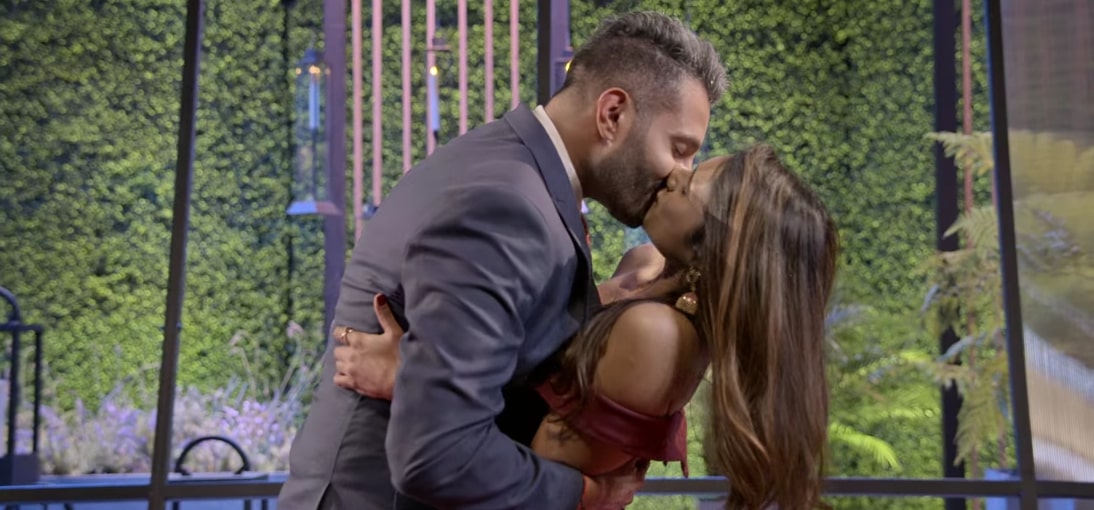 The fact that neither of them had dated a brown person before owing to their supposed need to fit into the western world further pushed them closer together, giving way to more vulnerable conversations. In fact, after Deepti admitted she once used to be on the heavier side, Abhishek acknowledged that the way he approached the entire endeavor was wrong and that he's deeply "ashamed." He then went on to open up about how he used to be a chubby kid himself, with severe body image issues, making Deepti concede that she wanted him for who he is on the inside.
In the end, came the proposal no one expected, with the veterinarian and DJ saying, in part, "I've never met someone who seems to understand me the way you do…You make me feel some type of way… Will you make me the luckiest man in the world and marry me?" Of course, Deepti said yes, and thankfully, their subsequent face-to-face interaction only reiterated their emotions. The best part, though, was when Abhishek touched Deepti's feet because the latter had told him she wouldn't do the same as his equal — it's custom in the Indian culture for the wife to touch her husband's feet upon marriage.
Are Deepti and Shake Still Together?
Despite starting strong and showing a lot of affection initially, the "animalistic attraction" Abhishek was looking for between him and Deepti never came to be. Therefore, they didn't explore their physical intimacy and merely focused on the bond between their souls, an aspect that proved to be both good and bad. They learned a lot more about each other while adjusting to their relationship in the real world, only to realize that the support/care they've received from their partner is unparalleled. On the other hand, the sheer lack of passion simply made them "best friends" more than anything else.
That's why the Information Technology Analyst said no to the Veterinarian at the altar, declaring that she deserves someone who makes her feel loved and gives her his all — she chose herself. Coming to their current standing, although Deepti and Abhishek never romantically reconciled, it appears as if they've maintained the positive association they'd created during this once-in-a-lifetime experience. The latter has since gone as far as to refer to his former partner as "a literal ray of sunshine" who played a massive role in his personal transformation. It's evident that neither of them regrets any aspect of their time on 'Love is Blind.'
Read More: Are Natalie and Shayne From Love is Blind Still Together?