'Temptation Island' is a reality television series known for testing the strength of romantic relationships. The show typically features several couples who agree to live separately in a tropical paradise filled with attractive singles of the opposite sex. While separated, the couples are tempted to explore new connections with these singles, which can lead to emotional and physical entanglements. One of the most dramatic timelines that we got to see in the first season was that of Evan Smith and Morgan Lolar, who even returned for a season 2 reunion.
Evan Smith and Morgan Lolar's tumultuous relationship and the challenges they faced on the island became a focal point of the season, keeping viewers on the edge of their seats. For those eager to know what has happened since then, we have all the information about Evan and Morgan and their relationship's current status.
Evan and Morgan's Temptation Island Journey
In 2019, Evan Smith arrived on the first season of 'Temptation Island' with Kaci Campbell and they had a decade-long relationship under their belt. High school sweethearts, their relationship had reached a crossroads, with Kaci eagerly awaiting an engagement while Evan harbored doubts about taking that next step. While their relationship appeared strained, the true extent of their issues only became evident as they ventured onto the island.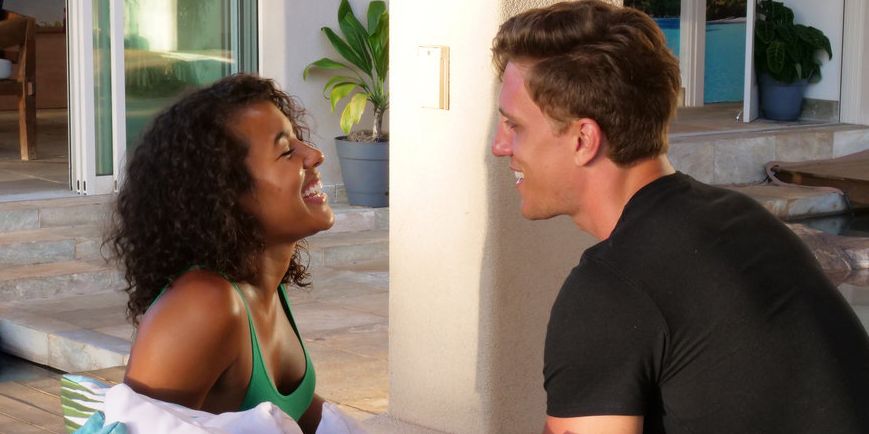 During their separation on the island, Kaci began to realize her deep feelings for Evan and her desire to be with him. However, Evan's experience was quite different. He had already crossed paths with Morgan, a real estate agent from Virginia, and their connection grew stronger by the day. Eventually, Evan and Morgan admitted to being in love with each other, leading to a significant turning point in Evan's relationship with Kaci. The final bonfire was a pivotal moment in Evan and Kaci's relationship. Kaci pleaded with Evan to reconsider and give their relationship another chance.
However, Evan had made up his mind and expressed that his feelings for Morgan were unlike anything he had ever experienced before, and he found them to be more profound. In a surprising turn of events, Evan broke up with Kaci during the bonfire, and by the end of the episode, he went down on one knee and proposed to Morgan. They had gotten engaged! Once the show aired, Evan started posting about his relationship with Morgan on social media stating that even though he had to keep their relationship a secret for six months due to the impending release of the season, he would not stop showing her off forever.
Are Evan and Morgan Still Together?
No, the seemingly happy couple, Evan Smith and Morgan Lolar, are no longer together. In January 2020, Morgan accused Evan of cheating on her in a tweet. She said, "Is it ever okay for an ENGAGED man to leave his fiancé across the country to 'work' but actually has nightly sleepovers with 21yo Instagram models? Oh, and his phone happens to 'die' every night at the same time. I know, I'm a dumb ass and everyone saw it coming, but me #played." Kaci replied to Morgan's tweet and extended her solidarity and support to her during this time.
In an exclusive interview with US Weekly's podcast 'Watch With Us' in 2020, Morgan broke the news that she was no longer with Evan. She stated, "He didn't work the entire time that he lived with me for almost a year and a half. I supported him financially and his excuse for abruptly leaving two days before we were supposed to move to L.A. was that he needed to go 'work' to be able to pay me back." She was joined by Kaci later in the podcast and she corroborated her own experience with Evan to Morgan's story. After some frequent interactions, the two ended up becoming friends.
After a brief lull on his social media, Evan publicly apologized to Morgan in a tweet, and in an Instagram Q&A, he stated that he was suffering from mental health issues during the break-up. He did not confirm nor deny the allegations of cheating but he did say, "Every relationship has its highs and its lows. In all honesty. The lows mostly stem from my end. Working on a whole lot right now. I need it."
Since their breakup, both Evan and Morgan have moved on and continued with their lives separately. Morgan resides in LA and has become a successful public figure and influencer. She frequently collaborates with various brands and companies, building a promising career in the industry. Evan, although less active on social media, has provided sporadic updates that indicate he is also doing well and finding his path in life. While they have parted ways, it appears that both are thriving individually.
Read More: Are Christopher and Alexius From Temptation Island Still Together?