Amidst surveillance that keeps contestants under the radar constantly, 'Big Brother' follows a group of contestants who must compete against each other for a chance to win $500,000. While the whopping cash prize adds an impetus for the contestants, living in a house with cameras and microphones does not turn out to be so easy. Attraction and love follow suit as contestants start relying on housemates for companionship and support.
Having aired in 2009, season 11 of the reality television show also featured its share of surprising and memorable moments. Viewers also became privy to a blossoming relationship between Jeff Schroeder and Jordan Llyod. Years since it first came to air, many continue to wonder if the duo are still together, and we are here to explore the same!
Jeff and Jordan's Big Brother Journey
For the 31-year-old advertising exec Jeff, things had been taut with tension the second he walked inside the 'Big Brother' house after he realized the askew sleeping pattern. Upon learning that he might have to share a bed with a married woman, he felt concerned about his journey on the show. However, when Jordan, the 22-year-old North Carolina native, approached Jeff to switch beds for ease and comfort, he unexpectedly drew to her.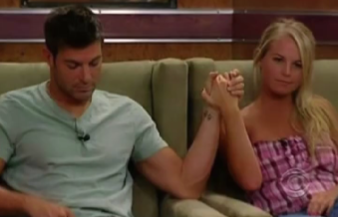 While their attraction from the get-go set the precursor for their ensuing romance, the duo still took time to let down their walls to each other. Only when Jeff and Jordan started gathering with their fellow contestants in the pool room at night did they realize their interest and growing affection for one another. The pair kept their connection afloat despite numerous explosions, fights, and drama with other costars. After Jordan walked away with the title and prize of the season, she and Jeff began dating each other officially, and she even met his family.
Even when the couple made a comeback in season 13, their affection for each other remained palpable. Not too long after, Jeff and Jordan visited the houseguests during season 16. To take things back to where they began, Jeff bent down on one knee and popped the ultimate question to Jordan. Naturally, fans remain curious if the duo continued their romance outside the 'Big Brother' house.
Are Jeff and Jordan Still Together?
Yes, Jeff and Jordan are still together! Depicting their trust in each other as partners, the couple has continued to cross several hurdles. After their appearance on 'Big Brother,' they competed as a team on 'The Amazing Race.' Shortly after they got engaged, Jeff and Jordan came on 'Marriage Bootcamp: Reality Stars' to become a better couple and not neglect each other, which led many to wonder if the couple continued their journey outside the 'Big Brother' house.
However, the couple surprised everyone in 2016 when they announced they had already tied the knot and were expecting their first child. While the duo had initially planned to hold a wedding in Mexico, they preponed the nuptials to March 2016 after finding out that Jordan was expecting. On October 13, 2016, she and Jeff welcomed their son Lawson Keith Schroeder. Two years later, on September 7, 2018, the couple had their second child, Layton Sarti Schroeder.
Aside from their wondrous relationship, Jeff and Jordan have attained equal success as individuals. The former began hosting the online 'Big Brother' recap show where he would interview house guests after evictions. Having accrued enough acclaim for his abilities as a host, Jeff also went on to host 'William Morris Endeavor.' Besides, the reality star has been a part of the hosting team of 'Daily Blast Live.' Not just this, Jeff and Jordan also host their podcast, 'Togetherness,' where they dive into the intricacies of life as parents and partners. Based in Denver, Colorado, the couple has appeared on a segment of 9News hosted by Erica Lopez to promote their podcast.
The 'Big Brother' duo also has a YouTube channel, Jeff and Jordan TV, where they share glimpses of their life and open up about several things. In addition, they conduct fun challenges and quizzes. Not just this, the couple dives into topics like postpartum and opens up about life as parents. So, more than a decade after they first met, Jordan Llyod and Jeff Schroeder have continued to showcase their adoration for each other in many ways. Naturally, we hope that the couple creates more milestones in the future!
Read More: Big Brother Season 23: Where Are They Now?