Averting passion and flings, 'Too Hot to Handle' features ten single individuals marooned in a picturesque private island who must form a genuine connection and cannot give in to their desires. Tasked to connect with other singles, the reality television show features the contestants creating long-lasting relationships built on trust and mutual intrigue. Since the contestants can no longer defer to a casual fling, they get incorporated into various missions that focus on creating a synergy.
Released in 2021, the second iteration of 'Too Hot to Handle' features an equal mix of drama, romance, and attraction, courtesy of the interesting personalities that grace the island. Melinda Melrose and Peter Vigilante are one of the couples from the season who have managed to enthrall audiences through the display of their relationship dynamics. So, if you're also curious to learn more about their relationship status, look no further because we've got all the information right here!
Melinda and Peter's Too Hot to Handle Journey
When 28-year-old Melinda arrived on the island, she had hoped someone to meet someone who would match her firecracker spirit with equal fervor. Similarly, the 21-year-old New York City-based personal trainer had also hoped to find the right one through the show. When Melinda and Peter crossed paths in season 2, they felt a palpable attraction. From the get-go, Peter was struck by Melinda's confidence that he ultimately decided to seek her.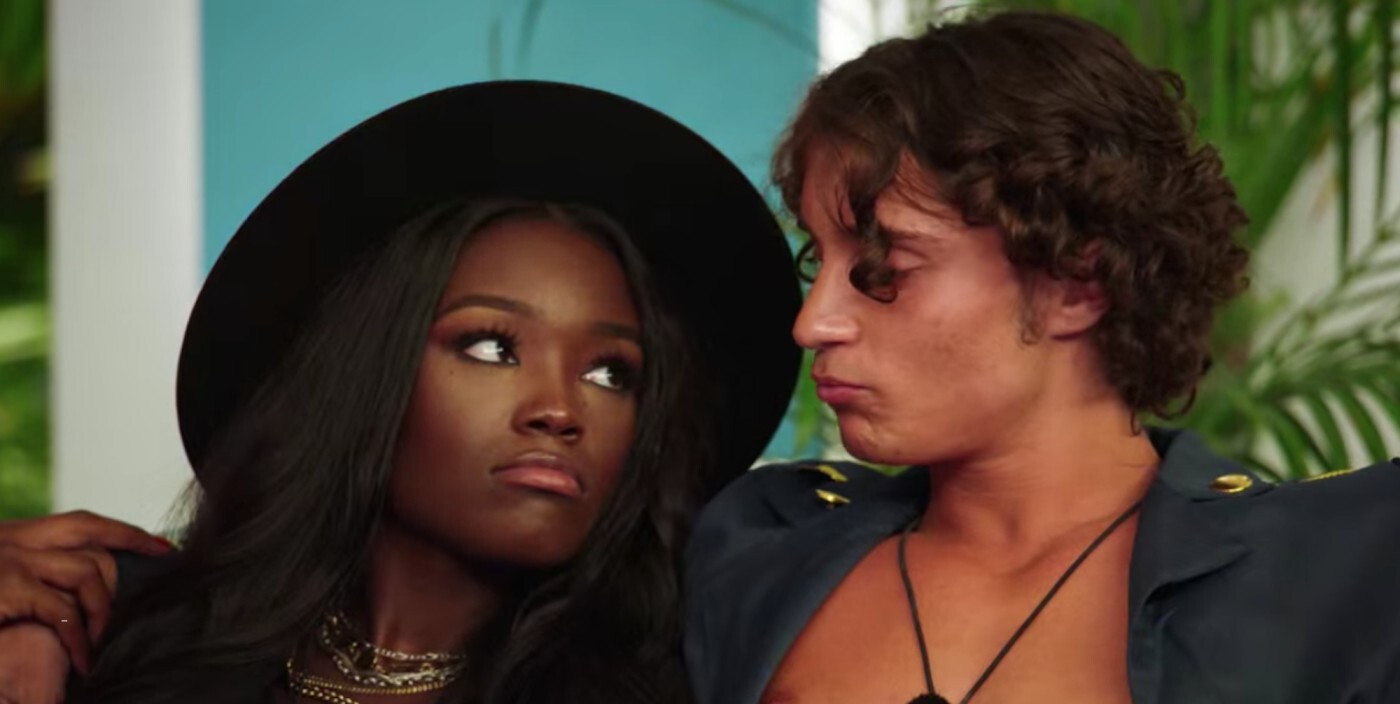 However, due to an early elimination that cast Peter out of the show, the chances of their connection became quite slim. Melinda looked outwards after Peter became the first batch of cast members to be eliminated. Not too later, Melinda found herself forming a connection with Marvin. Naturally, Melinda and Marvin soon developed a genuine bond and became the forerunners in the show. While Melinda didn't make it to the top 3 of the show, she still walked away with an intact relationship with Marvin.
Are Melinda and Peter Still Together?
After the season ended, Melinda and Marvin found that things were very different when they weren't in each other's vicinity. With Marvin in Paris and Melinda in Brooklyn, the duo soon realized their differences. Moreover, when Marvin canceled their pre-planned trip to Mexico last minute, Melinda naturally felt heartbroken. The issues in their relationship soon culminated in a breakup. However, shortly after she and Marvin broke things off, Melinda began inching toward Peter. Not too long after the cameras closed in on them, Melinda and Peter reignited their romance and took to Instagram to announce their rekindled romance that had been cut short on the show.
After making their relationship public in July 2021, the duo continued publicly showcasing their adoration and affection for each other. From posting each other's pictures to commenting on one another's posts, the couple discovered the lengths of their romance. Not just this, Melinda also met Peter's family, and the couple went on several dates together. While their relationship had gone public just a week after the finale had aired, the couple seemed to drift apart in September 2021.
After the season came to a close, Melinda and Peter became involved in work commitments. With Peter in California and Melinda in New York, the couple had no choice but to make their long-distance relationship work. While the two had been initially present on each other's socials through comments and mentions, the ship soon sailed. Shortly after, Peter took to his TikTok and revealed that he and Melinda had called it quits in March 2022. So, even though the duo continues to harbor respect and adoration for each other, their relationship has run its course.
Nevertheless, Peter and Melinda continue exploring their career's burgeoning horizons. Melinda bagged the opportunity to host Netflix's 'Dated and Related.' While she continues to grow as a fashion model and social media influencer, Peter is expanding his clientele as a personal trainer and accrues renown through Instagram, YouTube, and TikTok. Therefore, even though Peter and Melinda's romance was short, we hope they keep creating new milestones personally and professionally!
Read More: Are Christine and Louis From Too Hot to Handle Still Together?