Netflix's 'Too Hot to Handle' has become beloved among the fans of dating reality shows thanks to its unique and literally irresistible concept. Like its predecessors, the fifth season of the show saw the creation of several couples, like Christine Obanor and Louis Russell. Their time on the show was far from smooth and kept the audience entertained throughout. Needless to say, many viewers cannot help but wonder if this pair is still romantically involved, and we are here to explore the same!
Christine and Louis' Too Hot to Handle Journey
After getting on a yacht while being under the assumption that he was part of a show called 'Love Overboard,' Louis quickly turned the heads of three different women, Megan Thompson, Hannah Brooke, and Christine. While Megan took the initiative of talking to Louis on her own, she remained limited to only conversing with the man she was interested in. Soon after she left, Christine swooped in and decided to tempt Louis by asking him to massage her backside. After her exit, Hannah decided to completely overturn the board by not only massaging him but also kissing him.
While Louis had promised all three girls that he would share a bed with them n the first night, he ended up actually sleeping beside Hannah, much to Christine's frustration. The next day, Louis wanted to kiss Hannah once again but was now more than aware of exactly what shoe he was a part of. In order to not get everyone angry with him, he decided to create a pact with Isaac Francis, according to which both men would kiss their respective partners and then share the blame.
When Christine learned that Louis and Hannah had kissed multiple times, she became even more upset and decided to make her move. She invited Louis out to the beach, where the two shared a kiss, with the man in question promising that he would soon change his bed partner. However, later the same night, while he was in bed with Hannah, Louis kissed her as well. He told everything to Isaac the next day and was just how to come clean.
Before Louis could make up his mind, Lana exposed his actions, making both women angry at him. Louis had to make a decision as to which woman he wanted to pursue a connection with and ended up breaking things off with Hannah. While Christine was also angry at him, she decided to give him another chance, and the two started sleeping in the same bed. During the first workshop organized by Lana, they also developed a more emotional connection. However, Christine then had to go on a date with Trey Rodgers, where none of Lana's rules would be applicable.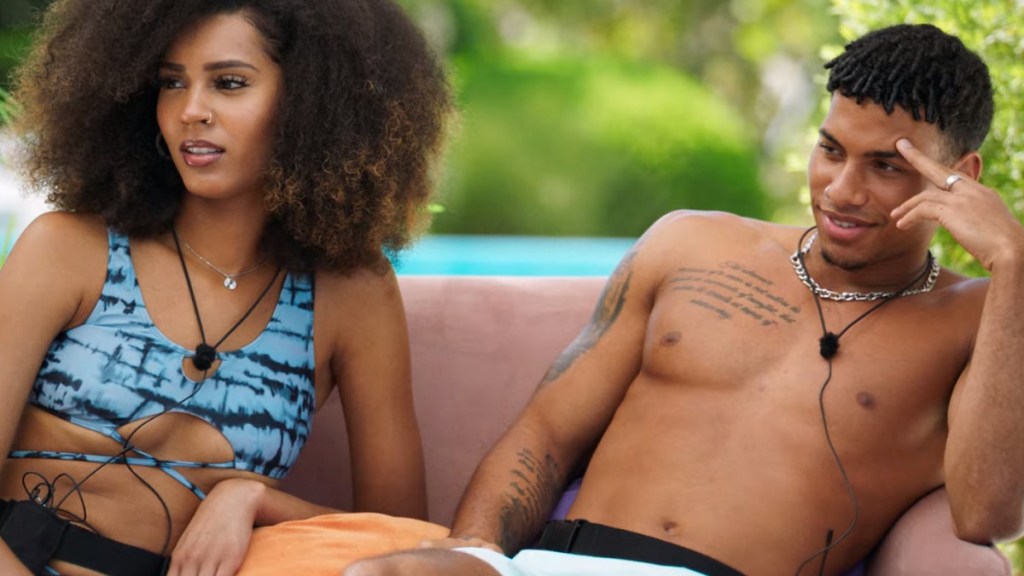 After returning from her date, Christine told Louis that she had not kissed Trey, which served to strengthen their relationship. It was not long before the couple broke even more rules, their infractions costing the group a total of $48,000. In order to check the strength of their relationship, Lana sent them to the private suite, where they were still not allowed to engage in physical intimacy. Meanwhile, she asked other cast members if they believed in Christine and Louis. They were told that should they place their trust in the two, the $48,000 would be added back to the prize pool in case they were correct. Otherwise, the same amount would be deducted once more from their prize should they be wrong.
The cast members chose to trust Christine and Louis, and they were rewarded back the money after Lana revealed that the couple had stuck to the rules of the retreat, despite Christine trying her best to tempt Louis. After such a monumental success, the two started to build the relationship further though things changed when Linzy Luu entered the show and went on a date with Louis. While he struggled to stay loyal to Christine in all forms, the latter was unsure of the situation and chose to interrupt the date by replacing Louis with Shedre "Dre" Woodard midway through. Though Louis assured her that he had not kissed Linzy, he did not want the two girls to ever be together in the same place, as he was afraid that Linzy might tell Christine that he had touched her breasts.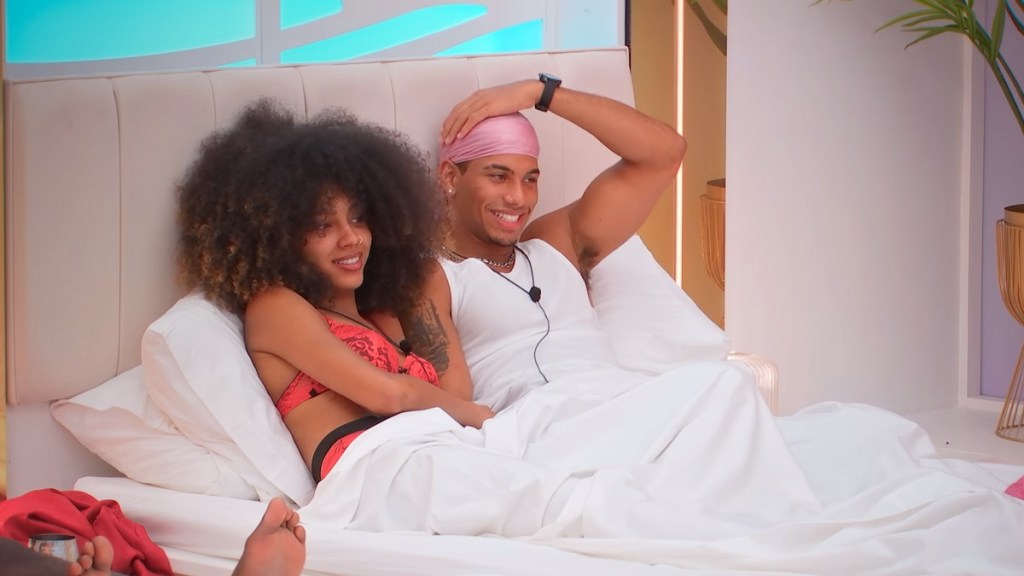 However, Linzy was adamant about telling Christine everything and did so the first chance she got. The revelation deeply hurt the latter, who told Louis in no uncertain terms that he had hurt her beyond imagination. Louis felt extremely guilty about the whole situation, especially after his actions were disclosed by Lana in front of everyone, as they had incurred a fine of $4,000. However, after repeated attempts at conversation, Christine agreed to retry her relationship with Louis and joined him back in his bed.
Despite the progress that the two had made, Louis remained unsure about fully committing to Christine, stating that he was taking "baby steps." In order to help him make up his mind, Lana gave Louis a chance to leave the show alone with $25,000 or stay by Christine's side but lose his opportunity at the total prize money. Ultimately, Louis decided to stay, which made Christine ecstatic. From that point forward, their bond seemed to have gotten much stronger.
Are Christine and Louis Still Together?
As of writing, neither Christine nor Louis has shared any updates regarding their love lives and whether or not they are dating each other. Interstingly, Louis does follow Christine on Instagram, but she does not follow him back. This could be a sign of a possible separation between the two, though their on-screen reconciliation has left us hoping that they might indeed be together. We do wish them both the best in their lives and hope that they find what they want in their personal and professional lives.
Read More: Are Elys and Alex From Too Hot to Handle Still Together?