While the '90 Day' franchise revolves around US citizens who have fallen in love with foreign nationals, the popular spinoff 'Before The 90 Days' chronicles the time leading up to when the foreign partner can finally land on US soil with a K-1 Visa. Thus, we do get to witness how each cross-border couple deals with several issues and challenges, with an intention to settle down in the future. Likewise, season 6 of the show introduces us to Stroudsburg, Pennsylvania, resident Riley, and documents how he traveled to Vietnam to meet his girlfriend, Violet. Well, with the cameras turned away, let's find out if Riley and Violet are still together, shall we?
Riley and Violet's 90 Day Fiance: Before The 90 Days Journey
Riley, a veteran of the United States military, was looking for unconditional love when he came across Violet for the first time. Although the US native has had romantic relationships previously, most of them ended in betrayal, forcing Riley to stay away from romance for quite some time. Moreover, his previous experiences also led to him developing trust issues, and Riley was concerned about them ruining his connection with Violet. Like Riley, Violet, a Ho Chi Minh City, Vietnam resident, also has been quite unlucky in love. In fact, the show revealed that Violet was previously married and even shares two daughters with her ex-husband. However, their relationship deteriorated soon after, and the Vietnamese native was devastated when the father of her children chose to walk out of her life. Still, Violet got back up off her knees and even renewed her belief in love after meeting Riley.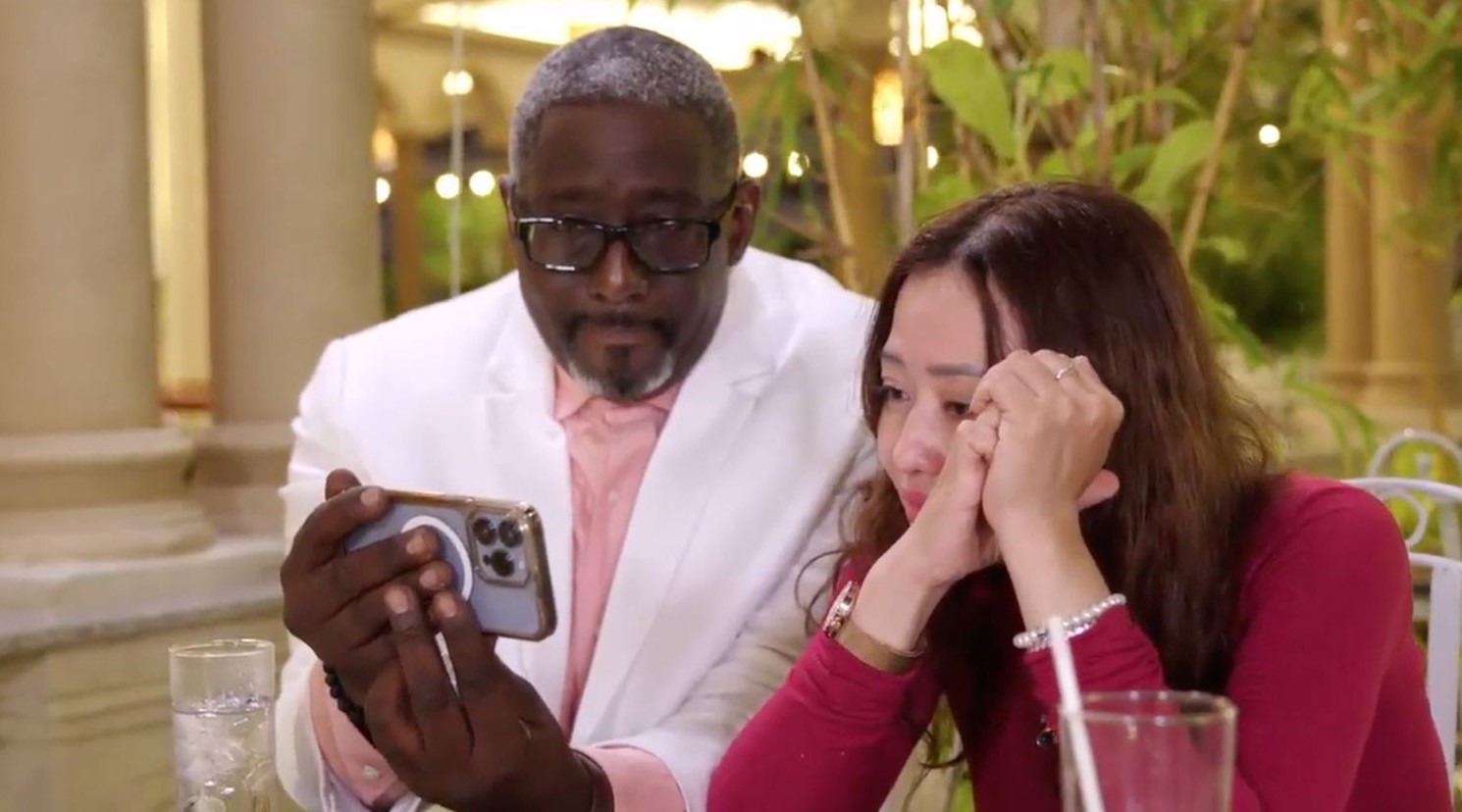 Readers will be interested to know that Riley and Violet crossed paths on an international dating app and built their connection through phone and video calls. However, Riley's trust issues soon marred the relationship as he refused to say "I Love You" and even had a private detective follow his girlfriend around in Vietnam. In the meantime, Violet developed a surprising habit of texting Riley's father to complain about him, which further infuriated the US native. Still, they believed a face-to-face meeting would solve such issues, and Riley was excited to fly to Vietnam, where he would meet Violet for the first time.
Even though the pair were ecstatic to meet in person, the mood turned sour when Violet announced she had made other plans and Riley would have to spend a day alone in the hotel room. Moreover, even though Violet changed her mind at the very last minute and decided to give Riley her time, the US native was disappointed at how his girlfriend would break into Vietnamese with other natives, effectively cold-shouldering him out of the conversation. Subsequently, Riley also noticed Violet texting a male colleague, and he lost his temper when she refused to show him the texts, citing a breach of privacy.
Despite Riley's differences with Violet, he developed an excellent relationship with her family, especially her daughters, who asked him to trust their mother. Surprisingly, the US native accepted their advice and even looked forward to rebuilding his relationship when he noticed that Violet still hadn't uninstalled the dating app from her phone. This made Riley's trust issues flare back up, and once the Vietnamese native refused to give a proper reason, he blocked her and ended all communications.
Are Riley and Violet Still Together?
Riley and Violet's relationship did not appear healthy at first glance, as they both struggled with trust and communication issues. Moreover, neither was ready to listen to the other's explanation, which soon began distancing them from each other. On top of it, Violet's family also took offense to Riley, labeling her a liar, and asked him to change his approach if he wanted a future with her.
However, from the looks of it, Riley and Violet have since managed to brush off their issues and are slowly building a future together. Not only does the Vietnamese native feature heavily on Riley's social media profile, but he also shared memories of their time in Vietnam. On the other hand, one of Riley's recent Instagram posts shows them enjoying a light moment together, and it is genuinely heartwarming to witness their love blossom. Hence, taking recent developments into consideration, we believe Riley and Violet are still together.
Read More: Are Daniele and Yohan from 90 Day Fiance Still Together?