'Jersey Shore' has enjoyed quite a large fan following ever since its release in 2009. Going through its fair share of controversies, the show mainly focuses on a group of friends occupying a seafront home during the warm summer months. Raving parties, whirlwind affairs, and high-octane drama are what popularized the show and attracted audiences. The 2018 spin-off show 'Jersey Shore: Family Vacation' tries to recreate the 'Jersey Shore' nostalgia by bringing the cast of the parent series back together and filming them on their vacations.
Original 'Jersey Shore' star Ronnie Ortiz-Magro's dating life has always been full of controversies. He had gone through several failed relationships and even got to be a father when his daughter came into this world in April 2018. As a result, fans and his castmates were overjoyed when Ronnie met Saffire Matos in February 2020. Saffire, an eyelash technician, quickly took to the reality star, and the two started a wonderful relationship. However, with rumors and speculations about their breakup abound, fans are anxious to know if they are still together. Well, we come bearing answers!
Ronnie and Saffire's Jersey Shore: Family Vacation Journey
Ronnie Ortiz-Magro isn't that well known for being lucky in love. While on 'Jersey Shore,' the reality star was in an off-again on-again relationship with castmate Sammi Giancola. Their relationship was famous for the ample amount of drama and altercations it provided to the show. Still, after about 8 years of dating, the two broke up because of Ronnie's alleged affair. The 'Jersey Shore' star has also been known to date Malika Haqq, whom he encountered while on the sets of 'Famously Single.' However, the relationship soon ended, and Ronnie started dating Jen Harley, with who he shares a daughter.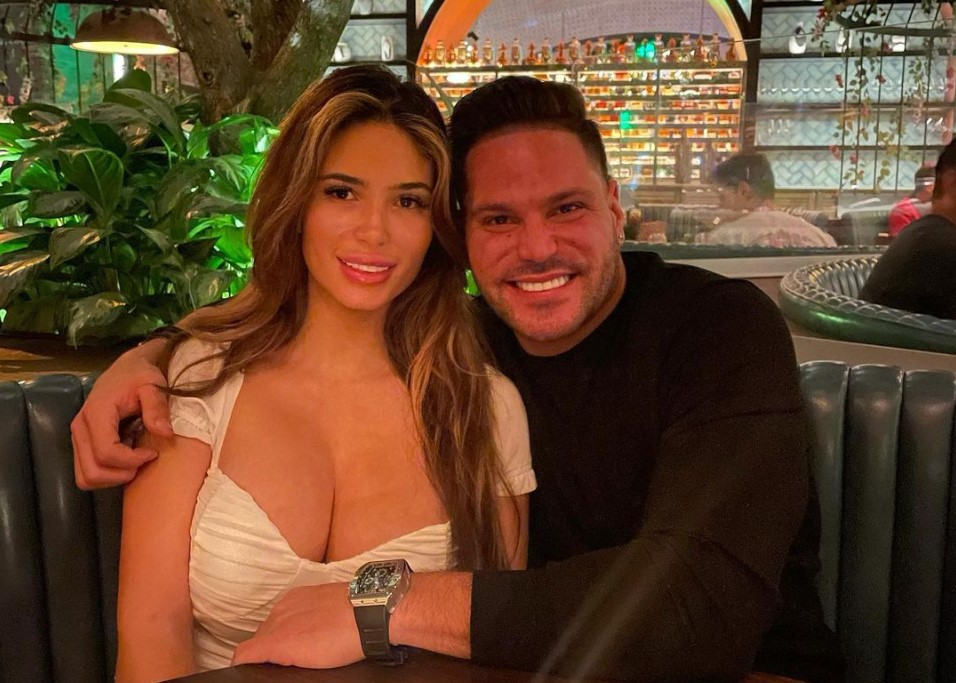 Unfortunately, his relationship with Jen too crashed and burned after much-publicized fights and even arrests. Ronnie's past was the very reason why castmates and fans were cautious when the star met Saffire Matos in February 2020. Saffire is an eyelash technician who even owns her own lash salon in Staten Island. Although it wasn't until October that Ronnie went public about his relationship, his castmates quickly understood that this would not be another of his toxic romances.
Instead, Ronnie looked really happy with Saffire, and the two connected immediately. Their pictures spoke volumes about their commitment, and Saffire even went on to call Ronnie her "future hubby." With Saffire living on the east coast and Ronnie located on the west coast, the two had to manage a long-distance relationship which put them to the test. However, the couple seemed up for the challenge as they took it in their stride and kept building on their romance.
Are Ronnie and Saffire Still Together?
Yes, Ronnie Ortiz-Magro and Saffire Matos are still together. The couple has developed an intimate bond throughout their short relationship, and their chemistry is truly inspiring. Most of Ronnie's 'Jersey Shore' castmates, including Vinny Guadagnino, met Saffire and expressed their happiness at the stable relationship. However, the couple has also gone through choppy waters. Around January 2021, they were subjected to breakup rumors as many believed the couple had split up after they stopped following each other on Instagram. However, they soon reconciled and let fans know that they were not breaking up.
In April 2021, the couple went through another hitch when Ronnie was arrested on charges of intimate partner violence with injury. The arrest led to more breakup speculations, but Saffire took to social media and put the rumors to rest by saying, "Ronnie and I are fine. There is a lot of misleading information floating around out there. With anybody who reached out with concern I appreciate it with all my heart, but everything that's being portrayed out there are not facts." With the couple back together, fans were ecstatic about their future.
Surely enough, in June 2021, the pair decided to take their relationship to the next level, and Ronnie proposed to Saffire while at a beautiful seaside picnic. Reports also say that Ronnie's family and his daughter were present during the proposal. Overjoyed at Saffire saying yes, Ronnie posted a heart-warming picture on Instagram where he wrote, "I love you 💕 Thank you for sticking by my side through thick and thin! Til death do us part." Moreover, according to sources, even Ronnie's castmates did not know about the proposal and were surprised by it.
However, with the couple now engaged, Ronnie has allegedly been sharing some clickbait articles which address Saffire's reported pregnancy leading fans to believe that the eyelash technician might be on her way to becoming a mother. Still, it should be noted that such claims are mere speculations and have not been substantiated. Still, the couple hasn't let such speculations get to them and are instead blissfully happy with each other. We would like to wish Ronnie and Saffire the very best as they prepare to spend the rest of their lives together.
Read More: Are Pauly D and Nikki Hall From Jersey Shore: Family Vacation Still Together?