With Netflix's 'Too Hot to Handle: Germany' living up to its parent production in every way imaginable, we get to witness a series of hot, wild, steamy, and emotional connections unfold once again. This time though, as the title suggests, the focal group of attractive singles who're essentially forced into abstinence in the hopes they'll learn to develop real relationships are all German-speaking. Amongst them are Lorra Sophie and Furkan Akkaya, who actually do end up having true feelings for one another — so now, if you just wish to learn more about them, we've got you covered.
Sophie and Akka's Too Hot to Handle: Germany Journey
The moment 25-year-old Sophie stepped into the retreat in episode 3, she unwittingly turned most of the existing dynamics between the cast around through her sheer beauty and bright personality. The truth is it's not her fault; she never pursued any taken man in a manner that'll be deemed outrightly rude or disrespectful to their situations/partners, the men simply couldn't resist her allure. She did admit she found Akka, Fabio, and Tobias quite attractive despite the latter two being involved, yet she was also honest with them when the time came to help settle things the best way.
Therefore, it did initially come across as if Sophie chose to share a bed with 21-year-old Vienna-based influencer Akka since he was kind of the last single man standing and nothing more. This is especially because regardless of all their cuddling as well as personal conversations at night, she candidly approached him within a few days to concede she didn't feel a romantic spark. The Berlin/Dubai-based entrepreneur added she found him caring, kind, funny, and intriguing, but everything still seemed purely platonic to her, which is why she didn't want to lead him on one bit.
Sophie's declaration seemingly hurt Akka a little as his expectations had already risen owing to a sweet kiss they had shared on her first evening itself, yet he genuinely respected her wishes. However, little did the duo realize this respect, plus their ensuing close friendship would soon open the gates for them to pursue something much deeper on their own terms without any pressure. That's because they continued to share a bed, cuddle, and communicate; the only difference was they stopped trying to impress one another, resulting in them having a new level of personal comfort.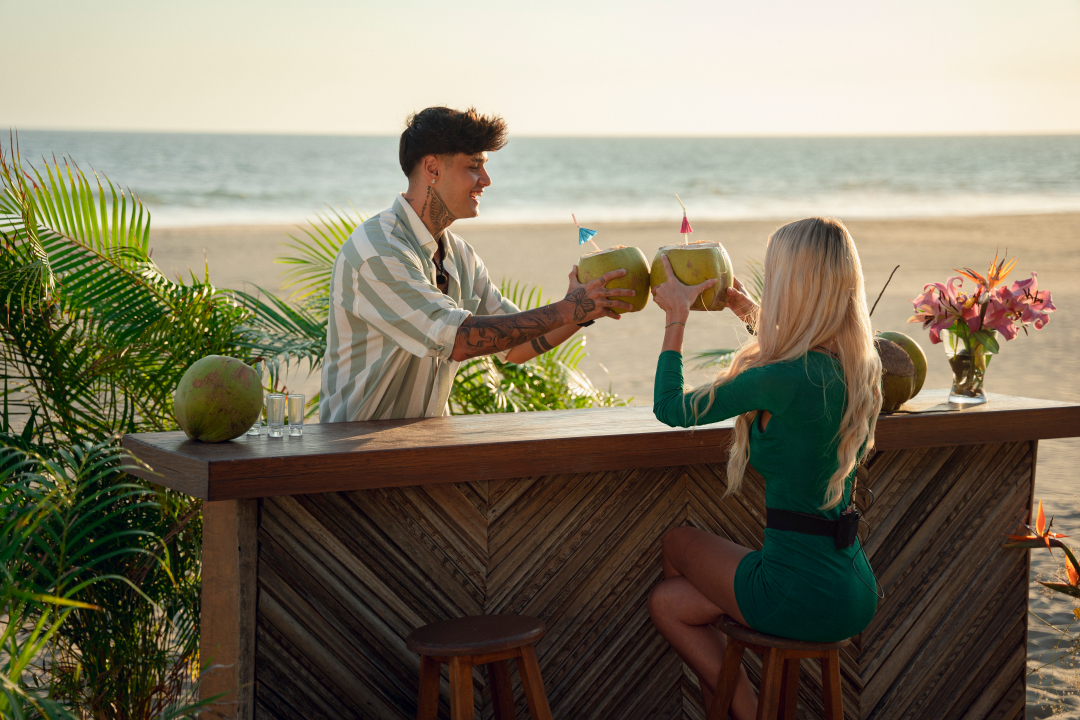 It thus comes as no surprise that when Akka finally decided to clear the air with Sophie regarding where they really stand, she was on the exact same page as him about exploring their bond. They'd both managed to grow a lot individually within this period by actively working on their innermost selves while also learning from others, enabling them to realize the true meaning of relationships. That's why they were essentially able to promise they'd keep pushing one another to be their best selves no matter what during their final date, earning them a much-deserved green light for a kiss.
Are Sophie and Akka Still Together?
"In the friend zone, I realized there was something between us; there was a connection," Akka told his partner at one point before adding he knows they're "very good for each other." On the other hand, Sophie said, "I have a hard time opening up, but you get me to do it. You also get me to push past my fears, and by going at our own pace, not having any pressure… our relationship grew into something totally natural and real." Then the former finally added, "This retreat is the best thing that's ever happened to me 'cause it brought you," making it no surprise they walked away hand in hand in the end.
As for Sophie and Akka's current standing, from what we can tell through their social media platforms — mutual follows, similar posts, as well as casually cute interactions — they still seem to be happily involved. Neither the entrepreneur nor the digital creator has actually confirmed or denied their status as of writing, but the way they've recently been relaxed while promoting 'Too Hot to Handle: Germany' does suggest they've managed to maintain a good bond. Therefore, we believe that even if the duo are not romantically together anymore owing to their age gap, long distance, or whatever the reason may be, they're at least on great terms as friends, which was always the foundation of everything for them.
Read More: Are Anna and Onyi Strigl From Too Hot to Handle Germany Still Together?