Directed by Alexandre Moors, 'The Yellow Birds' is a war film featuring Alden Ehrenreich and Tye Sheridan in the roles of Brandon Bartle and Daniel Murphy, respectively. Bartle and Murphy are two young soldiers, newly enlisted in the U.S. Army leading up to the Iraq War. However, once the war ends, only Bartle makes it back home, and Murphy's fate is a mystery that his mother, Maureen, desperately tries to find answers for. This 2017 film tells the sincere and tragic tale of two young soldiers and their experiences with the cruelty of war.
With an alternating narrative between the past and the present, 'The Yellow Birds' crafts a solemn account of how the war changes its soldiers for the worse. Due to the realistic depiction of PTSD and grief by both Bartle and Murphy and their historical setting as soldiers in the Iraq War, viewers might wonder about the real-life connections between these characters and real people. If you're curious about the same, here is everything you need to know about the origin of Daniel Murphy and Brandon Bartle from 'The Yellow Birds.'
Are Daniel Murphy And Brandon Bartle Based on Real People?
No, Daniel Murphy and Brandon Bartle are not based on real people. The film 'The Yellow Birds' is based on a 2012 novel of the same name by Kevin Powers. As such, Daniel Murphy is based on his eponymous literary counterpart, while Brandon Bartle is based on the novel's protagonist, John Bartle. Alongside being an author and a poet, Kevin Powers is also an Iraq War veteran. He served in the U.S. Army from 2004 to 2005 in Mosul and Tal Afar, Iraq.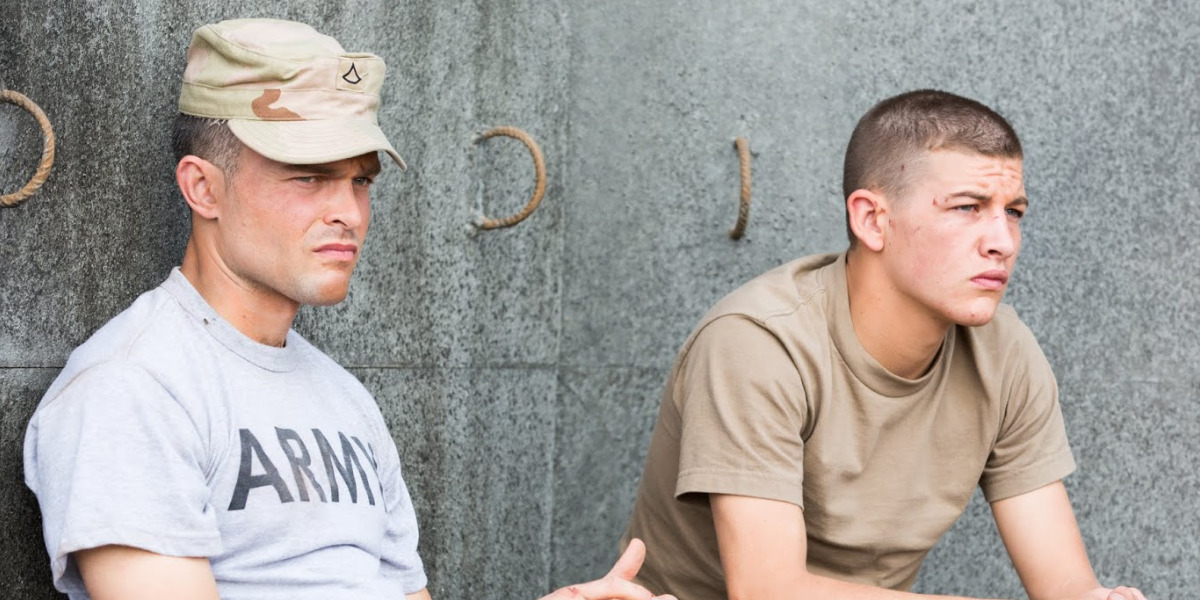 Powers had been dabbling in writing from a young age, and following his return from Iraq, he continued to write poems about his experience as a former soldier. Eventually, Powers realized his poems needed "a bigger canvas," and hence the book, 'The Yellow Birds,' was born. Powers created the character of John Bartle to spearhead this story inspired by his own experiences.
"The core of what Bartle goes through, I empathized with it. I felt those things and asked the same questions: is there anything about this that's redeeming; does asking in itself have value?" Powers said in an interview with The Guardian while discussing the similarities between himself and John Bartle. "The story is invented, but there's a definite alignment between his emotional and mental life and mine."
Though the film is not an exact replica of the novel, it explores many of the same questions and themes through Bartle's character as the latter. Moreover, it acts as a representation of the real-life lived experiences of numerous war veterans. In the film, Bartle experiences intense difficulty upon returning to his civilian life.
After facing and even committing several atrocities in the middle of a war, Bartle finds it hard to relate with his peers and avoids them. This phenomenon is often experienced by veterans while trying to re-adjust to their old lives. Moreover, according to the U.S. Department of Veteran Affairs, 7% of all veterans have PTSD at some point in their lives. Both aspects of these real-life experiences are reflected in Bartle's character in the film.
Similarly, Murphy's experiences with depression and suicidal ideation are also a reflection of real life. According to 2022's National Veteran Suicide Prevention Annual Report, in 2020, the unadjusted suicide rate for veterans was 31.7 per 100,000. Through Murphy's character, the film focuses on the immense tragedy of war on a personal level. It zeroes down on one loss and how it affects the people around. Additionally, with Murphy's character, the film also represents a tragic loss of innocence and hope.
Ultimately, Daniel Murphy and Brandon Bartle are not based on real people. Their experiences and emotions are deeply rooted in reality and share a kinship with author Kevin Powers' own experiences. Still, regardless of their realistic attributes, they're both fictional characters.
Read More: Is The Yellow Birds Based on a True Story?