AppleTV+'s 'Ted Lasso' developed by Jason Sudeikis, Bill Lawrence, Brendan Hunt, and Joe Kelly, is known for its witty charm and a never-ending supply of positive vibes. The series follows the misadventures of Ted Lasso (Jason Sudeikis), an American football coach appointed as the manager of the English soccer club AFC Richmond. In the show's third season, the AFC Richmond players are bound to clash with West Ham United. Given the narrative's focus on Rupert and Nate's time with the Hammers, viewers must wonder if any real West Ham United players are in 'Ted Lasso' season 3. In that case, allow s to share everything we know about West Ham United's players in the show! SPOILERS AHEAD!
West Ham Players in Ted Lasso
West Ham United Football Club, commonly known as West Ham, is a professional football club based out of Stratford, East London. West Ham was founded in 1895 as Thames Ironworks before being renamed in 1990. The real-life football club competes in the English Premier League and is presently managed by Scottish manager David Moyes. West Ham's home stadium is known as the London Stadium, with a capacity of nearly 62,500 seats.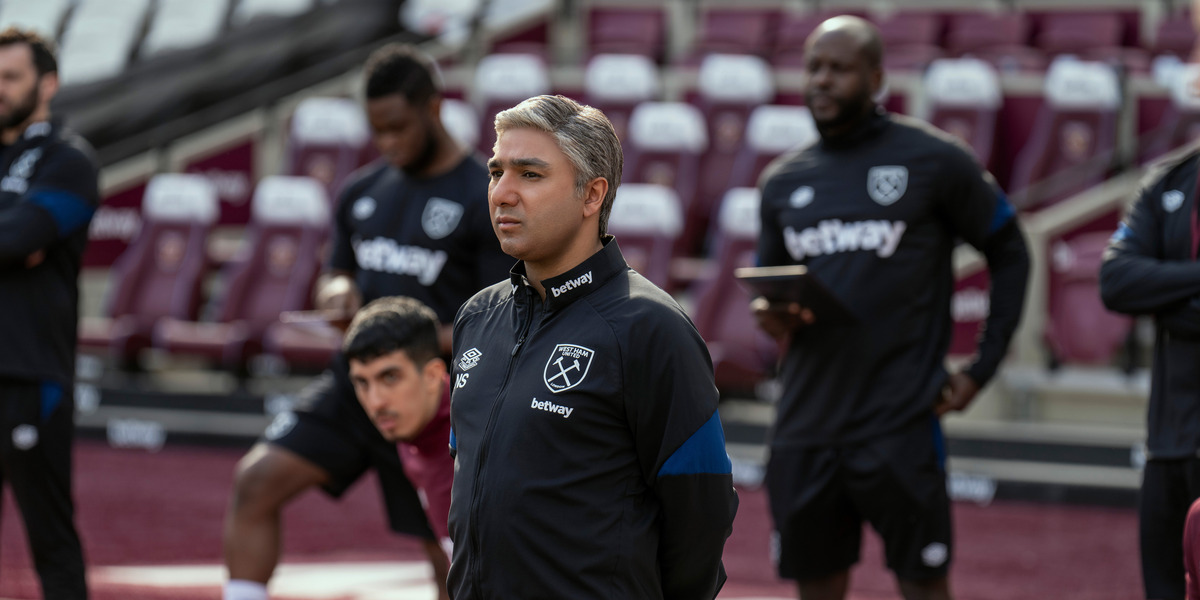 A fictionalized version of West Ham is poised to play a large role in the third season of 'Ted Lasso.' The club is formally introduced as part of a plot thread in the show's second season episode, 'No Weddings and a Funeral.' In the episode, Rupert Mannion, Rebecca Welton's ex-husband and the partial owner of AFC Richmond, returns the club's shares to Rebecca before announcing his purchase of West Ham United. In the season 2 finale, Rupert appoints Nathan "Nate" Shelly, the former assistant manager of AFC Richmond, as the Head Coach of West Ham United.
In the third season premiere, titled 'Smells Like Mean Spirit,' we get a look at Nate coaching West Ham United. Moreover, the complicated history between the owners and coaches of West Ham and AFC Richmond makes them natural rivals for the upcoming Premier League season. Therefore, we will likely see more of West Ham in the upcoming episodes. However, unlike AFC Richmond, which is a fictional team and features fictional footballers, West Ham is very much a real club with plenty of star players.
Currently, the West Ham team is captained by English Defensive Midfielder Declan Rice, with talented players such as Lucas Paquetá, Danny Ings, Jarrod Bowen, and the two-time Premier League-winning defender Kurt Zouma in their ranks. However, none of the real-life footballers feature in the first episode of season 3. Moreover, the real-life players are unlikely to factor into the show given the busy year-round footballing calendar that sees West Ham competing in the Premier League, FA Cup, Carabao Cup, and the UEFA Europa Conference League.
While 'Ted Lasso' has featured former footballers such as Chris Powell, Ian Wright, Thierry Henry, and Gary Lineker, the show is known for not featuring real-life players. Instead, the show features fictional footballers inspired by real-life players. For instance, Jamie Tartt is said to be loosely inspired by the likes of David Beckham and Jack Grealish, while Roy Kent is based on former Manchester United midfielder Roy Keane.
In other instances when the club has featured other big clubs, such as Manchester City and Tottenham Hotspurs, it has relied on the use of fictional characters to fill in the squads. Despite the show securing the rights to use the intellectual property of West Ham United, it seems unlikely that the show will break the trend of using fictional characters to represent footballers from different teams. Hence, viewers hoping for 'Ted Lasso' to crossover with the real-life football landscape in the third season should not get their hopes very high.
Read More: What Happened to Trent Crimm? Is James Lance in Ted Lasso Season 3?