TLC's '90 Day Fiance: Before The 90 Days' is an interesting '90 Day' spinoff that revolves around US citizens who have found love in another country. Moreover, as the name suggests, the show documents the days during which the foreign nationals get their K-1 visa ready to travel to the United States. Yet, like most cross-border relationships, the couples on the show have to deal with differences in habits, lifestyles, and customs to build a happy life together.
Likewise, Season 6 of the show introduced us to Stroudsburg, Pennsylvania, resident Riley, who fell in love with his Vietnamese girlfriend, Violet. Besides, cameras even documented Riley and Violet's first meeting in Vietnam, and the two appeared very much in love. However, with fans now eager to learn more, we decided to jump in and find out if Riley and Violet are still together.
Riley and Violet's 90 Day Fiance: Before The 90 Days Journey
Riley, who was 48 at the time of filming, is a resident of Stroudsburg, Pennsylvania, who previously worked in the United States military. Serving in the military did not provide much time for romance, and once he got out, he began his search for someone to settle down with. Still, even though the US native did have several romantic encounters, he faced numerous betrayals, which made him develop an acute trust issue. On top of it, Riley's broken heart forced him to stay away from romance for quite some time until he met Violet on an online dating website.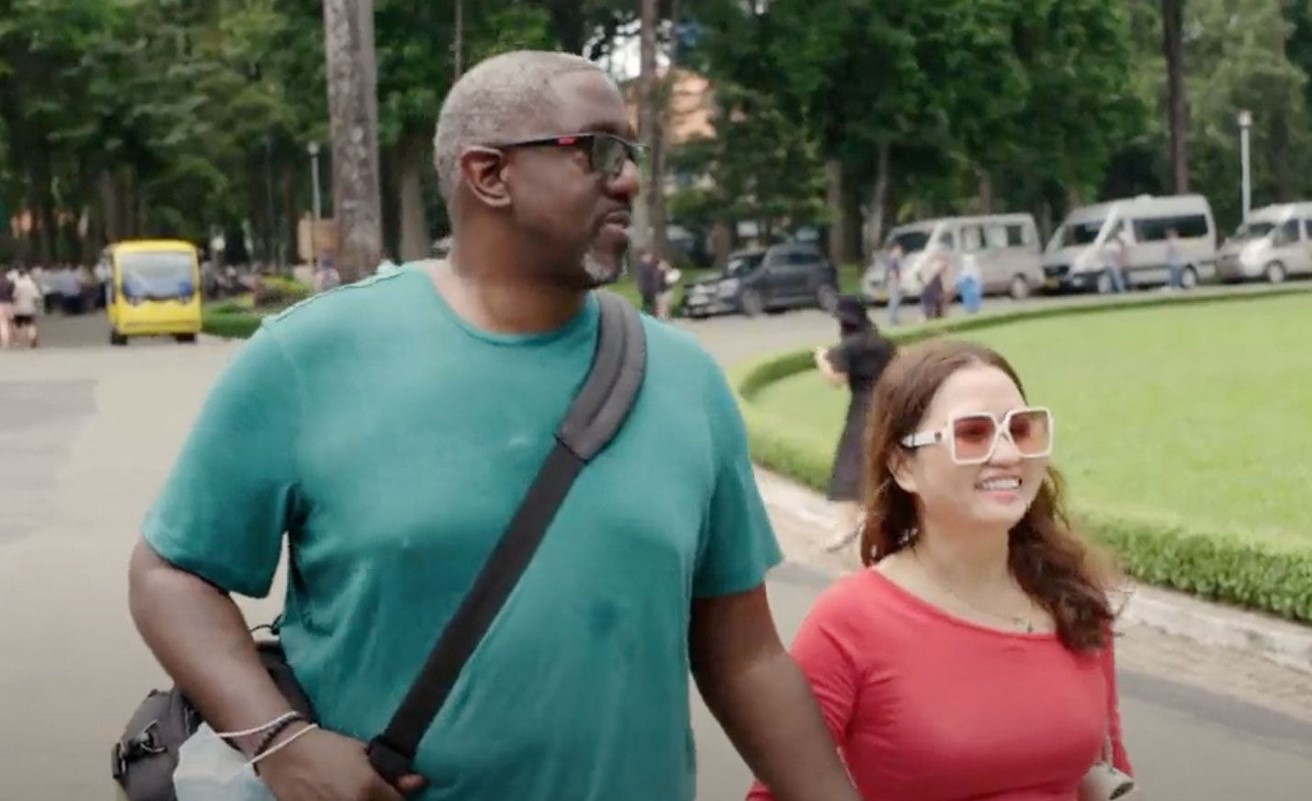 On the other hand, 43-year-old Violet is a native of Ho Chi Minh City, Vietnam, who also had a pretty traumatic dating history. The show revealed that she was previously married and has two daughters, but her relationship with her husband soon deteriorated, leaving her devastated. However, the Vietnamese native slowly recovered with the help of her family and even began looking for love again. That was when she finally came across Riley, and the two struck up a close friendship. Naturally, their companionship did not take long to turn romantic, and they began spending several hours on phone and video calls.
Riley even built a close relationship with most of Violet's family, and he could not wait to meet them all in Vietnam. Although the two appeared to be in love, the US native refused to say "I Love You" since he believed those words would lead to a betrayal. Besides, he could not trust Riley entirely because of his trust issues and wondered if she was seeing someone else behind his back. These issues worsened when Violet began complaining about him to his father via text. At one point, the US native even contacted a private detective in Vietnam, asking him to shadow his girlfriend.
Things seemingly worsened once Riley traveled to Vietnam, as he was suspicious of Violet's every move. Furthermore, he was disappointed at how she made plans to spend her day elsewhere, even when he flew across half the world to meet her. Sadly, their worse altercation originated from a text on Violet's phone sent by a male colleague. Naturally, Riley immediately grew suspicious of the text and became furious when she claimed it was private. In fact, he even called her a liar, threatening to end the relationship. The altercation also changed Violet's family's opinion of Riley; they believed she would not be happy with him.
Are Riley and Violet Still Together?
Riley's trust issues and Violet's insistence on keeping a part of her life private almost broke the couple apart. It was apparent that he was extremely uncomfortable about the whole situation and did not like how her family took the text as a joke. On top of it, Violet's loved ones clarified that calling her a liar was pretty extreme, and they would not stand such behavior in the future.
Still, it seems like Riley and Violet have since buried the hatchet, as recent developments hints at them still being together. In fact, he recently uploaded a picture of him and his partner from their time in Vietnam, and there is no mention of a possible breakup. Nevertheless, readers should note that since the US native's visa expired, he had to return home, and it seems like he and Violet are living in different countries as of the present.
Read More: Are Amanda and Razvan From 90 Day Fiance Still Together?