Since its premiere in 2019, the engaging reality TV show 'Love Island USA' has featured interesting men and women performing tasks, swapping partners, fighting, making out, and doing everything in their power to stay in the game and find their perfect match. Aissata Diallo and Yamen Sanders were one such pair who appeared in the inaugural iteration of the show and contributed to the unadulterated drama and group politics, making it all the more entertaining.
A few days following the entry of Aissata Diallo on Day 15, she and Yamen Sanders got together during a re-coupling session and stayed together all the way till their elimination. Their connection raised many eyebrows, and their relationship status was quite unclear. So, after all these years, is the duo still by each other's side, or have they bid farewell?
Yamen and Aissata's Love Island Journey
Yamen entered the show as a 24-year-old real estate agent and a former college football star. His confidence was off the roof, which many women found attractive, but he wasn't ready to compromise. He stated, "I haven't found anyone that interests me enough to completely settle down for." Aissata joined the islanders on the third week after a few contestants were already eliminated. The 25-year-old woman from the Bronx was ready to settle down and have a ring on her finger. She had recently graduated and was pursuing a career in modeling.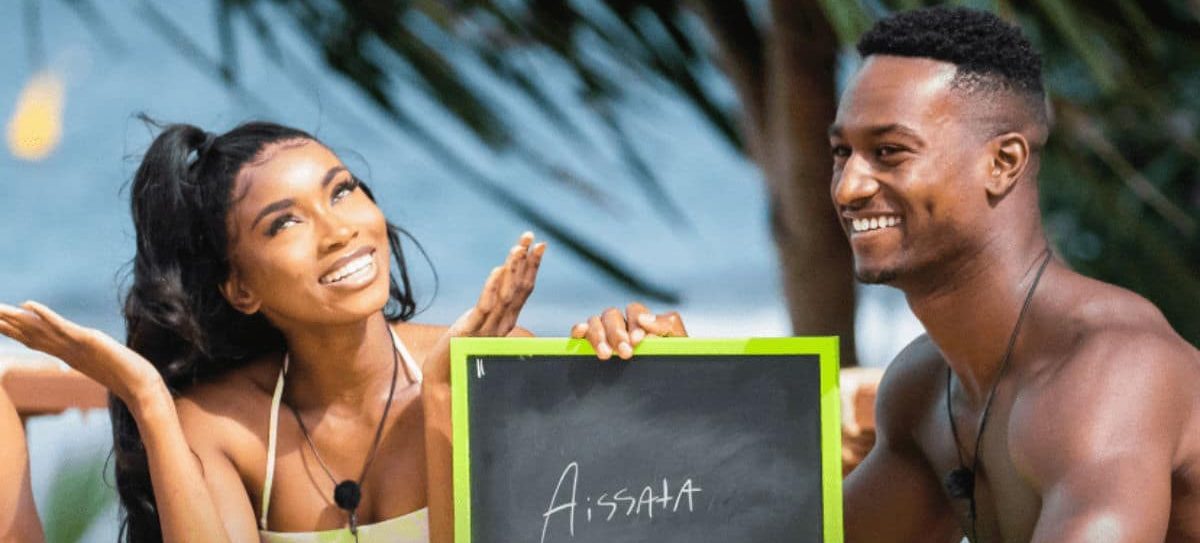 Aissata's previous breakup was difficult, and she was on the show to find a genuine connection. After the first two weeks in the villa, Yamen had already bonded with Alana and completed a few tasks with her. However, he seemed to be getting cozy and sharing kisses with Christen by the second week. Aissata entered the villa halfway through the show and chose Yamen as her partner. By this point, the islanders had already labeled him as a player. He received backlash after dumping Alana, and fans were disappointed in him.
It seemed like Yamen's partnership with Aissata was doomed from the beginning, and the two never got a chance to truly shine. Things didn't end well for the duo, as they got voted out after being in the bottom three. The pair was disappointed and teary-eyed. Their journey in the villa was relatively short-lived, but the two were open to exploring their dynamics after the show. Yamen was ready to catch a flight to New York City and go on a week-long romantic getaway with his partner. Let's see how that turned out for them and what's their relationship status as of now.
Are Yamen and Aissata Still Together?
No, Yamen and Aissata are not together. There were several rumors of the two being in a relationship, but Aissata shut them down in her Q&A video on Youtube in October 2019. After a fan asked about their breakup, Aissata answered, "For one, me and Yamen were never in a relationship. We were talking, and we were getting to know each other, but we were never in a relationship." She also stated that he never had to break up with her and refused to say anything about his relationship with other women because she is unaware and doesn't think it's her place to make any comments about the same.
Aissata also made it clear that they were "cool" and had no hard feelings for each other. The model also said that she did not regret anything about 'Love Island' because she was always true to her values. In the end, she also teased that she began dating someone two months after the show ended but did not give away any major details.
On the other hand, Yamen exited the villa in style and made a heartfelt post about the same, expressing his gratitude for all the amazing people he met and his connections. Most importantly, he also mentioned Aissata and added, "Happy that @aissatatdiallo and I have left together, and we can't wait to see where things go." So, it looked like they were still open to meeting each other back then.
However, it was reported in September 2019 that Yamen and Christen began seeing each other after the show. Aissata confirmed the same in her October video and expressed her feelings about it, saying, "I am happy for them, and I wish them the best." Christen and Yamen made their relationship official after they started posting pictures on social media. They moved in together in LA, and their relationship seemingly sailed smoothly between 2019 to 2020, but after that, there was dead silence. They never publicly addressed the breakup, just deleted each other's picture from their Instagram.
As of now, Yamen hasn't made any announcements or posts about his relationship status nor dropped any hints in his pictures. On the contrary, things are entirely different for Aissata because she got married on December 12, 2021! The news was made public on January 2, 2022, with a lengthy caption about her beau and their relationship, alongside a gorgeous wedding photo. Her husband, Ali Camara, is a creative director, designer, and stylist. No wonder their Instagram is brimming with artistic and stunning couple pictures.
So, it's clear as a day that the duo is not together and probably never was. They seem to be doing well in their individual lives. Yamen is enjoying his life as a single man traveling around the world, creating content for Youtube, and fixing brand deals. Whereas, Aissata is building an empire with her husband and moving forward in her career as a model and influencer in New York. She is also quite active on YouTube, sharing skincare and styling tips regularly. Both Yamen and Aissata have grown immensely after their 'Love Island' encounter, and we hope they do even better in their future endeavors.
Read More: Are Justine And Caleb From Love Island Still Together?