With an ability to spellbind viewers and audiences, the art of theatre requires an arsenal of skills. Shmuel Gonen, or Gorodish, was hailed as a hero after the Six-Day War and appointed to direct the Southern Command in 1973. When three months later, the Yom Kippur War began, the Chief was relieved of his command. Hillel Mitelpunkt's play, 'Gorodish' encapsulates the precise rise and fall of a hero in an Israeli context.
The play first opened in Tel Aviv in 1993 with Avi Kushnir in the role of Gorodish's trustworthy aide-de-camp. Besides encapsulating the vigor and historicity of the event through his role, Avi Kushnir displays the acute woes of a time gone by. With years of experience on stage as an actor, comedian, and reality television show host (Raid the Cage), fans have continued to wonder more about the personality. So, if you're also curious and want to know more, worry not because we've got all the information right here!
Avi Kushnir's Background
Born on August 26, 1960, in Tel Aviv, Abraham Yeshayahu Kushnir or Avi Kushnir, received his preliminary education at the youth village HaKfar HaYarok. Before long, the dutiful youth answered the call of conscription and enlisted in the infantry unit of the armed forces.
Having completed his mandatory military service, Avi soon decided to explore his interests. With little experience in entertainment and the theatrical arts, the novice soon realized that he needed to begin somewhere. Naturally, he started finding different ways to approach the realm of entertainment. Now, the 63-year-old continues to enjoy life with his family and loved ones.
Avi Kushnir's Profession
Struck by the all-encompassing power of theatre, Avi started working as a stagehand in the late '70s and soon realized his penchant for entertaining others. As the '80s neared, he dabbled into comedy and soon began performing in stand-up shows. While his career as a standup comedian was yet to take off, Avi's fascination with theatre doubled, too. Naturally, he took to the theatrical arts and began directing plays.
In 1987, he performed in the Eurovision Song Contest as part of the comedic duo HaBatlanim or The Bums. Their act won them the 8th place in the competition and kickstarted his journey as a mainstream entertainer. Over the years, Avi has starred in skit shows, children's television series, sitcoms, documentaries, and drama. The highly-accomplished Israeli television personality has even hosted reality television and game shows.
With an equally great presence on stage, Avi has astonished audiences with his abilities as a theatric professional, too. Most recently, the actor starred in Daphna Silberg's 'Welcome to Hell.' The play premiered at The Belt Lessin Theatre, and Avi enacted the role of Avi Ben Haim, a man whose decrepit state ends when he wins a lottery of 120 million shekels.
However, his uncontrollable happiness soon drives him to a heart attack. As he enters the pre-hell department of existence, he's met with the unimaginable. He has also made a comeback with 'Zehu Ze!,' the singing and sketch comedy group that was formed more than 40 years ago. The group was originally popular in the '80s and '90s and is set to bring back their signature musical performance filled with laughter.
Avi Kushnir's Marriage and Kids
Besides enjoying an unforgettable stage presence, Avi also enjoys life with his wife, Carmel Kushnir, and their three children. Together, the couple share the parental duties of their sons, Yotam and Yiftach, and daughter, Noa. Like his father, Yotam is also an actor and shares warm moments behind the scenes with his parent. As for Avi's spouse, Carmel also enjoys spending time with her children and husband. Despite keeping herself out of the limelight, the talented individual continues to dabble in a myriad of projects.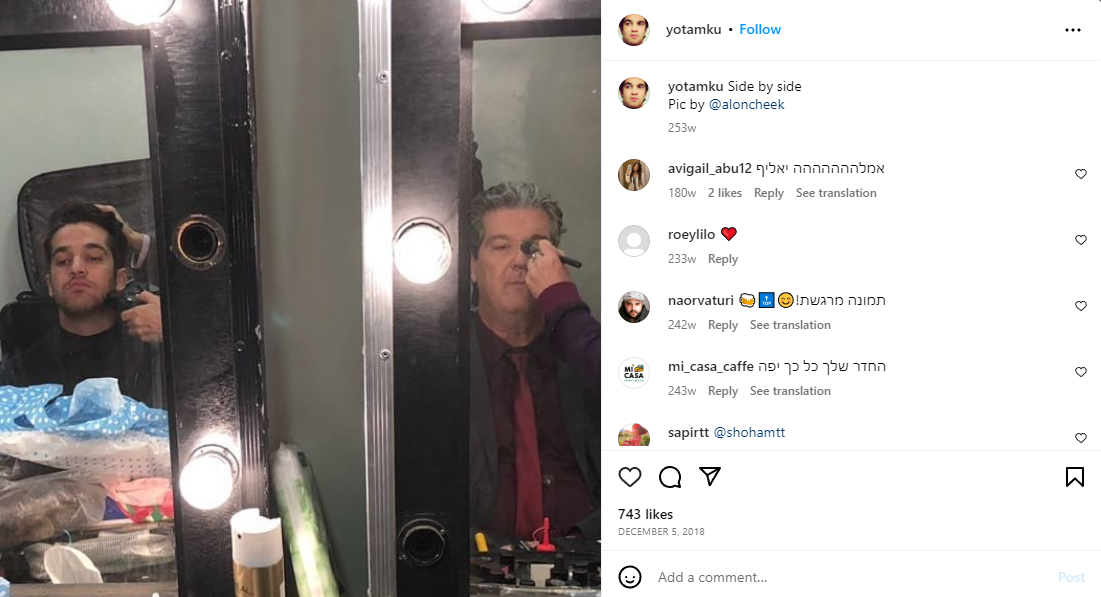 Carmel is the owner of Studio Miralaluna, a decor brand that produces unique ceramic and paper-made products. Besides sharing her skills as a ceramic artist online, Carmel channels her creativity in graphic designing as well. Fans and consumers can avail of her products on her website and Facebook account. While Avi and Carmel continue to embark on new adventures, the couple largely keeps their personal activities under wraps. Nevertheless, we continue to look forward to all the milestones the family will achieve in the near future.
Read More: Best Holocaust Movies