Over the last few years, Indian directors have made a strong shift from your run-of-the-mill television soaps to dark, gritty thrillers. While other players have dominated the early years, 2018 was the year of Netflix in India, as it was the year that saw the release of 'Sacred Games', arguably the most popular Indian series.
The popular series tells the story of Sartaj Singh (Saif Ali Khan), a troubled and disturbed police officer who gets a phone call from Ganesh Gaitonde (Nawazuddin Siddiqui), a renowned gangster who had disappeared 16 years ago. On the call, Gaitonde asks Singh to save the city of Mumbai from an impending disaster within 25 days. The first season includes 8 episodes, weaving an unforgettable tale of the harrowing events that take place after this mysterious phone call.
Now, just like the millions of viewers who have devoured the episodes in no time, you could be going through the same hangover of finding a replacement till season 2 arrives. Fret no more as we are here to rescue you by listing shows that you should be bingeing on right now if you're a die-hard fan of 'Sacred Games'. You can watch several of these shows like Sacred Games on Netflix, Hulu or Amazon Prime.
12. Jack Ryan (2018 – Present)
You cannot miss this classic Tom Clancy thriller which smashed the viewer ratings right out of the park. The highly charismatic John Krasinski plays the titular lead as an FBI analyst who is struggling to find the real meaning and purpose of his job. Following a series of events, Jack uncovers several suspicious bank transfers which point to a terrorist uprising under the name of an Islamic man named Suleiman. What follows is a gut-wrenching tale of events that put a troubled desk analyst straight into the brutalities of the world of terrorism. Available on Amazon Video, we can assure that it will keep you on the edge of your seats with its breathtaking camera works and stellar acting.
11. Narcos (2016 – Present)
Unhappy with a single season and planning a week-long binge? Well, you need not worry as that is exactly why 'Narcos' is on this list. It is based on the story of the charismatic and ruthless Columbian drug lord, Pablo Escobar. Throughout its 3 nail-biting seasons, the viewers get to know the thrilling tale of how Escobar went on to become the 'King of Cocaine' and managed to smuggle over 20 billion dollars worth of drugs into the United States. The show also builds on several other opposing characters, such as DEA agents Steve Murphy (the narrator) and his subordinates, who played a pivotal role in ending the Escobar reign and the flow of banned narcotics into USA. One of the most highly rated Netflix shows of all time, 'Narcos' is also about strong personalities and a plot that will thrill you to the very end of it.
10. CID (1998 – Present)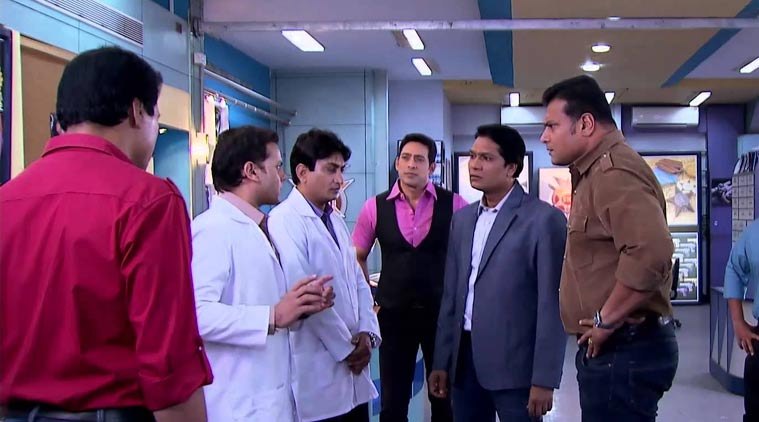 If you thought it was just going to be all about fancy Hollywood titles, you are mistaken. Though many would laugh at the way this highly popular Indian show has been built up since its original release, it definitely deserves a place on this list for a lot of reasons. It has a very strong plot and focuses mostly on its three main characters – ACP Pradyuman, Inspector Abhijit and Inspector Daya. The show also has a very warm tone, which makes it infinitely accessible and entertaining (or at times laughable). The show has a large fan following across various parts of the country. My suggestion would be to salvage the episodes (mostly on YouTube) from the first 5 years and go on a long and relaxing binge.
9. Cloak and Dagger (2018 – Present)
When I first started watching 'Cloak and Dagger', I was pleasantly surprised as it had a very bizarre yet intriguing plot-line that, despite its inherent flaws, manages to keep the viewers engaged. Tandy Bowen is a teenage girl who has the ability to read people's deepest hopes and desires when she touches them. Through a common tragedy, she is connected to Tyrone Johnson, a teenage boy who possesses the ability to transfer people into a dark dimension called the 'Darkforce'. When they finally meet, it becomes evident to them that their superpowers would work better if used in tandem. However, they soon start developing feelings for each other, creating further complications in their already complicated life. Watch this if you're looking for more than just a sci-fi show to binge on this weekend.
Read More: Shows Like 'Dexter'
8. Ghoul (2018 – Present)
'Ghoul' is a 3-episode mini-series, starring Radhika Apte in the lead role. Produced by the directors of 'Sacred Games', it tells the story of a post-apocalyptic, nightmarish world ruled by high world fascists. The show begins with newly appointed army officer, Nida Rahim (Radhika Apte) taking on her first assignment to interrogate a notorious terrorist named Ai Saeed (Mahesh Balraj). Things take a turn when it is Saeed who starts to crack the army officers' minds by exposing their shameful secrets; secrets that no one but the concerned person can know. Turning the whole army base against each other, Saeed forces Nida to believe in supernatural powers that she would otherwise never believe in. This show shares several commonalities with 'Sacred Games', in dealing with insecurities and the fragility of the human mind. Watch it for the amazing individual performances.
7. Breathe (2018 – Present)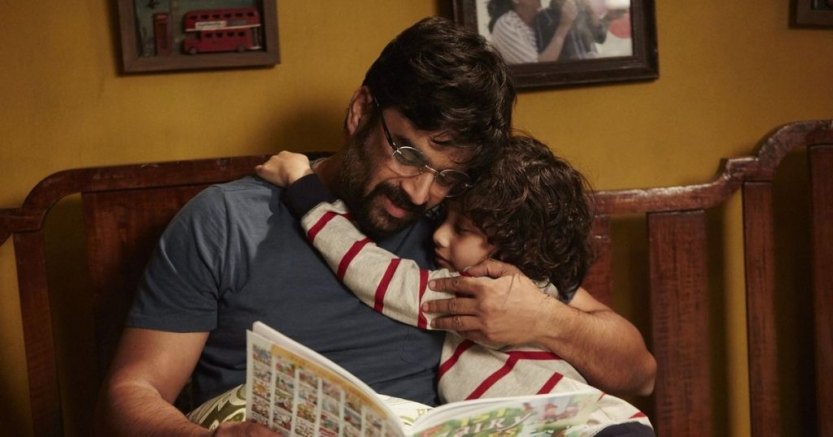 Another gem from Amazon Video, this nail-biting thriller stars our very own R. Madhavan, who is playing the lead role of Danny Mascarenhas. Danny is a father who turns desperate and would go to any extent to save the life of his son who is suffering from a severe lung condition. After breaking into the concerned doctor's office and stealing the donors' list, Danny has to face incredible challenges in the form of a police officer named Kabir Sawant (Amit Sadh), who plays an alcoholic, grieving father mourning the loss of his daughter. Watch this fast-paced Amazon original to feel the same emotions that 'Sacred Games' brought out of us.
6. Luther (2010 – Present)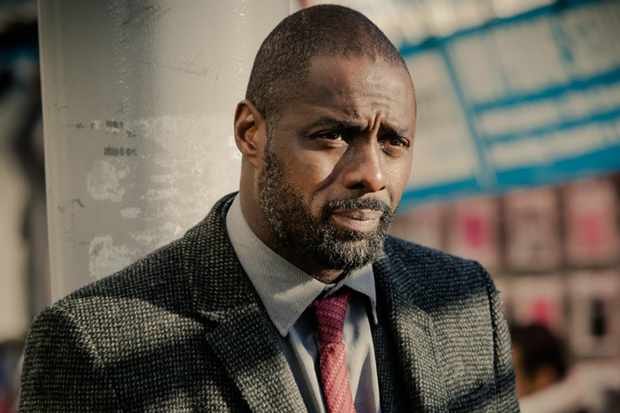 A show that definitely deserves to be on this list. Idris Elba takes on the iconic role of 'Luther', a Detective Chief who gets obsessed with his job. With everything having both good and bad sides, Luther's nature forces him to end up getting heavily involved with the deadly criminals he spends chasing for days, months or even years. Watch this BBC Original for Elba's acting and and the hugely gripping plot.
5. Sherlock (2010 – 2017)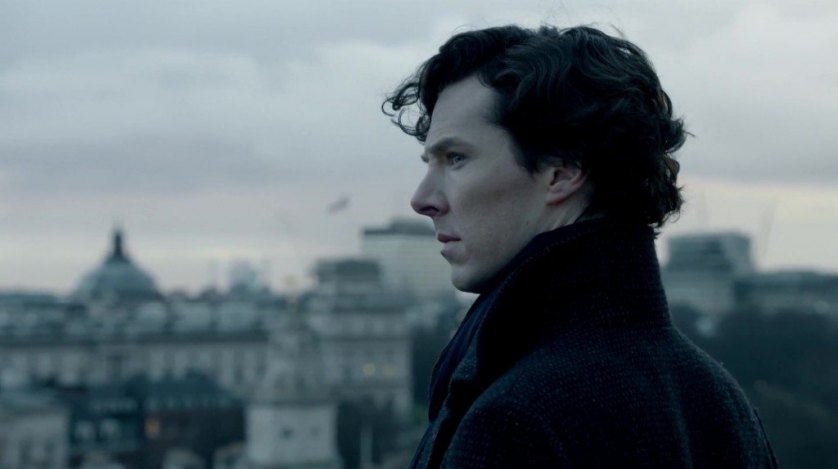 If you haven't watched 'Sherlock', what have you been watching?! Benedict Cumberbatch dons the role of (arguably) the greatest detective in the world trying to solve the toughest mysteries and crimes that the human mind can fathom. Beside him is his calm yet panicky sidekick in the form of Doctor John Watson (Martin Freeman). Although the original stories are set in a much older period, this adaption has the iconic character in a 20th century setting in London. Over the years, many have attempted to adapt 'Sherlock Holmes' but very few have been able to win over fans as this BBC original has.
Read More: Shows Like 'Criminal Minds'
4. Damaged (2018 – Present)
'Damaged' is a psychological mystery thriller told from the perspective of a female seductress who is accused of murder. When a famous painter goes missing, the police force led by Abhay Singh Pariyar (Amit Sial) finds clues that lead them to a seductress by the name of 'Lovina'. On further investigation, they discover that she has some connection with the disappearance of several other men. A great chase ensues between the two leads and what follows is a brilliantly scripted drama full of great performances. It also shows us a unique perspective of an (alleged?) murderer. Watch 'Damaged' if you enjoy unconventional plot-lines, thrilling scenes and witty dialogues.
3. True Detective (Season 1) (2014)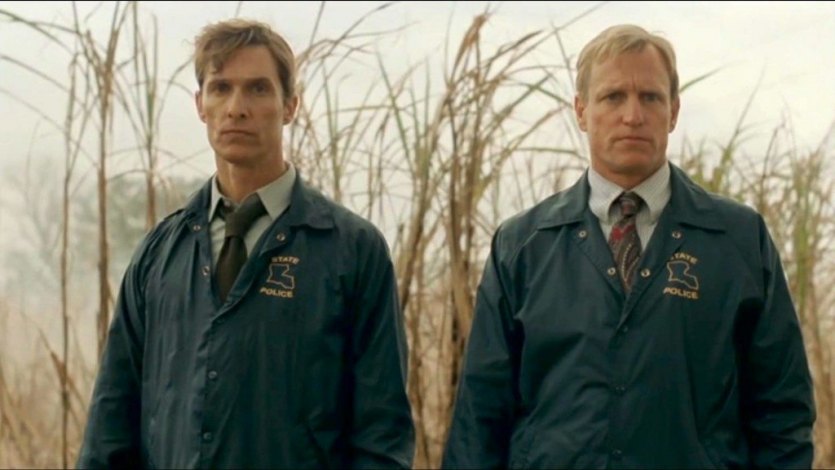 Starring Academy Award winner Matthew McConaughey and Woody Harrelson in the lead roles, the first season of this gorgeously crafted anthology series tells the story of two detectives who get entangled into something unexpectedly horrifying. The show delves into the most complex of criminal psyches and sees our heroes struggling to keep their personal and professional lives apart. The first season is a must-watch for viewers who are desperately searching for a 'Sacred Games' replacement.
Read More: Shows Like 'True Detective'
2. Mirzapur (2018 – Present)
This show is named after the infamous city in Uttar Pradesh that continues to garner attention for all the wrong reasons. The story follows Akhanda Tripathi (Pankaj Tripathi), who rules Mirzapur's crime world with an iron fist. He is also the father of a worthless son named Munna, who would cross all limits and go to extreme extents in order to snatch his father's empire. The show is a must-watch for viewers who want to enjoy a ruthless crime drama that weaves a web of deception, violence and unlawfulness, unlike any other.
1. Twin Peaks (1990-1991 and 2017)
If you're wondering what a crime drama from the 90s is doing on this list, you need to watch 'Twin Peaks' right away. The story begins with an FBI special agent named Dale Cooper (Kyle McLachlan) investigating the murder of a high school homecoming queen, Laura Palmer (Sheryl Lee). His investigation leads him to a fictional town in Washington DC, called Twin Peaks. Within a matter of days, agent Cooper realizes that this is not just a murder case and that there is a very profound mystery that engulfs the people of the entire town. Another must-watch for people who enjoy dark and terrifying mystery thrillers, as 'Twin Peaks' sits on a league of its own.
Read More: Shows Like 'Twin Peaks'