Starring Keira Knightley and Mark Ruffalo, 'Begin Again' is a 2013 musical romance directed by John Carney. Knightley plays the role of Gretta, a British singer-songwriter who catches the attention of an out-of-job music producer, Dan (Ruffalo). Thoroughly impressed by her talent, he expresses interest in working with her. After quite some hesitation, Gretta agrees.
The movie progresses with their journey of producing music independently with a band of inspiration-hungry musicians playing in different locations across New York. It also touches upon Gretta and Dan's individual love lives and how they affect one another. The emotionally rich film asks the deepest questions about the true meaning of authenticity, self-discovery, and artistic expression. The ending of 'Begin Again' leaves you with a sense of newfound freedom, which we'll discuss in detail. SPOILERS AHEAD!
Begin Again Plot Synopsis
'Begin Again' opens with Steve (James Corden), a busker, bringing his best-friend Gretta, on stage to present her new song at a bar in New York. She unwillingly does, only to perform to an uninterested crowd, except for Dan, who is riveted by her performance. We are then taken through Dan's day, leading him to the bar, drunk and sad, only to be replenished by Gretta's soulful song. Dan is a music producer who got fired at his own indie label, Distressed Records. He hasn't signed a new artist in seven years. Separated from his wife, a successful journalist, he lives in a dilapidated rented apartment in New York. He has a strained relationship with his teenage daughter, who is fighting her own battles.
Dan offers to record her song and gives her his card, but Gretta declines the offer because of her lack of faith in record labels. Moreover, she observes that his appearance suggests he isn't really what he claims to be. After a brief back and forth, he catches Gretta when she's leaving and comes clean to her. Dan tells Gretta that he doesn't work for the record label anymore. Moreover, offering her the card is just out of habit. He really is a legitimate music producer but has run out of luck. Familiar with misery herself, she agrees to join him for a beer. An internet search tells her he is actually who he claims to be, and they further their acquaintance. Dan insists that Gretta stays back in New York and he could work on introducing her music to his former partner, Saul. She reluctantly tells him she will think it over and let him know.
The movie then zeroes in on Gretta's backstory and what led her to the bar and sang her melancholic song. She is in a 5-year-long relationship with Dan, a newly successful musician. She comes to New York to support him and tags along with him for his practice session as he hopes she'd also find a breakthrough. She humbly goes along with dignity and poise. One day, she finds out Dan's been having an affair with Mim, an executive from the record label. A heartbroken Gretta breaks up with him, moves out of his apartment immediately, and crashes at Steve's.
The next day, Gretta agrees to present her song. She gives a live demonstration to Saul, but he doesn't really see her worth. Undeterred, Dan pitches an idea to Gretta and suggests that they could independently produce music. Gretta loves the idea and agrees with enthusiasm. They use the cheap equipment Steve had stocked up in his flat. They find the most desperate of musicians from a well-known music school and a ballet studio and get them on board for a share in the profits the album would make. He gets two of his musicians as a favor from Troublegum, a rap artist discovered by Dan. The film progresses with brilliant renditions of their songs played in back streets, the metro station, terraces, and boats, among others.
Dan and Gretta have a growing friendship over their shared love for music. Dan introduces her to his daughter, Violet, on one of his days with her. Gretta gracefully bonds with her and offers her advice on boys and fashion. She even asks if she'd like to play in one of their songs, and she eagerly accepts. Dan then requests his ex-wife Miriam to bring her to the recording and leaves. Miriam wistfully looks at him as he gets back in the car with Gretta, probably assuming they're together. On the other hand, Gretta is still dealing with her heartbreak. When she sees Dave's phony award-winning speech on the internet, she gets drunk. She then writes a song about how worthless a lover he is and sends it over to his voicemail. When Dave gives it a listen, he is reminded of his love for her and reaches out, requesting to meet.
Begin Again Ending: Why Does Gretta Not Get Back with Dave?
When Gretta meets Dave on his insistence, he expresses remorse for cheating on her. He makes her listen to his rendition of 'Lost Stars,' a song she had written for him when they were in a relationship. Gretta is less than pleased about him heavily commercializing a song that was supposed to be private and does not understand his obsession with everyone liking his music. For her, music is something very personal and meaningful. However, Dave pleads with her to see him perform the song live at Gramercy Theatre and witness what he's talking about. She agrees but requests him to play it the way it was originally meant to be.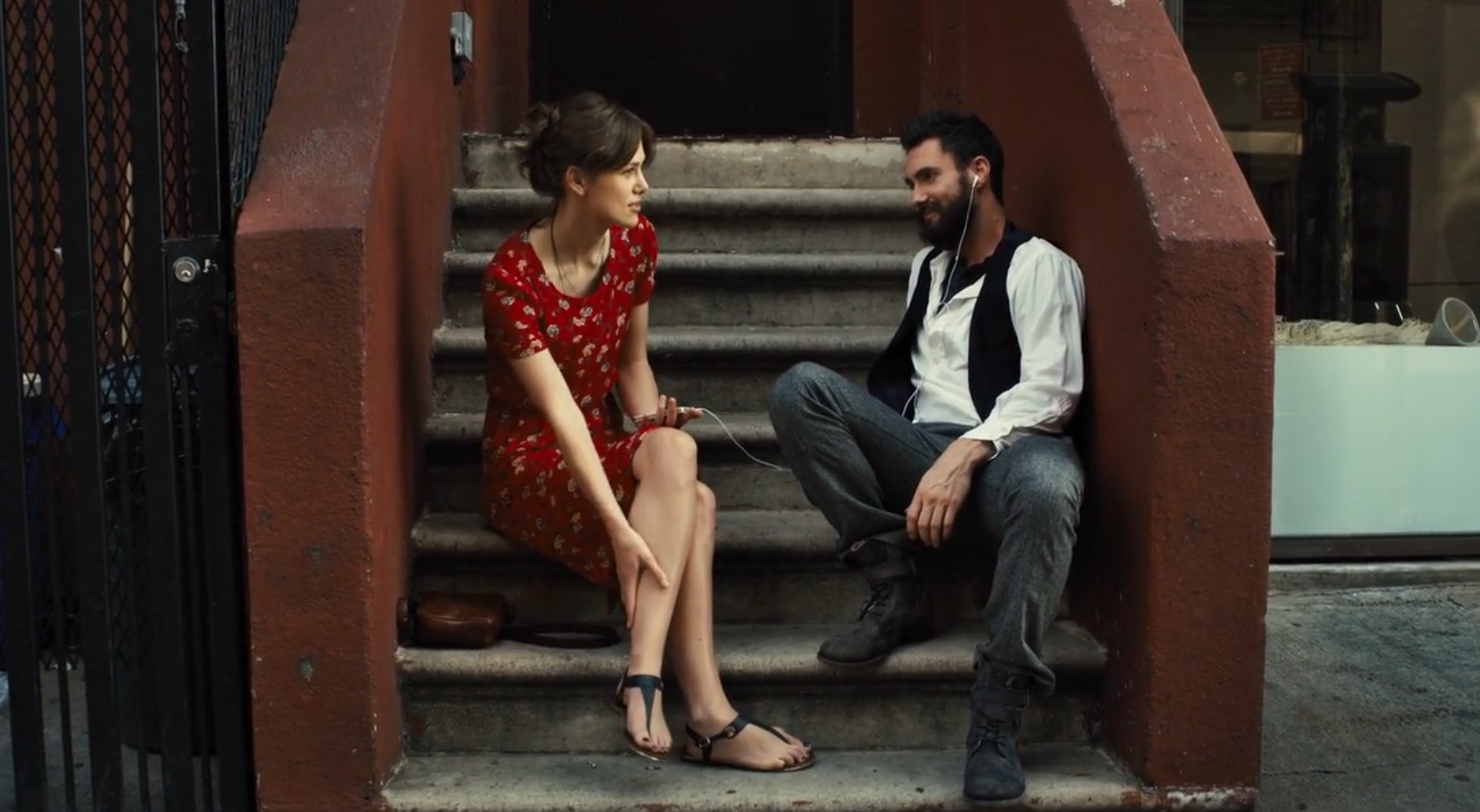 When she does turn up, she is initially quite pleased to see Dave play it the way she requested him to. When Dave notices her at the wing of the stage, he signals her to join him, to which she doesn't respond. She notices that for Dave, it isn't about the song or her but the audience. Like Dan once mentioned, people in the industry are practically married to fame and everything that comes with it. She realizes that is the case with Dave as well. She wordlessly removes herself from there and cycles around with a satisfying feeling of closure.
Why do Dan and Miriam Get Back Together?
Throughout the movie, there is an easy camaraderie between the two that comes from the familiarity of seeing each other through the ups and downs of life. They share a traumatizing past that involved Dan having a nervous breakdown after Miriam (Catherine Keener) had cheated on him and decided to leave him for a whirlwind romance on one of her work trips. However, the person had backed out on her, leaving her with a disappointed husband who was struggling to singlehandedly take care of his daughter.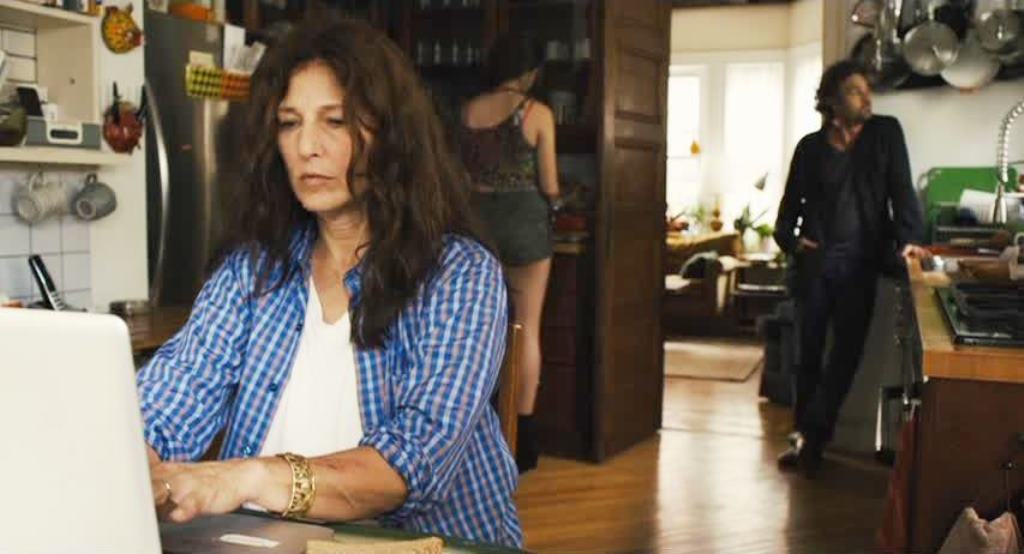 The Dave we see in the present is a wreck of a person who drinks too much and is an absent father, while Miriam now singlehandedly struggles to take care of their daughter. Miriam's disappointment slowly turns into satisfaction as she sees Dan make an effort with their daughter and get his act together. Also, considering the fact that both Miriam and Dan had made their fair share of mistakes in the past, it is quite likely that they'd get back together and give their marriage a second chance. One of the closing scenes includes Dan and Miriam sharing a kiss while listening to music with the audio splitter from their first date, clearly suggesting their future together.
Alternate Ending: Do Gretta and Dan End Up Together?
There is an unmistakable chemistry between Gretta and Dan throughout the movie. Each one of them gives the other a reason to go on. Dan gives Gretta's music a break by producing an album with her, and Gretta gives Dan a song that brings him back to life and invigorates him into action. They form a connection over their love for music. There are many instances where we wonder whether this connection would translate into a romance between an older man and a young woman.
For instance, when Troublegum gestures to Dan that Gretta is superb while they are leaving, or they share a few brief moments supposedly alone in Steve's apartment after sharing their playlists over the audio splitter. We also see that possibility towards the end, right after Dan and Gretta meet with Saul over their new album. They have a silent conversation that only two people with a great connection can have. Given all these suggestions, the possibility of Dan and Gretta being together isn't altogether bizarre. They do have all the prerequisites for two people in love. However, their romantic union would strip the movie of its uniqueness.
Read More: Is Begin Again Based on a True Story?