Comedy movies carry a lot of advantages for their audiences. Although they aren't prescribed as medicines, they can work wonders for your mental health. To tune it down a little bit, watching comedy movies relieves stress, brings joy, and serves as a great getaway from a mundane life. Of course, you can watch them even if your life isn't mundane, and they will have the same effect, perhaps even better than usual, as they will only add to your already happiness-filled life.
So, here we bring you nine great comedy movies of different kinds, all of which are available for streaming on Peacock. Each of these movies, while being connected by humor, offers a different kind of comedy that is customized to complement the story, offering you a unique experience with each watch.
9. Asteroid City (2023)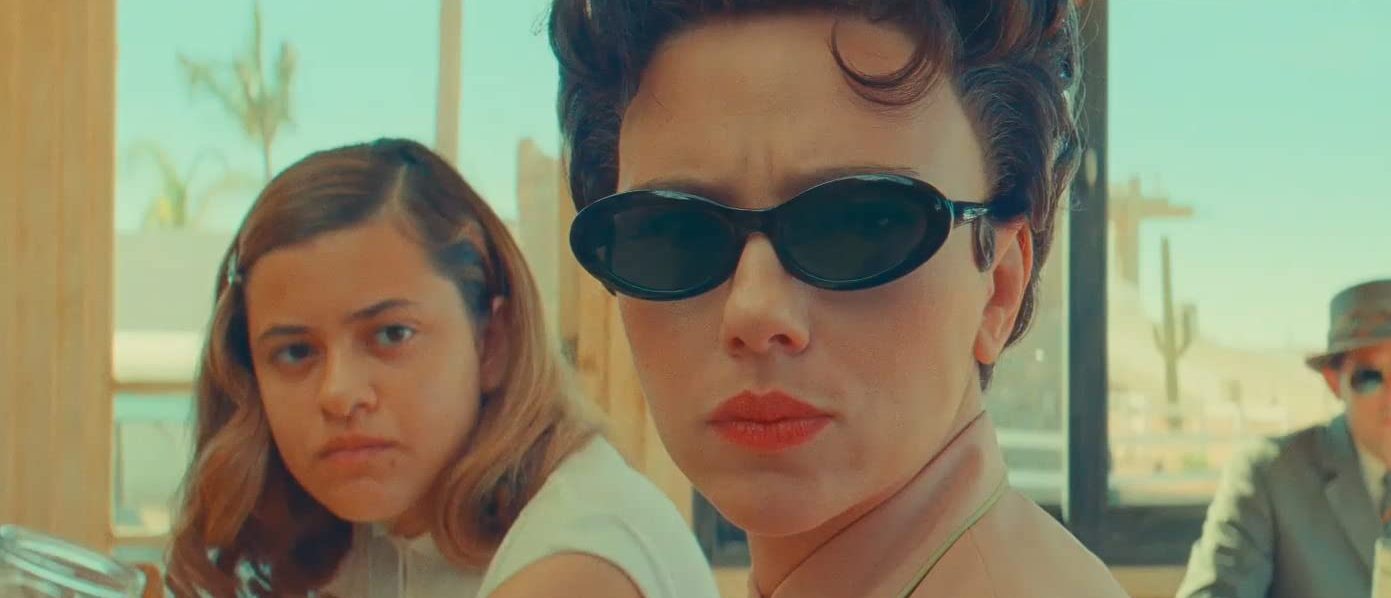 A visual treat like only Wes Anderson can pull off, 'Asteroid City' is the simultaneous depiction of a play in which a stargazer convention that takes place in the retrofuturistic desert town of Asteroid City in 1955, and the creation of the play. With a large stellar ensemble that includes Scarlett Johansson, Jason Schwartzman, Margot Robbie, Tom Hanks, Bryan Cranston, Adrien Brody, Edward Norton, and Steve Carell, the movie will transport you to a different universe wherein comedy is in the normalcy of humans, i.e., the way they talk and behave. The movie might be set in 1955 but in a retro-future, which means that it is a potential future for us all, and the characters we see are potentially ourselves, maybe 100 years from now. So, as you get your kicks out of the comedy, do give this a thought because that is what Wes Anderson wants you to do, or so it seems, and the fact that it seems so means it is so. You can stream 'Asteroid City' here.
8. Tucker and Dale vs Evil (2010)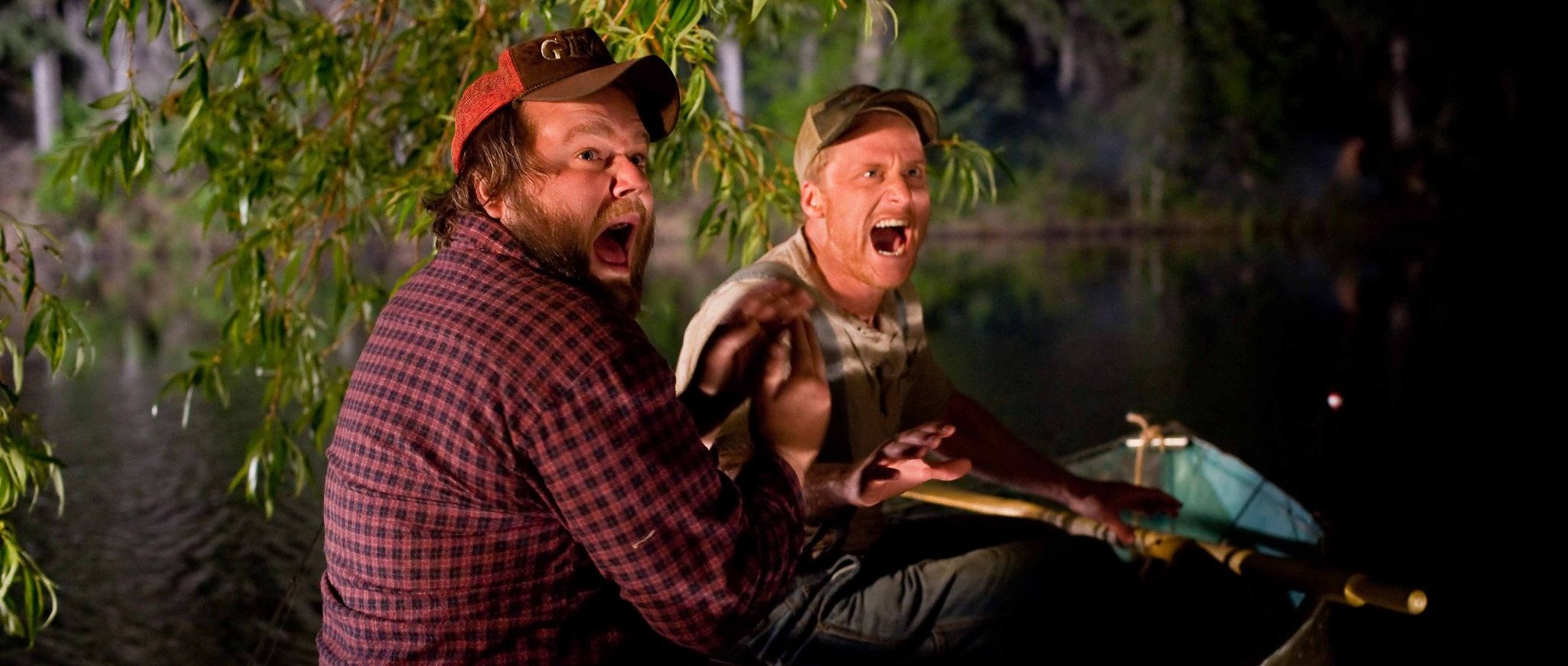 This movie takes a dig at every "cabin in the woods" horror movie ever made, and rightfully so. We can assure you that you will be glad you saw this movie after the countless times you were subjected to the thought that any cabin in any forest has to be the home of either a serial killer or a psycho with an axe or a chainsaw or a sawed-off shotgun. 'Tucker and Dale vs Evil' shows a group of college students who arrive in the woods to party only to encounter two scary guys. But the truth is these two "scary" guys, namely Tucker (Alan Tudyk) and Dale (Tyler Labine), have also come to the woods to spend some quality time in their cabin but end up being misunderstood by the group. Clearly, they have also been subjected to the very thoughts mentioned above. What follows is how the vacations of both parties take a turn for the worse, and it taps into our sadistic side as we take joy in all the blood that is spilled as a result. Watch, and you will know what we mean. 'Tucker and Dale vs Evil' is directed by Eli Craig. You can stream the film here.
7. Welcome to Me (2015)
Kristen Wiig pulls off one of her most charming roles ever in 'Welcome to Me,' directed by Shira Piven, and proves that she is an actor of high caliber. The movie transcends the comedy genre as we meet Alice Klieg, who has borderline personality disorder. After winning $83 million in a lottery, she decides to put aside her meds and produce her own TV show where she speaks her heart out to the world, her inspiration being Oprah Winfrey herself. But while she is all set to reveal herself to the world, is the world prepared for her? 'Welcome to Me' is problematic not as a movie but as an experience that shows the absurd world as seen through Alice's eyes while providing a fair share of laughter. You may watch the movie here.
6. Bridesmaids (2011)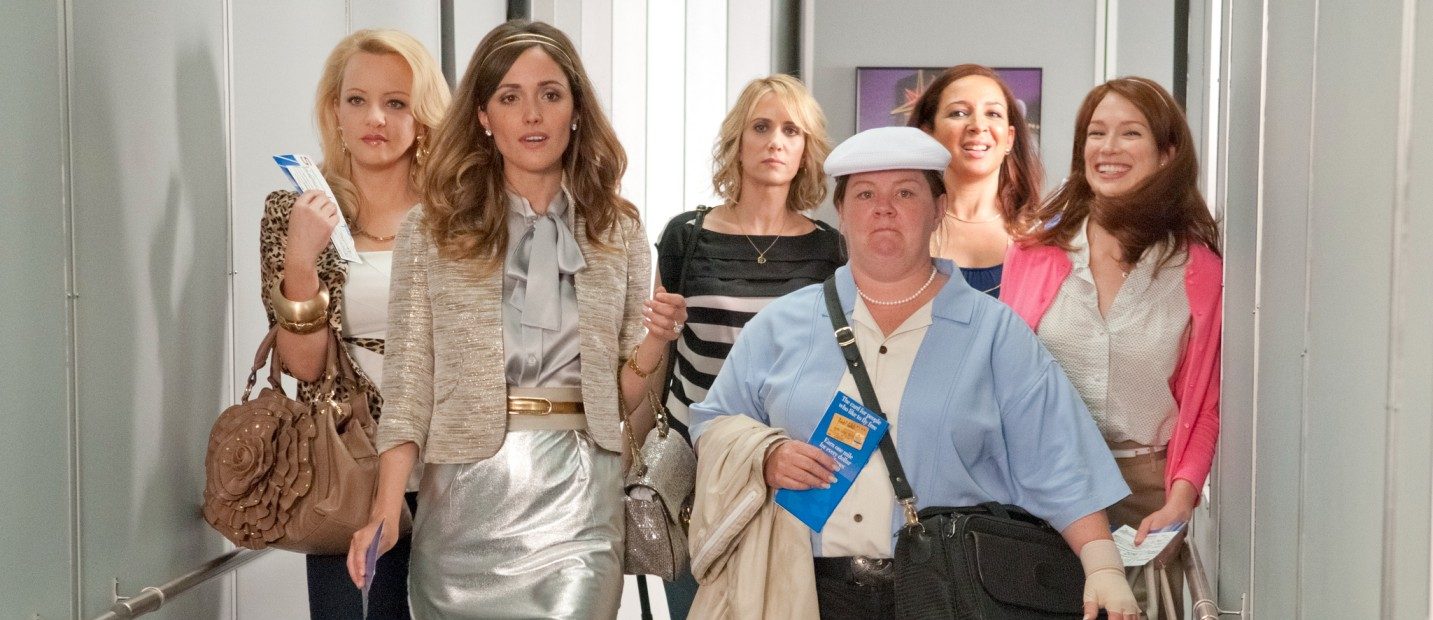 If there is a list made of the best chick flicks ever, no matter how small the list gets, 'Bridesmaids' will find a place in it. Directed by Paul Feig, with Kristen Wiig as both a lead and a co-writer, the movie centers on Annie Walker (Wiig), single, in her 30s and in a mess of a personal life, who is asked by her childhood friend Lilian to be her maid of honor. She then meets the four bridesmaids, namely Rita (Wendi McLendon-Covey), Becca (Ellie Kemper), Megan (Melissa McCarthy), and Helen (Rose Byrne). How Annie handles the pressure of being the maid of honor, as well as these four ladies, is what the movie chronicles. Full of laughs from start to finish, 'Bridesmaids' is, hands down, an entertaining watch. You can watch it here.
5. Step Brothers (2008)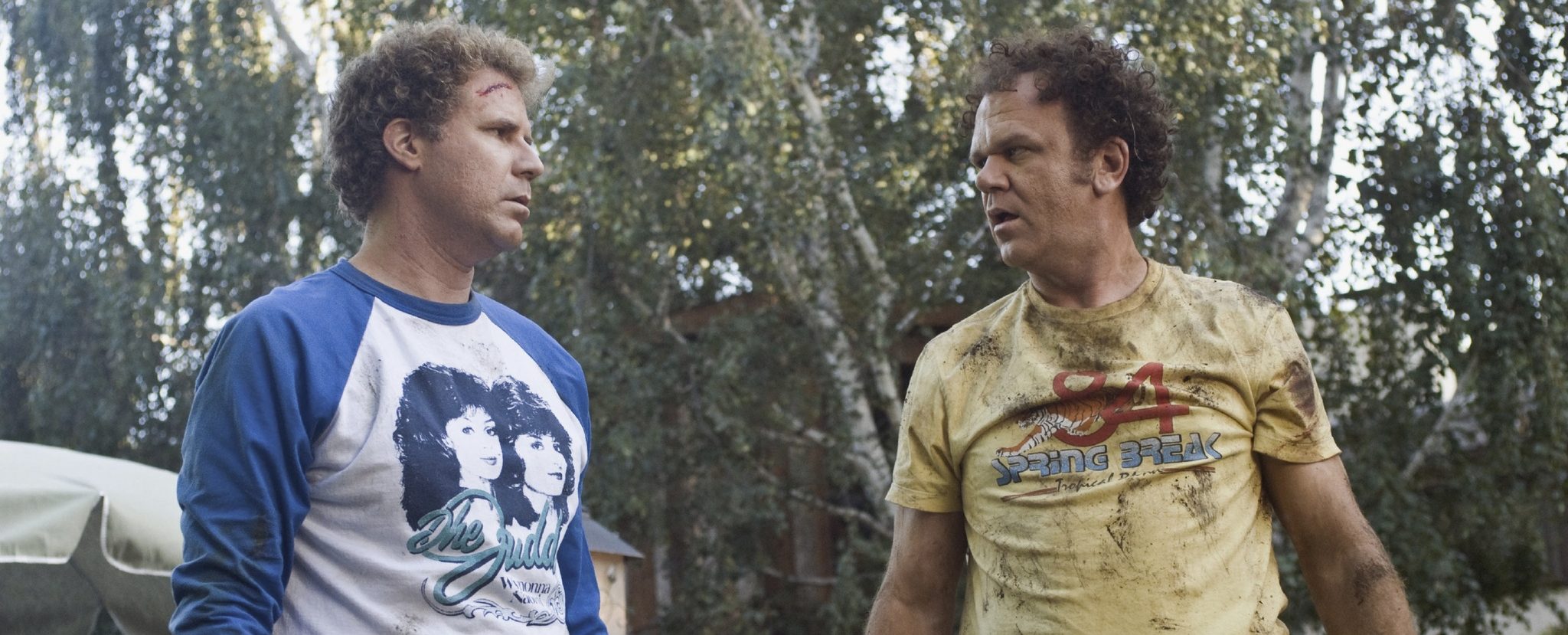 Starring Will Ferrell and John C. Reilly, 'Step Brothers' tells the story of two jobless, lazy, overgrown adults: 39-yer-old Brennan Huff (Will Ferrell) and 40-yer-old Dale Doback (John C. Reilly), who live with their parents. Things get worse when Brennan's mother, Nancy (Mary Steenburgen), and Dale's father, Robert (Richard Jenkins), get married, and they become the titular pair. They hate each other to the core, and this comes out in the most humorous fashion. However, they soon realize they have a lot in common and thus become the best of friends. But the damage that follows threatens their brotherhood as it results in Robert filing for a divorce with Nancy. Can the two step-brothers prevent their family from breaking apart? To find the answer, you have to watch the movie, which is directed by Adam McKay, the mastermind behind movies including 'Vice,' 'The Big Short,' and 'Don't Look Up.' You can check out the film here.
4. Irresistible (2020)
Starring Mackenzie Davis, Rose Byrne, and Steve Carell, 'Irresistible' is a political comedy directed by Jon Stewart. It revolves around campaign consultant Gary Zimmer, a Democrat, who is heartbroken due to the defeat of the Democrats in the 2016 presidential elections. So he is looking for a new candidate to make a face out of and finds one in Marine veteran Col. Jack Hastings from the fictional town of Deerlaken in Wisconsin. Thus begins Zimmer's work of convincing Hastings to run for mayor of the town and grab the national spotlight. A political satire, by all means, 'Irresistible' is a great watch. You can watch the movie here.
3. Bad Boys II (2003)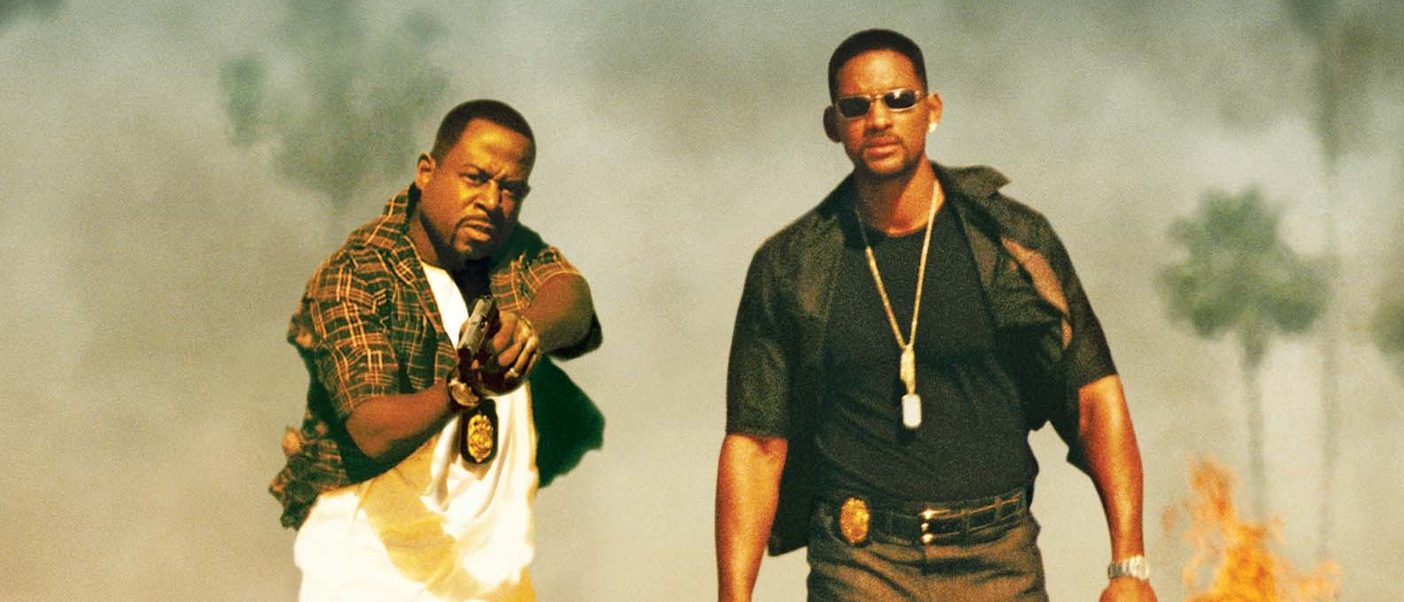 The second installment of the famous action-comedy franchise 'Bad Boys,' 'Bad Boys II' is directed by Michael Bay. The movie stars Will Smith and Martin Lawrence as Miami police detectives Mike Lowrey and Marcus Burnett, respectively, who are after a drug that has taken the city by storm. With the Russians and Haitians involved as well, the two cops find themselves in a high-stakes death match. To add to the tension is the fact that Mike is dating Marcus's sister. If you are looking for an action comedy that offers equal amounts of both, this movie is what you should start with. You can stream it here.
2. Ted (2012)

Many of us have wished that our favorite doll or action figure come to life when we were kids. But how would things be if they really did? This is exactly what happens to John Bennett (Mark Wahlberg), who now lives with his teddy bear Ted (voiced by Seth MacFarlane), who came to life 27 years ago as a result of a wish made by John when he was eight. While John spends his idle time, when he isn't working at the car rental, smoking pot, drinking beer, and watching movies with Ted, this doesn't go down well with the former's girlfriend, Lori Collins (Mila Kunis). Ultimately, John will have to understand that he needs to grow up and take responsibility if he wants to spend his life with Lori. In other words, Ted has to move out if John wants Lori to move in with him. Is that even possible? Directed by Seth MacFarlane ('Family Guy') himself, 'Ted' is an R-rated laughter riot. Feel free to check out the movie here.
1. Bruce Almighty (2003)
Starring one of the best comedic actors ever, Jim Carrey, 'Bruce Almighty' shows what happens when a guy's wish to be god is granted, sort of. When news anchor Bruce Nolan (Carrey) loses a promotion to his peer/nemesis Evan Baxter (Steve Carell), Bruce complains to the Almighty about why he is being treated so poorly. Soon, God (Morgan Freeman) arrives and grants Bruce all his powers for a week because Bruce thinks he can do a better job as God. In the beginning, he has the time of his life, making the most of his powers, especially with his ladylove Grace (Jennifer Aniston). But soon, he realizes that he has to listen to the rest of the world as well, and that's when things start getting complicated. 'Bruce Almighty,' directed by Tom Shadyac, is a hilarious movie that is underscored by the realization that with great power comes great responsibility. You can watch the movie here.
Read More: Best Comedy Movies