One of the most recognized names in Bollywood cinema, Rani Mukherji hails from a family that has strong ties to the film industry. The actress herself, however, did not aspire to follow in the footsteps of the family. However, even as a child, she retained a penchant for acting and her talent was immediately recognized.
Rani Mukherjee acted in various movies over the years next to some of the biggest names in the industry and created a name for herself, a name that will forever be associated with the rich heritage of Hindi films. Here is the list of top Rani Mukherji films. You can watch some of these Rani Mukherji movies on Netflix or Amazon Prime.
12. Yuva (2004)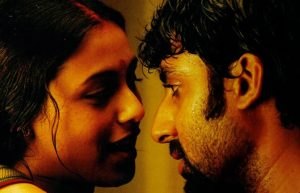 A Mani Ratnam film, this film stars Rani Mukherji in a supporting role. She plays the wife to Lallan Singh (Abhishek Bachchan) a Bihari goon settled in Kolkata. The story is basically about three men whose lives intersect after a bullet catches a student politics leader Michael Mukherjee (Ajay Devgn) on Howrah Bridge. The tale is a fine one of political quagmire and the depths of immoral decrepitude on the part of many politicians who will not allow students' idealism to enter their corrupt political visions. However, amidst all this stands out Rani Mukherji's character – Shashi Biswas. She plays the abused wife to the gangster, a deeply underplayed role where she brings out her affection for her husband in certain tender moments and the pain of an abusive relationship equally, and in a memorable film filled with very talented people Mukherji leaves her mark.
11. Bunty Aur Babli (2005)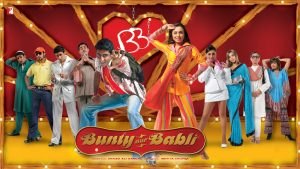 Directed by Shaad Ali, this film was one of the biggest films of the year, starring father and son duo – Amitabh and Abhishek Bachchan for the first time. Rani Mukherji makes an equally important impact as the titular Babli. The story draws on the trope of criminal lovers and follows two small town people with big dreams who meet at a railway station as they catch the midnight train going anywhere. They begin to realize that their dreams are not so easily achievable but also begin to realize that people are gullible. Thus they begin to con people together first as a duo of friends and then as husband and wife. Almost similar to Bonny and Clyde in certain parts except for the bloodshed and violence, this movie is a fantastic experience due to the stellar performance delivered by Rani Mukherji especially in a movie where she would very likely be eclipsed by the father-son duo. Mukherji's spunky portrayal of Babli, the con woman wins hearts and makes this one of her finest movies.
10. Ghulam (1998)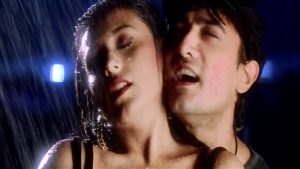 A film directed by Vikram Bhatt, the movie title translates to 'Slave'. Inspired by Marlon Brando's On the Waterfront, the film follows Siddhu an unambitious boxer who wanders around with his friends and occasionally takes on matches. His brother Jai works for a local ganglord Ronnie who extorts the merchants in his area. Siddhu's adventures get him to meet Alisha part of a biker gang and they begin to fall in love. Alisha, played by Rani Mukherji becomes one of the redeeming aspects of Siddhu's life along with an injustice he witnesses. The film is about the redemption of the loafer kid who takes up the mantle of responsibility. Rani Mukherji delivers a fantastic performance that is memorable, to say the least, and the famous Aati Kya Khandala song sequence will remain imprinted in anyone's mind who grew up on these movies.
9. Saathiya (2002)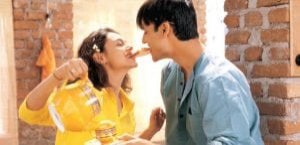 A film told in flashback format, for the most part, another Shaad Ali direction, this movie stars Vivek Oberoi and Rani Mukherji. Mukherji plays Suhani, Aditya (Oberoi's) wife who has gone missing after a quarrel. The film follows the development of the relationship between the two and the hurdles they had to cross to be with each other. Turning to the present the movie shows the circumstances of the accident and the eventual reconciliation of the two lovers as they get over their temporary domestic spat and the movie ends on a beautiful note of Suhani recovering from her accident hugging Aditya on the hospital bed. Mukherji brings a wide array of emotions to Suhani's character from the early days of coy courtship to the declaration of love to the anger in quarrels and the eventual forgiveness in the climax, making this film a strong film in her body of work.
8. Talaash: The Answer Lies Within (2012)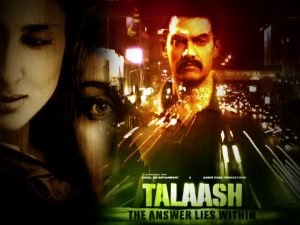 Directed by Reema Kagti, this film stars Aamir Khan and Rani Mukherji. The plot follows a police officer investigating a strange crash on an apparently empty stretch of road. The film starts off with a solid premise and holds the intrigue all through the first half only to disappoint in the second. However, the role played by Rani Mukherji of Roshni stands out in the film. Roshni and her husband Surjan (Aamir) have recently lost their child Karan in a drowning accident. Rani Mukherji plays the role of the grieving mother excellently. She shows the difficulty in coming to grips with the death of one's child and the desperation to reconnect with them will lead people to do anything as she does when she contacts her deceased son through a neighbor who is a medium apparently. Her desire to hope versus Surjan's grounded realism serves as a base for the main plot where we see the cause of the accidents being supernatural actually. This movie remains one of Mukherji's strongest acting performances that shows how she has matured over the years.
7. Hum Tum (2004)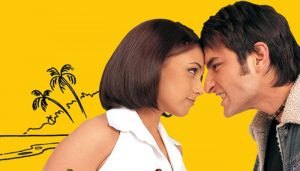 Directed by Kunal Kohli this movie follows Karan and Rhea played by Saif Ali Khan and Rani Mukherji respectively. The plot shows their encounter over various periods of time in various cities and how their relationship evolves over these encounters. The best part of the film is the animation which mimics the real-life love story of the two people and the panels serve as another space where the story plays out. A finely told tale of a woman and man who circle the wagons before finally confessing their feelings for each other, Rani Mukherji does a wonderful job as Rhea, a woman who knows what she wants and has a very correct view of relationships. This role has to be one of Mukherji's finest and was awarded as such and remains one of her better films.
Read More: Best Saif Ali Khan Movies
6. No One Killed Jessica (2011)
Directed by Rajkumar Rao, this film stars Vidya Balan and Rani Mukherji as female leads, a refreshing change in Bollywood, where women are relegated to supporting casts merely. The story follows the murder of Jessica Lal and the investigation surrounding it. Balan plays Jessica's elder sister Sabrina and Rani plays Meera Gaity, the reporter who teams up with Sabrina to get to the bottom of the case. A thrilling narrative of deceit and cover-ups, Rani Mukherji delivers a brilliant and hard-hitting performance as a woman out to seek the truth against all odds, and the female cast adds an additional aura of strength to the movie making this one of Mukherji's finer works.
5. Mardaani (2014)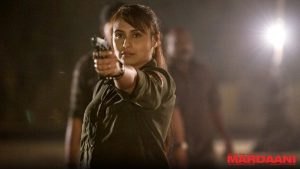 Directed by Pradeep Sarkar, this movie explores child trafficking and its links to prostitution in India. Shivani Roy is a brave member of the Mumbai police force, played by Rani Mukherji. When her daughter gets kidnapped, she undertakes a mission to dismantle the entire network of traffickers that are responsible for the act. Almost like Taken starring Liam Neeson, this film nonetheless serves as a fresh breath in Bollywood as it attempts to throw light on a prevalent evil in society and stars a female lead character to boot. Mukherji delivers a fierce and determined role with the right amount of tenderness a mother would feel for her lost child, making this one of her most emotive performances and one that we will remember for a long time to come.
4. Hichki (2018)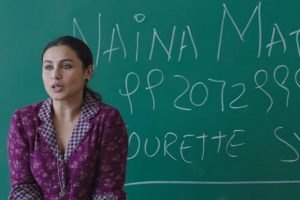 Directed by Siddharth P. Malhotra, this is one of Rani Mukherji's finest films. She plays Naina a woman with Tourette's syndrome. She becomes a teacher in the school she graduated from and is assigned an unruly class. However, she begins an interactive teaching experience and soon butts heads with a conservative teacher. A tale of dealing with disabilities and overcoming them, the movie ends on an O Captain, My Captain moment alike Robin Williams when all students bid the teacher a teary farewell after she retires. This is one of Mukherji's finest films as it not only explores disabilities but also determination in women characters and the education system, and maintains a tender undertone to the narrative and doesn't seem too high-handed making it a well-balanced and well-made film.
3. Kabhi Alvida Na Kehna (2006)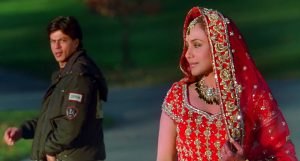 Directed by Karan Johar, this film is one of the major benchmarks in Rani Mukherji's career. Starring a stellar cast including Abhishek and Amitabh Bachchan, Shah Rukh Khan, Preity Zinta and Kirron Kher, this movie explores themes of adultery and how Maya (Mukherji) and Dev(Shar Rukh) are unsatisfied in their respective relationships and ultimately fall in love with each other. A dramatic story with a grand narrative, it is exactly the kind of film that Bollywood runs on and Mukherji delivers an excellent performance that makes her stand out amidst her very illustrious co-actors, making this one of her most vital and finest films.
2. Kuch Kuch Hota Hai (1998)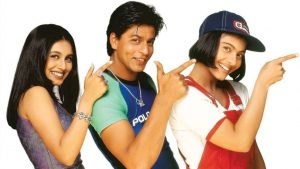 Karan Johar's directorial debut, the film stars Kajol, Shah Rukh Khan, and Rani Mukherji. The story is told in a flashback narration and also returns to the present. A fine tale of a love triangle that starts in college and is resolved way later in life, because of Tina (Mukherji's) efforts. Mukherji plays a wonderful role as a caring mother in the moments before her death, and then again as a college student, in the flashback, a girl who despite having foregrounded her desire in her romantic ventures realizes that there might have been an ethical grey area where she came between two people who were very likely in love with each other. One of Mukherji's finest films, this is an all-time classic.
1. Black (2005)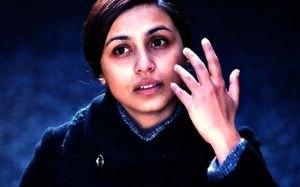 Directed by Sanjay Leela Bhansali this film follows the tale of Michelle McNally, a blind and deaf woman played by Rani Mukherji and her relationship with her teacher Debraj Sahai, played by Amitabh Bachchan, a man suffering Alzheimer's himself. The tale is a touching story of overcoming hurdles and developing relationships. Inspired by the Hellen Keller story, Rani Mukherji stars in a challenging role and pulls it off flawlessly making this her best film in terms of acting prowess, the way she channels compassion through her character and portrays the difficulties faced.
Read More: Best Amitabh Bachchan Movies