One of the most promising actors to emerge in the 80s, Tabu was a force to be reckoned with from the day she began facing the camera in the film 'Bazaar' in 1980. Her first lead role was in a Telugu film Coolie No. 1. Her first major Hindi movie was In Pehla Pehla Pyar which did not garner any intetrest as such. However, she shot to national fame in 1994 starring opposite Ajay Devgn in the movie Vijaypath. Tabu had eight major releases in 1996, among which Jeet and Sajar Chale Sasural were major hits. Since trhen, she has worked with eminent directors and provided stellar performances one after the other. Her recent collaborations with Vishal Bhardwaj were also among the best movies released on those particular years. Here is the list of top 15 movies of Tabu.
15. Hum Saath Saath Hai (1999)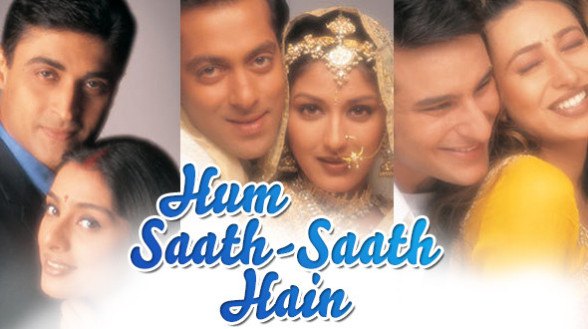 This 1999 blockbuster directed by Sooraj Barjatiya is a multi-starrer which stars Salman Khan, Saif Ali Khan, Karishma Kapoor and such names along Tabu. The movie is about a joint family which has three brothers and a sister. This is a story of them falling in love, understanding life and coming to understand the necessity of near and dear ones in our lives. Tabu plays the wife of the eldest son and among all the many faces which come and leave the screen, she stands out with her consistent grasp of the character which she holds onto sincerely.
14. Fitoor (2016)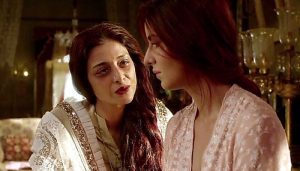 An adaptation of the iconic Charles Dickens novel great Expectations, Fitoor starred Katrina Kaif and Aditya Roy Kapoor along with Tabu. The story is about Noor (Kapoor) and Firdaus (Kaif), two friends who had met in their childhood but had seperated because of Firdaus's mother opposing their friendship. Firdaus' mother is Begum Hazrat Jahaan played by Tabu, and Begum opposes this friendship due to their social disparity. Noor and Firdaus meet again when they are both adults and living in Delhi, where they spark off a new relationship and more drama thus follows.
13. Maachis (1996)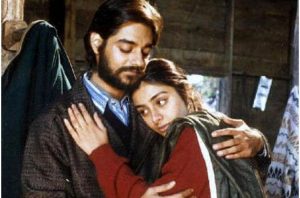 Released in 1996 and directed by the famous lyricist Gulzar, Maachis was a film much ahead of its time. at a time when Bollywood was only bringing out mass entertainers with no seriousness to them, out came Maachis with its fiercely political theme. Starring Jimmy Shergill and Chandrachur Singh along with Tabu, this film was based on the Sikh riots of 1980s. Singh here gave a fascinating performance as a young boy next door who is influenced into joining a terrorist group. Tabu plays the role of the sister of a policeman who is caught in the crossfire.
12. Vijaypath (1994)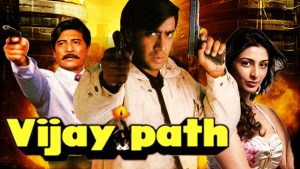 This 1994 action film shot Tabu to superstardom and also won her an award for the best female debutant in the Filmfare awards. The movie is about a police officer whose peace of mind gets disrupted on arresting an infamous criminal, whose brother starts killing members of the policeman's family. Ajay Devgn and Danny Denzongpa also starred in this movie and its soundtrack by Anu Malik was a major hit that year.
11. Border (1997)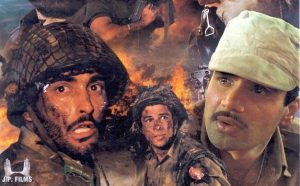 Based on the Battle of Longewala in 1971, this movie was a huge success and was the highest grosser of 1997. Starring a stellar ensemble cast of Sunny Deol, Sunil Shetty, Saif Ali Khan, Tabu and Karishma Kapoor among others, the movie also won numerous awards, J.P. Singh, the director was awarded the Best Director Award at Star Screen Awards and the movie also won the National Award for Best Feature Film on National Integration. Tabu plays the role of a soldier's wife who longs for her husband's return and while he takes care of the border, she takes care of the people living within it.
Read More: Ajay Devgan Movies
10. Drishyam (2015)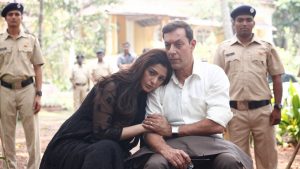 This 2015 Indian thriller starring the two great actors Ajay Devgn and Tabu was a major hit. The remake of a South Indian film, Drishyam is a story of a man desperate to protect his family and a policewoman and mother desperate to find her missing son. Tabu plays the role of the Inspector General of Goa Police whose son goes missing one night. Both the actors light up the screen whenever they appear and their brilliance was equally matched by Rajat Kapoor's guest appearance as Tabu's husband. Widely appreciated by critics and audiences alike, Drishyam is one of the best movies to come out of recent Bollywood.
9. Iruvar (1997)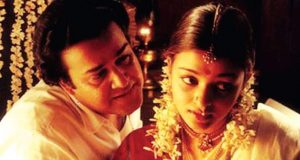 This 1997 political thriller was based on the connection between cinema and politics in Tamil Nadu. Directed by the great Mani ratnam, Iruvar stars Tabu, Mohanlal, Prakash Raj and in her debut, Aishwarya Rai. The movie is about a struggling actor who finds it very difficult to make a name for himself in the Tamil mvoie industry. He meets a small-time writer with whom he grows a fond friendship. Tabu plays the role of this writer's girlfriend, Senthamarai and even in this small role leaves an everlasting impression on the audience.
8. Cheeni Kum (2007)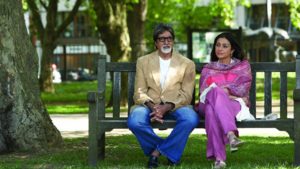 This unusual romantic film was directed by R. Balki and starred Tabu, Amotabh Bachchan and paresh Rawal in leading roles. Bachchan plays the role of Buddhadev Gupta, the owner of the top Indian restaurant in London who falls in love with the 34 year-old Nina (Tabu). Opposed to this relationship is Nina;s father (Rawal) who tries and persuades them to not continue the relatuionship. With some comic and some serious ups and downs, finally a conclusion is reached which makes everyone happy. This is a beautiful film about love, compassion and respect of others' choices. Performances by all the three lead actors were praised unanimously throughout the country.
7. Kaalapani (1996)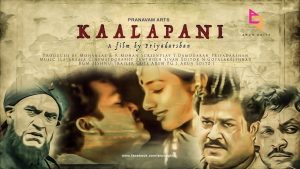 The famous director Priyadarshan co-wrote and directed this epic peridn drama film in 1996 with the cast including the likes of Tabu, Mohanlal, Amrish puri and others. The movie is based on the lives of Indian Freedom fighters in jail during the British Raj. The name kaalapani is given to the Cellular Jail in Andaman where important prisoners were taken to make it impossible for them to escape. Tabu plays the role of Parvathi, the fiancee of Givardhan menon (played by Mohanlal). menon is arrested with false charge which proclaims that he had taken part in a train blast. Inside the jail he witnesses the terribly inhuman conditions in which the freedom fighters are made to live.
6. Hera Pheri (2000)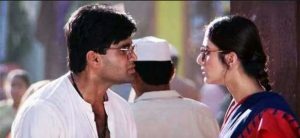 Released in 2000, Hera Pheri by Priyadarshan immediately gathered a cult following among Indian moviegoers. The film stars Tabu, Akshay Kumar, Sunil Shetty and Paresh Rawal in important roles. The three men are roommates where they constantly keep fighting for money as all three are living on meagre incomes. Suddenly one day a wrongly placed call gives them the potential to turn their lives around. Shyam (played by Shetty) works at an office where he first meets Anuradha (Tabu). They start off with a quarrel since the job promised to Shyam is by mistake given to her instead.
Read More: Irrfan Khan Movies
5. Life of Pi (2012)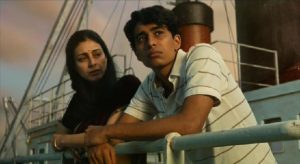 Directed by Ang Lee, tis 2012 survival film was based on the yann Martel book of the same name. It stars Irrfan Khan, Tabu, Gerard Depardieu and Suraj Sharma. The movie is about Pi Patel and his journey on a small lifeboat upon which he finds himself after a shipwreck with nothing to accompany him but a Bengal tiger. Though born in a Hindu family, Pi was later introduced to Christianity and Islam and decided to follow all three religions. Tabu plays the role of Gita Patel, his mother who encouraged him and his desire to grow. The film was a major international success and also bagged 4 academy awards, including one for Ang Lee.
4. The Namesake (2007)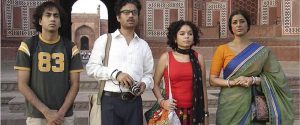 This project by the internationally acclaimed director Mira Nair was an adaptation of the book by Jhumpa Lahiri. The story is based on the lives of asok and Ashima Ganguli, a couple who leave Kolkata and settle in New york City, as they struggle to adjust to the hustle and bustle of America, and come to terms with their present reality. Tabu starred in this movie alongside Irrfan Khan who plays the role of her husband. Psitively received by audiences and critics, the movie holds an 86% positive review on the review aggregator site Rotten tomatoes.
3. Chandni Bar (2001)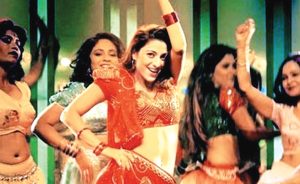 Directed by the acclaimed filmmaker Madhur Bhandarkar, this film is a gritty saga of the Mumbai underworld, condition of prostitutes and bar dancers in the city of Mumbai. Tabu plays the role of a young girl who arrives in the metropolis and gets dragged into this underbelly of seedy bars, sleazy men, and gun-toting criminals. Along with Tabu, Atul Kulkarni was also a part of the movie. Both he and Tabu were awarded with National Awards for Best Supporting actor and Best Actress respectively.
2. Maqbool (2003)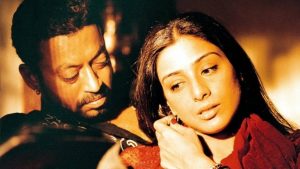 Directed by the acclaimed filmmaker Vishal Bhardwaj, this 2003 crime film was adapted from the great play Macbeth written by William Shakespeare. Tabu here plays the role of Nimmi 9lady Macbeth), the wife of Abbaji who is involved in an illicit affair with Maqbool. She wants Maqbool to kill Abbaji and take over his businesses from him. The film boasts of a stellar starcast with the likes of Tabu herself, Irrfan Khan, Pankaj Kapoor, Om Puri, Nasseruddin shah and Piyush Mishra. The movie was widely appreciated by critics and audiences alike.
1. Haider (2014)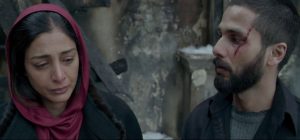 Another collaboration between Tabu and Bhardwaj, and in this movie both of them managed to outdo what they had achieved in Maqbool. An intense psychological thriller adapted from hamlet, Haider is fierce, political and surely one of the greatest achievements of Hindi cinema. The movie stars Shahid Kapoor as Hiader, the character based on Hamlet. Tabu plays Ghazala Meer based on Gertrude, hamlets mother. The stellar performances from Tabu and Kapoor won them Filmfare awards in their respective categories and the movie won the People's Choice award at Rome film Festival, being the first Indian movie to do so.
Read More: Shahid Kapoor Movies