With Netflix's 'Gunther's Millions' unwaveringly exposing the massive empire surrounding the world's wealthiest dog, we get a true insight into not just his lifestyle but also his initial "inheritance." That's because this four-part original comprises first-hand accounts of those closest to the matter to ultimately reveal how this German Shepard's estate is reportedly worth nearly $500 million. Among them is none other than the canine handler Maurizio Miani's ex-wife Carla Riccitelli — so now, if you wish to learn more about her as well as her current standing, we've got you covered.
Who is Carla Riccitelli?
It was reportedly in 1993 when Carla first came across both Gunther and Maurizio while working at an advertising company hoping to cover their incredible tale to riches, only to never look back. "When I first arrived [in Pisa], I said, 'Oh my god, where I am? It's paradise,'" she conceded in the Netflix production. "There, [Maurizio] was playing on the ground with Gunther. I had so much fun." That's when he revealed he actually worked for the dog, making her fall head over heels since a job like this was her dream, too; a dream she pursued right there and then without hesitation.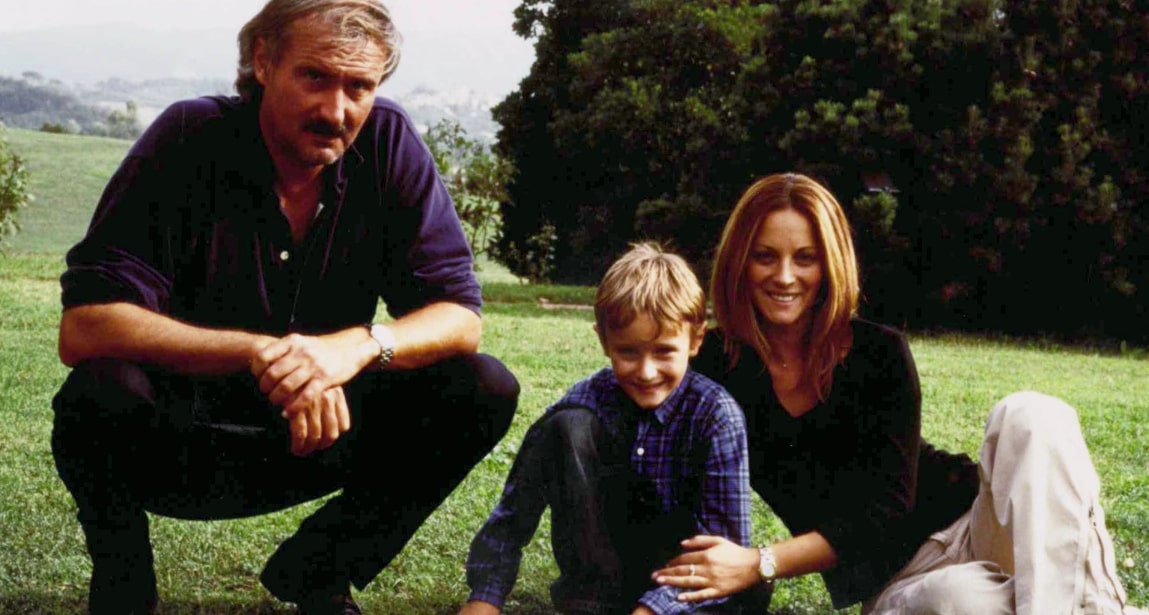 Though little did either Carla or Maurizio know they'd soon end up truly falling in love and getting involved, ultimately resulting in them settling down, tying the knot, and welcoming a son in 1995. The former actually insisted on naming their child Gunther before getting a tattoo of the significant name on her right collarbone, which she has candidly said is both for her son as well as the dog. It thus comes as no surprise their little family was far from traditional in every sense of the term, wheather in terms of monogamy, parenting techniques, or work-life balance (lack thereof).
After all, because Maurizio is Gunther's caretaker and seemingly believes in a scientific, community-driven society above all else, it played a role in the way his loved ones led their lives too. Even Carla has largely always been on the same page as him, as evidenced by the fact she was involved in The Burgundians entertainment group as a member/leader and participated in every activity. But alas, despite their similarities when it came to their ambitions, lifestyles, love for their son, and respect for one another, they just could not make their union work — they split for good.
Where is Carla Riccitelli Now?
From what we can tell, Carla still resides around Tuscany, Italy, where she continues to serve as not only the second in command at The Gunther Trust/Corporation but also Maurizio's right hand. The duo did part ways romantically ages ago with no reconciliation, yet their partnership remains stronger than ever for the sake of Gunther, their son, Gunther, the dog, and their own careers. In fact, the current relationship between them is such that they both vehemently maintain they'd be nowhere without the other, especially as they amassed Gunther's still-growing empire together.
"Still now, even [though] we're not together anymore, I really care about [Maurizio]," Carla said in the documentary series. "Nobody can touch him. I would kill for him." Coming to her professional standing, despite the fact she prefers to stay well away from the limelight these days, it appears as if the loving mother remains dedicated to the organization's mission of dealing with animal issues. This much was evident in the Netflix original itself, when she, Maurizio, and Gunther took a trip to a private island with the intent of maybe purchasing the same before turning it into an animal sanctuary from scratch.
Read More: Antonella Signorini: Where is Maurizio Mian's Ex-Girlfriend Now?