For fans of food and drama, Netflix's 'Pressure Cooker' might be the best thing out there. Seeing seasoned chefs battle against each other while knowing that they also get the chance to judge what their competitors have made. As expected, cooking skills are not the only thing that might lead one on the path to victory, and one must do anything possible to claim the title of winner.
Season 1 of the cooking show saw many dedicated cooks trying their best to outsmart each other in and out of the kitchen. One of the most prominent contestants from this particular iteration of the series was none other than Jeana Marie Pecha, whose strategies immensely helped her progress in the competition. Naturally, people are eager to know what the culinary expert is up to these days, and we are here to answer the same!
Jeana Pecha's Pressure Cooker Journey
Executive Chef Jeana Pecha entered the Netflix show at the age of 26 in hopes of claiming the grand prize of $100,000. Apart from her cooking skills, she was also quite sure about navigating the social aspect of the competition. In fact, during the second elimination of the show, she tried her level best to sway the votes in favor of Brian Nadeau. This was after the two promised each other to have each other's back. However, she also tried to make sure to stay on the good side of Christan Willis, just in case she was not evicted. The vote results saw Brian win with 2 elimination votes compared to Christan's 6.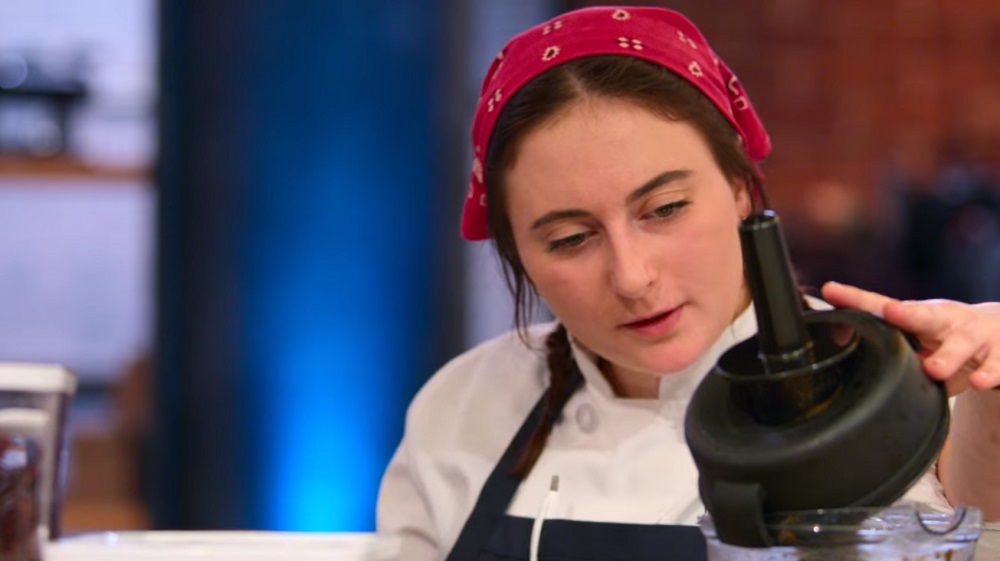 As the season progressed, Jeana ensured to keep honing her culinary skills while maintaining good connections. When the time came for her, Lana Lagomarsini, Sergei Simonov, and Caroline Gutierrez to vote out someone amongst themselves, she was able to ensure that she stayed in the game, knowing that Sergei and Caroline had an unshakable pact. She remained on the good side of this duo as much as possible in order to not get eliminated.
However, in the challenge for Top 7, her dish landed her in the bottom 3 alongside Renee Blackman and Ed Porter based on the judgment of Mike Eckles. The three had to take part in an elimination challenge which would be judged by Sergei, as he won the last challenge. While Jeana was able to win against Ed, she and Renee were still in danger of getting voted out. The rest of the house members cast their votes to keep either of the two cooks in the show. Renee ended up getting chosen for eviction by the remaining 4 contestants, marking her end in the competition.
Where is Jeana Pecha Now?
As for writing, Jeana lives in Sacramento, California, though she is originally from Los Angeles, California. Having discovered her passion for cooking at a young age, she always strives to push herself forward within the culinary industry and leave an impact on others with her food. She also aims to maintain a good relationship with her team and tries to make sure that everyone around her is having a good time. Thanks to her innovative mind, Jeana came up with the concept for Omakase Por Favor: Cantina and Raw Bar. The brand combines Japanese raw food style with coastal Mexican cuisine to create a wonderful variety of food that one cannot help but want more of.
Presently, the services offered by Omakase are only available to be booked for events, though it seems like they might open up a physical location in the summer of 2023. Additionally, Jeana has a blog she uses to share a variety of content, most of which is related to food. When not working with food, the reality TV chef likes to spend time with her friends and family. She also seems to have a beautiful green-eyed cat whom she adores very much.
Read More: Chef Mike Eckles: Where is Pressure Cooker Season 1 Runner-up Now?