Revenge is a dish best-served cold, and few can serve it with the piercing intensity of Liam Neeson. Renowned for his portrayals of characters driven by a thirst for retribution, Neeson takes the spotlight in 'Cold Pursuit' as Nels Coxman, an upright citizen who is thrust into the criminal underworld on a relentless quest to avenge his son's murder. Armed with nothing more than his own two hands and bitter rage, the snowplow driver embarks on a brutal campaign, methodically dispatching members of the gang responsible for his son's mysterious demise. The actions of Nels stir the anger of Trevor Calcote (Tom Bateman), a vicious and arrogant crime boss who goes by the name "Viking."
Viking believes the death of his men to be an attack by rival Native American gang leader "White Bull" (Tom Jackson). Nels soon finds himself navigating a devastating gang war that he must put an end to, for the sake of his town and the memory of his son. Directed by Hans Petter Moland, the 2019 action thriller movie is set in a quaint Colorado ski town and tells the story of a lone man going against the odds to bring a large criminal organization to its knees, making many wonder whether the origin of the narrative is based on a true story.
Cold Pursuit is a Remake of a Norwegian Film
'Cold Pursuit' is not inspired by any real story. Formerly titled 'Hard Powder,' is the official remake of the 2014 Norwegian film titled 'Kraftidioten' AKA 'In Order of Disappearance,' also directed by Hans Petter Moland. Following the success of the Stellan Skarsgård starrer, the filmmaker got an opportunity to bring the same story to a wider audience in 2017. Though the intense storyline, ruthless action scenes and Neeson's compelling performance as an avenging father might make many curious about it being rooted in reality, neither the remake nor the original is based on any real event.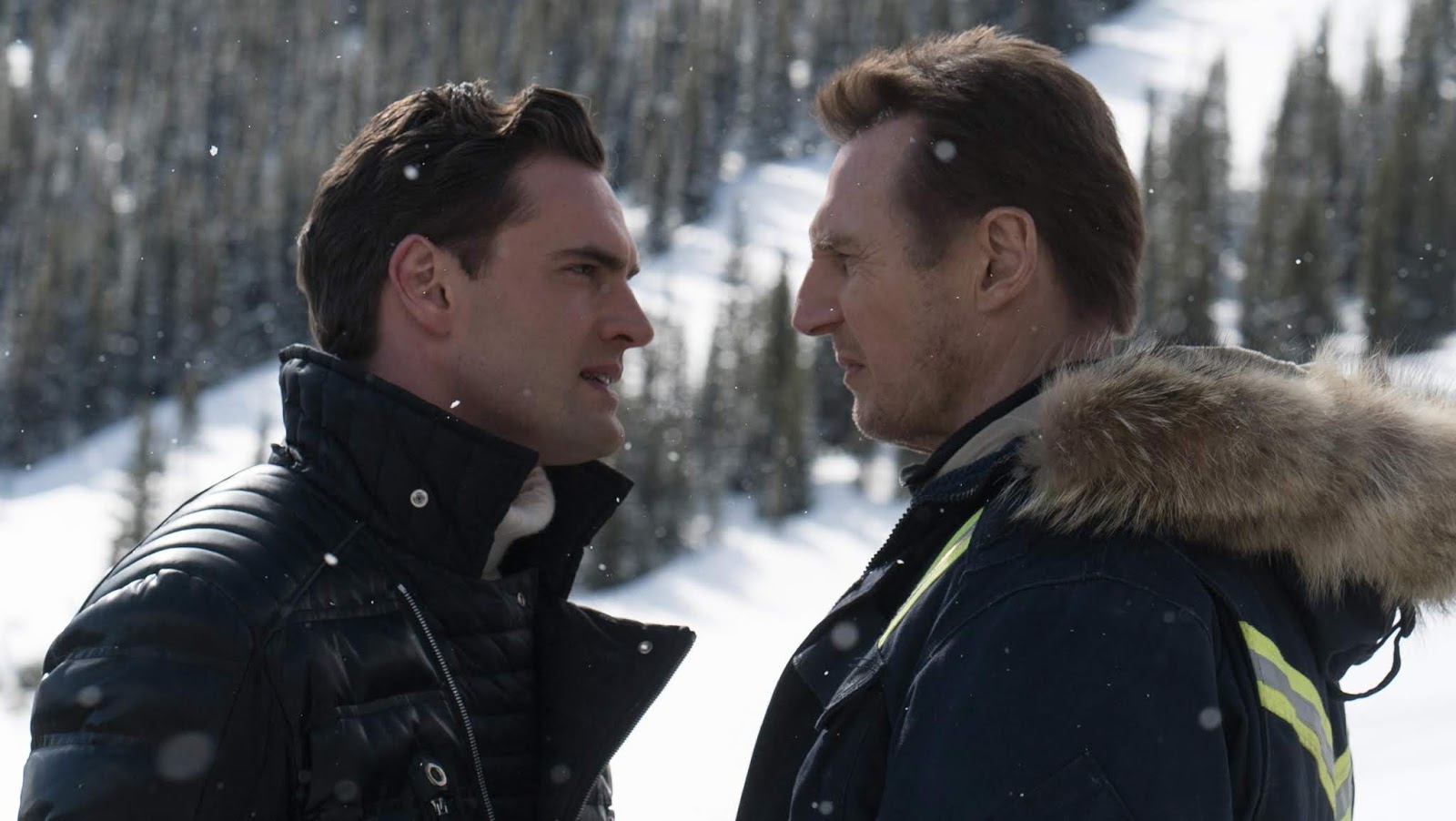 Driven by a script penned by Frank Baldwin, 'Cold Pursuit' borrows heavily from its cheeky black-humored source material drafted by Kim Fupz Aakeson. With a Nordic noir style and R-rated violence, the original has more of a Tarantino-esque direction. 'Cold Pursuit' amps up its humor and rounds out its characters as compared to the original, while retaining its grounded violence over drawn-out action sequences. Violence isn't portrayed in a one-dimensional manner, instead taking a toll on its perpetrators and those around them, all the while snowballing until it becomes an avalanche engulfing the skiing town.
The film uses the backdrop to skillfully explore relationships within families when strained by violence both from inside and out. In 'Cold Pursuit,' Nels receives the "Citizen of the Year" award as a pillar of the community for keeping the roads to his town clear with his snowplowing business. His celebrations are cut short when his son turns up dead from a heroin overdose, set up by members of a local gang. Nels' wife, already distraught at her son's death, when faced with her husband's intentions of going on a killing spree, leaves him. Viking tries, unsuccessfully, to inculcate violence in his sensitive son, Ryan, whom he has shared custody of with his ex-wife.
Upon seeing his men disappearing, unaware of Nels' actions, Viking kills the son of rival gang leader, White Bull. The latter starts down a path of vengeance of his own, demanding "a son for a son". Before he is able to capture Ryan from his school, Nels abducts the unwitting boy, posing as a member of his father's gang. This further enrages Viking, who blames White Bull, and an all-out gang war ensues with Nels at the center of it. Both Nels and Viking suffer from failed marriages once they start down the path of killers. On the other hand, White Bull and Nels both struggle to deal with the loss of their sons and respond with fatal intent toward those they deem responsible, eventually finding a common enemy in Viking.
Despite being all-powerful, Viking is unable to keep his family together as his son bonds more with Nels in the short time of his abduction than he ever had with him. Moland takes a critically acclaimed Norwegian film about revenge and inexorably stars Liam Neeson in it, to essentially create an effective remake. The taciturn setting harboring a brutal story of revenge creates a terrifyingly beautiful contrast akin to blood splattered on snow. Though the halls of Hollywood house many a compelling revenge movie, the gritty narrative and sharp, unapologetic violence of 'Cold Pursuit' give fans an unfiltered and intense cinematic experience that cuts through the genre's clichés, leaving them with a haunting yet cathartic resolution.
Read More: Where Was Cold Pursuit Filmed?