J.D. Dillard's directorial 'Devotion' is a biographical war drama movie that follows Jesse Brown and Tom Hudner, two US naval officers whose inspiring friendship changes the course of the Korean War. The former is the first African American aviator in US Navy, and his incomparable sacrifice makes him a golden name in the pages of American and world history. While the movie accurately captures the two real-life Navy heroes' war experiences, it also delves into their equations with families and loved ones. This includes Daisy Pearl Nix, Jesse Brown's wife, who stands by him from his early days. If you wish to know more about her and their touching story, we've got you covered.
What Happened to Daisy Pearl Nix?
Born on April 26, 1927, in Hattiesburg, Mississippi, Daisy Pearl Nix was raised by Baptist parents Brad Nix Jr. and Addie Nix Barnett. She was the oldest of five siblings and an active church member. In 1946, Daisy graduated from Eureka High School, where she met and fell in love with Jesse Brown. The couple secretly married in 1947 in Pensacola, Florida, where the latter was training in aircraft flight as a naval officer. Since officers weren't allowed to marry until the completion of training, Daisy rented a room in Pensacola, where Jesse would discreetly meet her on weekends.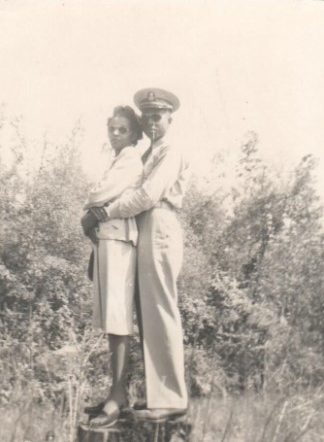 In December 1949, the couple welcomed their daughter, Pamela Elise Brown, into the world, thus adding to their joy. Meanwhile, Jesse gradually rose the ranks as a capable and respected naval pilot, and after he was commissioned the same year, he made his marriage to Daisy publicly known. Sadly, tragedy struck the couple on December 4, 1950, when he was killed in action during the Korean War in the Chosin Reservoir, North Korea; his remains were never recovered.
Though Daisy was distraught at losing the love of her life so young, she was pretty proud of her husband's sacrifice. In 1951, she attended a felicitation ceremony at the White House, where Jesse's wingman, Captain Tom Hudner, was awarded a Medal of Honor for trying to save the former's life. In 1957, Daisy remarried war veteran Gilbert Ward Thorne, and the couple eventually had a daughter named Deidre Thorne. Apart from raising her daughters, she kept her love for Jesse alive by fulfilling a promise she had made him.
Daisy enrolled in Alcorn A&M College and received her Bachelor's Degree in Home Economics Education, followed by a Master's degree in Home Economics Education from the University of Southern Mississippi. After completing both her teaching degrees, she commenced a career as an educator at West Point, New York. This was followed by numerous teaching positions across Mississippi, as well as overseas in Karlsruhe, Germany. Daisy served as an educator for 34 years before retiring from Hattiesburg Public School District.
Over her illustrious career, Daisy received numerous accolades and was a member of many prestigious organizations, such as the Delta Sigma Theta Sorority, Hattiesburg Public School Board, Hattiesburg, Forrest County Library Board of Trustees, and the Hattiesburg Public Library Trustee Board. In addition, she served as a policy counsel for Pace Head Start.
How Did Daisy Pearl Nix Die?

Even post-retirement, Daisy continued serving the community and regularly delivered food to the sick and the shut-in as part of the Meals on Wheels initiative. In February 1973, the US Navy commissioned the USS Jesse Brown (FF-1089), an anti-submarine warship, to keep Jesse's legacy alive. Daisy, Pamela, and Captain Tom Hudner gave a heartfelt dedication at the commissioning ceremony in his honor.
In 1985, Gilbert passed away at 57, and Daisy did her best to provide her kids with the best life possible. She garnered a lot of love and respect throughout her life and peacefully died of old age at 87. Daisy breathed her last on July 6, 2014, surrounded by her family and friends. Even today, she is remembered as a kind soul who touched several lives.
Read More: Where Was Devotion (2022) Filmed?