Every once in a while you come across a show that is so spectacular, you can't help but revisit it time and again. 'Death Note' is certainly one of those shows. It starts off with a very simple idea that revolves around a Shinigami notebook that can kill people, but its exceptionally quick-witted characters and its engrossing storyline make every minute of worth watching.
Though the show has been ingeniously put together, some might claim that it has a fair share of ridiculous moments, especially the overly-dramatized "I'll take a potato chip and eat it" scene which is still a sensational meme in the anime community. But I would say that it is these moments that further complement its brilliance because an anime would never be an anime without some exaggerated drama.
Undoubtedly, there is something very fundamentally contrived about it that makes you question its well-thought-out plot when you're probably rewatching it. But an anime that, from the very beginning, introduces you to the bizarre idea of a magical notebook dropping out of the sky, is not meant for a hypercritical viewing. Once you can overlook the fact that it's far from reality, only then can you appreciate what it truly stands for.
On the surface, 'Death Note' is, as most would call it, a mere representation of every "detective vs criminal" tale with some intentionally intellectual details. But deep inside, it's more or less of a journey into the psyche of its two characters who somehow lose themselves on a path that only offers a pyrrhic victory.
Despite its few evident plot holes, 'Death Note' is undoubtedly a masterpiece and regardless of whether you're an anime viewer or not, you should certainly check it out. As fans of the series, many of us have often wondered if 'Death Note' could ever possibly be renewed and even it that did ever happen, what would this new sequel be about? To know more about its possibilities of returning, read further.
Death Note Season 2 Release Date: When will it premiere?
'Death Note' season 1 premiered on October 4, 2006 and with a total of 37 episodes, it went on till June 27, 2007. The show released more than a decade ago but its impact can still be felt in the world of anime. With its unparalleled popularity, even Netflix could not keep its hands off it and even came out with its own live-action version of it. Furthermore, Netflix also has a new trick rolled up its sleeves where the streaming platform will be coming out with a whole new movie sequel. Now as much as we appreciate Netflix's attempt to recreate this classic, we highly doubt that it will ever be able to match the perfection of the original.
The harder truth to swallow is that as much as we would love to see one, a sequel of the anime series seems very less likely. If you've seen season 1, you're probably well aware that it has a very conclusive ending. So even if a season 2 ever is greenlit, it will basically be a whole new makeover of the original where we won't even get to see out our beloved Light Yagami and L. Recently, several online forums were fueling rumors regarding the anime's renewal and many even claimed that the renewed anime will be an adaptation of the second half of the source material manga.
However, none of these rumors were backed up with any concrete confirmations from the Studio's end and since Madhouse already has way too many projects on its plate, it seems very less likely that it will ever return to an anime that is so old. Even then, if we get any news regarding Death Note season 2 in the future, we will surely update it here.
Death Note English Dub:
The English dub of 'Death Note' is available on Amazon Prime. You can also stream the anime on Netflix with original Japanese audio and English subtitles.
Death Note Plot:
Shinigamis, the Gods of Death, can kill anyone from the human realm by just entering the names of their victims in a notebook known as the death note. But the world of Shingamis is not the same and has been dusked up by a sense of gloomy monotony. Somewhere in this world, a bored Shinigami named Ryuk decides to drop his notebook into the human realm.
Light Yagami, the protagonist, spots a strange notebook fall out of nowhere and heads towards it to investigate. As he goes through the rules that have been enlisted in the Death Note, he jumps to an assumption that all of it is probably a prank. Out of sheer curiosity, he tries to test it out and that's when everything changes. He realizes that he now holds the power of the gods and sets out on a quest to kill all criminals with his Death Note. Soon, the world starts to notice these strange deaths and while some start supporting his motives, others call him a psychopath.
This is when a mysterious yet extremely talented detective named L takes up the case and an intense battle of intellect ensues between Light and L. With each episode, the stakes get higher but in this lethal game of cat and mouse, there will only be one winner.
Death Note Characters:
Light Yagami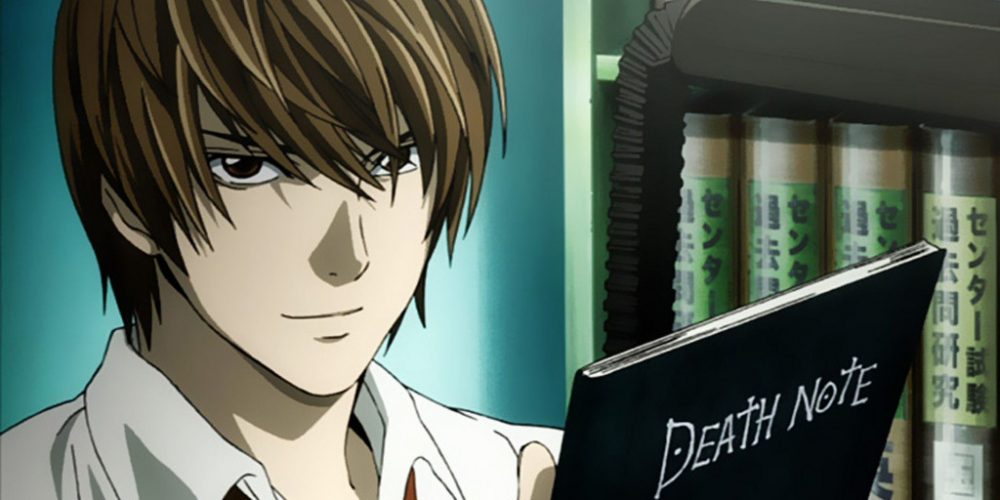 Light Yagami, who later comes to be known as "Kira", is a prodigal high-school senior at the beginning of the anime. He looks at the world around him with a skeptic's eye and often expresses how it's rotten in every sense. Much before he lays his hands on the death note, he seems to have a very strong sense of justice but, of course, his hands are tied. One fine day, as he stares out the window of his classroom, he notices a mysterious notebook fall out of the sky and this marks the inception of his journey towards lunacy. When he realizes that he holds the godly ability of just killing people by writing down their names on his Death Note, he sets on a rampage of mass murder where he endlessly writes the names of all potential criminals he can get access to.
While his intentions seem legitimate in the beginning, he later begins to get carried away with his immense power, especially when he is confronted by L. In his pursuit of transforming the world and creating a whole new sense of justice, his ideas take a brash hit as he slowly descends towards a darker path of psychopathy. He reaches a point where he puts everything on the line and even willingly destroys many innocents who cross his path. Light Yagami, though he initially despises being labeled as "Kira" (translates to "Killer"), later becomes the perfect representation of his identifier.
L Lawliet
L is a secretive detective who, for a very long time, only communicates with the world through his assistant Watari. Despite his mysteriousness, no one really questions his detective skills as he always proves to be exceptionally brilliant. But when he finally faces a worthy opponent, Light Yagami, he decides to reveal what lies behind his "capital L in Cloister Black font" and shows his true identity to some trusted members of the task force. With pretty much everything that he does, he is meticulously analytical and also has a very dark sense of humor. He is also known for his weird fascination for sweets and tea and according to him, his weird crouching style of sitting down allows him to be more reasonable.
L Lawliet displays his brilliance for the first time when he directly confronts Light Yagami on live television. For a long time, he even manages to stay one step ahead of Light and though Light always seems to have the upper hand because of his possession of the Death Note, L never lets that get in his head and with sheer determination, sets out to catch the holder of the Death Note. According to the writer of the manga, Tsugumi Ohba, L's number one tactic is that he's the biggest liar. Quite often, he tells Light that he is among the least likely suspects in his long list of criminals but all along, L very well knew that Light could possibly be "Kira". But despite so intellectually gifted, at some point, even L gets carried away with whole game of cat and mouse that ensues between him and Light and even ends up letting his guard down.
Read More: Anime Like Death Note