One of the main plot devices in the entire 'The Kissing Booth' film series is the constantly evolving romance between Shelly "Elle" Evans (Joey King) and Noah Flynn (Jacob Elordi). Noah is the older brother of Elle's best friend Lee (Joel Courtney). In the first film, after they publicly share a kiss at the kissing booth, they secretly start dating. At the end of the film, Noah moves to Boston to attend Harvard University, but he and Elle decide to give the long-distance relationship a try.
The second film introduces potential romantic rivals for both of them. Marco (Taylor Zakhar Perez) is the new popular student at Lee and Elle's school, whereas Chloe (Maisie Richardson-Sellers) attends Harvard with Noah. Despite misunderstanding and disappointments, Elle and Noah end the second film as a couple. If you want to know whether Noah and Elle end up together in 'The Kissing Booth 3,' we got you covered.
Do Noah and Elle End Up Together?
Yes. Noah and Elle end up together. Although the ending is quite ambiguous, it is heavily hinted that they are most likely going to resume their relationship. The love triangle between Elle, Noah, and Marco is arguably the most important plot device in the second film. However, in the third, it takes a backseat in favor of Elle adulting. She spends most of the film trying to please either Noah or Lee. Noah suggests to Elle that they should get a place together after she moves to Boston. Elle chooses to go to Harvard and not Berkeley and decides to make it up to Lee by finishing their beach bucket list.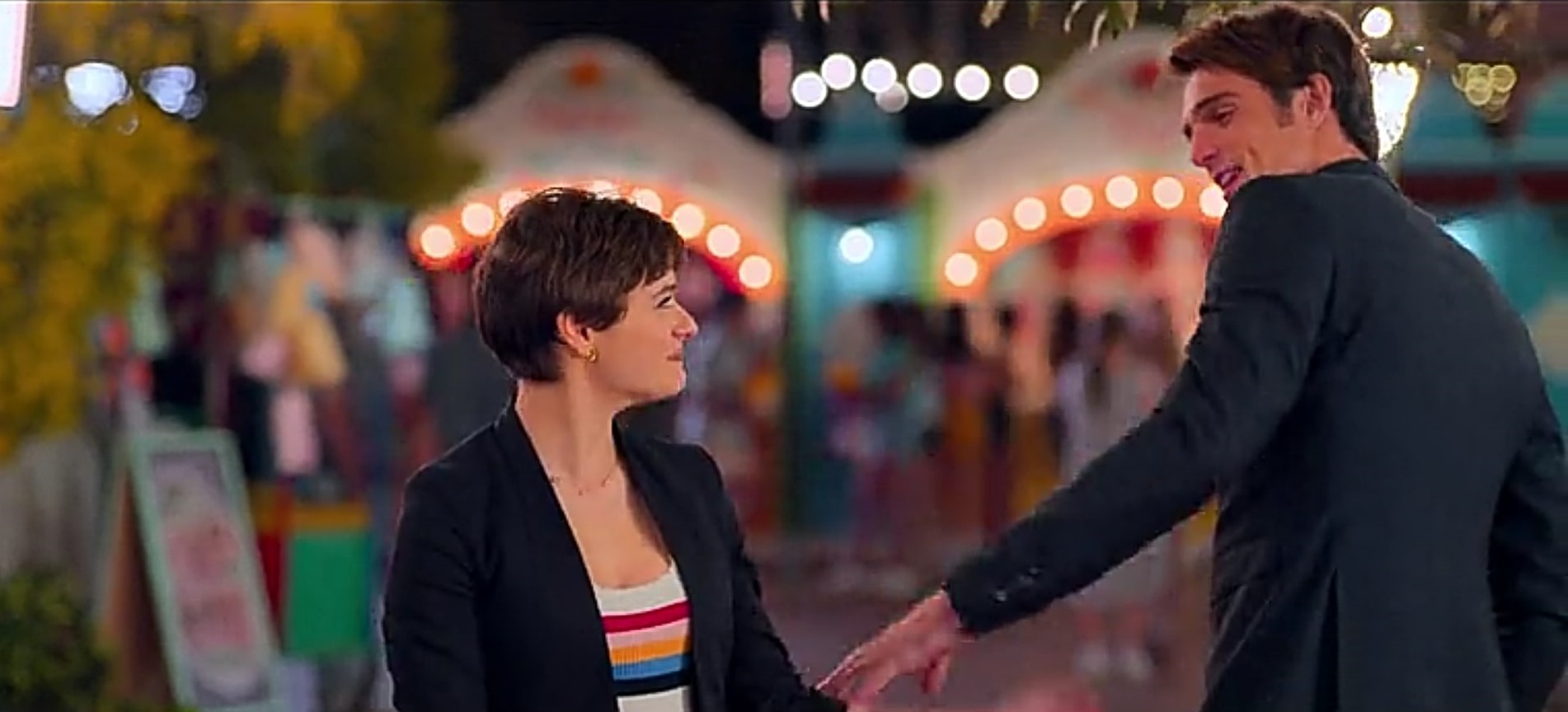 She works as a waitress at a local restaurant, where she encounters Marco, who is clearly still in love with her. As she gradually becomes overwhelmed by everything she has taken on, Marco becomes her confidant, someone with whom she can share her fears and doubts. He soon starts showing up at the things that she is supposed to do with Noah. This situation ultimately culminates in a confrontation between Noah and Marco at a party organized at the Flynn family's beach house. When Marco punches Noah, everyone who knows the latter expects him to lash out. But he doesn't and just leaves.
Realizing that Elle might regret the choices she is forced to make for him, Noah subsequently breaks up with her. Elle then decides to attend neither Harvard nor Berkeley but the University of Southern California, pursuing a degree in video game development. She and Noah say goodbye to each other as their paths fork. Elle thinks that it's permanent and comes to believe that Noah isn't the one for her.
However, after the 6-year time skip, they meet again in front of a kissing booth at their former school's charity fair. He is a Harvard law graduate with job offers from firms in New York and Los Angeles, while she is a game developer for an independent company. It becomes quickly evident to the audience that they still are in love with each other. Elle reveals that she has her own motorcycle now, prompting Noah to ask her to go on a ride with him the next time he is in town.
As he is leaving, he climbs up some stairs and stops. The following scene is a throwback to what happens as he departs for Harvard in the first film. Only this time, he stops, turns, and waves at Elle, unknowingly letting her know that he can be incredibly romantic. The film ends as Elle and Noah ride their motorcycles through the same scenic roads that they frequented when they were younger. The film doesn't give an explicit explanation of what the future holds for the two of them. But the audience can optimistically believe that Noah has accepted the job offer in Los Angeles to be close to his family and Elle. If they haven't started dating again already, they might do so soon enough.
Read More: The Kissing Booth 3 Ending, Explained