Apple TV+'s 'The Enfield Poltergeist' is a horror documentary series that takes us back to the real-life haunting case in 1970s London. Relying on the hours and hours of audio archive and recordings found of the time, the show recreates the horrific events that unfolded in Enfield, which served as the inspiration for 'Conjuring 2,' in the form of a documentary. The actual events at Enfield are brought back to life with the help of a paranormal investigator named Maurice Grosse who has archived all the recordings from then.
Just like the other documentaries, 'The Enfield Poltergeist' also includes interviews with those who were involved in the petrifying incident, including sisters Janet and Margaret Hodgson. The docuseries is set inside the house, making the audience wonder if it is filmed in and around the actual property where the strikingly haunting events took place in reality, back in the late 1970s. Well, in order to provide you with the details, we have gathered all the necessary information about the same. Here is what we found out!
The Enfield Poltergeist Filming Locations
'The Enfield Poltergeist' is filmed in England, seemingly in London and surrounding areas. Since the actual happenings of the horror docuseries took place in England in the 1970s, the production team seemingly utilizes the locales and facilities of the same country. So, let's not waste any time and jump right into all the specific locations that make an appearance in the Apple TV+ show!
London, England
A significant portion of 'The Enfield Poltergeist' is seemingly lensed in London, the capital of England and the United Kingdom. While most of the scenes of the late 1970s London were reimagined on a sound stage in one of the film studios in and around London, a few exterior and interior shots of the actual "house of strange happenings" were most likely recorded on location around the property at 284 Green Street in Enfield's Brimsdown.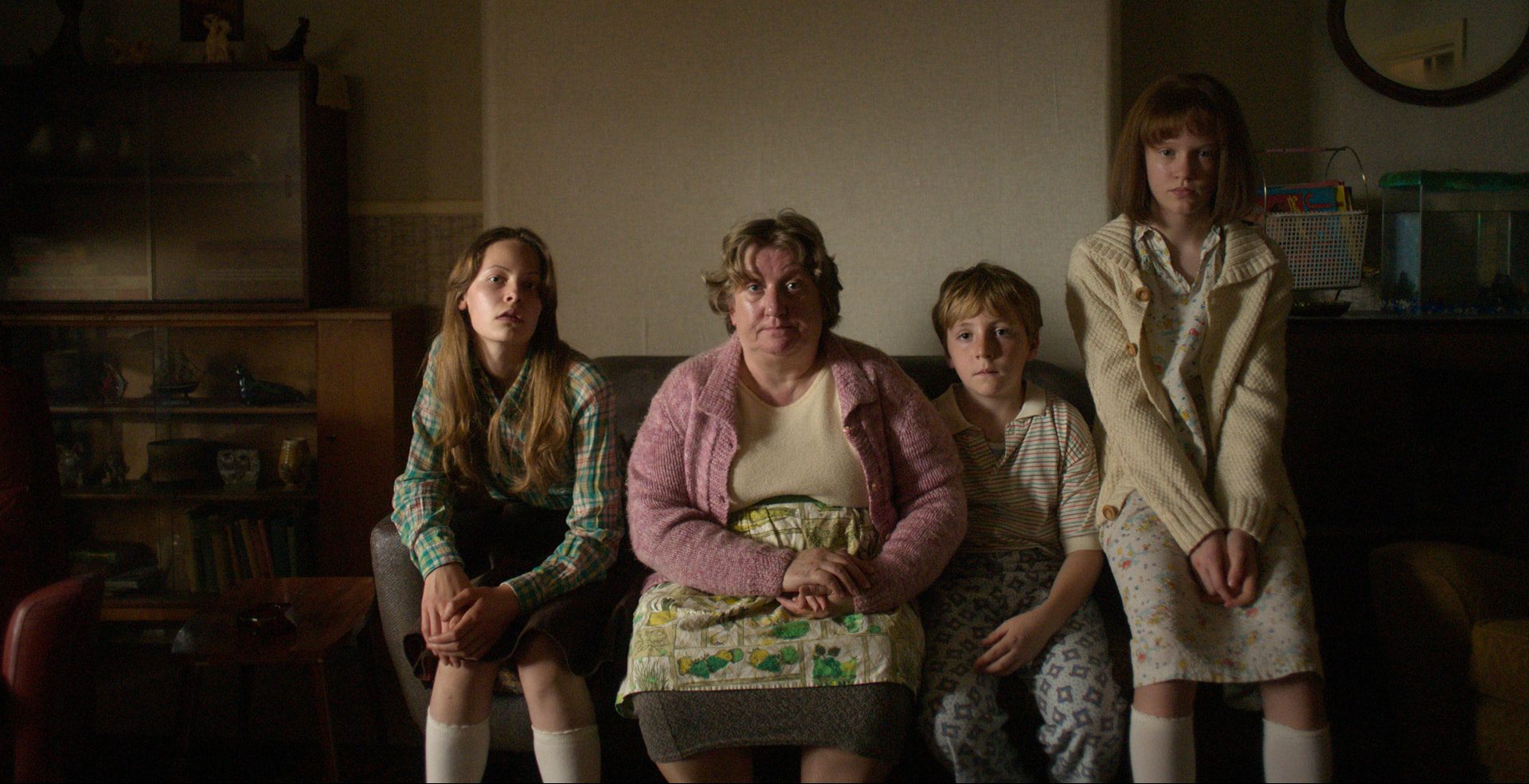 The production team of 'The Enfield Poltergeist' does an exceptional job at recreating the infamous house, mainly the rooms of the property, so it is natural why many of you might mistake the scenes for being filmed on-location inside the real-life house of terror. In actuality, they constructed a replica of the council house where the horror incidents took place so that actors could reenact what was recorded and heard on the tapes as accurately as possible. Interestingly, what makes London a perfect filming site for the Apple TV+ production is the fact that there are numerous actual haunted places in the city, such as Bruce Castle Museum, The Old Operating Theatre Museum, and The Spaniards Inn.
Aerial shots of London in the late 1970s are used as establishing shots to transport the audience to the era of the strange happenings. So, it is likely that some local landmarks and attractions can be spotted in the backdrop, including the Tower Bridge, River Thames, Piccadilly Circus, Nelson's Column, St. Paul's Cathedral, and the Palace of Westminster, to name a few. Whether it is the rich history of London or its diverse landscapes, London serves as the ideal production location for different kinds of films and TV shows. Apart from 'The Enfield Poltergeist,' the capital has also hosted the production of 'The Shining,' 'Sleepy Hollow,' 'The Omen,' 'The Conjuring 2,' and 'Hellraiser.'
Read More: Best Horror Documentaries on Netflix