As the precious days of summer drag towards an end, warm romcoms become even more important. Netflix has served a fair share of them to its audience and continues to do so owing to the great response that films like 'To All the Boys I've Loved Before' and 'The Kissing Booth' have received. (Both of them are getting a sequel, by the way.) But the streaming service hasn't confined itself to the romance stories for teens. Movies like 'Someone Great' and 'Isn't It Romantic' have portrayed adult relationships in a very entertaining and highly relatable manner. 'Falling Inn Love' is another entry in that category. It follows the story of a woman who wins a contest and becomes the owner of an inn in New Zealand. Love, life and career are rediscovered in this quest. If you haven't yet seen the film, head over to Netflix.
SPOILERS AHEAD!
Summary of the Plot
Gabriela (Christina Milian) is pumped up to give a presentation about sustainable eco-friendly housing. After waiting for half an hour for everyone to show up, she is told that her meeting has been moved to next week because the son of one of the board directors of the company has come up with a one-liner. She is frustrated and shares her feelings with her boyfriend, Dean, who seems a bit too indulged with his phone. She asks him to have a closet at her place but he steers the conversation in a different direction. The next day, she discovers that the company she worked at has tanked. She spends her days looking for a new job but doesn't succeed. She invites Dean to move in with her, considering to freelance from home. But he tells her that he needs space and just isn't ready for this step.
Gabriela realises that their relationship isn't going anywhere and calls quits on it. That night she gloats about him while drinking wine when an ad pops up on her screen. It talks about a picturesque inn in New Zealand and she can win it by entering a contest. She only needs to send a 400-word essay about why she should have it. Gabriela drinks a little more wine and submits the essay. The next morning, she discovers that she has won the place. Considering it a new chance at her dreams, she travels all the way to a small town in New Zealand only to find out that the dream inn she had been promised is nothing more than a dilapidated mess. With the help and support of the locals, she starts to renovate the place. During this time, she crosses paths with Jake Taylor (Adam Demos) a little too often. At first, she is irritated by him, but soon, she discovers a different side of him.
The Ending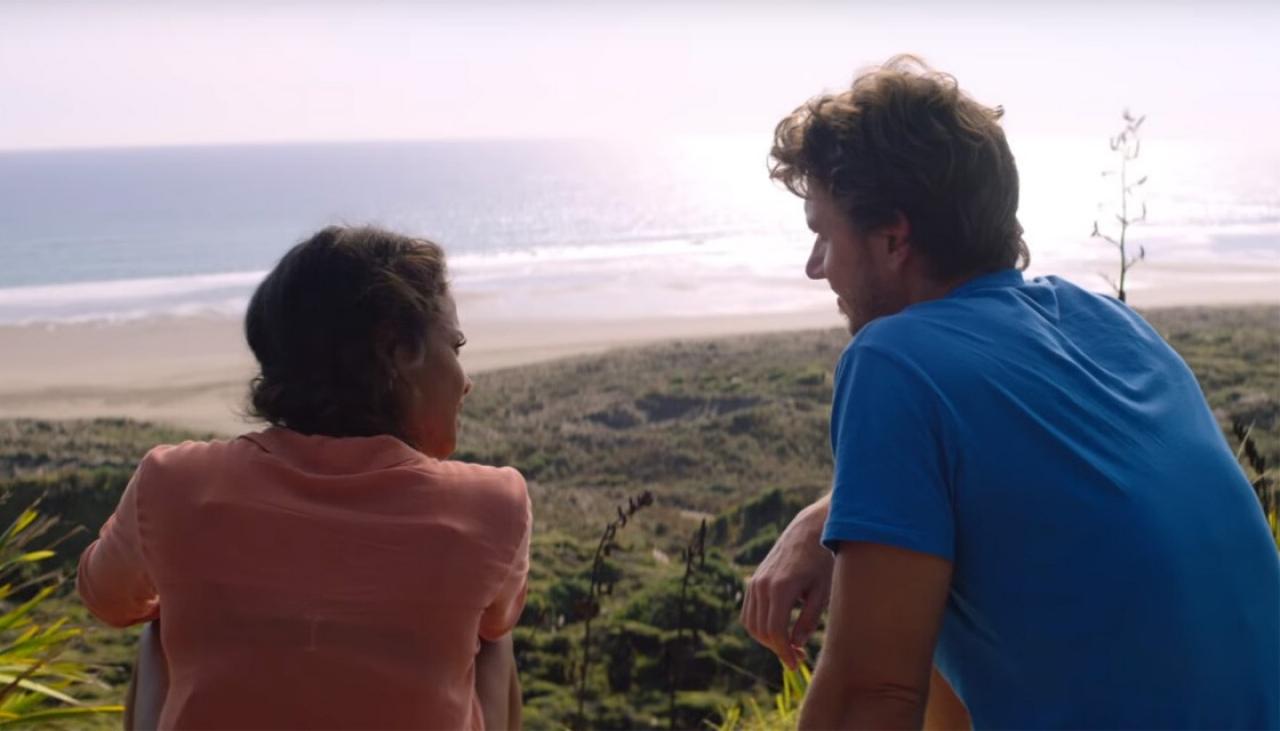 After maxing out all her credit cards and infuriating a local B&B owner, named Charlotte, by not handing over the inn to her, Gabriela does an excellent makeover of the place. Working with Jake brings them closer and they share a kiss while on a picnic at the beach. However, a minor fall-out leads to both of them saying some mean things to one another. Despite typing out apologies, they don't send it to each other, due to which the friendship is soured for the rest of the project. On the day of the open house, Gabriela tries to bridge the gap in their conversation when suddenly Dean shows up out of nowhere.
Unbeknownst to her, Charlotte had texted Dean from her phone to come to New Zealand and convince her to come back if he was really in love with her. Jake is even more disheartened after knowing about Dean and when Gabriela calls him her "business partner". Dean introduces them to a woman from Australia who has come to buy their inn. While Gabriela wants to consider if they should really do it, a heart-broken Jake agrees without actually discussing anything.
A turn of events comes when Charlotte's place catches on fire. Before Gabriela and Jake can sign the deal, she tells them about the text and pleads them to not give away the inn. Gabriela is moved by her words and realises that she too doesn't want to leave New Zealand. She bids Dean goodbye and asks Jake about the new terms of the partnership. At first, he leaves, but later returns with a letter. This is a call back to the letters that they had found in the walls, written by Firefly to Lion. Gabriela decides that their rightful place is within the walls and hides them behind Mabel's picture.
Jake shows her a marriage certificate that he procured from the records that go back a century. They discover that Firefly and Lion really did get married and got their fairy-tale ending. She and Jake decide to keep giving each other letters because that's what you do when you want to go down in history. They resolve to be with each other and run the place together. As Gilbert the Goat bleats from a distance, they kiss each other. But the story doesn't end there. After they've left, another goat comes into the picture and it turns out that Gilbert too found a fairy-tale love story.
Falling Inn Love: A Review
If you are in the mood for a light rom-com then 'Falling Inn Love' works rather well. In the form of Gabriela, it gives an enthusiastic female protagonist who is as ambitious as she is fun. Milian is instantly likeable as a bubbly woman who isn't afraid to call her own shots. Yes, the decision of flying to the other side of the world based on the fact that you have won something online isn't so sound, but we are ready to let it pass because we want to see how it turns out. Demos is convincing as a countryside hunk who knows how to fix the plumbing as well as how to put out a fire.
The chemistry between the actors works greatly in favour of the film, and also gives a push to the storyline so it doesn't seem forced. There are some good laughs along the way, most of which have to do with Gabriela's interaction with Gilbert. 'Falling Inn Love' doesn't spend any time in concocting a malicious villain or an obsessed ex. Charlotte is an adversary, and that's just what she is. She is not some diva that whole town despises and she doesn't try to woo the love interest of the protagonist. In fact, she is very business-oriented. So, we don't really hate her. About three-fourths of the film is a good time, but then it enters the territory of rom-com clichés and treads too far into it.
A lover's quarrel and the return of the ex are some of the most common tropes used in romcoms. The ones that find their way around it are the best, but the good ones have to find a subplot that isn't so overused. This movie does nothing new with that. The predictability factor sets in by now and with Gilbert far in the background, we quickly lose interest. We know how it is supposed to end for Gabriela and Jake, and with no more twists in sight, it is easy to abandon the movie at this point.
What consoles us is that they don't make it any cheesier than it needs to be. There are absolutely no tears anywhere in this film. No crying in front of the TV while eating out of a bucket of ice-cream. The characters behave like they have a handle on the situation. Gabriela sleeps out her break-up, and later, when she tells Dean to pack up and leave, he doesn't create a scene. There are also no stormy nights, no drenching in the rain, and not too many almost-kisses.
Overall, 'Falling Inn Love' is an okay watch. It's not great, but it isn't so bad either. Yes, there are areas where the film could have done better, but Gilbert makes up for the mediocrity of the film.
Will There Be Falling Inn Love 2: Sequel Prospects
'Falling Inn Love' ends with a proper conclusion to the love story of its characters. Generally, such endings don't warrant a sequel. However, if Netflix believes that the film has gained enough favour from the audience, it might find a way to add another chapter to their story. 'To All the Boys I've Loved Before' has received a sequel based on its popularity. The happy endings of love stories are often also the beginning of a new life for its characters. What comes after "happily ever after"?
In Gabriela and Jake's story, we expect to see how their B&B is working out. We were told about Jake's tragic past, which might also come into play if the story is explored further. The inn's previous owner may also make an appearance and enlighten us on what actually made him leave. Maybe, some other DIY project catches their attention and they refurbish another broken place. The possibilities are endless; the writers only have to decide which ones are good enough to take things forward.
Read More in Explainers: The Son | Murder Mystery