The new sports biopic about the exploits of legendary automobile designer Carroll Shelby and his race driver Ken Miles, 'Ford v Ferrari' is already being praised for the virtuoso performances of the film's two leads, excellent cinematography and true to life depiction of high-speed endurance racing. The story follows two of the most famous gearheads in popular culture – American automobile designer and builder Carroll Shelby and British mechanic and race car driver Ken Miles as they team up to create the perfect car capable of dethroning Ferrari at the very top of the racing world.
Plot Summary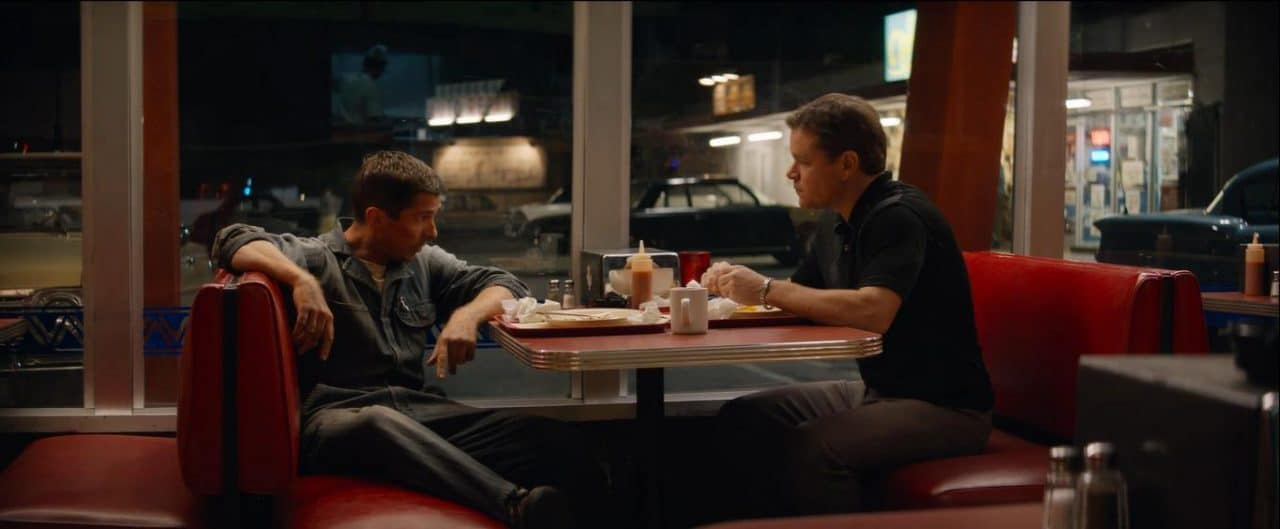 After Ford Motor Company's proposed buyout of Italian luxury sports car manufacturer Ferrari fell apart because of Enzo Ferrari's insistence on retaining full control of Ferrari's racing division, a visibly peeved Henry Ford II made up his mind to get even with the Italians. To this end, he poured copious amounts of cash into the Ford Racing Division and hired Shelby American and its owner, Carroll Shelby, to get the prototype GT40 ready for the prestigious 24 hours of Le Mans race in France. Shelby hired British World War II veteran, mechanic and race car driver Ken Miles to help him achieve his goal of besting Ferrari and the biggest endurance racing event in the world.
The two get to work, testing the GT40 Mk extensively and fixing its flaws until it is ready to challenge the big boys. However, not having enough faith in Miles Ford decided to send a team of Bruce McLaren and Phil Hill to compete in the 1964 Le Mans. The race ultimately ended in disaster for Ford, as none of their entries even managed to finish the race. Miles and Shelby continued tweaking and improving the GT40 over the next year, eventually bagging their first big victory at the 24 Hours of Daytona race with Miles behind the wheel.
The duo finally made it back to Le Mans in 1966, this time much better prepared and full of quiet confidence. After a rough start involving a faulty door during the first lap, Miles steadily began to gain on his opponents in subsequent laps. Soon he was setting lap records consistently and caught up Ferrari driver Lorenzo Bandini, eventually getting the better of him on the Mulsanne Straight when Baldini ended up pushing his engine too far and blowing out, completely eliminating Ferrari from the competition.
Ford vs Ferrari Ending
By the final stretch of the race, Ford cars were occupying all three positions at the top of the leader board, and Ford Senior Vice President Leo Beebe saw an opportunity for a perfect 1-2-3 photo finish with complete domination by Ford cars. Miles is initially against this decision, continuing to set new lap records near the end of the race, but ultimately decides to let Ford have their way on the final lap, not aware that a technicality in the rules would wrest the first place trophy away from him and hand it to fellow Ford racer McLaren. Still, Miles is grateful to Shelby for the opportunity to race at Le Mans.
A couple of months later, while testing the J-car, Miles' car disappears in a cloud of crash debris, as we see Shelby running towards the site of crash with disbelief. It's pretty evident — even though it is not shown in the film — that Ken Miles died instantly due to the severe crash.
How Did Ken Miles Die: What Happened in Real Life?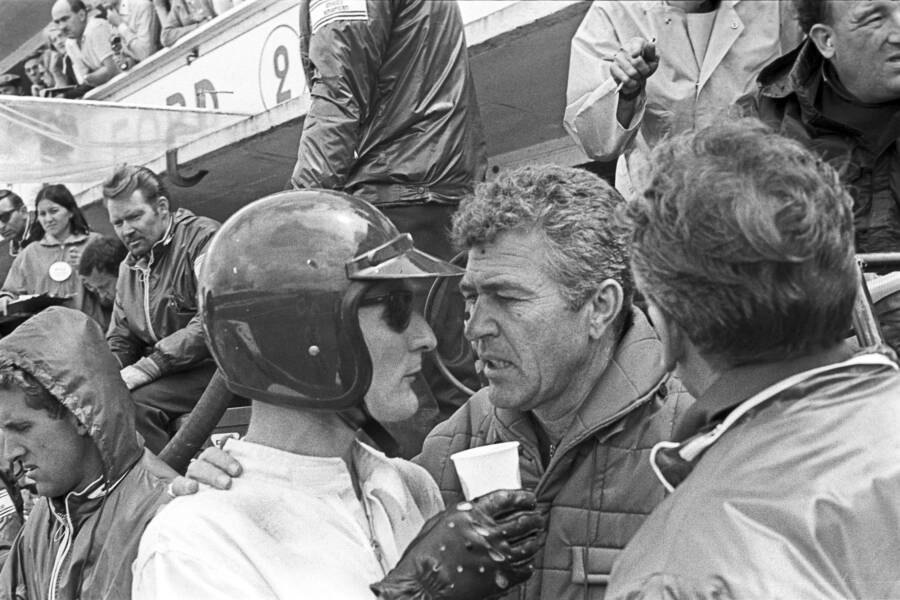 Born in 1918 England, Ken Miles enjoyed a deep fascination with cars their mechanics from a young age. After serving in the British Army in World War II, Miles moved to California to pursue a career as a race car driver, in cars he was designing himself at the time. He quickly made a name for himself, so much so that he was approached by legendary car designer Carroll Shelby of Shelby American to work with him on Ford's prototype Ferrari killer, the Ford GT40.
Together, Shelby's technical know how and talent for designing superb high performance machines and Miles' unassailable instincts as a race car driver proved to be a winning combination, with the duo winning the 1966 24 Hours of Le Mans, only having to settle for second place because of Ford Senior Vice President Leo Beebe's insistence that Miles slow down at the end of the race so that they could stage a 3 car photo finish across the finish line for the press.
Ken Miles tragically lost his life a mere two months later on the Riverside International Raceway after the prototype Ford GT40 J-Car he was testing car flipped over due to a transmission lock. He was 47 years old at the time of his death. However, Miles' legacy remains to this day, with the man himself getting inducted into the Motorsports Hall of Fame of America in 2001.
The Crew Behind Ford v Ferrari
'Ford v Ferrari' is directed by American director James Mangold of 'Logan' and 'The Wolverine' fame and written by Jez Butterworth, John Henry Butterworth, and Jason Keller. The primary cast of the movie consists of Matt Damon as Carroll Shelby, Christian Bale as Ken Miles, Caitriona Balfe as Mile's wife Mollie Miles, Jon Bernthal as Lee Iacocca, Vice President of Ford, Josh Lucas as Leo Beebe, Senior Vice President of Ford, Remo Girone as Enzo Ferrari and Tracy Letts as Henry Ford II.
Read More: Movies Like Ford vs Ferrari