Netflix's 'Stranded With My Mother-in-Law,' AKA 'Ilhados Com a Sogra,' gives warring mothers-in-laws a chance to make their concerns heard about their spouses and their children. However, the sons/daughters-in-law have their own grievances to air as they find themselves stuck in an unhappy situation with their partners having been shipped away. Amongst the many contestants who graced the first season of the reality series, Francine, Rodriguinho, and Taninha Nery were one of the more interesting families, as their issues were far more complicated than one might have thought. Naturally, this has led people to wonder more about where the Nerys are these days, and we are here to answer the same!
Francine, Rodriguinho, and Taninha Nery's Stranded With My Mother-in-Law Journey
For Taninha Nery, the concerns regarding her daughter Francine Nery and her son-in-law Rodriguinho Nery were simple ones. Prior to coming on the show, the couple had an arrangement where they spent half of the week at Taninha's house and the other half with Rodriguinho's parents. This infuriated her as she felt like the two were not doing the mature thing and living in their own space and were willing to take up the responsibility of doing things on their own.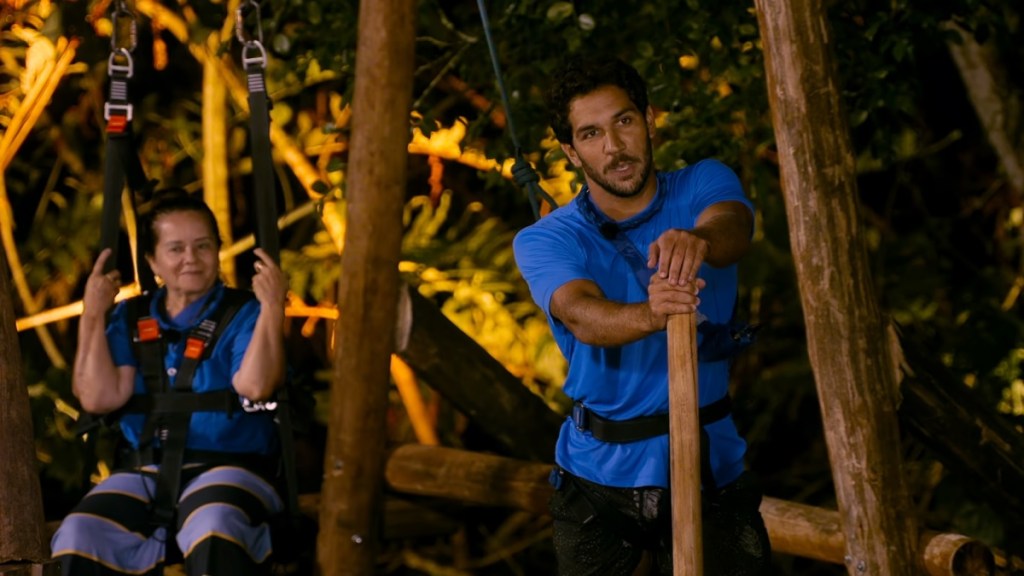 Rodriguinho himself confessed that he did want his own space and admitted that he could see how Taninha was frustrated with how he and Francine lived. He did confess during one of the tasks that Taninha was nosy and would often butt into the arguments that he was having with his wife to take her daughter's side. To this, Taninha admitted that she was indeed protective, and if the two did want her to intervene, then they should have their private conversations in a private place of their own.
Interestingly, it seemed obvious that apart from their living situation, Rodriguinho and Taninha had an amicable bond. The two knew each other well, were easily able to collaborate during tasks, and were always open to picking up the slack when dealing with something that the other might not be proficient in. Rodriguinho himself was coming to a realization that he needed to move out and get a place of his own with his wife in order to mend his familial connections and better his own lifestyle.
With a firm advantage in hand, the Nerys were now slated to dominate the competition. When the three family members were united, Francine was asked to name one family to steal two honeycombs, and she chose the Castros in order to end the top-level tie between the two. Their excellent performance continued until the last challenge before the selection of the first two finalists, in which Taninha's actions led to their disqualification from that particular challenge. Despite that, the Nerys were in the finals and ended up winning the grand prize of 500,000 Brazilian real. As per Taninha's wishes, the money was split evenly between the three family members.
Where Are Francine, Rodriguinho, and Taninha Nery Today?
It seems like Francine, Rodriguinho, and Taninha Nery have indeed been able to find their rhythm and have forged a beautiful connection that stands even today. While Francine and Rodriguinho have yet to share any updates on whether or not they made changes to their living situation, they do seem to be living life to the fullest and visited Las Vegas, Nevada, as recently as September 2023. Presently, the two are proud owners of Ocean Surf Class, through which they provide surfing lessons to all those interested in learning the skill in Espírito Santo, Brazil.
We are also happy to share that Francine and Rodriguinho seem to be making positive progress in the direction of having their own home. As for Taninha, she is happily married to the love of her life, Gerson Nery, and enjoys spending as much time as possible with her friends and family. All three members of the Nery family have been quite excited about their Netflix debut and seem to be looking forward to what life brings next. We wish them all the best for the future and hope that bond only continues to become stronger.
Read More: Silvia, Thiago, and Marcia Dunker: Where Are Stranded With My Mother-in-Law Contestants Now?