While the length of a person's presence in a competition like Netflix's 'Surviving Paradise' is often proportional to their success, Gabriel "Gabe" Dannenbring proved in the first season of the survival series that this necessarily does not have to be the case. Despite his mid-season entry, the competitor made it to the finals and became regarded as one of the strongest players. With his increasing fame, people are eager to learn more about what he has been up to these days, and we are here to explore the same.
Gabe Dannenbring's Surviving Paradise Journey
Entering the first installment of the Netflix show in the fifth episode, Gabe Dannenbring had two hours to spend in the villa and forge some connections before moving to the camp. Given that almost half of the season had already passed by, Gabe had to contend with well-established alliances in order to carve a place for himself. However, when he became an Outsider, he dedicated himself to doing what was needed, including the crossing of a lake to make it so it would be an Insider who would be eliminated next rather than an outsider.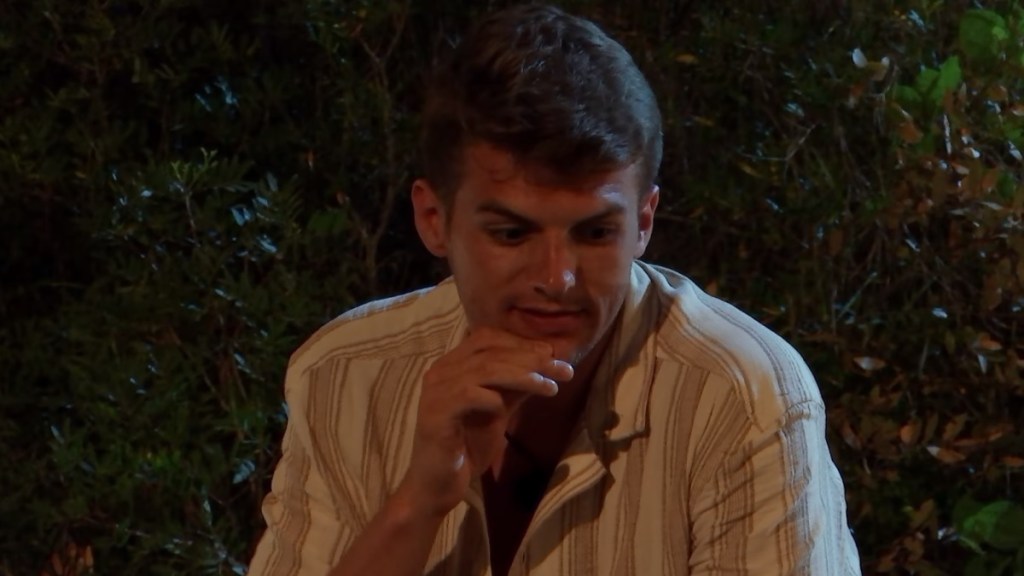 As a new entry, it was up to Gabe to choose one person to eliminate and one person to become an Insider. He ultimately chose to eliminate Francisco "Sisco" Williams and send Shea Foster back to the villa. Now becoming a noticeable player in the game, Gabe's vote becomes a crucial one for everyone, though his relationship with Tabitha Sloane was certainly a fraught one after the harsh words that they had said to him on his very first night. However, it was not long before Gabe and Tabitha had to compete directly against one another in order to not be eliminated.
Chosen by the Insiders, the two had to race against each other to reach a certain spot, where the winner would have the chance to choose a box first, and the runner-up could either take the second box or swap depending upon what the winner said. This was a task that Gabe won, leading to Tabitha's elimination and him becoming an Insider. Once inside the villa, Gabe was adamant about not going back to the villa to such an extent that he even told Aaron Blake during one of the challenges that he was not giving up his place as a sacrifice and that he would rather get eliminated. While his strong strategy did help him secure a position as a finalist, it was ultimately Linda Okoli who won the game.
Where is Gabe Dannenbring Now?
Gabe Dannenbring is thriving in his role as an educator as well as a content creator. Based in Sioux Falls, South Dakota, the Netflix star has been a Science Teacher for Ben Reifel Middle School (Sioux Falls School District) since July 2020. He is also a Tumbling Instructor for the Academy of Dance, having gained the position in June 2019. Additionally, he has served as a Project Manager for Dannenbring Designs Landscaping since May 2012.
While Gabe's dedication to the field of tutoring is admirable, he also utilizes his experiences from the same to make some highly entertaining content for the internet. It is due to his impeccable sense of humor that he now has over 1.6 million followers on TikTok, while his Instagram account is followed by more than 275K people. His content also allowed him to bag a position in the "Bored Teachers: We Can't Make This Stuff Up! Comedy Tour" on October 22, 2023, alongside members of the Bored Teachers group. Interestingly, while Gabe's content is of his personal making, the principal of his current school, Shane Hieronimus, seems to be quite supportive of the light that the Science Teacher has been bringing to the field of education.
Read More: Lellies Santiago: Surviving Paradise Finalist is Now A Business Owner