Netflix's 'Shadow and Bone' is a fantasy series with complex characters, expansive world-building, and an immersive narrative. Based on the 'Shadow and Bone' trilogy and the 'Six of Crows' duology by Israeli-American author Leigh Bardugo, the story predominantly revolves around Alina Starkov (Jessie Mei Li), an orphan and assistant cartographer, who discovers that she is the Sun Summoner and can create or summon light. With her powers, it is believed that she can potentially destroy the Fold, the massive swath of darkness that has split the kingdom of Ravka into two parts.
Given the massive scope of 'Shadow and Bone,' it's understandable that it has a large cast and a larger crew. Many of you may have noticed that season 2 episode 6, titled 'Ni Weh Sesh (I Have No Heart),' is dedicated to the memories of someone named Gary Fryklind. If you are wondering who this man was and how he passed away, we got you covered.
Who Was Gary Fryklind?
Gary Fryklind was not necessarily a member of the cast and crew of 'Shadow and Bone.' Instead, he was the father of Daegan Fryklind, co-showrunner and executive producer of the Netflix series. Daegan is also known for her work on projects such as CTV's 'The Listener,' Space's 'Bitten,' and The CW's 'In the Dark.'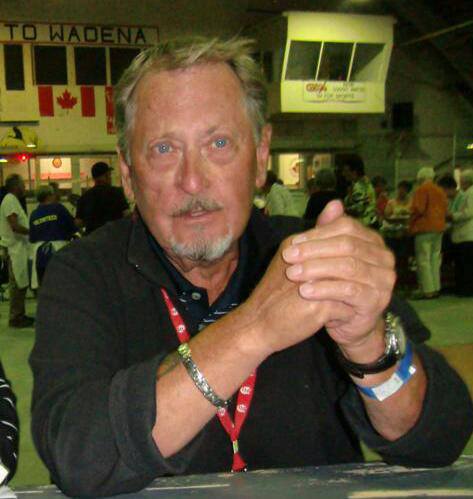 Gary Sanfred "Fryk" Fryklind was born in Wadena, Saskatchewan, on March 31, 1941. He was an active, mischievous teenager, often getting into trouble because of it. After attending Wadena Composite School and Teacher's College at the University of Saskatoon, Fryklind joined the Calgary Board of Education as an art teacher while pursuing a Master's degree. Fryklind was a remarkable educator, positively influencing the lives of thousands of his pupils at Western Canada and John G. Diefenbaker high schools.
Along with Daegan, Fryklind had two other children — sons Garrick and Kerby. Fryklind loved golfing and was often seen at Revelstoke Golf Club and even at Royal St. George's. His children inherited his love for the sport, and it seems that at least Daegan inherited his passion for cinema. Fryklind was retired, and one of his favorite hobbies was carpentry, along with road trips to California, watching films with his grandchildren, and eating cinnamon buns. Fryklind was also moderately active on Facebook.
How Did Gary Fryklind Die?
Fryklind died "suddenly" on April 22, 2021. He was 80 years old at the time. He was survived by his three children Garrick, Kerby, and Daegan; their respective spouses Angelika, Cheryl, and Nabil; grandchildren Ashleigh, Taylor, and Kirsten; their spouses Josh, Raychelle, and Florian; grandson Cassius; "his eternal friend" Betty Young; and the pet dog Mulligan "Mully" Fryklind.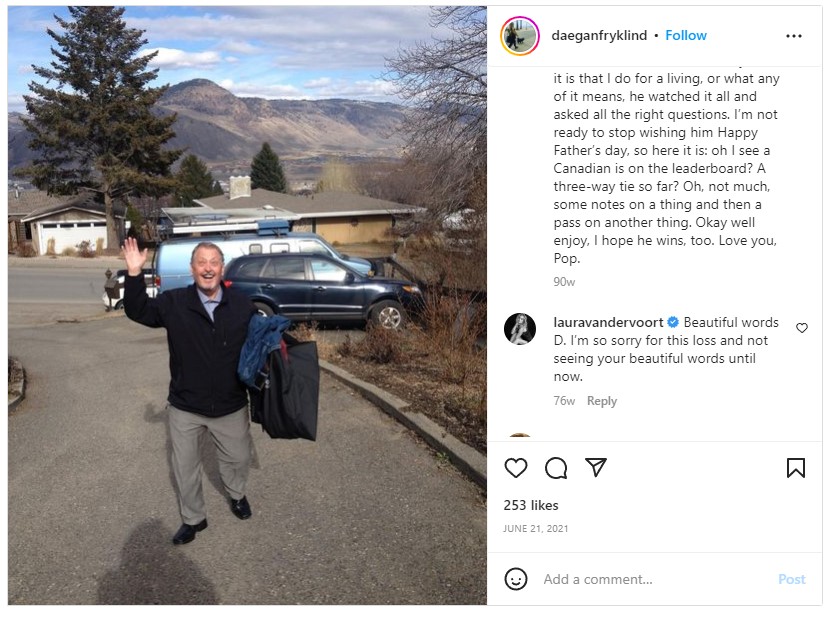 'Shadow and Bone' premiered a day after Fryklind's death. One can only imagine how Daegan must have felt at the time. Marking the first Father's Day after Fryklind's death, Daegan took to Instagram and penned a heartfelt message. "This guy. In the midst of a weird year of highs (the giant show went to #1 for awhile) and lows (the dog boarded the mothership), two months ago, this guy also departed, making this the first Father's Day where we're not catching up about the US Open or 'steamwriting' or basic shit-shooting," she wrote. "Losing someone so significant during a global pandemic is strange – they just vaporize."
'The Dark Corner' co-executive producer continued, "I haven't been able to go to his place and feel the loss, so it's just on days like this, or on my birthday, or on any given day when we'd text or call about nothing and everything, that the loss starts to sink in. I don't think I've even scratched the surface of what life is like without him. We existed in road trips and movie theatres. I secretly learned to play golf so I could surprise him by showing up in Revelstoke one summer, fully capable of playing a round with him. He was my truest confidante and my biggest champion, and even if he didn't often understand exactly what it is that I do for a living, or what any of it means, he watched it all and asked all the right questions. I'm not ready to stop wishing him Happy Father's day, so here it is: oh I see a Canadian is on the leaderboard? A three-way tie so far? Oh, not much, some notes on a thing and then a pass on another thing. Okay well enjoy, I hope he wins, too. Love you, Pop."
Read More: Shadow and Bone Season 2 Recap and Ending, Explained