Yielding unprecedented results, ABC's 'Shark Tank' features an array of entrepreneurs presenting the growth and development of their business to a group of Sharks. With intense negotiations and disruptive techniques that highlight innovation, the reality television show has continued to garner wide renown since its inception in 2009. The fifteenth installment of the show features one such company, Gently Soap. The company offers new avenues in sensitive skincare as it tackles the unbridled issues resulting from skin conditions. The brilliant innovation led us to wonder more about the company and its growth. So, if you're also curious and want to know more about the company, then look no further because we've got all the answers right here!
Gently Soap: Who Are They and What Do They Do?
The disconcerting condition of skincare plunged founder Kristen Dunning into a streak of action. While her mission to align cosmetics with herbology has changed the lives of thousands of consumers, her idea for creating Gently Soap was brought to life after years of personal struggle. Born with eczema, Kristen's skin had become a battleground for treatments, lotions, creams, and oatmeal baths. However, the visionary found little respite. Kristen would struggle to maintain a normal skincare routine as overt scratching and scalp eczema would make her skin peel at all times.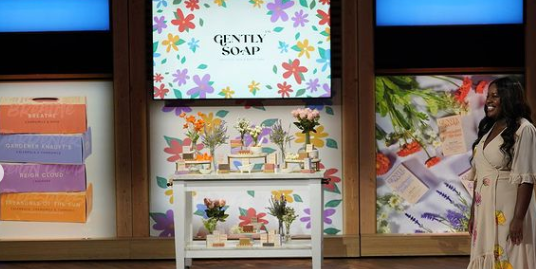 From being put on steroids to devising a list of the right foods to trying all the recommended products found on drug store shelves, Kristen tried everything to stop her skin from flaring. Eventually, it was her roots and pedigree that led her to discover the ultimate solution. After getting accustomed to the power of agriculture and horticulture through her grandparents, Kristen decided to earn her Bachelor's in Horticultural Science and Agricultural Communications.
Subsequently, she plunged herself into research projects and identified key ingredients that could undo the plethora of skin issues that people face worldwide. Gently Soap was launched as Professional Plant Girl on October 10, 2020, and Kristen managed to sell out her stock within five hours of her launch. Slowly, the business borne in Kristen's dorm room became lucrative and went on to make skin issues like eczema, TSW, HS, and psoriasis bearable. The founder has since been raising the bar for sensitive skin care.
Gently Soap: Where Are They Now?
Besides creating a skincare brand that has amassed great renown, Gently Soap has also earned its founder major acclaim. Kristen Dunning and Gently Soap are now recognized as the 50 women-owned brands in the 2023 She's Next Visa Program. Fans and readers can find the herbal soap brand on Amazon and even avail the company's products through their online store. The company has recently been stocked in the BLK + GRN marketplace, making this their first large retail partnership. Gently Soap has also become the first Black-owned soap brand to be sold at Hallmark Mahogany.
Not only is the company exponentially growing its consumer base, but it is also earning recognition wide and beyond. From getting published in eminent publications like Eco Parent Magazine to gaining an ever-evolving social media presence, the company is steadfast on the path of unbridled growth. Most recently, they have managed to raise $10,000 as part of a grant from Startup Runway Foundation in March, 2023. In addition to this, the company also raised an undisclosed amount of Seed Funding from Techstars New Orleans. She has also won a cash prize of $10,000 at the Startup Runway Foundation Athens Pitch.
In tandem with her brand's growth, founder Kristen Dunning has also been channeling her expertise to scale her company's presence. She has recently spoken and exhibited at the Consensus Brands Show in New York City. Besides getting her trip funded by the UGA Entrepreneurship Program to speak at the program, she has also pitched her business at the Black In Ecom Conference and set up a pop-up at Beltline.
Currently, Kristen has been selected as a semifinalist for Pharell's Black Ambition Prize Competition. Besides earning this honor, she also gets to participate in a three-month mentorship program that offers her the platform to build lasting relationships in business and promote her company's growth. Not just this, she is also a contender to win a cash prize of $1 million dollars through the competition. Fans and readers can find the company's products on their website and several storefronts.
Read More: Tucky Shark Tank Update: Where Are They Now?