It was in 1896 that the cinema came to India, in the form of 6 films by the Lumiere brothers sent to be screened at the Novety Theatre in Mumbai at a ticket price of 8 annas each. And India's obsession with moving pictures grew steadily. It was while watching one of these lavish imported films named 'The Life Of Christ' that Dadasaheb Phalke, a photographer, had a Eureka moment which led to the genesis of Indian cinema. He later said "While the life of Christ was rolling before my eyes I was mentally visualising the gods Shri Krishnu, Shri Ramchandra, their Gokul and Ayodhya". He gathered an all-Marathi crew to create the 3700 feet of film which would be known as 'Raja Hairshchandra', India's first ever full-length feature, and incidentally the very first Marathi film as well.
Dadasaheb Phalke produced over 90 more films as Indian cinema flourished. But in spite of legendary directors like Acharya Atre and V. Shantaram helming some memorable films, the Marathi film industry was overshadowed by its more notable neighbour – Bollywood. Nonetheless, the 1970s saw a wide range of films, from tragedies involving tamasha artistes to comedies starring the famous double-entendre master Dada Kondke. In the 1980s, two actors, namely Ashok Saraf and Laxmikant Berde, made a slew of iconic comedies and catapulted to stardom, working with actors-turned-directors Mahesh Kothare and Sachin Pilgaonkar. Some of these films are still cult crowd favourites.
But the true renaissance of the Marathi film industry began in the new millennium, as evidenced by the presence of 13 films released post the year 2000 on this list. Strong-willed, content-driven and intimate to the issues of its Maharashtrian milieu, it has come of age. So much so that Marathi cinema hogged the spotlight at the 64th National Awards with its psychologically probing films. As someone who has grown up on Marathi films and has lived a couple hundred metres from the legendary Prabhat Talkies in Pune for a quarter of his life, I consider it my job, nay, my duty, to honour the best and the greatest Marathi movies ever made. Here they are:
20. Katyar Kaljat Ghusli (2015)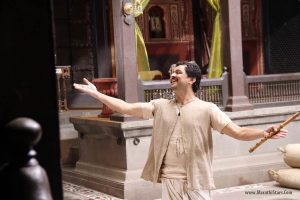 An adaptation of a play of the same name, 'Katyar..' is a musical of epic proportions beyond anything ever seen in Marathi cinema. The film centers around a prestigious dagger bestowed upon the greatest poet in the kingdom of Vishrampur, and how the lust for the dagger (which symbolises the fame associated with its acquisition) and pride of his own artistic prowess drives a man to do unspeakable harm to another man who had always considered him a friend. Enveloped in his ego, he finally rediscovers his love for music through a disciple of the man he betrayed. The film is a thorough entertainer, with its culturally significant subject matter, grandiose sets, star-studded ensemble and one of the best Marathi soundtracks of recent times. A melodious extravaganza.
19. Deool (2011)
Keshya, the village simpleton of a sleepy village called Mangrul, sees a mirage of Lord Dutta while napping under a tree. Against the advise of Anna, a respected and educated old man and Bhau, a politician who wants to build a hospital in the village to showcase development, Keshya makes a hue and cry about his visions. The news gets sensationalised and before you know it, Mangrul is a hub of devotional commercialisation while actual devotion takes a backseat. Director Umesh Kukarni, also known for his films 'Vaalu' and 'Vhir', is a master at putting current issues on celluloid, and his tackling of the effect globalisation has had on the tiny villages of the country is sublime. Put in powerhouse performances by Nana Patekar as Bhau and Dilip Prabhawalkar as Anna, and we get a gem of a minimalist film.
18. Jogwa (2009)
The reason for the revival of Marathi movies is the fearless quest of its filmmakers to get a grip of social pitfalls still rife across the state. 'Jogwa' deals with one such archaic tradition of Devdasi, wherein people are forced to give up their entire lives, dreams and worldly desires to the servitude of a deity. Suli is one such jogti who is forced by the rampantly superstitious community to live this life, but she finds solace in Tayappa, a man who is forced to drape a sari as per custom, whose plight mirrors hers. Their forbidden love and the oppression they face due to it make a heart-wrenching tale, complemented with perfection by the music of Ajay-Atul. 'Jogwa' was the recipient of 5 National Awards, including two for vocalists Hariharan and Shreya Ghoshal for this tearful melody which will pierce a hole through your heart whether you know Marathi or not.
17. Ashi Hi Banwa Banwi (1989)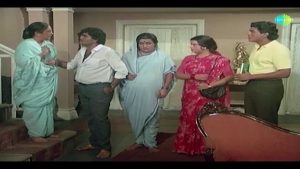 As I said a while ago, 1980s and onwards, Ashok Saraf, Laxmikant Berde, Sachin Pilgaonkar and Mahesh Kothare made many a riotous film, but none of them can come within touching distance of this hootfest starring three of these four actors. A remake of Hrishi Da's 1966 'Biwi Aur Makan', it stars Saraf as Dhananjay, a street-smart salesman who makes his buddies Parshuram and Sudhir play the wives of him and his brother Shantanu to get an apartment where bachelors are forbidden (nothing can be more relevant in today's world for us bachelors than this social issue!) But then two ladies enter the fray, one of them being Shantanu's girlfriend and Sudhir falling for the other! With a perfectly picked ensemble who seem to run away with their characters, 'Ashi Hi Banwa Banwi' is the flagship comedy of Marathi Cinema.
16. Fandry (2013)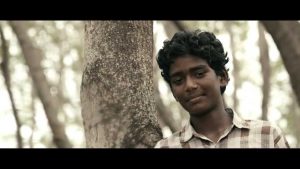 Love. Without a thought of colour, caste, creed or society. That simply is the nucleus of this 2013 film directed by Nagraj Manjule who later rose to fame with the enormously successful 'Sairat' (the absence of which from this list is sure to get me death threats!) Jabya lives on the fringes of the village with parents who do menial jobs. He falls head-over-heels for Shalu, whose parents areare saving money to get her married. But their financial gap isn't the only problem; Jabya is a Dalit whereas Shalu belongs to an upper caste. the failure of Jabya's innocent attempts to woo Shalu, while being oppressed and humiliated by the society (who call him 'Fandry' or a pig), make him reach a boiling point of exasperation post which he hurls a stone at one of the perpetrators, but the stone is shown hurling towards the audience as credits roll, as we are the true perpetrators of the caste system still lurking in our lives. A hard-hitting statement.
15. Ek Hota Vidushak (1992)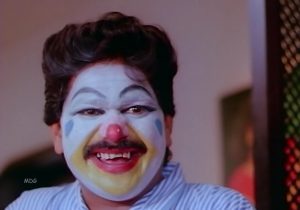 The Tamasha form of theatre is one of the most cherished and enjoyed form of entertainment across the state of Maharashtra. And while there have been many films themed around this form, very few prominent films deal with the life of the artistes who dedicate their lives to this craft. Which makes 'Ek Hota Vidushak' (and two other films higher up our list) special. Another aspect which makes it special is a rare dramatic act by acclaimed comic Laxmikant Berde. Berde shines as Aburao, a songadya (clown) working in the tamasha world who gets drunk on fame, recognition and infatuation. With a screenplay penned by veteran author Pu. La. Deshpande and directed by the legendary Dr. Jabbar Patel, 'Vidushak' is an engaging rags-to-riches drama.
14. Nataranga (2010)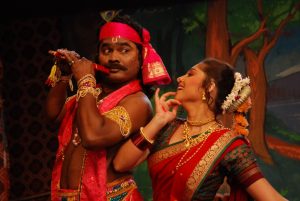 If 'Vidushak' shows the dark side of an artist's fame, 'Natarang' tugs at your heartstrings through the story of an artiste who has to overcome every hurdle imaginable just to fulfill the dream of performing the art he loves. Guna festers a passion for the folk art of tamasha, but when he finally decides to start a dance troupe, his lead dancer demands a nachya (an effeminate character often found in tamasha). No one comes forward to play the part due to the eunuch taboo associated with it, so the strongly-built Guna takes it upon himself to play the role. While he succeeds through sheer determination, the stigma of society around the nachya persona makes him suffer agonising consequences for playing the role. Does he carry on doing what he adores? You bet! With an uninhibited Atul Kulkarni bringing life to Guna while dancing to tunes by Ajay-Atul (in the form of their career), 'Natarang' will make you brim with a stoic resolve.
13. Jait Re Jait (1977)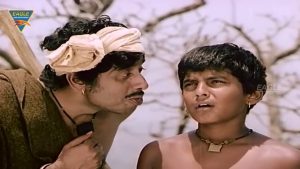 'Jait Re Jait' (Win Win) is a peek into the lives aspirations and customs of the thakkar tribe native to the forests in Western ghats, through the story of Nagya and Chindhi, the former is a honey-gatherer while the latter is a married woman who abandons her good-for-nothing husband. Nagya and Chindhi fall in love, but Nagya is then bitten in the eye by a queen bee, who he swears revenge upon. When Nagya finally climbs the treacherous peak and cuts off the beehives, Chindhi, who is waiting below, is fatally bitten by the nervous bees, thus the paradoxical title. The detailed insight into thakkar lifestyle, emphasis on luscious cinematography and a soundtrack bulging with sweet melodies (mostly sung by the iconic Lata Mangeshkar) cement the film's status as a classic.
12. Balak Palak (2013)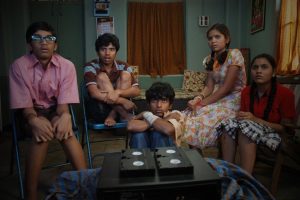 India is a wacky country to grow up in. How weird is it in a country of over a billion people, even saying 'sex' in public is considered offensive! Sex education is thus quite a far-fetched prospect. 'Balak Palak' (or BP, which is also an acronym for porn here!) lays bare this problem in the best way possible – comically! Avya, Bhagya, Chiu and Dolly learn that their neighbour Jyoti Tai had to leave their colony. When they ask their parents for the reason, they're just told that she brought 'disgrace'. Dissatisfied with the explanation, they instead seek the advice of the omniscient Vishu who imparts his knowledge of 'dhinchak dinchak' by making them watch people practically do it, leading to quite some misguided knowledge about sex. The film ends by saying that every kid now has a Vishu in their phones, laptops and whatnot, making sex education all the more important.
11. Sant Tukaram (1936)
Long before B.R. Chopra, Guru Dutt and Satyajit Ray wooed audiences worldwide with their peerless masterpieces, the iconic Prabhat Film Company produced this poignant devotional film on the life and times of Saint Tukaram, one of Maharashtra's most revered poets. It became the first Indian film to be screened at an international film festival, when it won numerous plaudits at the Venice Film Festival. A straightforward life story without many frills, the film's simple grace is its power. Vishnupant Pagnis as Tukaram puts his heart into the abhangas he chants and the calm philosophy he imparts. While the 2012 remake obviously benefits from newer modes of filmmaking, the original is an interesting watch, as it also provides a unique insight into the thoughts and devotional beliefs of Indian filmmakers in the 30s. A study of cinema as much as that f the soft-spoken saint.
Read More: Bengali Movies
10. Harishchandrachi Factory (2008)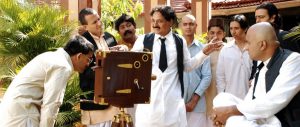 1913's 'Raja Harishchandra' was the inception of Indian cinema, and the sole reason it doesn't make this list is that the entire film isn't available anywhere; it is only present through a few revived titbits. What instead makes this list is the film chronicling Dadasaheb's arduous journey leading up to the film. While staying true to its roots, the film refreshingly adds a pinch of humour to the proceedings, which, in reality must have been challenging. While speaking of the innumerable hurdles faced by Dadasheb (like dressing men as women for the female parts or explaining what a 'film' was to the unaware populace) t shows the build-up to 'Raja Harishchandra' as more of a feel-good inspiration than a sombre, perilous climb. Simple, hearty and educational.
9. Shantata! Court Chalu Ahe (1971)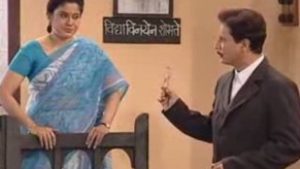 Ladies have always been subjected to infinite hypocrisy from men, and surprisingly, from other women, from times unknown. It is this blatant double-standard which 'Shantata…' sheds light on through a mock trial staged by a travelling theatre group. When a female cast member named Leela is put on the stand for infanticide, the game turns from a rehearsal to a game of accusations as real-life facts are revealed. The attitude of the other cast members as well as those watching, and the helplessness of the female protagonist as the entire blame for her situation is dumped on her is far to familiar; it is one we witness to this day in real-life situations. The smartest Marathi satire.
8. Umbartha (1982)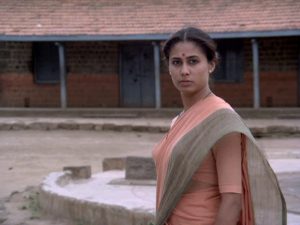 From a frustrating account of a woman's sufferings to a tale of her endless resolve As back as 35 years ago, Dr. Jabbar Patel directed an empowering film starring Smita Patil as Mrs. Mahajan, who aspires get out of the four walls of her home, cross the threshold (the titualr umbartha) and make a difference for the oppressed and neglected women in the world, much to the chagrin of her conservative husband and mother-in-law. Even at her dream job at a Women's Reformatory Home, things aren't rosy for womankind, as they are subjected to more exploitation, which Mrs. Mahajan fights resolutely against all onslaught. She chooses a cause dear to her over a family of virtual strangers, a monumental decision emoted ardently by Patil, who won a National Award for her trouble. A powerful character study.
7. Dombivli Fast (2005)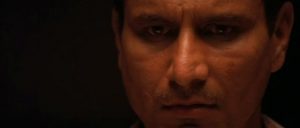 We have seen many films where one maverick sets the corrupt system of this godforsaken country straight with charisma and machismo (and a lot of testosterone). This is not one of those films. Nishikant Kamat (of 'Force' and 'Drishyam' fame) instead made his breakout film about a middle class man named Madhav Apte who strives to go by the book and follow the righteous path, but is pushed into a corner by the wicked society over and over. One day, after having had enough, he implodes and decides to change the world in its own sinful way. He becomes a vigilante and causes a rampage in his bid to set the world right. Kamat and his leading man Sandip Kulkarni hit the bull's eye in capturing the psyche of the frustrated middle-class everyman. Quite a sombre affair, but an absolutely watch-worthy one.
6. Shala (2011)
One genre where Marathi cinema has triumphed time and again is films on the blossoming of youth. 'Shala' is one such adorable film set in the 1970s, centering on four kids on the anvil of teenage in rural India trying to make sense of their lives – Joshi is hopelessly in love with Shirodkar, Surya is a bindass hippie dude who wants to live his life to the fullest, Chitrya is a science prodigy who comes from a modern family whereas Favdya is the simpleton. The film focuses on a year which changes the lives of the four kids, mostly focusing on Joshi's struggle for puppy love, which is sure to take you back to your own first pangs. The cinematography and background score too, succeed in creating a fuzzy nostalgic vibe. A trip down memory lane.
5. Court (2014)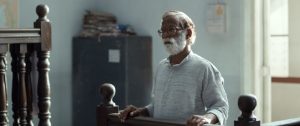 On the surface, 'Court' appears to be a courtroom drama chronicling the miscarriage of justice in the country. But its layers of human observation deepen as the story progresses. A folk singer is arrested amidst a performance for abetting the suicide of a sewage worker whose dead body is found in a manhole. The evidence? An inflammatory song which is said to have incited the action. As the ludicrous trial commences however, we stray away from the court and into the lives of the people involved – the judge, public prosecutor and the lawyer of the accused, whereas the actual case keeps getting the push due to delays which are just an excuse to suppress the activism of the accused and keep him in custody. 'Court' shall make you restless for days, mostly because in today's nutsy world, it isn't really an unrealistic scenario. A scary gawk at the byzantine ways of justice.
4. Natsamrat (2016)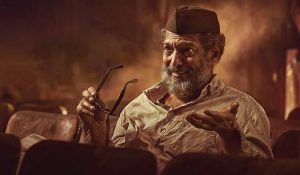 Marathi theatre enjoys an illustrious reputation across the nation, perhaps even more than Marathi cinema. 'Natasamrat', with its virtuoso dramatic acting and sesquipedalian language seems more like an elaborate, sprawling play about a thespian being shown on screen than a film. Ganpat Ramchandra Belwalkar, adjudged 'Natasamrat' (The King Of Theatre) retires from the stage with pomp and show, but he cannot seem to leave the theatre behind as his blunt, brash persona, which was once his virtue, becomes his vice, when his own kin start to feel embarrassed by him. As his tragic Shakespearan characters catch up to him, his life unravels like 'King Lear'. Nana Patekar's insurmountable character study carries the film on his shoulders from the get-go and leaves the viewer in a pool of tears by the end. A riveting one-man show.
Read More: Best Punjabi Movies
3. Manoos (1939)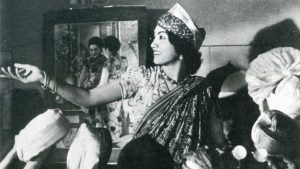 V. Shantaram has been hailed as one of the most prominent visionaries to have graced Indian cinema. His body of work in Hindi as well as Marathi is exemplary. At the peak of his career in the late 1930s and early 1940s, he made a flurry of brave and socially conscious films ahead of their time. 'Manoos' is based on a short story named 'The Police Constable'. It features a policeman who falls in love with a prostitute named Maina he saves at a brothel. The excessive backlash he faces due to his attempts to include her in his life and rehabilitate her drives him into alcoholism, which buries Maina under guilt. Her inescapable past, in addition to guilt drive her to take extreme measures to sever her from the life of the goodhearted policeman. Their romance, as well as their climactic separation, has been handled with delicate poignancy, heightening the drama. A romance ahead of its time.
Read More: Best Nana Patekar Movies
2. Shwaas (2004)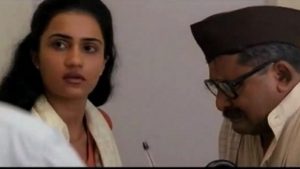 'Shwaas' is the story of a 6-year old kid named Parshya who suffers from a rare eye cancer, which necessitates the removal of his eyes to save his eyesight, and how his grandfather copes with this. An emotionally sentient film, it takes a long look at the sentiments of both its characters, as well as those of the medical personnel who have to deliver this inevitable news to the family. Although dealing with a subject so gloomy, there is something reassuring and hopeful about it – maybe it is the emphasis given by the grandpa to ensure his grandson enjoys his eyesight while it lasts, maybe it is the positive light in which the doctors and nurses are shown or maybe it's just the final shot of Parshya returning to his village, smiling and waving. The optimism of 'Shwaas' stays with you long after you've soaked it in. The beginning of the 'Marathi New Wave'.
Read More: Best Bengali Movies
1. Pinjra (1972)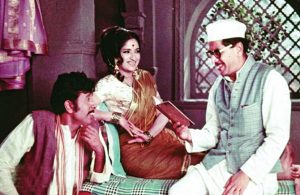 The ultimate musical extravaganza, the ultimate tamasha drama, the ultimate Marathi film. Like V. Shantaram's entire body of work, his final film 'Pinjra' pushes the envelope by showing a liaison between a stoic schoolteacher and a tamashewali which end up taking up both their lives. The film is a loose adaptation of the first major German sound film 'Der Blaue Engel'. An era-defining musical score aided by the dancing prowess of leading lady Sandhya, the first-ever use of colour in Marathi cinema and its touching, tragic story of forbidden love garnered the film a run of an unprecedented 134 weeks at the Prabhat Talkies and a National Award in tow. The charm if the film remains fresh to the day, as proven by the success of its digitally remastered version released in 2016. A timeless classic.
Read More: Best Bollywood Movies of All Time