As a character, Harley Quinn didn't begin her journey on the pages of comic books. Instead, she was first created for Paul Dini and Bruce Timm for their iconic 'Batman: The Animated Series.' In the subsequent years, the character has become so popular that a version of her can be found in every aspect of DC's creative outlets. Developed by Justin Halpern, Patrick Schumacker, and Dean Lorey, 'Harley Quinn' is a Max adult animated black comedy superhero television series revolving around the eponymous character (Kaley Cuoco). Although she begins the show as a classic version of Harley, she undergoes drastic character development in the course of three seasons, eventually becoming a member of the Bat family.
Meanwhile, her best friend and lover, Poison Ivy (Lake Bell), is appointed the head of Gotham's Legion of Doom. In season 4, episodes 1, 2, and 3, 'Gotham's Hottest Hotties,' 'B.I.T.C.H.,' and 'Icons Only,' both women struggle to assimilate into their roles and find help in unexpected sources. Here is everything you might want to know about the ending of 'Harley Quinn' season 4 episode 3. SPOILERS AHEAD.
Harley Quinn Season 4 Episode 1, 2, and 3 Recap
Season 4 begins with Harley and Ivy trying to balance their professional and personal lives. They are now on the opposite sides of the law and have implemented a series of rules to keep their personal and professional lives separate. After all, they are still very much in love. The series begins with the girls bringing each other's lunches.
However, the entire balancing act seems increasingly difficult. Although Harley has discovered that she abhors crime and wants to protect innocent people, regaining at least part of her former self, she still has her violent tendencies. Meanwhile, Ivy struggles with mutinous underlings at the Gotham branch of the Legion of Doom. Lex is no help, and she doesn't want to approach the new boss with her problems this early in the job. She has a great stroke of genius when she basically blackmails Nora, Mr. Freeze's widow, into agreeing to be her secretary. Ivy's plans villainous actions are all environmental friendly. When Bane blows up an oil rig, he draws her ire. At the end, she manages to assert control over the legion.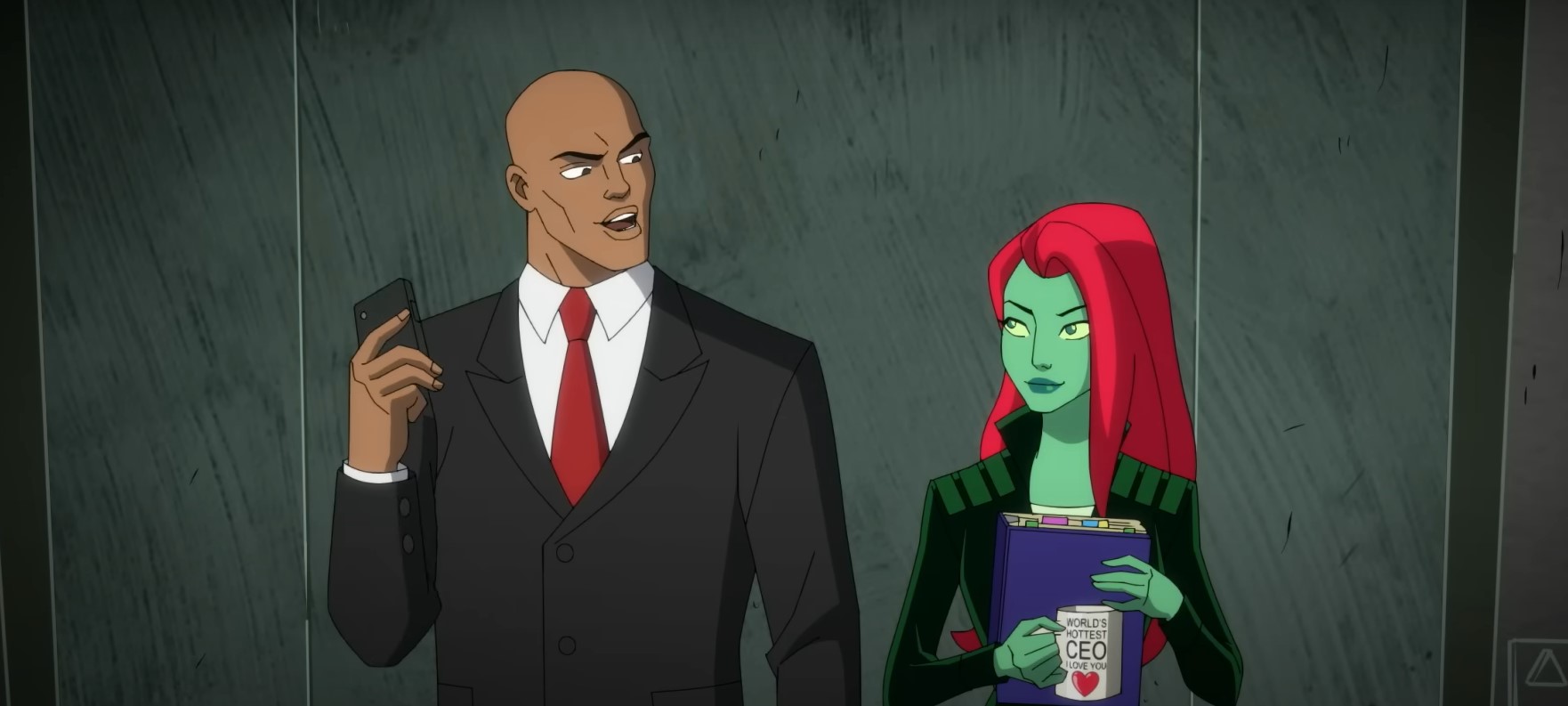 Meanwhile, Harley and the Bat family try to investigate a series of gruesome murders where the killer has left behind the mutilated bodies of his victims. Harley deduces that Professor Pig is the killer. They try to catch him by using Nightwing (and his famous backside) as a bait. It is revealed that he is trying to build a perfect dollotron by using the parts of his victims. As Batgirl and Nightwing look on horrified, Harley beats Professor Pig to death.
In episode 2, this causes a big problem within the team as it goes against their no killing policy. This prompts Batgirl and Nightwing to place Harley under Alfred's tutelage. Initially, Harley despises the arrangement, but as the episode progresses, she starts top realize how awesome Alfred is.
Meanwhile, in the absence of Bruce Wayne, Talia al Ghul comes to town and takes over his company, even killing some of the employees. Initially, she gets along well with Ivy, but the latter's plan of replacing all the male trees in Gotham with female ones directly causes problems for Wayne industries' pharmaceutical department. The male trees release pollen, which causes allergy, leading to the sale of anti-allergy meds. But with the male trees gone, people suddenly no longer needs these meds. Talia confronts Ivy and effectively acknowledges her as a worthy adversary.
In episode 3, Ivy and Harley travel to Vegas to attend Clayface's show, but learn that it is sold out. Meanwhile, Harley faces a critical choice about her living situation. King Shark is expecting babies with his "platonic" partner, Tabitha, and they are also in Vegas.
Harley Quinn Season 4 Episode 1, 2 and 3: Do Ivy and Clayface Make Amends?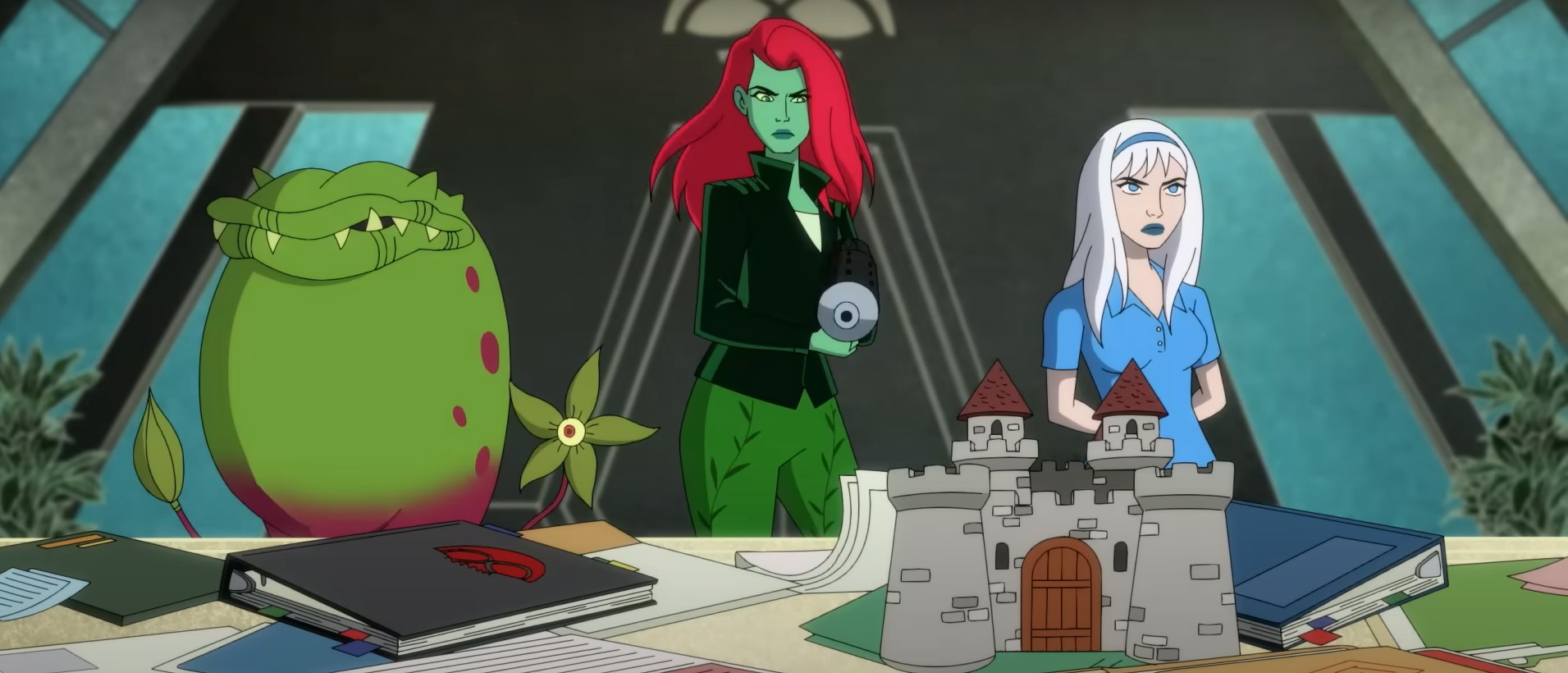 The main contention between Ivy and Clayface is that she didn't answer a number of his messages asking her to attend his show. Upon arriving in Vegas, Ivy discovers that the show is sold out. When she encounters Clayface at the pre-party for the show, she lies to him, claiming that she and Harley have tickets. It is later revealed that Clayface not only knew about this all along but also pretended to be several people that Harley and Ivy encountered since coming to Vegas, just to be additionally petty toward them. By the end of the episode, they still pretty much hate each other, even after helping Tabitha deliver her babies.
Why Does Harley Decide to Move in with the Bat Family?
In Vegas, Harley and Ivy stay at a hotel exclusively for villains, developed by Lex. There, Harley becomes increasing disturbed by the rampant violence and death around her, denoting once more how much the character has changed since the start of the series. On the suggestion of the psychotherapist part within her, Harley tries to use an alter ego to party with Ivy. Although the plan initially goes well, she later realizes the futility of it. By the end of episode 3, she tells Ivy that she is moving in with the Bat family.
Harley's moral dilemmas are one of the main themes of the series. Her decision to move in with the Bat family stems from the fact that she is now completely different person from what she used to be even a season ago. It is bound to cause some issues between her and Ivy at some point. The series creators have publicly said that they have no intention breaking Ivy and Harley up, but that doesn't mean that they wouldn't put the main characters through a conflict with each other.
Why Does Alfred Go to Jail?
In episode 2, Alfred orchestrates a bank robbery so he will be sent to jail. His hope is to reunite with Bruce, who was incarcerated in the previous season. Unfortunately, Alfred ends up in Arkham, not the high-end, minimum-security prison where Bruce is.
Since Bruce left, Alfred has begun questioning his purpose in the Bat family. Although the other members of the family are younger than Bruce, they are much more self-sufficient. A part of Bruce Wayne never really grew up after that fateful day in the dark alley, and that part has always required Alfred. After learning that Bruce might now have a new butler, Alfred tries to get to him before it's too late. But his plan ends in failure, at least for now.
Read More: Will Bruce Escape from Prison in Harley Quinn? Theories