If there's one thing nobody can deny, it's that relationships are a lot of hard work owing to the level of vulnerability, trust, effort, and communication involved at every step of the way. However, some couples in the public domain make it look relatively easy thanks to their unwavering dedication to one another, including Heather Rae Young and Tarek El Moussa. Now, if you wish to learn more about these reality stars —with a specific focus on their experiences together and their current standing— we've got the essential details for you.
Heather Rae and Tarek El Moussa's Journey
It was on the Fourth of July in 2019 when 'Selling Sunset' famed Heather first came across 'Flip or Flop' talent Tarek with the help of mutual friends and pure chance while celebrating the holiday. The truth is, he was on his docked yacht at Woody's Wharf in Newport Beach, and she was with some friends on a neighboring one, only for them to soon find themselves on the same vessel somehow. It was love at first sight, yet a recently single Heather still declined to have dinner with Tarek, only to agree to drinks later on. That particular date spanned six hours and continued through FaceTime, so they've been inseparable ever since.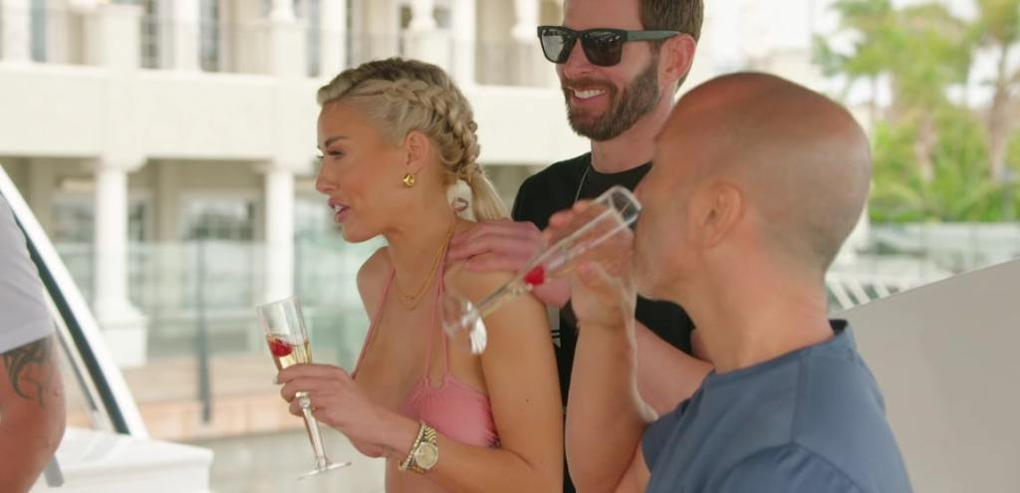 In fact, on the couple's second date (July 22, 2019), they decided to commit to one another, and four days later, they were living together. By the fifth, Heather and Tarek had gladly exchanged "I love you's," later confirming their relationship to the world in early August 2019. Their decision to go public came after they were photographed getting cozy on a yacht on July 28. Moreover, when the news broke, Tarek admitted that he had already introduced Heather to his former wife, Christina Anstead, and their two children, Taylor and Brayden, making her a part of the family.
From then on, it seems like the couple has tackled every issue that came their way. They went on family vacations to improve bonding, moved into a rental home to validate intentions, and in September 2020, they bought their dream home for stability and security. On Heather's birthday, Tarek even surprised her by gifting her a Ferrari convertible – her dream car. Still, that wasn't nearly as romantic as his surprise proposal mere days after their first anniversary. It was personal, intimate, emotional, and full of love, making it clear they were in it for the long haul.
Thus, it is no surprise that Heather and Tarek didn't waste time before officially promising one another forever on October 23, 2021, which we even witnessed in the finale of 'Selling Sunset' season 5. Besides, the couple documented every aspect of their wedding planning and the nuptials for HGTV in a special entitled 'so you can check out 'Tarek & Heather: The Big I Do,' which is now available to stream on Discovery+. "I married the love of my life today," the real estate agent penned in an Instagram post," "My sweet man, my everything. Cheers to forever and then some."
Are Heather and Tarek El Moussa Still Together?
Almost as soon as Heather and Tarek had tied the knot, they started planning to have children of their own to add to the brood. "I'm more open to it because our life is already crazy," she said at the time. "We're raising two kids [Taylor and Brayden]. I'm already a mommy. So I'm like, well, why not have just one more? We're going to freeze embryos first, go from there and then see what happens." Thus, the couple was over the moon once she fell pregnant in the early summer of 2022 — they welcomed their son Tristan Jay El Moussa in January 2023.
Since then, Heather and Tarek have somehow managed to schedule their life so that they not only have time for work but also one another, their infant, and his two elder step-siblings. In other words, yes, 'The Flipping El Moussas' stars are still happily married, as made evident through their social media platforms as well. "Balancing baby and my career is a full-time job in & of itself, but here we are," the realtor recently shared.
On the other hand, on Mother's Day this year, Tarek paid his wife a loving tribute by writing, "I watched you become a stepmom overnight four years ago, and you never looked back! Now, you are not only a stepmom, but you are a mom to our amazing baby boy. It took courage to take this on, and I can't thank you enough for all the love you give us. We are all so lucky to have you in our lives, it wasn't the same without you. You were our game changer, and you completed us, so I wanted to tell you how much I appreciate and love you!"
Read More: Are Mary Fitzgerald and Romain Bonnet Still Married?