Contending in a cut-throat competition for a grand prize, 'Hell's Kitchen' features several cooks who contest to win the top spot. The cooking show features a group of seasoned chefs who compete in a series of grueling tasks to win $250,000 and a chance to gain the reins of Head Chef at a restaurant. Premiered in 2022, season 21 of the reality television show also features an intense premise. Divided into two, this season bifurcates the contestants based on their age group. Fans have continued to wonder more about the contestants ever since the season came to a close. So, if you're also curious, look no further because we've got all the answers right here!
Where is Alex Belew Now?
After walking away with the top prize, Alex Belew has continued to expand his culinary influences. From working as a professional chef in commercial kitchens to imparting kitchen skills to high school students, Alex had imbibed years of intersectional experiences before he entered the arena of 'Hell's Kitchen.' Alex garnered acclaim for his work in several circles after skillfully displaying his skills in competitions, events, and pop-ups. Since his exit from television, Alex has opened The DTLA Dinner Club in Los Angeles along with his co-star Alejandro Najar.
The not-for-profit establishment is open to residents of Downtown Los Angeles and members of The LAAC. The television personality is also a YouTube, Instagram, and TikTok creator. Based in Tennessee, Alex is also a musician and has even released a single. He is also the host of 'Life in the Weeds' podcast. Aside from his booming career, Alex also enjoys familial bliss with his wife, Sarah, and their children, Mason and Riah.
Where is Dafne Mejia Now?
From studying as a pre-med to becoming an OBGYN to discovering a passion for the culinary arts, Dafne has considerably scaled her abilities over the years. Based in California, Dafne is currently working as a Private Chef for The Gores Group. Since her exit from 'Hell's Kitchen,' the television personality has garnered a significant social media following where she showcases her skills.
She is also working with Alejandro Najar and Alex Belew on the DTLA Dinner Club. Dafne is also an Instagram influencer and TikTok creator with an ever-evolving following. She uses her online platforms to share the latest recipes and experiences as a Private Chef. Dafne had previously worked as an Executive Sous Chef at Spring Place and has since devoted herself to refining her skills in a variety of cuisines.
Where is Alejandro Najar Now?
Gaining an impetus through his social media, the young chef is accelerating his career even outside reality television. Based in Barberton, Alejandro has taken the reins of The Blue Door Cafe and Bakery as Executive Chef. He is also working as a private chef and provides six-course menus for diners. The Columbia Culinary Arts-alum has even launched a dinner service with his castmates Dafne and Alex for the residents of Los Angeles.
Having taken his first job in the kitchen at 15 at Acme Catering in Akron, Alejandro remains steadfast on the path to exponentiate his goals. Alejandro had previously worked as the Head Chef at UnHitched Brewing Company in Louisville, as well. On the personal front, Alejandro is a father and has a baby boy named Arlo. While the young chef likes to keep his personal relationships under wraps, he still shares tidbits of his son's infancy.
Where is Sommer Sellers Now?
After her burgeoning rise in 'Hell's Kitchen,' the 24-year-old chef continues to make progress in fine dining. Sommer is currently working as a Private Chef and represents HexClad as well. Having worked with Oceana NYC, Temple Court, and Spring Place, Sommer is now exponentiating her abilities in catering private events and weddings. She has also worked with Chef Rhi and appeared on her YouTube channel. When Sommer isn't working and creating content for her ever-evolving Instagram following, the television personality likes to travel and embark on new adventures.
Where is Cheyenne Nichols Now?
Despite the little experience she had, Cheyenne still managed to showcase her commitment to her craft and ability to face all challenges in the kitchen. After failing to take the top spot and undergoing an emotional finale, Cheyenne has started working as a Caterer and Private Chef. The TikTok creator and Instagram influencer works with several brands and is a representative for Osmo Salt and HexClad. Based in Northeast Ohio, the young chef also enjoys spending time with her partner, Emily Stoskopf.
Where is Sakari Smithwick Now?
From a McDonald's Grill Cook to solidifying his position in the culinary industry, Sakari has jumped several hoops. The young chef has worked at Michelin-star restaurants like Marea and Eleven Madison Park. Sakari earned his first Michelin star at Ukiyo, where he worked alongside Chef Marco Prins. He is also the founder of Noble Premise, a multimedia culinary concept that hopes to make fine dining accessible to low-income communities.
Under the company's purview, Sakari also hosts a podcast. He is also the owner and founder of Smithwick Provisions, a New York-based establishment. The avid traveler approaches his 30s as the proud recipient of the Serial Entrepreneur Gary Vaynerchuck Sorcerer Scholarship Mentorship Program.
Where is Brett Binninger-Schwartz Now?
Having gained renown for his unique personality and ability to skillfully approach any issue in the kitchen, Brett managed to become a forerunner on the show. Since his exit, he has continued to exponentiate his growth as a chef. The television personality has worked at Revery and even hosted events at the Ilani Resort. Based in Nashville, Brett also enjoys spending time with his wife, Ashley Anderson, and their loving pet.
Where is Vlad Brianstev Now?
Following his success at 'Hell's Kitchen,' the College of Lake County-alum is continuing his journey as a Travel Chef with Levy Restaurants. Having been in the kitchen since the age of 14, Vlad first took the reins of a kitchen as Head Chef at the age of 21. Since then, he has consistently scaled his abilities and learned the intricacies of cuisine and cooking. Vlad has previously worked with the BOKA Restaurant Group and Roister and has launched his own truffle popcorn. The television personality is based in Chicago and has even founded the 'Late Night With Chefs' Podcast. When he's not engaged in the kitchen, the private chef and caterer likes to create content for his Instagram, TikTok, and YouTube.
Where is Ileana D'Silva Now?
After working as a waitress at Scoots BBQ in Gloucester, Ileana realized her passion for cooking and joined a culinary school. She worked at Merrior before finding herself applying for the reality television show. Based in Williamsburg, Ileana was working as a Sous Chef at Casa Pearl even before her appearance in 'Hell's Kitchen.' The young chef has been with the restaurant since 2020. Having gained ample experience in rigorous services, Ileana is now working on expanding her profile. While the television personality likes to conceal her information from the public and keep things under wraps, she is still making progress in the industry.
Where is Alyssa Osinga Now?
With ample experience in catering and fine dining, Alyssa entered season 21 and hoped to refine her skills and receive a boost in her career. Since then, the young chef has left her position as Executive Chef at Matthew Kenney Cuisine and has started working with PLANTA Restaurants as Sous Chef. Based in New York, the television personality is also a TikTok creator and Instagram influencer. The brand ambassador for Osmo Salts also promotes trusted brands through her social media.
Where is Tara Ciannella Now?
After a terrible incident in 2006 rendered her incapable of finding the same connection in fashion, Tara let go of her work in the fashion industry and instead pursued a career in hospitality. Having accrued years of experience as an executive chef, sous chef, and consulting chef, Tara finally decided to launch her practice. After launching her company in 2010, Tara has grown Tara Ciannella LLC, or Tara's Italian Cucina, into a major establishment. The personal chef provides an array of service for diners and has even appeared on 'Good Day New York,' and 'Chopped.' On the personal front, Tara enjoys equal happiness with her family and her daughter, Bella.
Where is Abe Sanchez Now?
The father of nine came to 'Hell's Kitchen' after leaving a mark in the industry through his success in different restaurants for years. After missing out on the top position by a small margin, Abe has been working as an Executive Chef at Coctel Lounge, where he has meticulously curated a menu for the cocktail bar. The television personality is also a YouTube creator, and regularly hosts watch parties for fans. On the personal front, the proud father also likes to showcase his love for his children and his wife, Trinity on social media.
Where is Mindy Livengood Now?
Despite a well-established career in healthcare and management, Mindy couldn't leave behind her love for food and cooking. After her home meal delivery service blew up during the pandemic, Mindy got the headstart and confidence she needed to pursue her dreams. Not too later, she managed to hold her own with seasoned chefs in a cooking competition. Since her exit from 'Hell's Kitchen,' Mindy continues to work as a personal chef and caterer and even provides home meal deliveries.
Additionally, she's taken the role of Executive Chef at Spooky Nook Sports. The fighter has also opened up about her tragic past. From having a cheating husband to getting bullied by her ex's paramour, and even sustaining the death of her 9-month-old daughter in 2013, Mindy has struggled exponentially. She has battled with weight issues and even attempted suicide in 2016. Despite all of these things, Mindy managed to get back on her feet and gain a renewed perspective. Based in Ohio, the television personality now shares warm moments of her familial life. When she's not working, she likes to spend time with her husband and four children.
Where is Billy Trudsoe Now?
Realizing his true calling lies in the kitchen, Billy decided to work his way up in the industry. Having started by flipping burgers, Billy went on to work at The Algonquin, The Chateau on the Lake, The Blue Water Manor Resort, and several other places in New York. After a brief relocation to Florida, Billy has moved back to New York and owns Basil and Wick's, where he is also the Executive Chef. On the personal front, Billy enjoys equal bliss with his wife and other loved ones.
Where is Nicole Gomez Now?
With more than two decades of experience as a Celebrity Chef, Nicole became one of the forerunners on the season. After leaving behind her dreams of becoming a commercial pilot, Nicole established herself in the culinary world. Since her exit from 'Hell's Kitchen,' she has continued to work as a private chef. She has also launched her series of dips and sauces that can be found on Amazon. Based in Los Angeles, Nicole shares a significant following on Instagram, where she regularly posts her latest feats in the kitchen.
Where is O'Shay Lolley Now?
While a grave mistake of serving raw meat led to his elimination from the show, O'Shay retains his love for the culinary arts and continues to coalesce his creativity with his love for cooking. Based in Delaware, the television personality continues to work as a Celebrity Chef. O'Shay has also authored a cookbook and hosts the 'Diaspora Food Stories' Podcast. The restauranteur also enjoys blissful harmony with his wife, Athaliah Sconion.
Where is Zeus Gordiany Now?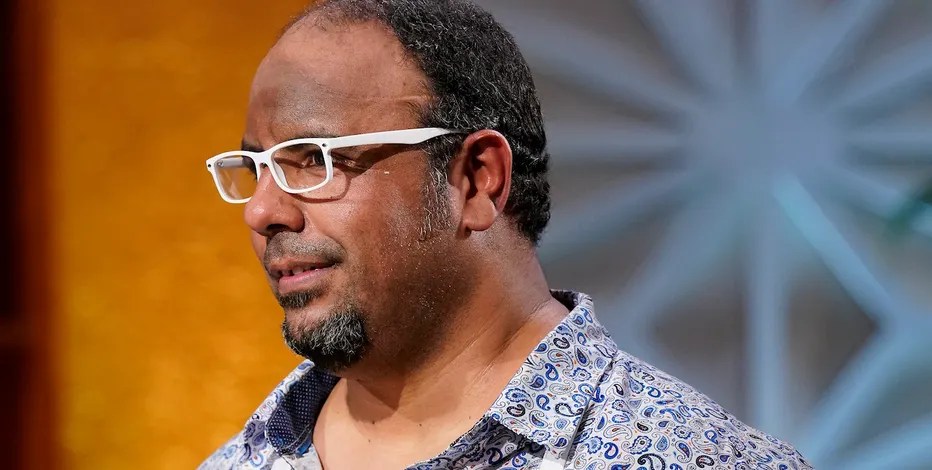 Zeus stood apart from his competitors early on. He became known for his escape from a ruthless shark attack that almost cost him his life. Having worked at a restaurant, Zeus also used to fish for fresh produce. One of these times, he encountered a shark that attacked near his forehead. After nearly escaping the dangerous sea predator, Zeus received countless stitches and promptly returned to complete his service. Despite his early exit from the show, the Delaware-based chef has consistently expanded his credentials. Zeus is currently working as a Corporate Chef at Benvenuto and likes to keep his personal life under wraps.
Where is Charlene Sherman Now?
The Wyoming-based chef was booted off from the show relatively early. Nevertheless, Charlene is still exponentially growing as a Private Chef. She is also the host of 'Killer Bites' podcast and has appeared on 'Guys Grocery Games.' Having started off as a pastry chef, the mother of three is also an adventurer and loves traveling with her family and loved ones.