Sixteen years ago (yes, it's been that long), when 'Ice Age' was released, the audience was blown away by the idea, the setting, the storyline, and especially, the characters of that film. It featured a queer alliance of a mammoth with a sloth and a saber-toothed tiger, trying to save a human baby. The film was unique in its concept and had a distinct comic tone. The characters didn't take much time to grow on us, and there was even a bit of thrill as we watched the trio overcome the hurdles that came their way. All in all, 'Ice Age' was fun to watch.
Now, it is one of the highest-grossing movie franchises in the world, with five films, seven short films, a couple of television specials, and a bunch of video games. There was even a theatrical adaptation of it! Yes, it throws most of the science and facts right out of the window, but to be honest, does it really matter? Moreover, they compensate that fallacy by making Scrat run around for the nut he never gets and creates geography-altering catastrophes in the process! And it's fun to watch that. With that said, here's the list of all Ice Age movies, ranked from worst to best.
7. Ice Age: Continental Drift (2012)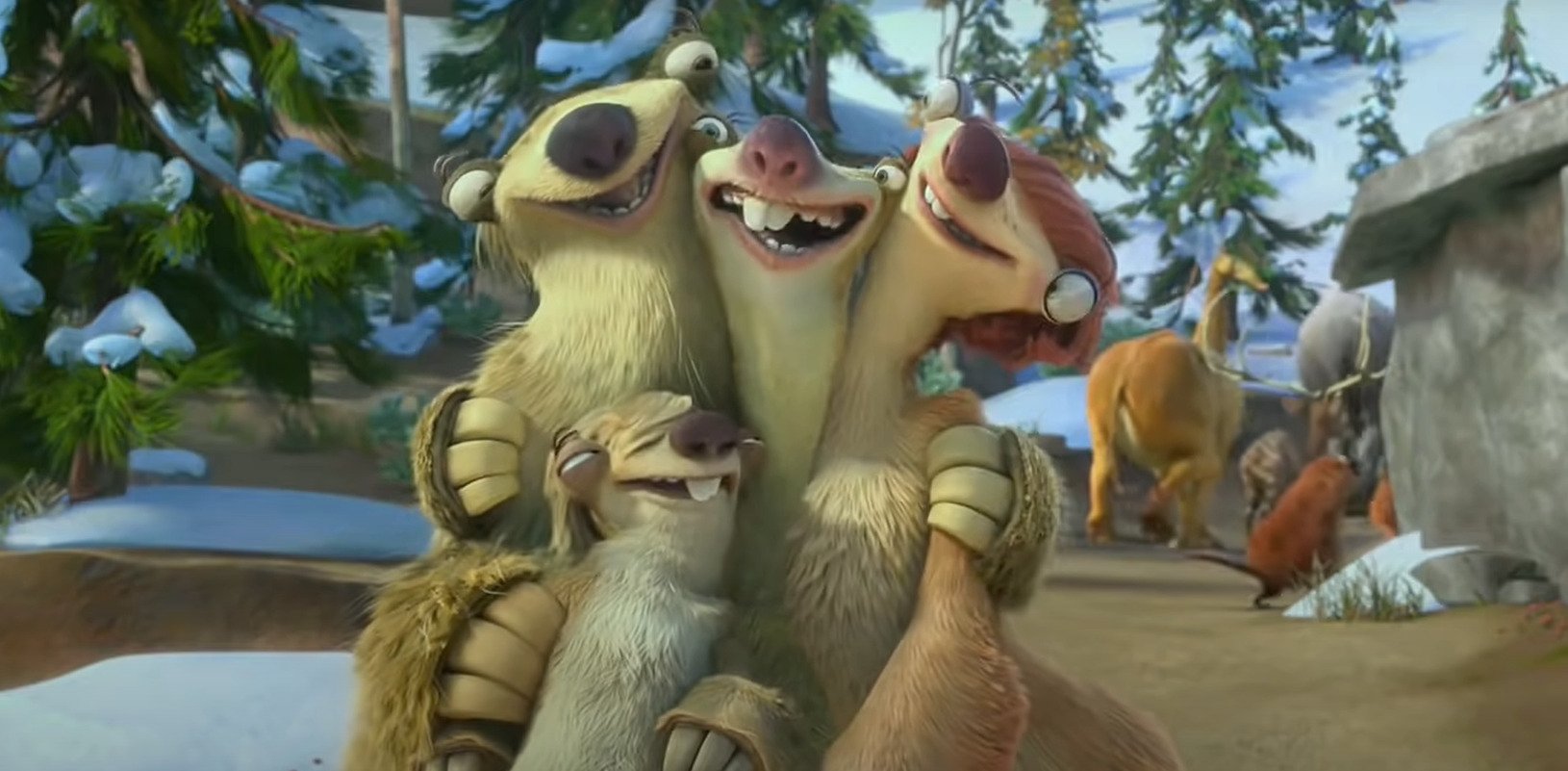 It was the fourth installment, and by now, it felt like the series had exhausted all its creativity. While the concept, like always, was quite good, it didn't turn out to be as good as its predecessors. And, while it was a decent film, what made it worse was a character that I find absolutely irritating, if not entirely unnecessary, Peaches, Manny, and Ellie's daughter. I see the point of their daughter, the idea of extending the family, and the pressure of increasing responsibilities. But because they had created such great, fun, lovable characters, it was really sad to see a character that didn't add to the story. Even Sid's 80-year-old grandmother seemed more fun than Peaches. However, one good thing about it was that we got to see the trio together, as in the first film, again. And Diego found love, too!
Read More: All Harry Potter Movies, Ranked
6. Ice Age: Collision Course (2016)
Once again, due to the unending quest of Scrat for the acorn, the world finds itself on the brink of extinction as a meteor comes closer to the Earth. I still found Peaches unlikable, and her newfound love wasn't any good either (made for each other, after all!), but, in addition to the original trio, there was more of Buck, Granny, and Scrat in this film, and that's what made it more fun.
Yes, it didn't redeem the franchise from its fallen grace. And honestly, for the next part, they need something good to earn back their reputation. But, this film tried, if a bit unsuccessfully, to find a way back to its roots and the original humor that made it such a big thing in the first place. I still think that if they had removed all that Peaches and her boyfriend scenario, it would have been a better film. I hope they consider such a possibility in the next part if there is going to be one.
Read More: All Indiana Jones Movies, Ranked
5. Surviving Sid (2008)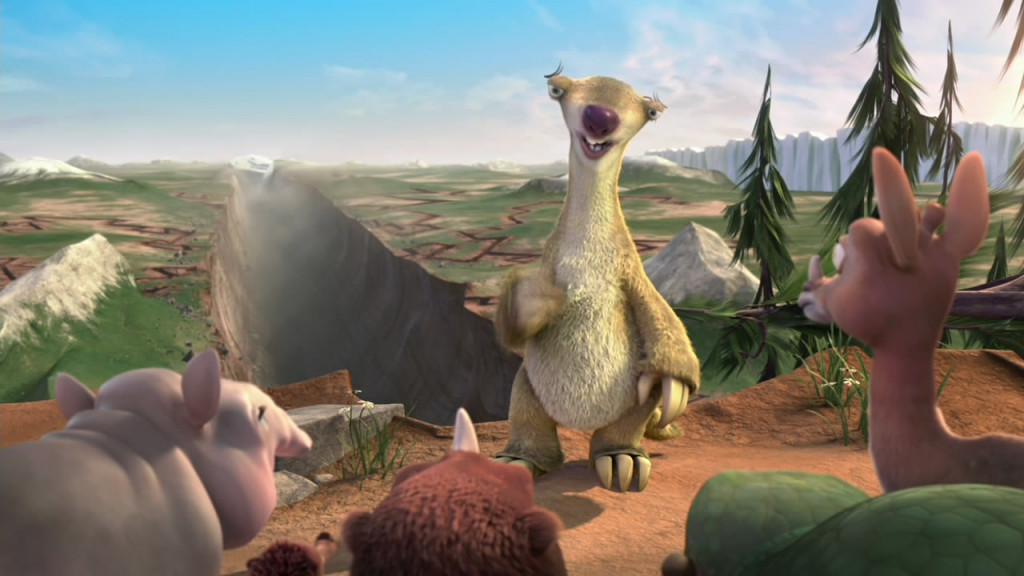 Ever wonder how the Grand Canyon came to be? Well, this film provides the answer. Or, at least, a version of it. It takes place after the events of the second film. It shows Sid taking a group of children on a camping trip. Poor Sid doesn't understand the kids are utterly bored, and his actions leave them disturbed. When he picks a flower, he mistakenly starts a chain reaction which results in the carving out of the Grand Canyon with a glacier. With a cameo performance from Scrat, this film features Sid at the center and makes us realize why he is such a likable character.
Read More: All Mission Impossible Movies, Ranked
4. Ice Age: The Dawn of the Dinosaurs (2009)
After the first two movies, it was interesting to anticipate what they would add next in the franchise. Of course, they brought in dinosaurs. And above all, they brought Buck, the dinosaur hunting weasel who becomes a part of the group. I, personally, believe that Buck was the least interesting and fun character that they came up with. After him, nothing seemed new. And that's why I liked this film. When Sid unintentionally steals and adopts the eggs of a dinosaur, he is kidnapped by their mother and taken underground where another world, full of dinosaurs, exists. In order to find Sid, Manny and Diego, now joined by Ellie, Crash, and Eddie, enter the world of the dinosaurs. Meanwhile, Scrat continues on his quest for the acorn.
After the success of the first two installments, it was a hard act to follow. It was utterly necessary for the series to evolve and come up with something new. And while it might not have been able to match the charm of its predecessors, it made a good effort. And Buck was definitely the highlight.
Read More: All Spider-Man Movies, Ranked
3. No Time for Nuts (2006)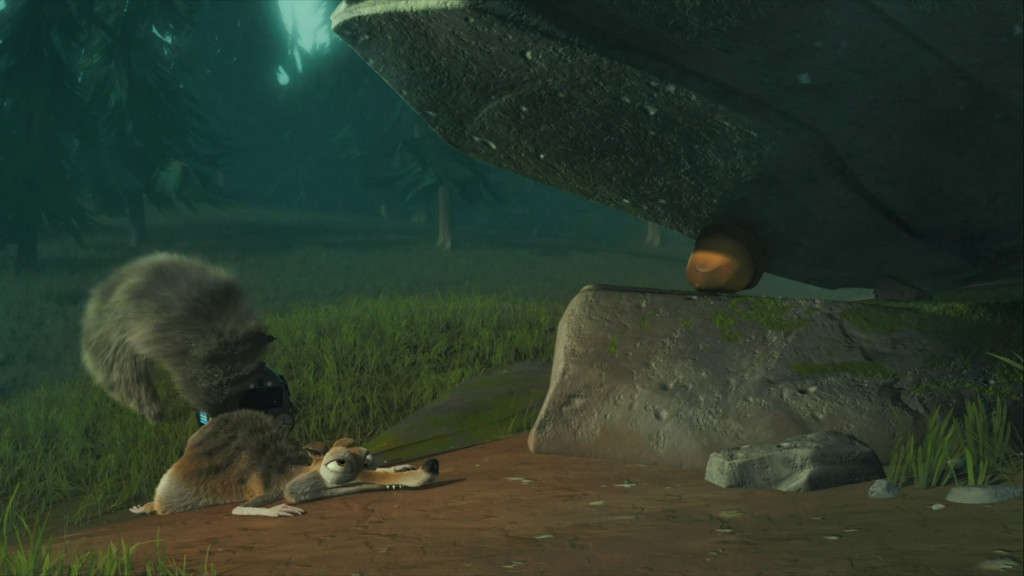 If there is anything better than watching Manny, Sid and Diego embark on an adventure to save something (a human, the world, themselves!), it is Scrat. From the very first scene in 'Ice Age,' we were introduced to a saber-toothed squirrel that had found the one true love of his life, the only thing that he ever wanted. In the first two films, we watched him go to great lengths, fighting rather dangerous creatures and creating havoc that landed the world in a ton of trouble, all just so he could that one elusive acorn!
This short film is all about Scrat and his beloved nut. While trying to find a place to bury his acorn, Scrat discovers the frozen body of a scientist and his time traveling machine. Unintentionally, he fires that machine and finds himself, along with the acorn, traveling into the future in different eras and places. If you love Scrat, you must watch this one.
Read More: All Batman Movies, Ranked
2. Ice Age: The Meltdown (2006)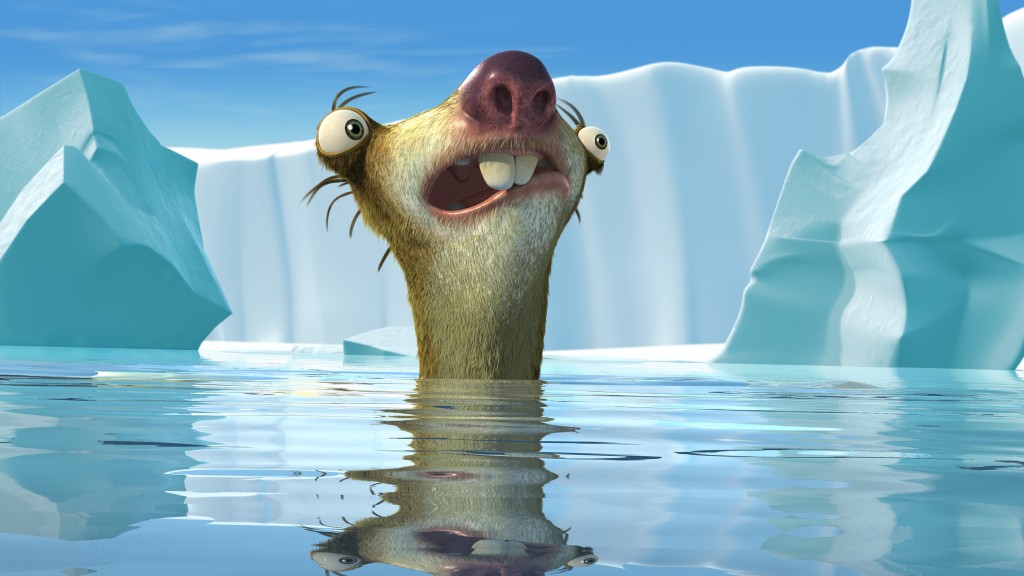 The second installment in the franchise, this film continued with the adventures of Manny, Sid, and Diego. The Ice Age is coming to an end as the ice is melting, and the ground beneath everyone's feet is starting to crack and crumble. Warned by a vulture to migrate to the other end of the valley, the trio and the other animals begin their journey. This film also brought in some new characters who have now become a vital part of the franchise.
In the first film, it was shown that Manny is the last mammoth, but this film revealed that there is another female mammoth, who later becomes Manny's partner. In addition to that, we were introduced to two possums, Crash and Eddie, who have a mischievous character (which somehow reminded me of Fred and George!). While all this happened, we watched Scrat still struggling with his acorn. In fact, it was from this film that we, and the filmmakers, started to pay more attention to Scrat's part, and now that stupid squirrel is our favorite character.
Read More: All Star Wars Movies, Ranked
1. Ice Age (2002)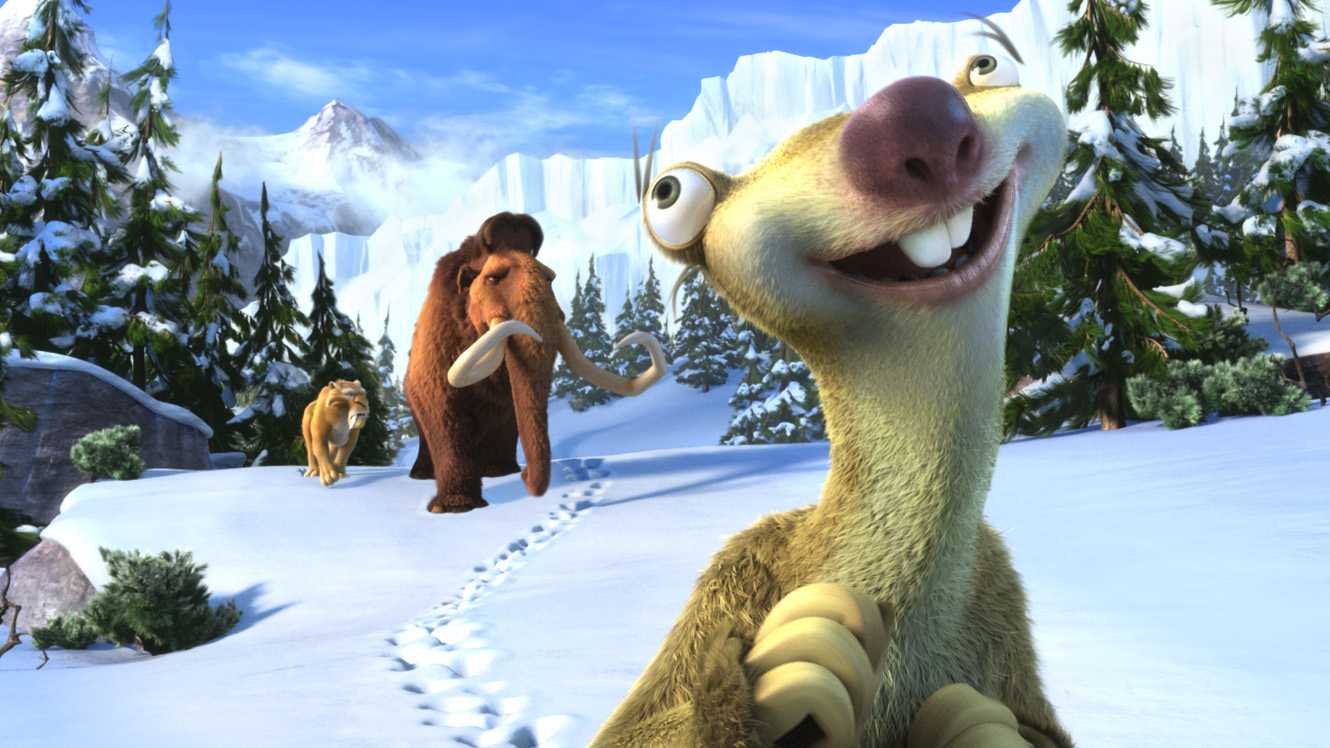 Of course, it's on the top! The film that started it all. It not just met with a huge box-office success but was also nominated for an Academy Award. When a mammoth and a sloth find a human baby, they decide to find his family and return him to them. On the way, they are joined by a saber-toothed tiger who offers to help them track the humans. What the sloth and the mammoth don't know is that the tiger is from the pack that attacked the humans and is after the baby. As they continue their journey, they encounter several hurdles, misadventures, and a change of heart on the way. The first part was the best because it was what made the most impact on us.
The idea of a story set in the Ice Age with a group of creatures that logically wouldn't stay together was pretty much unfathomable to us. So, when this film was released, we found out that it was the film we never knew we wanted. In truth, all the parts that came after it couldn't match the effect of the first one. Even when they introduced new, rather fun characters, nothing surpassed Manny, Sid, Diego, and Scrat.
Read More: All Pirate of the Caribbean Movies, Ranked