Netflix's 'Perfect Match' is all about giving the audience what they want! The dating reality show brings together our favorite contestants from other popular series. They compete in challenges and pair up to find their perfect match. Ines Tazi is one such contestant that everyone has their eyes on. They are curious to see what she will pull off this time after watching her on a previous game show.
She seems genuine about finding love here, and we can't wait to see what's more to come for her in the show. But until then, here are all the details you must know about Ines to understand her better and predict what choices she might make in the show.
Ines Tazi's Age, Early Life and Background
The 26-year-old Parisian beauty, Ines Tazi, was last seen in season 1 of 'The Circle France,' (the French franchise of Netflix's The Circle), a show she participated in while being in a relationship and posing to be single. As per reports, Ines moved to London in 2014, but she cannot be tied down to one place. Her work keeps her swinging between Los Angeles, Morocco, and Paris. She attended SOAS University of London, where she opted for the ICC (Intermediate Certificate Course) Foundation Program, World History, and Development Studies in the first year.
Ines received a grade of 2.1 and a merit in Development Studies. In the next year, her focus was Social Science, specifically on the political economy of liberalism, and in her final year, she wrote a dissertation about the 'Financialization of Nonfinancial Corporations.' She enrolled for the course in 2014 and finished in 2015 with an upper second 2.1 grade while also being the boxing instructor at the SOAS Boxing Society.
In 2016, she started working while pursuing her education. Her first known internship was at Marwa in Casablanca, Morocco as a Marketing analyst in the commercial and logistics department. After her four months internship from June 2016 to September 2016, she took a one-year break. In July 2017, she re-joined the workforce as an Assistant General Manager at Olan Partners for two months. She was also a Part-Time Social Media Manager at Pantone Creative from 2017 to 2018. All the hard work finally paid off, and she became an associate founder for Skult, a personal care product manufacturing company based in London that started in September 2018
Is Ines Tazi Dating Anyone?
Since she is on 'Perfect Match,' we know that she is not in a relationship and is currently single. She did confess to being in a relationship while catfishing on 'The Circle France.' However, no other details were revealed about her beau then. But she has posted a few pics with Joseph Arber, a data scientist and analyst from the UK. When a commenter asked if he was her "bae," Ines confirmed that the two were, in fact, together.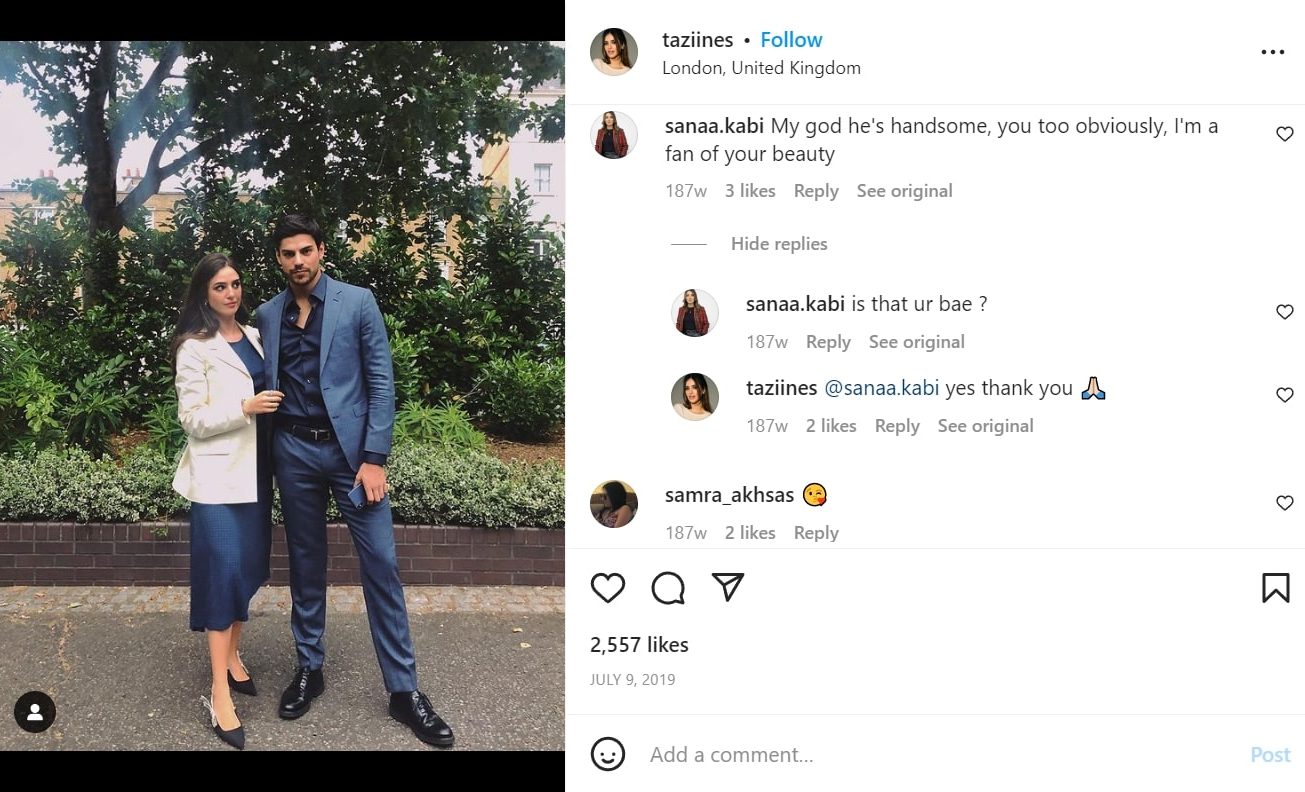 The pictures with him were posted between July 2019 to February 2020, but they no longer follow each other on Instagram. So, it is safe to infer that the two have parted ways. Given the timeline of their relationship and 'The Circle France,' Joseph is perhaps the one she was dating during the show. There are no updates about her dating life following that.
Therefore, it seems like Ines has decided to keep it away from the public eye. However, it won't be the same for long because after 'Perfect Match,' fans will once again be curious to know who she is dating from the show and her relationship status at all times. No matter who she ends up with, we wish nothing but the best for the young and ambitious woman.
Read More: Where is Netflix's Perfect Match Filmed?